Interim Storage Facility for Removed Soil and Waste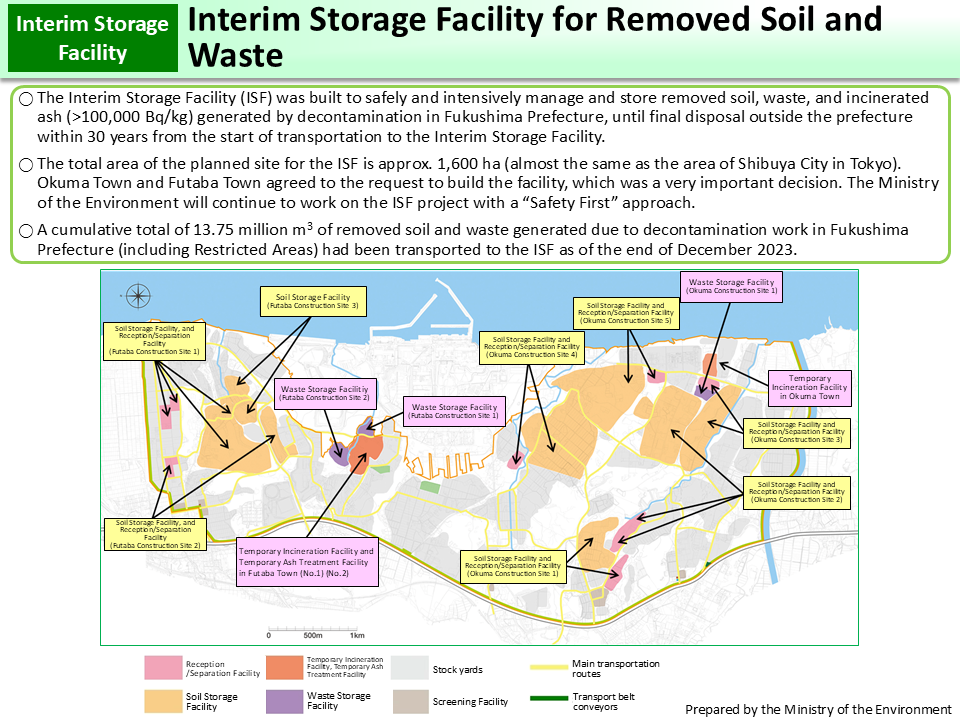 In Fukushima Prefecture, large quantities of contaminated soil and waste have been generated from decontamination work. The whole amount of material to be transported to the Interim Storage Facility (ISF) is estimated to be approx. 14 million m3, which is equivalent to approx. 11 times the volume of the Tokyo Dome.
Currently, it is difficult to clarify methods of final disposal of the soil and waste, and it is indispensable to establish an ISF as a facility to manage and store the soil and waste safely and intensively until final disposal.
At the ISF, the following are to be stored:
(i) Removed soil and waste (e.g. fallen leaves and branches, etc.) generated from decontamination work which is currently stored in Temporary Storage Sites;
(ii) Incineration ash with radioactivity concentrations exceeding 100,000 Bq/kg.
Consent to accept the construction of the ISF was obtained from Fukushima Prefecture in September 2014 and from Okuma Town and Futaba Town in January 2015. The total area of the planned site is approx. 16 km2, almost the same area as Shibuya Ward in Tokyo.
* Breakdown of the whole amount of material to be transported to the ISF (approx. 14 million m3)
(i) Volume of the soil and waste that have already been transported to the ISF
(ii) Volume to be transported (volume of the soil and waste stored at Temporary Storage Sites, etc., including combustibles before incineration)
(iii) Volume of waste reduced and stored at Temporary Incineration Facilities
Included in this reference material on January 18, 2016
Updated on March 31, 2021