Procedures for Decommissioning and Contaminated Water Management at TEPCO's Fukushima Daiichi NPS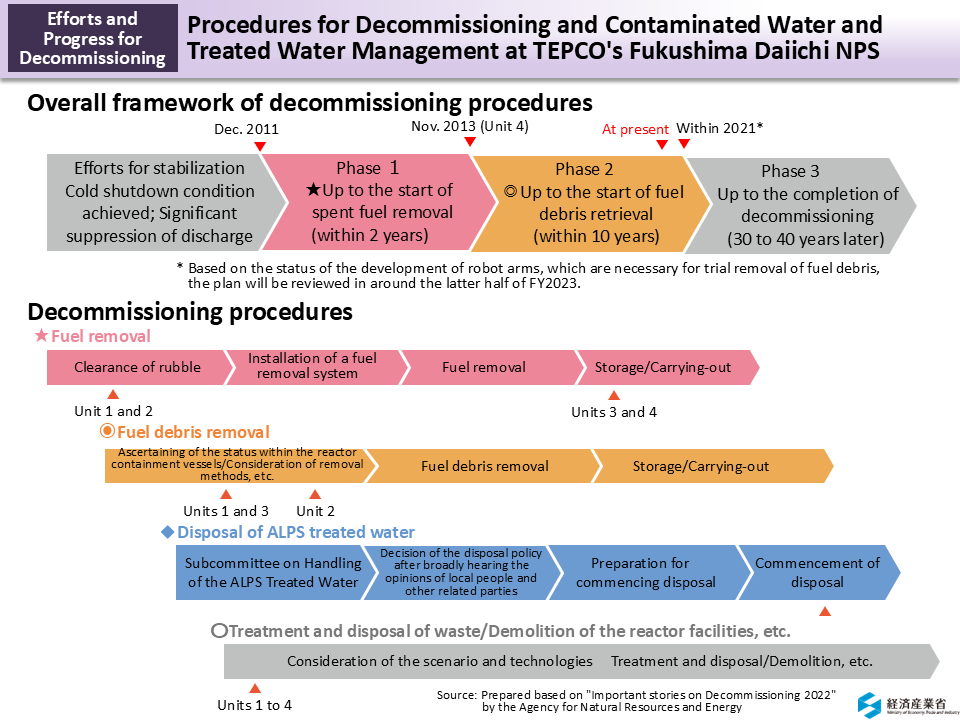 Efforts to decommission damaged nuclear reactors have been continued at Tokyo Electric Power Company (TEPCO)'s Fukushima Daiichi NPS. At present, cooling of reactors is continued at all Units and they are all being kept stable and under control.
Procedures for decommissioning Fukushima Daiichi NPS are unprecedentedly challenging and the Government of Japan takes the initiative to carry out measures stably and steadily in line with the Mid- and Long-term Roadmap towards the Decommissioning of Tokyo Electric Power Company Holdings' Fukushima Daiichi NPS (Mid- and Long-term Roadmap).
In December 2019, the Mid- and Long-term Roadmap was revised and it was decided to commence with taking out the fuel debris of Unit 2 first, and the method was also determined. For completing the decommissioning in 30 to 40 years, decommissioning procedures will continuously be implemented while placing top priority on ensuring safety.(Note 1)
(Note 1) Fuel debris removal work may be delayed for around one year due to delay in the development of relevant equipment caused by the spread of the COVID-19 infection.
Included in this reference material on February 28, 2018
Updated on March 31, 2021