ICRP Recommendations and Responses of the Japanese Government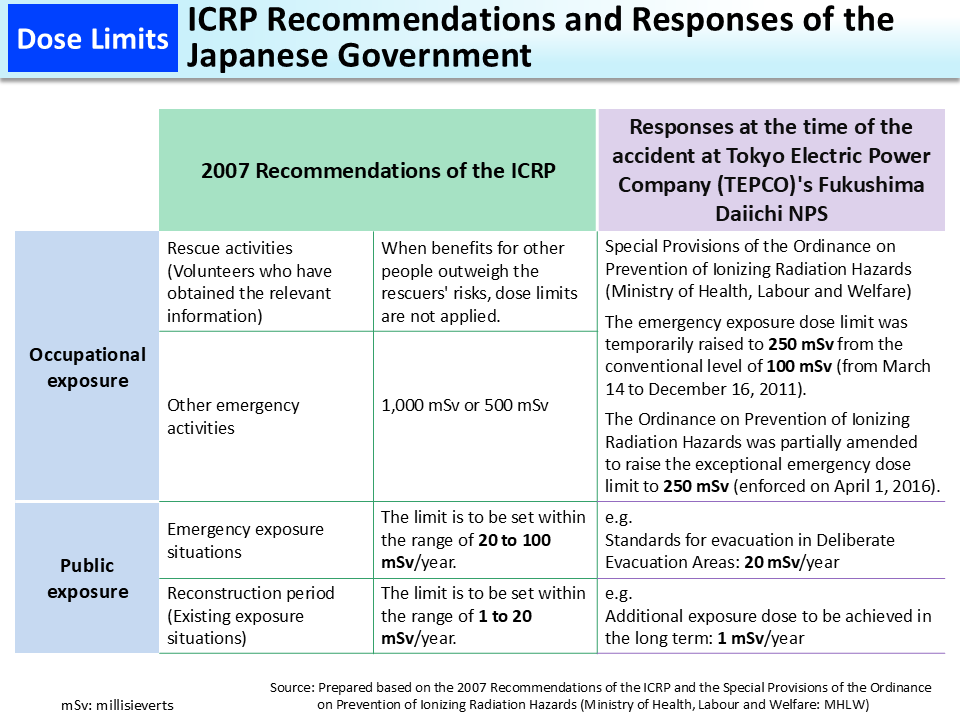 The accident at TEPCO's Fukushima Daiichi NPS occurred while deliberations were continuing over the incorporation of the 2007 Recommendations of the ICRP into domestic laws and regulations.
The accident changed exposure situations, and the idea of reference levels, which had been unfamiliar to Japanese laws and regulations, was adopted for public exposure. In exposure dose control using reference levels, an initial reference level is first set based on the standards for respective exposure situations specified in the 2007 Recommendations of the ICRP so as to ensure that no one receives an unduly high dose. Secondly, if the situation has improved and there is almost no one who receives a high dose exceeding the reference level, a new lower reference level is set as necessary to efficiently achieve exposure dose reduction.
In the meantime, regarding occupational exposure, the emergency dose limit was temporarily raised from 100 mSv to 250 mSv as an exception for an unavoidable case for the purpose of preventing the expansion of the disaster at the NPS. Later, as the work to achieve stable cold shut-down conditions of the reactors was completed, this exceptional measure was abandoned.
Considering the need to develop regulations on the prevention of radiation hazards during emergency work in preparation for any possible nuclear emergencies at nuclear facilities in the future, the Ordinance on Prevention of Ionizing Radiation Hazards was partially amended to raise the exceptional emergency dose limit to 250 mSv. The amended Ordinance was put into force on April 1, 2016.
(Related to p.170 of Vol. 1, "Reduction of Exposure Doses Using Reference Levels")
Included in this reference material on March 31, 2013
Updated on March 31, 2019