Outline
Kokyogaien National Gardens are situated in the center of Tokyo. These gardens were first opened to public as the National Gardens in 1949.
Prior to this date, the National Gardens were part of the Imperial Palace grounds. These beautiful and well maintained National Gardens are divided into three sections.
1.The Garden Plaza directly in front of the Imperial Palace.
2.Kitanaomaru Garden area located due north of the Imperial Palace.
3.The twelve scenic moats which surround the Imperial Palace, the Garden Plaza and Kitanomaru area.
Kokyogaien National Gardens covers an area of approximately 115 hectares. The combined area of the 12 moats amounts to approximately 37 hectares.
In the Garden Plaza approximately 2,000 Japanese Black Pines(Pinus Thunbergii) are planted in the lawn area. These pine trees blend in very well with the "Yaguras"(old watch towers) and gates, and also with the several moats which are all remnant of Edo Castle. This area has become very popular with the people of Japan.
Edo Castle(Edo:former name of Tokyo City) was constructed on a vast scale, and was the largest castle ever built in Japan. The remaining stone walls, moats and gates are of great historical importance. They are all designated as Special Historic Relics and are of Important Cultural Assets to Japan. Kitanomaru district was occupied by the Konoe Military Regiment(Special Imperial Guard) from 1874 until 1945. Kitanomaru Gardens has an area of approximately 19.3 hectares, and are connected to the East Gardens of the Imperial Palace is the only part of the Imperial Palace that is opened to the public.
Kokyogaien National Gardens together with the Imperial Palace grounds are the single largest green area in the center of Tokyo and, combined with the moats, they represent a very important nature reserve and recreation area in Tokyo.
Kokyogaien National Gardens office is committing itself to maintaining this invaluable property with great care and good planning for future generations to enjoy.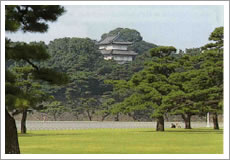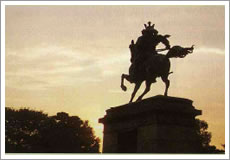 Point of Interest in KOKYOGAIEN NATIONAL GARDENS
Information
If you have any questions, please contact any of the following National Garden Offices.
Kokyogaien Area

Office Kokyogaien National Garden Office
Adress 1-1 Kokyogaien, Chiyoda-ku, Tokyo 100-0002
Phone 03-(3213)-0095

Kitanomaru Area

Office Kitanomaru Garden Office
Address 1-1 Kitanomaru Park, Chiyoda-ku, Tokyo 102-0091
Phone 03-(3211)-7878

Bus Parking and Rest House

Office National Gardens Association Kokyogaien
Adress 1-1 Kokyogaien, Chiyada-ku, Tokyo 100-0002
Phone 03-(3213)-5509
Guide Map
Regulations for Visitors
Permission is required for :
1) Commercial sales and distribution.
2) Taking pictures for the business purposes.
3) Holding meeting or demonstrations.
4) Jogging or marathons in groups of over 20 people.
Prohibitions
1) To collect or damage any plants.
2) To catch or kill any birds, fish or animals.
3) Carring dangerous materials or instruments which may cause harm people or damage the gardens or the wildlife.
4) All sports activities except jogging or marathons.
5) Collecting any financial donations.
6) Any other form of behavior which is not considered suitable in the National Garden.
To Page Top