National Parks of Japan
Shiretoko National Park's 50th Anniversary and its 10th Anniversary as a World Heritage Site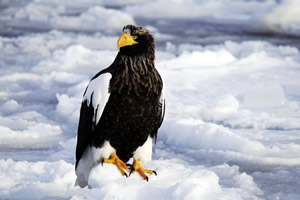 A Steller's sea eagle watching its prey on drift ice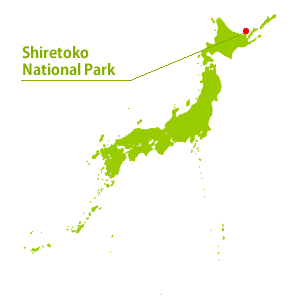 Shiretoko National Park was established about half a century ago in 1964 as the 22nd National Park in Japan.
The Park is characterized by its primitive landscape of the peninsula formed by volcanic activities and drift ice. 60% of the area is classified as "Special Protection Zone" which receives the highest level of protection, and this means that the Japanese Government has been placing a special emphasis on its protection. Shiretoko's local communities also have high motivation for the conservation of nature, so they led the National Trust activities to protect Shiretoko's nature.
In addition to the conservation efforts, Shiretoko area is highly evaluated with its biodiversity including endangered raptors and large mammals such as brown bears (higuma) and killer whales and the interconnected ecosystems of the sea, rivers and forests. Thus, Shiretoko National Park was inscribed as a World Heritage site in 2005.
In the last ten years since the inscription, advanced efforts have been made in the area including the introduction of the regulated utilization system for major tourist attractions. In order to leave the beauty of Shiretoko to the next generation, the sustainable use of the nature that allows us to coexist with the natural environment is required.