Shiretoko Goko Lakes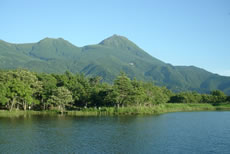 [Mt. Rausu-dake
as seen from Lake Number 1] A three-kilometer circuitous walking trail has been built around five large and small lakes that are surrounded by a primeval forest. Visitors can see claw marks made by brown bears, holes bored by black woodpeckers, animal trails, and myriad other examples of the ways in which animals live in the wild. In the spring, skunk cabbage flowers bloom and Ezo brown frogs lay eggs in unison. In the summer, Tibicen bihamatus cicadas chirp while in autumn, varicolored fruits and leaves transform the area into a riot of chromatic inspiration.
An electrified fence is set up to enclose the third, fourth, and fifth lakes during the season when local brown bears are particularly active (normally between June and July of each year).
Shiretoko Pass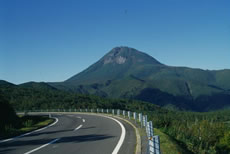 The vegetation that can be seen as you drive along the Trans-Shiretoko Highway connecting Utoro outside of Shari Town and Yunosawa in the town of Rausu varies according to elevation. Located 738 meters above sea level, Shiretoko Pass constitutes the highest point along this route and is home to a zone of dwarf stone pines that would normally be seen growing in an environment corresponding to an elevation of about 3,000 meters above sea level in the center of the main Japanese island of Honshu. The crimson foliage of autumn is also a magnificent sight to behold. Shiretoko Pass commands views of Mt. Rausu-dake, recognized as one of Japan's one hundred most celebrated peaks, and Kunashiri Island (one of the four Northern Islands, an inherent part of the territory of Japan).
Furepe Falls
There is a walking trail that leads to an amazing waterfall from which water falls from a point partway up a 100-meter high cliff into the Sea of Okhotsk. This waterfall is located one kilometer away from the Shiretoko Nature Center. Pass through various environments of old-growth trees and fields of grass to reach an observatory from which you can behold a magnificent landscape consisting of the Shiretoko Mountain Chain and the precipitous cliffs that are distinctive to Shiretoko. With an abundance of fauna and flora added to this mix, this area will always have something different to reveal in every season.
In grassy areas, you may catch sight of Siberian lupin and Senecio cannabifolius plants in bloom and Japanese stonechats and latham's snipes engaging in different patterns of flight. In wooded areas, you might also get to see narcissus flycatchers and the great spotted woodpecker. Areas near the cliffs are home to colonies of seabirds. In the winter months, ice floes drift in and visitors can marvel at the sight of sea eagles and white-tailed eagles soaring through the sky and a waterfall turning to blue-tinged ice as well as explore the area on cross-country skis or snowshoes. This trail can be enjoyed year-round.
Mt. Rausu-dake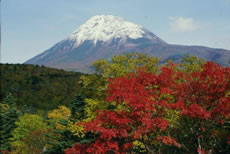 Rising 1,661 meters above sea level, Mt. Rausu-dake is situated in the center of the Shiretoko Peninsula. Patches of snow remain on its slopes until the middle of July. The over 300 varieties of flowering alpine plants that grow on this mountain in summer are stunningly beautiful. A climber who has reached the summit can see the Shiretoko Mountain Chain and, on clear days, can also glimpse Kunashiri Island to the east and the Sea of Okhotsk and Shiretoko Goko Lakes to the west. This vantage point also overlooks Lake Rausu and a sea of trees.
As a habitat for wild birds and animals, the mountain has managed to retain its primeval form to this day. The beginning of July coincides with the commencement of the mountaineering season at Mt. Rausu-dake, which is later than for any other mountain in Japan.
The mountain-climbing trail between Mt. Io and Kamuiwakka is off-limits. Please take note of this fact if you are planning to climb Mt. Rausu-dake at some point in the future.
Page top