Voice of MOE Family in the World
Paris, the World Centre of the Environment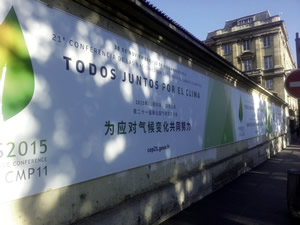 COP banners along the Quai d'Orsay (near French Ministry of Foreign Affairs)
On a sunny day in March, I was at the Orly Airport waiting for a bus to Paris centre. As always, the ticket machines were inoperable, tourists were preparing to buy a ticket from the driver, which usually take time. My sinking feeling was betrayed when the bus driver opened the door and shouted "It's free!"
During that weekend, due to heavy smog, all public transport in Paris was free in an effort to reduce pollution from cars. Air pollution in Paris was worse than great rivals such as Beijing and New Delhi.
Fashionable Parisians enjoy green movement in a smart way; Eco-cafes, bio marchés, LEDs for Champs-Élysées Christmas illumination, the Vélib', bike-rental program and Autolib', evolutionary automated electric-car rental program.
Two months to the Paris COP21. To combat the challenge of climate change may impose painful reforms. The world is watching how Parisians and EU citizens lead the planet. Paris should be the centre of the world in December again.