Voice of MOE Family in the World
Japan Fund for Joint Crediting Mechanism (JFJCM) in ADB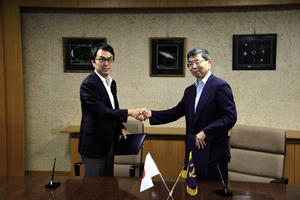 Former Minister Mr. Ishihara and President Mr. Nakao signed the Letter of Intent for Cooperation on Environmental Issues
In June 2014, the Minister of the Environment and Asia Development Bank (ADB) President signed a Letter of Intent for Cooperation on Environmental Issues. Agreements under the Letter include cooperation to implement the Japan Fund for the Joint Crediting Mechanism (JFJCM). The JFJCM is a new trust fund in ADB with a grant of 1.8 billion yen from the Ministry of the Environment.
The Joint Crediting Mechanism (JCM) is a bilateral carbon market mechanism between the Japanese Government and developing countries. The JFJCM will help finance advanced low-carbon technologies including smart grids, renewable energy, and energy efficiency measures for ADB-financed projects in countries utilizing the JCM.
In 2013, ADB approved 2.3 billion dollars for clean energy projects through various climate change-related funds and invested about another 1 billion dollars in climate change adaptation. However, as demands of the Asia-Pacific region for sustainable low-carbon infrastructure are sizable, the JFJCM will further enhance the region's capacity to meet its demands.