National Parks of Japan
Shiga Highland Biosphere Reserve Connects SATOYAMA Landscape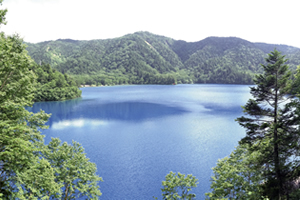 The emerald green Onuma Pond (Core Area in the BR)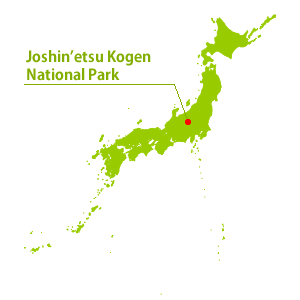 Joshin'etsu Kogen National Park is Japan's second largest national park. In 1980, the Shiga Highland area of this park became the first Biosphere Reserve (BR)*1 in Japan under UNESCO's Man and the Biosphere (MAB) Programme.*2 The vicinity of Mt. Shiga was designated Core Area, and the surrounding area, Buffer Zone. In June 2014, the area where people engage in sustainable agriculture and livelihoods was also designated Transition Zone.
Thus, both the mountain-foot villages (i.e. Transition Area) and the forests (i.e. Buffer Zone) those villages have been using sustainably as a traditional commons are now part of the BR. We would like to take this opportunity to enhance our managerial support of Shiga Highland BR, encompassing the Core Area, a valuable local asset, as well as the Buffer and Transition Areas, a Socio-Ecological Production Satoyama landscape.
*1 Biosphere Reserve (BR): Sites established by countries and recognized to promote sustainable development based on local community efforts and sound science.
*2 Man and the Biosphere (MAB) Programme: A UNESCO program that proposes interdisciplinary research, demonstration and training in natural resources management.