Feature
Message from Minister of the Environment, Japan
YOSHIO MOCHIZUKI


FROM MINISTER OF THE ENVIRONMENT
-CUM-MINISTER OF STATE FOR THE NUCLEAR EMERGENCY PREPAREDNESS
Reconstruction in Fukushima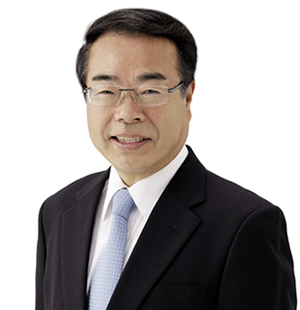 "Without reconstruction in Fukushima, there is no revitalization of Japan."
We are fully committed to radioactive decontamination, construction of interim storage facilities, disposal of radioactive waste, healthcare, and implementation of measures to ease health concerns to secure a peaceful living environment for residents of Fukushima,
We will also collaborate with relevant prefectures to address issues regarding the so-called, specific radioactive hazardous waste.
Creation of a "sound material-cycle society" in which low carbon, resource circulation, and natural symbiosis are integrated
To revitalize Japan, the establishment of a new, "sound material-cycle society" that integrates low carbon, resource circulation, and harmony with nature by harnessing Japan' s rich natural and human resources will be indispensable.
We will audaciously promote measures against global warming including setting a post-2020 CO2 emissions reduction target, disseminating natural energy, and energy conservation. Resource circulation, biodiversity conservation, and environmental measures that take other Asian countries into consideration will also be broadly implemented.
Nuclear regulation
As the Minister responsible for nuclear regulation, I will support independent, neutral activities of the Nuclear Regulatory Authority through securing its budget and strengthening of its structure.
Nuclear emergency preparedness
Further, as the Minister of State for Nuclear Emergency Preparedness, I will collaborate with local public bodies to ensure our citizens' safety and security through measures for nuclear emergency preparedness.
"To protect people and environment"
"To create a new society with dreams"
I am prepared to make every effort to reconstruct Fukushima, establish a sound material-cycle society, and prevent the occurrence of nuclear emergencies. Each of these tasks shares in the common mission of "protecting people and environment" and is indispensable for the creation of an inspiring new society.
Climate Change: Lima and beyond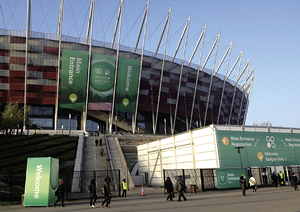 COP19 in Warsaw, Poland (Nov.2013)
According to the Intergovernmental Panel on Climate Change (IPCC), "warming of the climate system is unequivocal." Having hosted the IPCC Plenary this March, Japan regards the findings of the IPCC's Fifth Assessment Report seriously. In recent years, the world has indeed seen frequent natural disasters due to extreme weather events. In Japan, too, we have been experiencing much localized torrential rainfall. In order to protect future generations and the environment, I would like to reemphasize the need for the whole world to put utmost effort into taking measures against climate change.
To this end, it is imperative that a new post-2020 international framework be agreed upon at COP21 in Paris next year. This year's COP20 in Lima is a crucial milestone towards next year's agreement. I am ready to contribute to the success of Lima.
Japan will continue to call for the adoption of a fair and effective framework applicable to all Parties. Moreover, it must not be forgotten that the decision taken at COP19 invites Parties to communicate their intended nationally determined contributions well in advance of COP21 and by the first quarter of 2015 if ready to do so. In light of this COP19 decision, Japan aims to submit its intended nationally determined contribution as early as possible.
In addition to formulating a new framework, it is important that each Party takes ambitious actions. Japan will continue to work towards the introduction of renewable energy to its maximum potential and the promotion of substantial energy conservation through its leading low-carbon technologies. Furthermore, Japan will contribute to global emissions reduction by promoting the diffusion of leading low-carbon technologies to developing countries through the Joint Crediting Mechanism (JCM) and other relevant measures.
As the Minister of the Environment, I will exert myself to any extent to contribute to the 2015 agreement and to promote ambitious measures against climate change.
YOSHIO MOCHIZUKIMINISTER OF THE ENVIRONMENT, JAPAN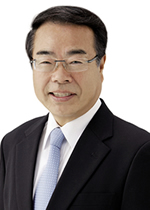 Date of BirthMay 2, 1947
Member of the House of Representatives (Elected 6 times)
Education
1970

Graduated from Chuo University (Bachelor of Law)
Career
1996

Elected to the House of Representatives for the first time

2001

Parliamentary Vice-Minister for Foreign Affairs

2002

Parliamentary Vice-Minister of the Environment

2006

Senior Vice-Minister of Land, Infrastructure, Transport and Tourism

2012

General Manager of Administrative Reform Promotion Office (LDP

*

)

2013

Chairman of the Federation of Diet Members for Port and harbor

2014

Minister of the Environment
Minister of state for the Nuclear Emergency Preparedness
*LDP : Liberal Democratic Party
SHIGEO KITAMURASTATE MINISTER OF THE ENVIRONMENT, JAPAN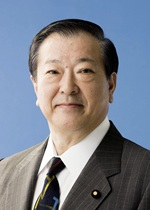 Date of BirthNovember 8, 1945
Member of the House of Representatives (Elected 3 times)
Education
1968

Graduated from Meiji University (Bachelor of Business Administration)
Career
2005

Elected to the House of Representatives for the first time

2012

Deputy Secretary-General of the Liberal Democratic Party
Parliamentary Secretary of Internal Affairs and Communications/Parliamentary Secretary of Cabinet Office

2013

Deputy Secretary-General of the Liberal Democratic Party

2014

State Minister of the Environment
YASUHIRO OZATOSTATE MINISTER OF THE ENVIRONMENT, JAPAN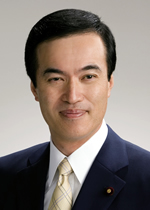 Date of BirthSeptember 29, 1958
Member of the House of Representatives (Elected 3 times)
Education
1983

Graduated from Keio University (Bachelor of Law)
Career
2005

Elected to the House of Representatives for the first time

2012

Deputy Secretary-General of the Liberal Democratic Party Director of Agriculture and Forestry Division (LDP)

2013

Parliamentary Vice-Minister of Agriculture, Forestry and Fisheries

2014

State Minister of the Environment
State Minister of Cabinet Office
MAMORU FUKUYAMAPARLIAMENTARY VICE-MINISTER OF THE ENVIRONMENT, JAPAN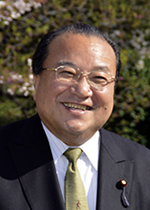 Date of BirthDecember 19, 1952
Member of the House of Representatives (Elected 1 time)
Education
1968

Graduated from Azabu University (Veterinary Medicine)
Career
1987

Elected to the Member of Tokushima City Council

1991

Elected to the Member of Tokushima Prefectural Assembly (served for 6 terms)

2012

Elected to the House of Representatives for the first time

2013

Deputy Director, Women's Affairs Division (LDP)

2014

Parliamentary Vice-Minister of the Environment Parliamentary Vice-Minister of the Cabinet Office
HINAKO TAKAHASHIPARLIAMENTARY VICE-MINISTER OF THE ENVIRONMENT, JAPAN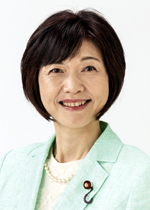 Date of BirthJanuary 19, 1958
Member of the House of Representatives (Elected 1 time)
Education
Graduated from Nihon University (Bachelor of Art)
Career
1981

Announcer, Television Iwate Corporation

2005

Elected to the Member of Iwate Prefectural Assembly

2013

Elected to the House of Representative for the first time
Deputy Director, Women's Affairs Division (LDP)
Deputy Director, Information Division, Public Relations Headquarters (LDP)

2014

Parliamentary Vice-Minister of the Environment