Behavior of Radioactive Cesium in the Environment: Adsorption and Fixation by Clay Mineral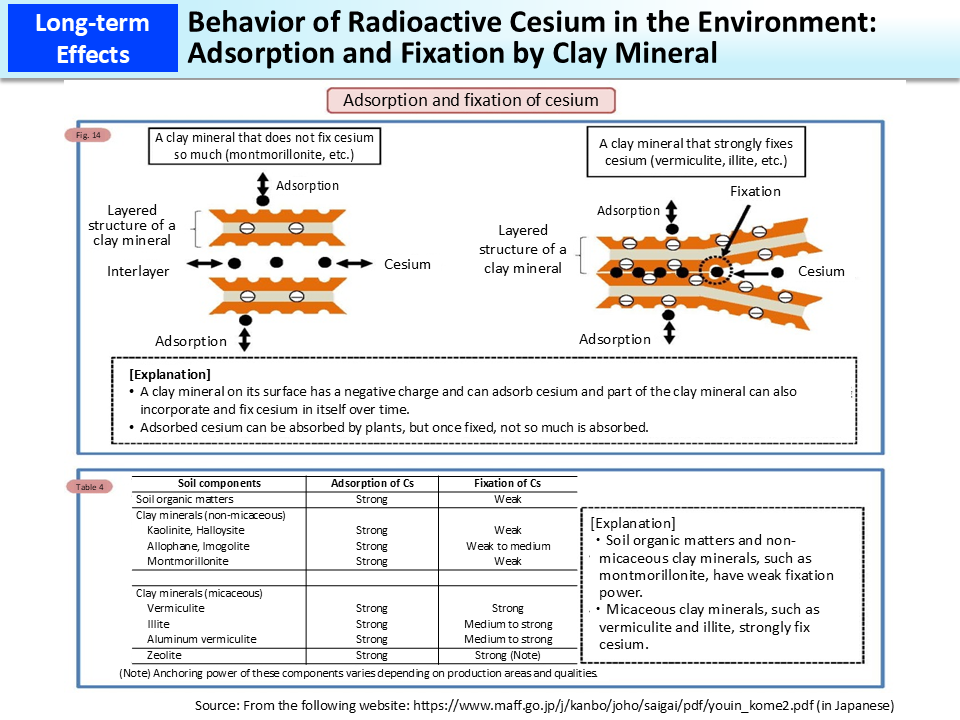 Cesium has a similar chemical property as potassium, etc. (having a positive charge) and can be easily adsorbed by clay minerals that have a negative charge superficially. Furthermore, some clay minerals have the ability to fix cesium that they have adsorbed, as time proceeds. It is known that cesium, once fixed, becomes hardly soluble in water.
Radioactive cesium released into the environment due to the accident at Tokyo Electric Power Company (TEPCO)'s Fukushima Daiichi NPS has been adsorbed and fixed by clay minerals in soil as time passes and not much has been absorbed into crops (the above figure).
In particular, micaceous clay minerals, such as vermiculite and illite, are known to have the property to strongly fix cesium (lower table).
Research and studies conducted so far have confirmed a declining trend over time in the concentration of radioactive cesium in river water samples collected in Fukushima Prefecture, as well as a declining trend over time in the concentration of radioactive cesium that flows into rivers from forests, etc.1
1. Outcome report of the FY2014 project, "Compilation of Data on Distribution of Radioactive Materials Released due to the Accident at Tokyo Electric Power Company (TEPCO)'s Fukushima Daiichi NPS and Development of Transfer Model" commissioned by the Secretariat of the Nuclear Regulation Authority
Included in this reference material on March 31, 2017