Water / Soil / Ground Environment
Harmonization of Microplastics Monitoring Methodologies in the Ocean
Background
 Marine litter including microplastics is an urgent issue. Especially, microplastics pollution of the marine environment has been identified as a serious international challenge over the last decade, since it would be extremely difficult to recover them from the ocean, with concern that they would have impacts on marine ecosystems. It is important to understand their present status, and it is required to consider and implement measures against marine litter and microplastics on the basis of scientific findings.
 Researchers in various countries have measured abundances of microplastics in the ocean to identify the actual status of microplastics pollution, but it is difficult to compare and integrate the measured abundances of microplastics due to the diversified monitoring methods. It is necessary to survey these monitoring methods and harmonize them for comparison and integration of the data obtained so far.
 G7 Elmau Summit in 2015 acknowledged that marine litter, especially plastics, would pose a global challenge, through their direct impacts on the marine and coastal biota and ecosystems and their potential impacts on human health. Moreover, the G7 Action Plan to combat marine litter was agreed. Communique adopted at G7 Toyama Environment Ministers' Meeting in 2016 committed to the five priority measures, including actions for standardization and harmonization of the monitoring methods on marine litter. In the expert workshop of November 2015 in Berlin following up the Elmau Summit, it was agreed that Japan would take a leading role in efforts to standardize and harmonize the monitoring methods on microplastics in the ocean. Based on this agreement, the "Project of Harmonization of Marine Microplastics Monitoring Methodologies" was launched by the Ministry of the Environment of Japan in FY2016.
Goals
 Making progress on harmonization of Marine Microplastics Monitoring by developing Recommendation and Guidelines in the light of
Focusing on net sampling and sample analysis methods
Developing distribution map of microplastics on sea surface
Identifying technical parameters to be harmonized
Considering minimum requirements and specific needs
ex. Sampling-net towing condition (duration, area etc.), type of sampling net
(mesh size, shape), identification of polymer-type (PE, PP, PS, PET), etc.
Process
FY2016
Publication of draft recommendation of microplastics monitoring by international expert group
FY2017
Revising the draft focusing on analyzing method by using standardized samples in cooperation with 12 institutes belonging to 10 countries (Canada, Norway, P.R.China, Russia, R. Korea, Spain, Switzerland, Thailand, USA, and Japan) (Isobe et al. (in preparation)).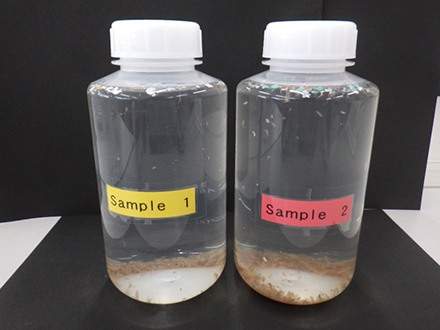 Fig.1 Standard samples for the Inter-laboratory comparisons.
Sample1 is modeled in the open sea.
Sample2 is modeled in the bay.
FY2018
Revising the draft focusing on field sampling on sea surface based on the comparison experiment of different sampling methods. Simultaneous/parallel net-sampling of microplastics was conducted to estimate "sampling error".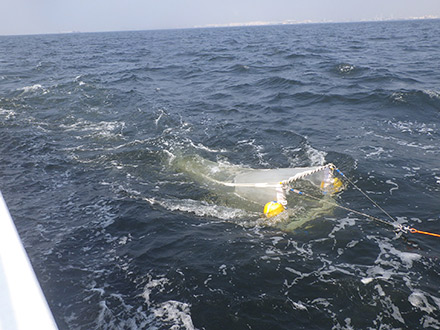 Fig.2 A Neuston net towed at the port side of a ship.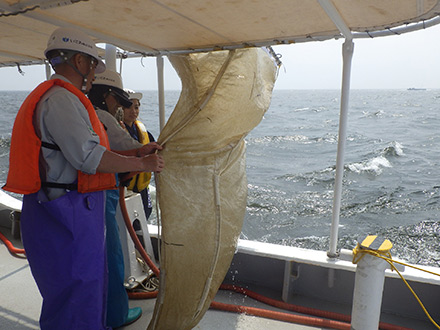 Fig.3 Washing a net after towing.

Fig.4 Collection of microplastics from the cod-end.
Finalizing guidelines for marine microplastics monitoring
 The recommendation and guidelines will be disseminated through the various international frameworks such as GESAMP, UNEP and WESTPAC (IOC-UNESCO).
The expert meetings were held to discuss harmonization of monitoring method on microplastic monitoring.
○The 1st meeting held in December 2016
Sharing recognition that harmonization on monitoring methods is important and necessary.
Setting goals.
Making a draft of recommendation of microplastic monitoring
Suggesting two pilot projects in order to harmonization on microplastic monitoring
○The 2nd meeting held in February 2018.
Reporting the result of inter laboratory comparison
Revising and discussing the recommendation draft according to the result of inter-laboratory calibration exercise.
Discussing the contents of the pilot study to estimate "sampling error".
Discussing the future work
○The 3rd meeting held in March 2019.
Reporting the result of a comparison of microplastics sampling methods
Discussing the guidelines
Discussing the future work
Publication
Contact
 Office of Marine Environment, Water Environment Division, Environmental Management Bureau, Ministry of the Environment, JAPAN
E-mail:KAIYOU02@env.go.jp