[PRESENT STATE OF WETLANDS IN JAPAN] WETLAND IN JAPAN
[Biodiversity] Wetland in Japan
3.PRESENT STATE OF WETLANDS IN JAPAN
Wetlands in Japan stretch from subarctic to subtropical zones and come in various forms: bogs and fens, mangroves, rivers, lakes and marshes, coastlines and tidal-flats. Currently, these wetlands are affected by human activities that impact their natural state.
National Survey on the Natural Environment
In accordance with the Nature Conservation Law (1972), Ministry of the Environment Japan has undertaken a project called the National Survey on the Natural Environment every 5 years since 1973. The purpose of the Survey has been to collect basic information on the present state of the natural environment throughout the country and to analyze long-term trends by accumulating data from the surveys. The Survey covers vegetation, fauna and flora species distribution, research of coastal and other areas, etc. The map above is based on the results of the survey on vegetation. The Survey has been conducted five times to date: 1973, 1978-79, 1983-87, 1988-92 and 1993-1999. The sixth survey began in 1999. There were several surveys included under the Nationwide Survey on the state of wetlands: Specific Plant Community surveys (1978 and 1984-86), River surveys (1979, 1985 and 1992), Lake and Marsh surveys (1979, 1985 and 1991), Coastal Area surveys (1978 and 1984), Tidal-flats surveys (1978 and 1989-1991), etc. The fifth survey was concentrating on the "Wetlands Survey" to obtain more comprehensive data on wetlands as defined under the Ramsar Convention. A large number of volunteer participants supported the efforts of Ministry of the Environment by collecting the data. The current situation of wetlands in Japan is outlined below.
Specific Plan Communities (1986)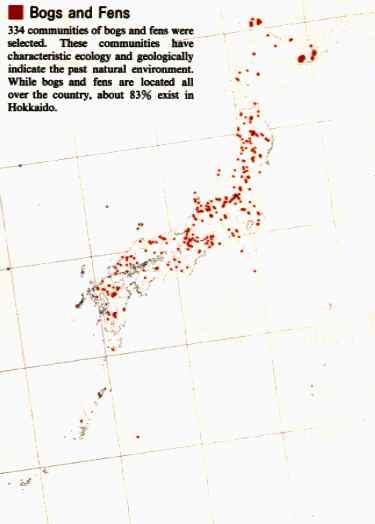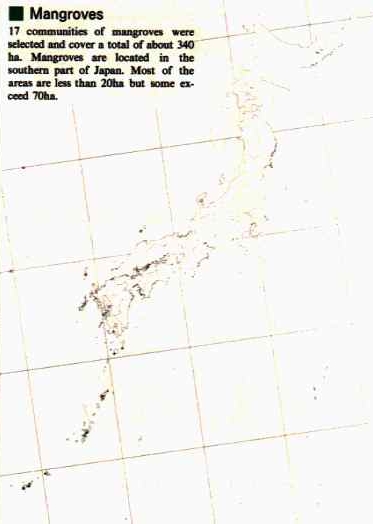 Rivers
Very few rivers remain undeveloped in this densely populated and highly utilized country. Of the 113 major rivers in Japan, only three rivers do not have cross-river facilities. In the period from 1979 to 1985, about 250 km of riverbank were artificially modified. Rivers were shortened by the construction of artificial channels that diverted the river. Recently, local communities have become aware of the importance of rivers as recreation areas as well as natural river environments, and they now endeavor to maintain healthy river systems.
Changes in Rivers
Unit of length: km
YEAR OF SURVEY

NUMBER OF RIVERS

TOTAL LENGTH

LENGTH OF NATURAL RIVERS

LENGTH OF ARTIFICIAL RIVERS

1979
113
11,425.0
(100.0%)
9,232.8
(80.8%)
2,192.3
(19.2%)
1985
113
11,412.0
(100.0%)
8,970.5
(78.6%)
2,441.5
(21.4%)
1998
113
11,387.5
(130.7 (100)%)
8,710.1
(100.0 (76.5)%)
2,677.4
(30.7%)
DIFFERENCE
-24.5
(30.7 (0) %)
-260.4
(-2.1%)
235.9
(9.3%)
Artificial Modification of Riverbanks
Riverbanks landforming is essential to provide good habit for aquatic animals and plants.
IHabitat conditions in Japan for aquatics worsen every year because natural riverbanks are being reduced by artificial modification.
Lakes and Marshes
There are 480 natural lakes and marshes larger than 1 ha in Japan. The Lake and Marsh survey is concerned with maintaining a healthy natural environment in surface water areas of more than 1 ha. In the six-year period from 1985 to 1991, 2.2% of total lakeshore length was converted from natural to artificial lakeshore, and the land in 0.7% of the total lakeshore was urbanized or industrialized.
Changes in Lakeshores
Unit of length : km
YEAR
OF
SURVEY

NUMBER OF LAKES

TOTAL LENGTH

LENGTH OF NATURAL LAKESHORES

LENGTH OF SEMI-NATURAL LAKESHORES

LENGTH OF ARTIFICIAL LAKESHORES

WIDTH OF RIVERS FLOWING IN/OUT OF LAKES

1985
476
3,168.4
(100.0%)
1,862.9
(58.8%)
375.0
(11.8%)
909.6
(28.7%)
20.9
(0.7%)
1991
476
3,183.4
(100.0%)
1,803.8
(56.6%)
393.7
(12.4%)
965.2
(30.3%)
21.5
(0.7%)

DIFFERENCE

15.0*
(0.0%)
-59.9
(-2.2%)
18.7
(0.6%)
55.6
(1.6%)
0.6
(0.0%)
*Difference in total length is due to the measuring method used in each survey.
A large extent of natural lakeshore is reduced by artificial modification.
Coastlines
Approximately 296 km of natural coastline disappeared because of artificial modification in the six-year period beginning in 1985. By 1984, only about 55.2% of Japan's 32,817 km of coastline remained intact.
Changes in the Seacoast(1993)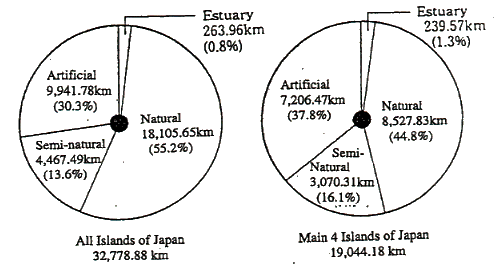 Tidal-flats
The tidal-flats covered an area of about 51,000 ha in 1991. Since tidal-flats are often targeted for various development projects, about 4,000 ha of tidal-flats have disappeared through reclamation and dredging in the last decade. However, tidal-flats have recently been recognized for the importance of their biological diversity and usefulness for recreational activities.
---
Ministry of the Environment Government of Japan