State of Global Environment at a Glance: Wildlife Conservation in Japan
Wildlife Protection Division
Nature Conservation Bureau
Environment Agency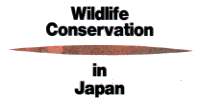 PREFACE
The Japanese archipelago consists of more than 3,900 islands distributed over more than 3,000 km between the subarctic and subtropical climatic zones. Japan's topography is characterized by mountainous regions, which cover three fourths of the land area. These natural features and Japan's isolation have produced high diversity among species when compared to other countries of similar size and latitude.
Since it was established in 1971, the Environment Agency has been responsible for the protection of wildlife (mainly mammals and birds) under the Wildlife Protection and Hunting Law. The Agency recognizes the importance of protecting all species of wild fauna and flora and published the Red Data Book of Japan in 1991. The Agency has rehabilitated populations of endangered species, instituted habitat improvement measures, and established a new law for the conservation of endangered species of wild fauna and flora.
Internationally, Japan is party to both the Convention on International Trade in Endangered Species of Wild Fauna and Flora (CITES) and the Convention on Wetlands of International Importance Especially as Waterfowl Habitat (Ramsar Convention). Japan has concluded bilateral conventions and agreements with the United States of America, Australia, China, and the Russian Federation for the protection of migratory birds and birds in danger of extinction. Japan also implements cooperative wildlife protection projects with several developing countries.
This booklet summarizes the status of wildlife in Japan and the legal and administrative programs pertinent to wildlife conservation in Japan.
March 1997
ildlife Protection Division
Nature Conservation Bureau
Environment Agency, Japan