Speeches by the Environment Minister
Statement by KOIZUMI Shinjiro, Minister of the Environment, Japan, at G7 Climate and Environment Ministers' Meeting (May 20, 2021)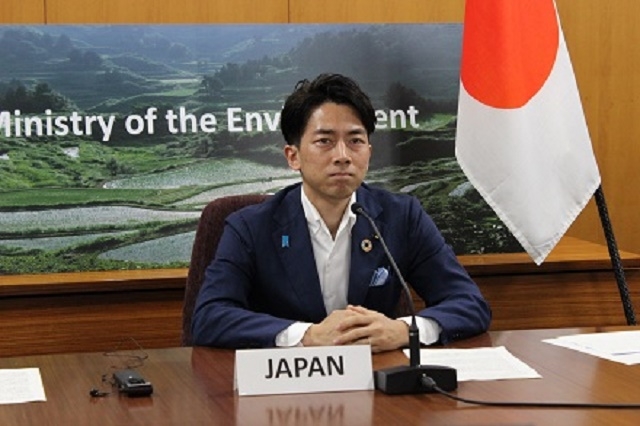 Thank you, Chair. I am deeply grateful to the UK for your leadership.
As we face significant global crises, such as the coronavirus pandemic, climate change and biodiversity loss, it is essential to redesign our socio-economic system to make it sustainable and resilient. To this end,
Japan is accelerating its efforts to make "three transitions": the transition to a "decarbonized society, "the transition to a "circular economy," and the transition to a "decentralized society."
We've made our commitment to decarbonization clear. At the Climate Summit in April, Prime Minister SUGA announced Japan aims to reduce its greenhouse gas emissions by 46 percent in 2030 from its 2013 level. In addition, Japan will continue strenuous efforts in its challenge to meet the goal of cutting its emissions by 50 percent. We have submitted an amendment bill to the Diet to make the carbon-neutral target for 2050 legally binding and to ensure its policy continuity.
46 percent is an ambitious target in line with the long-term goal of carbon neutrality by 2050. By setting an ambitious target together with the G7 countries, we have been able to create a significant momentum
towards carbon neutrality in the international community, including major emitters outside the G7.
Japan is also advancing the transition to a circular economy. The bill on Plastic Resource Circulation will encourage recycling efforts across the entire lifecycle of plastic products, from their design to manufacturing and to disposal. In addition, through the public-private partnership between the government and Keidanren, Japan's largest business federation, we will steadily promote Japan's transition to a circular
economy. Further, we will work with the G7 countries to develop "Circular Economy and Resource Efficiency Principles", to be used as a norm by the global corporations and financial sectors to accelerate
global green growth.
We are deeply aware of the importance of climate action in local communities and our essential role in promoting their actions. In Japan, we are formulating a roadmap for local climate action. This includes accelerating the creation of leading models of carbon-neutral regions in a five-year intensive period to 2025 and expanding a series of "decarbonization domino effects" among local communities.
The effort of redesigning will never be easy, but we hope to work with the G7 nations and guest countries to advance our joint work of redesigning the global socioeconomic system.
Let's work together, thank you.