Voice of MOE Family in the World
Indian People Sit under a Tree and Think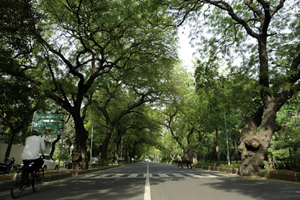 Roadside trees in the centre of Delhi
While commuting every morning in Delhi, I enjoy going through beautiful roadside trees. Delhi has the largest forest cover among major cities of India and you can find a number of forest areas. Tree functions as an air purifier, as well as a shelter from the strong sunlight here.
Air pollution in India, especially in Delhi, is known to be the world's worst level. According to a study, outdoor air pollution is the fifth leading cause of death in India and about 620,000 premature deaths occurred from air pollution-related diseases in 2010. Several countermeasures such as tree planting have been taken, but most did not succeed because of the rapid growth of population and industry exceeding the effect of the countermeasures. Although the public awareness about air pollution is increasing gradually, it is not as high as expected.
In ancient India, Buddha was spiritually awakened under a tree. When I see people sitting under a tree, I often wonder what they are thinking of environmental issues.