Relay Column
Solution Provider of Monitoring Technology for the Improvement of the World Ambient Environment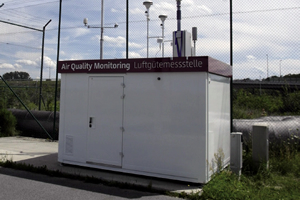 The air quality monitoring station in Berlin Brandenburg Airport
This system includes our ambient monitoring analyzer, meteorograph and data logger.

HORIBA Limited globally provides monitoring devices and high-quality services that contribute to the improvement of the environment. In the field of the air quality monitoring, we measure the concentrations of several substances in the air such as nitrogen oxides, oxygen saturation, hydrogen sulfide, and ammonia. Moreover, we also monitor PM10 and PM2.5 which are attracting public attention nowadays and their constituent elements with an automatic monitoring system.
In order to meet the needs for the atmospheric monitoring, we provide additional equipment such as the shelter for the monitoring station and relevant services such as sampling and data processing.
During the year of 2014, we sold over 1,000 analyzers in 27 countries.
The picture below is the air quality monitoring station we installed in Berlin Brandenburg Airport, Germany. In addition to the air quality analyzer, the monitoring station contains the meteorological monitoring devices with the data logger, which records the wind speed and wind direction.
We keep globally contributing to the conservation and improvement of the earth's environment providing our wide range of monitoring techniques and devices for the air quality, water quality, soil and radiation.
Utilizing our successful experiences in Japan, the United States and European countries, we will appeal the advantages of our environmental monitoring techniques in the newly developing countries which have emerging market economies.

Efforts to Recycle Resourced within 2km in Radius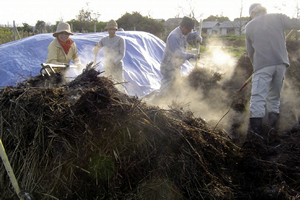 Spreading the composting technology with a history of 50 years to Asia
Sustainable Life Laboratory researches and diffuses technologies that help to achieve affluent and creative lives with a resource-circulating system in a local community.
We establish composting technologies including the one called cardboard box composting that can compost organic waste such as kitchen waste, fallen leaves, lawn waste and seaweed without using electricity, and we spread our technologies over Asian countries by educating people.
Our goal is forming a whole circulating process from composting to retailing within an area of 2km in radius, so we practice unique activities. For example, we arrange a variety of lectures for kindergarteners, students and citizens and organize courses entitled "The Half-farmer Urban People" to educate part-time food producers.
Through our activities, we feel that it is essential to improve our programs and projects more in order to suggest best practice for each community in Asia region.
We hope to increase the number of people who enjoy their lives with a healthy cycle of organic matters, have safe and tasty vegetables and receive eco-friendly education.