Promoting Financial Mechanism and Technology Mechanism under UNFCCC
The Paris Agreement was adopted in the 21st Conference of the Parties (COP21) of the UNFCCC in December 2015. To achieve goals set under the Paris Agreement, it is essential to reduce greenhouse gas (GHG) emissions globally through international cooperation. Meanwhile, the Financial Mechanism (including Green Climate Fund (GCF)) and the Technology Mechanism (including Climate Technology Centre and Network (CTCN)) were established under the UNFCCC at its COP16 to support climate change actions in developing countries, and now the mechanisms have become fully operational in supporting the implementation of the Paris Agreement.
Given such global landscape, Japan is willing to contribute to reducing the emissions through transferring advanced low-carbon technologies. The Ministry of the Environment, Japan (MOEJ) has been supporting introduction of the advanced low-carbon technologies in developing countries through various means including the Joint Crediting Mechanism (JCM) Model Project Programme and the Low-Carbon Technology Innovation Project Programme. With a view to further scaling up and replicating such efforts, the MOEJ aims to promote the Technology Mechanism and the Financial Mechanism under the UNFCCC.
Contact
Email:gcf-ctcn@env.go.jp.
Focal point for JFY 2022: Global Environment Centre Foundation (GEC)
About the Green Climate Fund (GCF)
GCF is a new global fund created to support the efforts of developing countries to respond to the challenge of climate change. GCF helps developing countries limit or reduce their greenhouse gas (GHG) emissions and adapt to climate change.
GCF seeks to promote a paradigm shift to low-emission and climate-resilient development, taking into account the needs of nations that are particularly vulnerable to climate change impacts.
GCF projects should fit in with the country's national priorities and national climate strategies/ plans (e.g. INDC/NDC, NAMA and NAP) and ensure full country ownership through country-driven approach.
GCF uses public investment to stimulate private finance, unlocking the power of climate-friendly investment for low emission, climate resilient development. To achieve maximum impact, GCF seeks to catalyze funds, multiplying the effect of its initial financing by opening markets to new investments. GCF launched its initial resource mobilization in 2014, and rapidly gathered pledges worth USD 10.3 billion. These funds come mainly from developed countries (including USD 1.5 billion from Japan), but also from some developing countries, regions, and one city (Paris).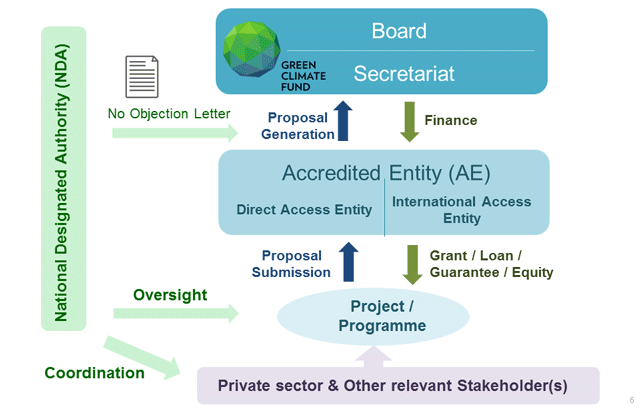 The Accredited Entities (AEs) may submit a proposal to GCF in conjunction with the no-objection letter signed by National Designated Authorities or focal points.
GCF project approval is built on the need to support developing country priorities, and NDAs or focal points to act as the point of communication with GCF. Every project the GCF Board agrees to fund must be endorsed, expressed via a no objection letter, by the NDA or focal point.
AE comprise the core of GCF's funding proposal cycle. They are responsible for presenting funding applications to GCF, and then overseeing, supervising, managing and monitoring the overall GCF-approved projects and programmes.
The Fund utilizes a variety of financial instruments to realize these projects. These include (i) grants, (ii) loans, (iii) equity and (iv) guarantees.
There are two types of GCF AEs, based on access modalities: Direct Access Entities (DAEs) and International Access Entities (IAEs). The DAEs are sub-national, national or regional organizations that need to be nominated by NDAs or focal points. The IAEs can include United Nations agencies, multilateral development banks, international financial institutions and regional institutions. GCF considers these organizations to have the wide reach and expertise to handle a variety of climate change issues, including ones that cross borders and thematic areas.

International Access Entities (IAEs) include Japan International Cooperation Agency (JICA), The Bank of Tokyo-Mitsubishi UFJ, Ltd. (BTMU), International Bank for Reconstruction and Development and International Development Association (World Bank), Asian Development Bank (ADB), United Nations Development Programme (UNDP), and United Nations Environment Programme (UNEP);
Direct Access Entities (DAEs) include PT. Sarana Multi Infrastruktur (Indonesia), Infrastructure Development Company Limited (Bangladesh), Small Industries Development Bank of India (India), and XacBank LLC (Mongolia).

Size of GCF projects:

Micro: up to USD 10 million
Small: up to USD 50 million
Medium: up to USD 250 million
Large: above USD 250 million

Additional Information
Climate Technology Centre and Network (CTCN)
The CTCN promotes the accelerated transfer of environmentally sound technologies for low carbon and climate resilient development at the request of developing countries. It provides technology solutions, capacity building and advice on policy, legal and regulatory frameworks tailored to the needs of individual countries. The CTCN does not provide funding directly to countries, but instead supports the provision of technical assistance (TA) provided by experts on specific climate technology sectors.
The CTCN delivers five main types of technical support on climate technologies:

Technical assessments, including technical expertise and recommendations related to specific technology needs, identification of technologies, technology barriers, technology efficiency, as well as piloting and deployment of technologies;
Technical support for policy and planning documents, include strategies and policies, roadmaps and action plans, regulations and legal measures;
Trainings;
Tools and methodologies;
Implementation plans

The work of the CTCN is supported by voluntary contributions including from developed and developing countries, the Global Environment Facility (GEF) and the Green Climate Fund (GCF). Such contributions account for USD 99 million as in September 2022, which include USD 13 million from Government of Japan.
The CTCN is composed of its Centre, the 13 consortium members (including UNEP and UNIDO), network members (more than 750 organizations are registered globally), and the Advisory Board.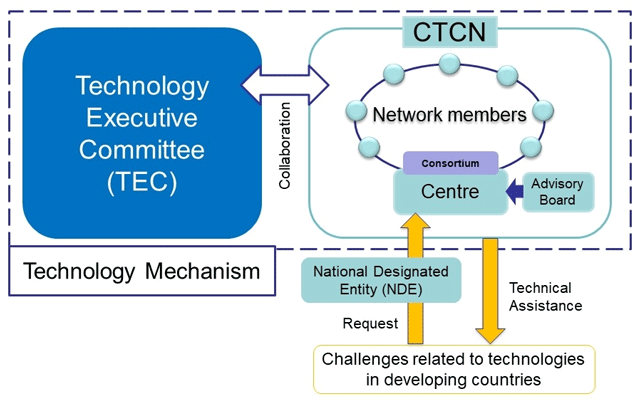 The CTCN provides TA upon receipt of requests from developing countries via their nationally-selected focal points, or National Designated Entities (NDEs), the Centre quickly mobilizes its global Network of climate technology experts to design and deliver a customized solution tailored to local needs. The TA can be either of a quick response or a response project:

Quick response: the cost of a TA is up to USD 50,000. Quick response projects are implemented by CTCN consortium member(s).
Response project: the cost of a TA is up to USD 250,000. The CTCN network members can submit proposals to address a response project when the CTCN calls for proposals through the UNIDO procurement process.

CTCN Network members in Japan (order in registration):

Global Environment Centre Foundation (GEC)
Overseas Environmental Cooperation Center, Japan (OECC)
Japan Environmental Sanitation Center (JESC)
Research Institute of Innovative Technology for the Earth (RITE)
Institute for Global Environmental Strategies (IGES)
New Energy and Industrial Technology Development Organization (NEDO)
Deloitte Tohmatsu Financial Advisory LLC (DTFA)
Nippon Koei Latin America - Caribban Co.Ltd
Ernst & Young ShinNihon LLC
* All CTCN network members can be found at https://www.ctc-n.org/network/network-members.