Mental Health and Lifestyle Survey: Outline (1/2)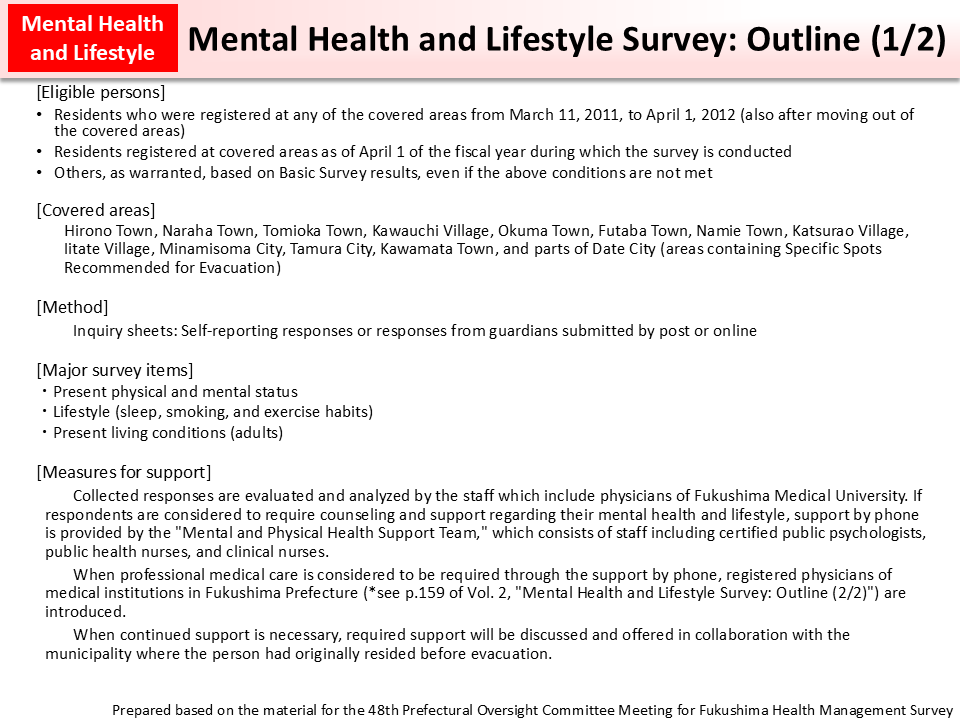 As in the case of the Comprehensive Health Checkup, the Mental Health and Lifestyle Survey also covers residents who were registered, as of March 11, 2011, and as of April 1 of the relevant survey year, at any of the municipalities that were designated as Restricted Areas, Deliberate Evacuation Areas or Evacuation-Prepared Areas in Case of Emergency or at any of the areas containing Specific Spots Recommended for Evacuation at the time of the accident at Tokyo Electric Power Company (TEPCO)'s Fukushima Daiichi NPS. Others, as warranted, based on Basic Survey results are also covered, even if the above conditions are not met. Different inquiry sheets are used depending on the age groups, with the aim of taking required measures more appropriately. Children are divided into four age groups: those aged zero to 3; those aged 4 to 6; elementary school students; and junior high school students. People aged 16 or older are categorized as adults.
In addition to questions concerning mental problems, such as depression and traumatic stress, the survey items include questions about changes in lifestyles, such as diet, sleep, drinking, smoking, and exercise habits.
Included in this reference material on March 31, 2013
Updated on March 31, 2022