Radioactivity Inspection of All Rice Bags by Fukushima Prefecture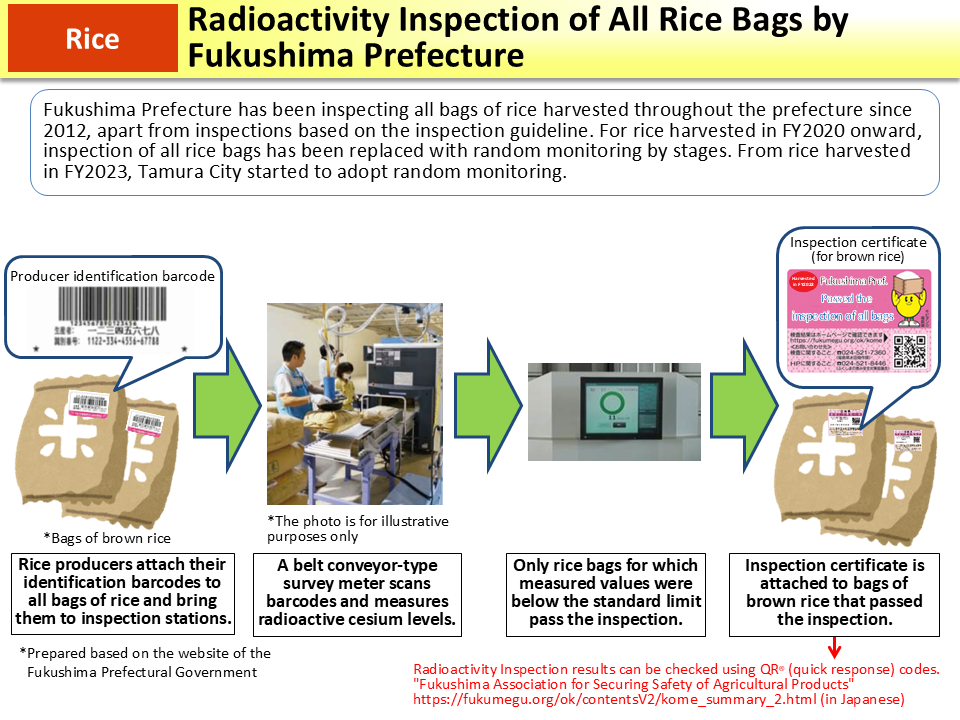 Since 2012, Fukushima Prefecture has been inspecting all bags of rice harvested throughout the prefecture, not limited to the areas instructed by the national government, as an initiative by the prefecture. For radioactivity inspections, belt conveyor-type survey meters are used.
For rice harvested in FY2020 onward, inspection of all rice bags is replaced with random monitoring, except for rice harvested in former Areas under Evacuation Orders*, etc.
Whether the rice has passed the inspection can be checked as follows. In the case of brown rice packed in a 30-kg paper bag that passed the inspection, an inspection certificate is attached to the paper bag.
In the case of polished rice, a polished rice label to prove that it is made from brown rice that passed the inspection is attached. However, as this label is attached on a voluntary basis, some polished rice that passed the inspection may be distributed without the label.
(Partially cited from the website of Fukushima Prefecture "Frequently Asked Questions about Radioactivity Inspection of All Rice Bags": http://www.pref.fukushima.lg.jp/sec/36035b/suiden-zenryozenhukurokensa-faq.html, in Japanese)
* Former Areas under Evacuation Orders, etc.: Tamura City, Minamisoma City, Hirono Town, Naraha Town, Tomioka Town, Kawauchi Village, Okuma Town, Futaba Town, Namie Town, Katsurao Village, Iitate Village, and Kawamata Town (former Yamakiya Village)
Included in this reference material on March 31, 2013
Updated on March 31, 2021