Procedures for Inspections of Radioactive Materials in Foods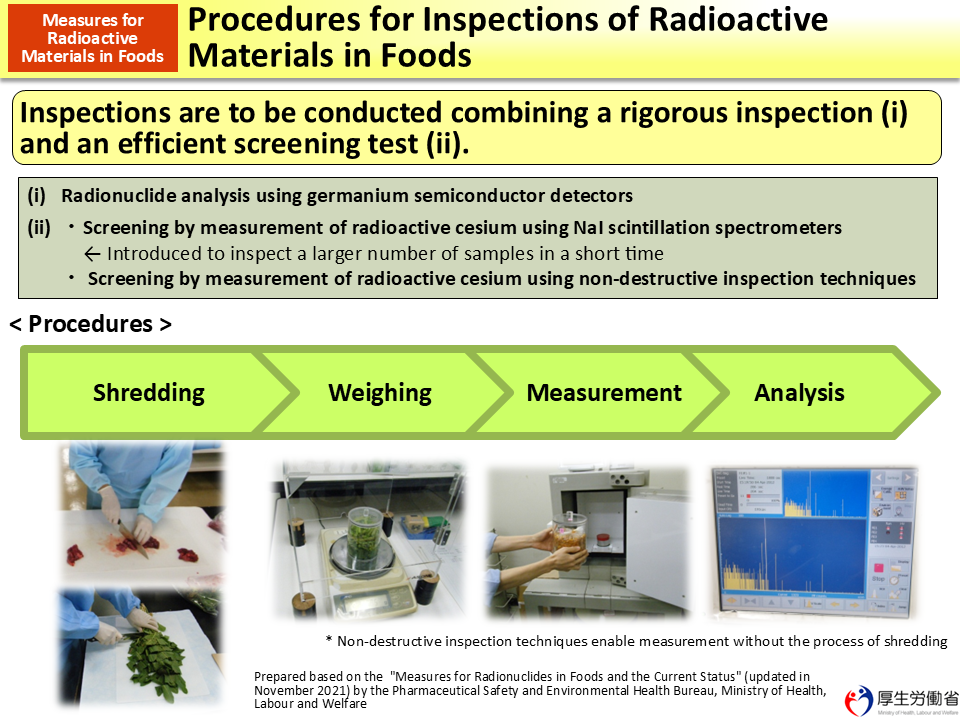 This figure shows procedures for inspections of radionuclides in foods.
There are two ways to inspect foods, i.e., a rigorous inspection and an efficient screening test.
As a rigorous inspection, radionuclide analysis is conducted using a germanium semiconductor detector. After shredding a food sample, its weight is measured accurately. Then, the shredded sample is put in a prescribed container. The container is set in a detector, which is structured like a box covered with a thick layer of lead, and the amount of radioactive cesium is measured. Lastly, measurement results are analyzed.
For an efficient screening test, a NaI (Tl) scintillation spectrometer is used. Screening using a NaI scintillation spectrometer is inferior to radionuclide analysis using a germanium semiconductor detector in terms of measurement accuracy, but can shorten the time required for inspections and is less expensive. Screening using non-destructive inspection techniques does not require shredding and mixing of samples. If the results of these screening tests suggests the existence of radioactive cesium exceeding the standard limits, an inspection is conducted again using a germanium semiconductor detector.
Included in this reference material on March 31, 2013
Updated on March 31, 2022