Prefectures and Food Items to be Inspected (Items for which Cultivation/Feeding Management is Difficult and Log-grown Mushrooms)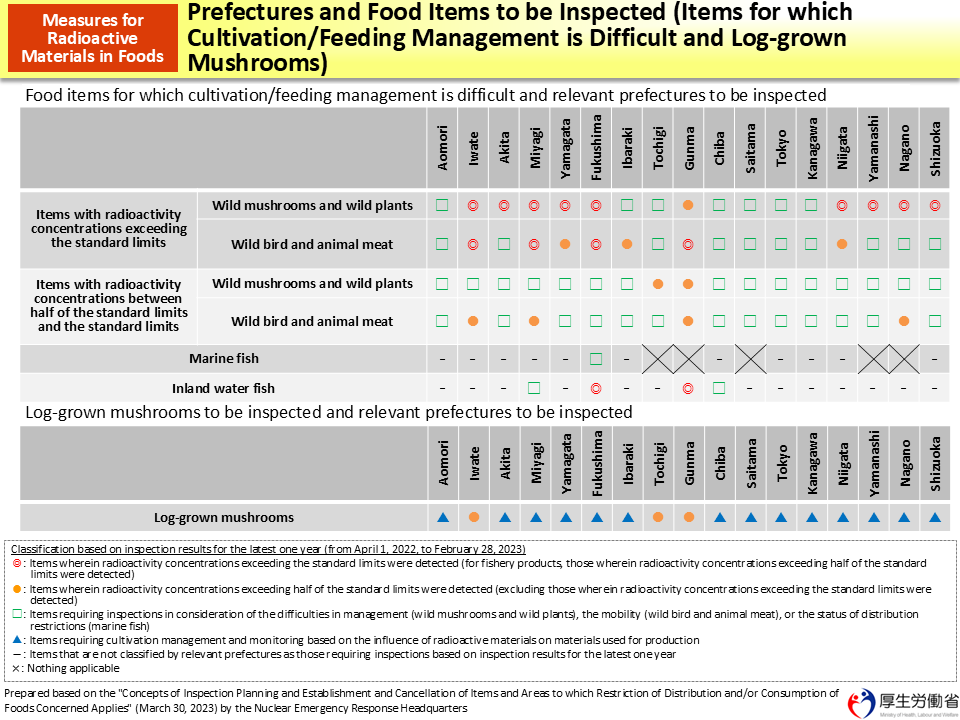 In FY2016, more than five years after the accident at Tokyo Electric Power Company (TEPCO)'s Fukushima Daiichi NPS, radioactivity concentrations had decreased as a whole and food items with radioactivity concentrations exceeding the standard limits had become limited. Therefore, the national government reviewed and made inspection methods more reasonable and efficient, centered on items whose cultivation/feeding is manageable.
Thereafter, as inspection results had been accumulated, the approach for deciding prefectures and items to be inspected and lifting distribution restrictions has been reviewed every year and inspection targets are as shown in the table above as of FY2020.
With regard to items for which cultivation/feeding management is difficult, prefectures where inspections need to be continued are specified for each item in consideration of the difficulties in management therefor.
With regard to log-grown mushrooms, prefectures where inspections need to be continued are also specified considering the influence of radioactive materials on materials used for production.
Included in this reference material on February 28, 2018
Updated on March 31, 2021