Loading


Environment Congress for Asia and the Pacific (ECO ASIA)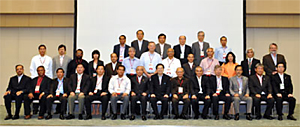 Ministers, Heads of Delegates and Resource Persons
The Ministry of the Environment had been hosting ECO ASIA since 1991 with the objectives of providing a forum for free and frank exchange of views between environmental ministers in Asia and the Pacific region, promoting regional environmental cooperation; and achieving sustainable development in the region.
The Ministry of the Environment held the 16th Environment Congress for Asia and the Pacific (ECO ASIA 2008) on Saturday, September 13, 2008 in the Nagoya City, Aichi Prefecture. The congress was chaired by Environment Minister Saito and joined by representatives from 11 countries from the Asia-Pacific region and 16 international organizations.
In the congress, participants focused on "Biodiversity" as the main theme, and actively discussed what stances should be taken as well as the style of cooperation in Asia and Pacific as regards "Road to 2010 and Beyond" and "Concrete Actions for Biodiversity". The points of the discussion were worked up in the Chair's Summary.
Projects related to ECO ASIA:
1.Asia-Pacific Environmental Innovation Strategy Project (APEIS)
2.Asia-Pacific Forum for Environment and Development (APFED)
3.Environmental Information Network for Asia and the Pacific (ECO ASIA NET)