White Paper
Quality of the Environment in Japan 1995
 4) World's soil in danger
  Globally speaking, what kind of situation is soil in? Cutting of forests and nontraditional slash-and-bum cultivation in the tropics, and excessive grazing of livestock in arid regions, causes the loss of vegeta-tion in the topsoil, and results in severe wind-and rain-caused soil erosion. Moreover, of the world's total fertile soil, some forecast that one-third of that will have lost its fertility by the year 2000.
  A typical example of this kind of soil degradation is the concept of desertification. Desertification is defined in Article 1 of the Treaty to Prevent Desertification as "land degradation caused by a variety of factors (including climate change and human activities) in arid, semi-arid, and arid/semi-humid regions." This situation is discussed further in Chapter 5, but as of 1991, districts affected by desertification extended to about 70% of the world's arid regions, or about 3.6 billion hectares.
Fig. 3-1-9 Dry Continental Areas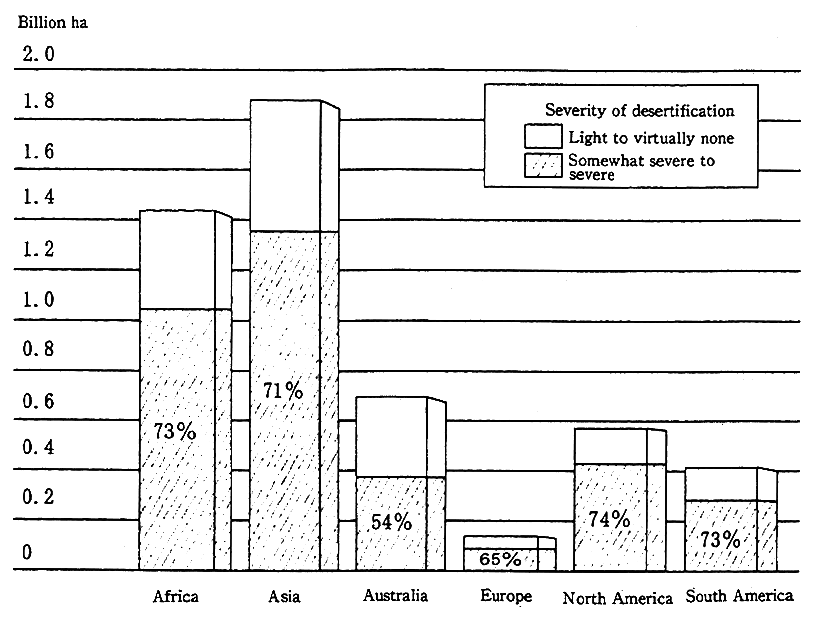 Source : UNEP 1992, revised
  Moreover, a total calculation of cultivated land in the United States that is susceptible to erosion, with farmland that was graded on an eight-stage index being listed at six to eight (eight being the worst), and with average annual outflow volume exceeding soil survival toler-ance levels, reveals that 24% of all cultivated land is considered to be susceptible to soil erosion (Table 3-1-5).
  Table 3-1-6 summarizes the effects of soil outflow in the Malay Peninsula on the coverage rates of grasses and legumes on farmland with slopes inclined 10%. While the effect will vary depending on the degree of land sloping or on the type of vegetation, soil loss accelerates once plant coverage declines to less than 50% of a land surface. Moreover, land where crops are planted in straight rows (such as fields of maize), tends to be more likely to suffer great soil losses.
Table 3-1-5 Cultivated Area in the United States Susceptible to Erosion (1982)

Reference: C. E. Young, C.T. Osborn, The conservation Reserve Program, USDA, Agricultural Econmic Report, No. 626, 1990, P. 3
Table 3-1-6 Effects of Grassland and Legume Vegetation Coverage Ratios on Topsoil and Soil Outflow Loss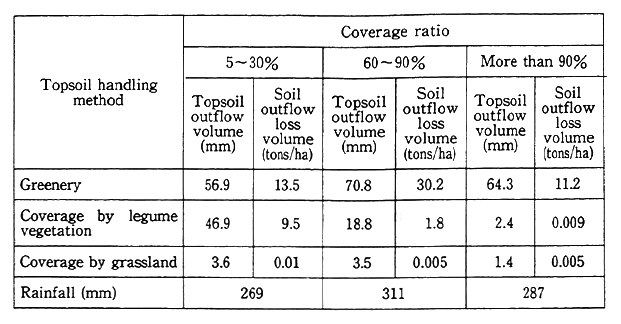 Note : Results are for fields in the Malay Peninsula, on lands with a 10% gradient
Reference: Farmland conservation (from Overseas Technical Manual)
 (3) Urbanization, internationalization and the soil
 1) Modern life becoming isolated from the soil
  How much are we living in our modern life in contact with the soil? According to a questionnaire prepared for Japan's students in primary school, middle school, high school and college, primary school students have relatively many opportunities to come in contact with the soil, and can be assumed to be somewhat familiar with the soil. Moreover, more than half of them believe soil to be an essential part of natural playgrounds, and awareness is high that soil plays a role in natural production of food or in supporting nature. By contrast, middle and high school students have less opportunities to come in contact with the soil, and are less interested in soil itself (Table 3-1-7). As can be seen, the trend in modern life is toward less contact with soil.
Table 3-1-7 Awareness and Interest in the Soil by School Grade Level
Source : "World of Soil" Editing Group, "World of Soil"
Fig. 3-1-10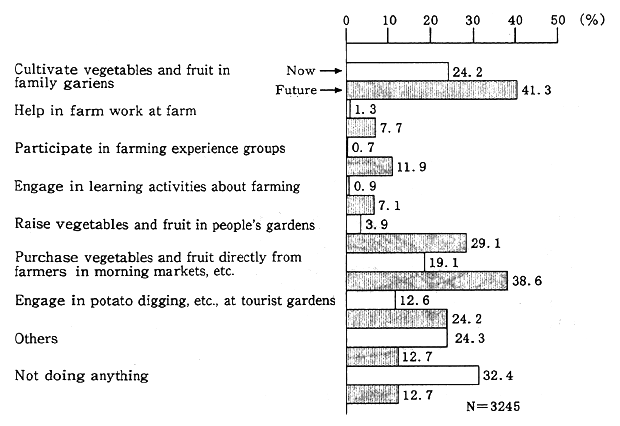 Source : Yokohama City Greenery Bureau,"Citizen's Awareness Survey concerning Projects by Greenery Bureau" (October 1992)
  But while modern daily life is drawing farther away from the soil, there are still strong desires to actively be in contact with the soil. According to a questionnaire survey prepared by Yokohama City's Greenery Administration Bureau, about 50% of the people are doing something to become familiar with the soil or farming. The activities mentioned included "raise vegetables or fruit in family gardens," and "go dig for potatoes at tourist farms."
Fig. 3-1-11 Number of People Participating in Leisure Time Activities (Unit : 10,000 people)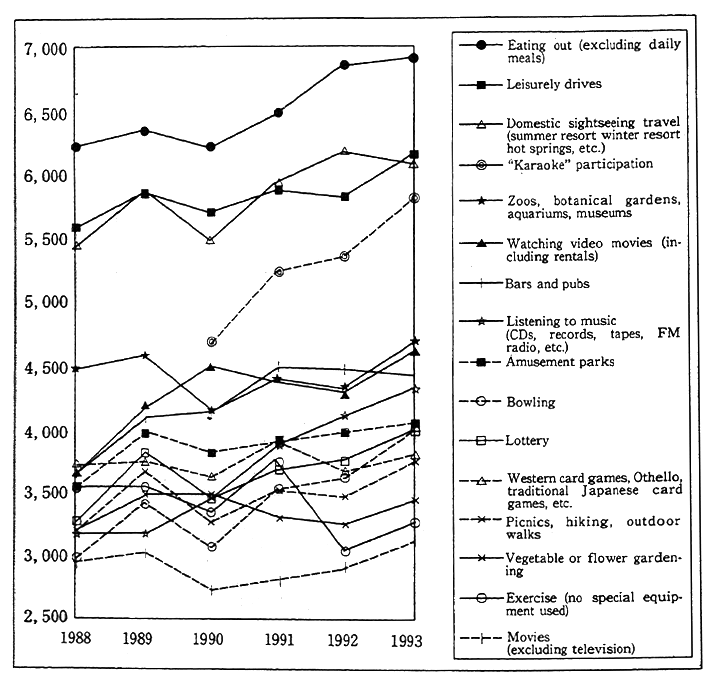 Source : White Paper on Leisure
  Next, concerning their future intentions, nearly 90% of the people responded that they wanted to do something that could familiarize themselves with the soil or farming, a much higher rate than the current situation. By the type of activity desired, rates showed particularly sharp climbs for "participate in farming experience groups" (0.7% to 11.9%) %) and "raise vegetables or fruit in people's gardens (3.9% to 29.1%).
  In the list of top leisure activities by population in Japan, the number of people involved in such soil-contact activities as "picnicking, hiking, and taking outdoor walks," and "horticulture and landscape gardening" reaches nearly 35 million people for each (Figure 3-1-11).
2) Japan's society relies upon the world's soil
  Much land overseas is essential for the food from agricultural crops that Japan consumes. Let's look at the test calculations made by the National Institute for Environmental Studies for the eight items of wheat, barley, sorghum, maize, soybeans, coffee beans, cotton, and natural rubber (Figure 3-1-12). In 1992, about 10.3 million hectares of land was taken up all over the world for the purpose of producing these eight items for export to Japan. This was an area equivalent to 2.3 times the total cultivated land area in Japan, and about 27% of the nation's total land area. Of this amount, about 60% was taken up by land in North America, followed by Asia with about 20%. The land area related to the export of wheat to Japan, for example, was about 1.97 million hectares, an area bigger in extent than the island of Shikoku (Figure 3-1-13).
Fig. 3-1-12 Land Area Used for Exports to Japan Eight major products 1990, Unit ha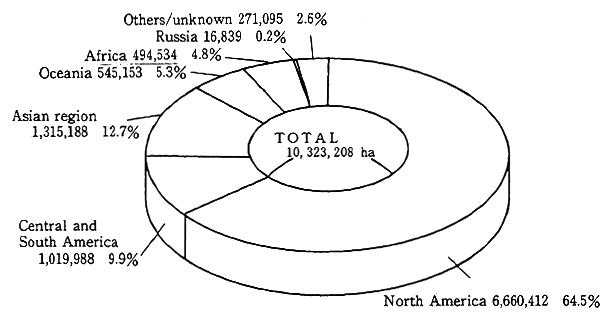 Note : Calculation by the Environment Agency

  As Japan comes to rely more heavily on overseas agricultural products, declining land utilization rates and abandoned cultivation land is resulting in inadequate soil management in Japan. And in overseas areas, such as the United States where, for example, maize that is the cause of soil loss is being produced for export, while the EC countries are applying fertilizer beyond the soil's purification capacity in order to boost exports, and pollution due to nitric acidic nitrogen is becoming a problem. As can be seen, excess dependence for both exporting countries and importing countries is causing problems in the protection of the soil environment.
3. Toward a Society That Continues to Protect its Rich Soil
  Today, protection of the soil and contact with it is coming to be recognized as important, and people are coming to believe that active efforts are necessary. Here, we would like to introduce examples of the relationship between soil and development in both Japan and a number of foreign countries, to take a look at contacts with the soil that are now being lost in modern life and at uses that take the soil into considera-tion, and to consider the importance of using these methods to transmit the importance of the soil to the next generation and the importance of how we handle soil in the future.
 (1) Efforts in Japan
 1) Cleaning up pollution
  In dealing with soil and underground water pollution, pollution prevention is important, but so also are policies to clean up past pollution. It is necessary to get a precise understanding of the distribu-tion of pollutants in the soil and underground water, and to efficiently remove them. While it is not easy to gain an understanding of the pollution distribution of such deeply permeating substances as trichior-oethylene, and to remove it. So even in Japan, cases where appropriate survey methods are used to understand the pollution distribution and cleaning measures implemented in combination with various technol-ogies are increasing in number.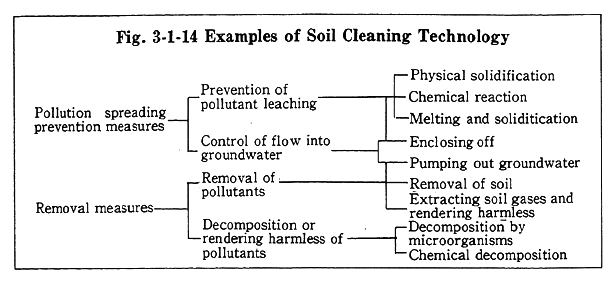 In Kimitsu City, for example, the pollution framework was elucidated based on soil surveys that included underground water sur-veys, soil gas surveys, and pollings, and high-density pollution on busi-ness sites was removed by digging up and removing polluted soil, and by suctioning up polluted soil gases, while polluted underground water outside of the business sites was pumped out to prevent the pollution from dispersing. Similar methods were used in Kumamoto City to understand the distribution of pollution, and the high-density locations were cleaned up by suctioning up polluted soil gases and pumping out polluted underground water. Because the pollutant density in the suctioned gas has declined, the cities have at the present time ceased soil gas suctioning operations and are now removing pollutants by pumping operations only. In both cases, however, reductions in pollutant density in underground water is happening only slowly, and cleaning up pollu-tion will require continuing the policies for a long time
2) Creating soil
  It is important to promote an environmental conservation-oriented agriculture that promotes food production without doing dam-age to the soil environment, and while protecting and nurturing it, and preserving its harmony. Specifically, this means persuading agriculture to move in the direction of reducing burdens on the environment imposed by inappropriate use of agricultural chemicals, chemical ferti-lizers, and livestock manure, boosting the good effects of such environ-mental conservation measures as soil erosion prevention capabilities, and creating soil through the effective utilization of livestock manure and other organic material sources. Let's look at a case where soil is actually being created. In Iwami City, Shimane Prefecture, wood chips and bark from a chip plant run by the forestry cooperative are used to create soil (creating compost). The Sanin Region is an excellent site for soil creation, because snow falls in the winter to create a natural supply of water, followed later by the arrival of the plum rains. This soil creation has an excellent effect on crops, with more than 90% of rice being classed in the top grade, the best record in the Prefecture.
3) Countermeasures for soil outflow
  As was seen earlier, the outflow of red clay has become a social problem in Okinawa Prefecture. In response to this situation, Okinawa Prefecture in October 1994 adopted the Red Clay and Other Outflow Prevention Ordinance to regulate red clay outflow generated by busi-ness activities and promote rational land management, and was intended to prevent water pollution (including worsening sediment quality) in public water districts caused by red clay outflows, with the objective of ensuring a good living environment. According to this ordinance, when special businesses moved to implement activities that change the configuration of the land, they are required to establish and manage red clay outflow prevention facilities in conformity with estab-lished standards, and must select someone to have responsibility for red clay outflow prevention measures. In line with this action, private-sector companies have been developing various soil outflow prevention mate-rials to prevent soil outflow. Examples of this include a cotton products manufacturer developing a cotton sheet with grass seeds inserted to cover the topsoil of a field, and a slope vegetation manufacturer devel-oping a slope vegetation mat. Another method for preventing red clay loss is the possible validity of planting mangrove trees, and research and experiments in this regard are now underway centering on a research group at the University of Ryukyu.
4) Contact with the soil
  Recently, people's gardens have begun to be established as a valid response to the rising demands for more contact with the soil. For Tokyo Prefecture as an example, when all the ward and city people's gardens, welfare gardens, student and nursery gardens, and recreation gardens are added together as of March 1993, there were 506 sites covering 752,000 hectares, as shown in Figure 3-1-15 (map). Festivals and other exchange activities that emphasize familiarizing with the soil and farm crops are also being held.
 (2) Efforts in other countries
  Concerning development, a number of countries are actively engaged in soil conservation by promoting development that takes the soil environment into account. We would like to look at a few such examples.
  In Switzerland, the four basic principles of environmental protec-tion are 1) the prevention principle, 2) the instigator principle, 3) the cooperation principle, and 4) the synthesis principle. In line with these principles, the Federal Environment, Forestry, and Tourism Bureau has released a 20-point guideline on nature protection. The 10th point talks about avoiding blanketing the land. It says, "Buildings, infrastructure, roads, and other that further blanket the land are becoming major environmental problems. This destroys the original structure of the soil. Building plans should as much as possible avoid blanketing the land."
  Next, we should look at the Green Long Wall Strategy being conducted in China. This plan, targeting 40% of China's entire land area, commenced in 1987 and is set to continue until 2050. The first stage of the project was completed by 1985, and the final steps of the second stage are approaching as of 1995. The forest planting areas has reached 12,944 million hectares to date, with both banks of the Yellow River already flanked in some sections by stands of trees five meters thick that extend for 300 kilometers, as bank protection. Eventually, the area of land blanketed by forests should rise from the 4% ratio seen in 1977 to 15%, and total lumber accumulated from 720 million cubic meters to 4.27 billion cubic meters.
Fig. 3-1-15 People's Garden Areas in Tokyo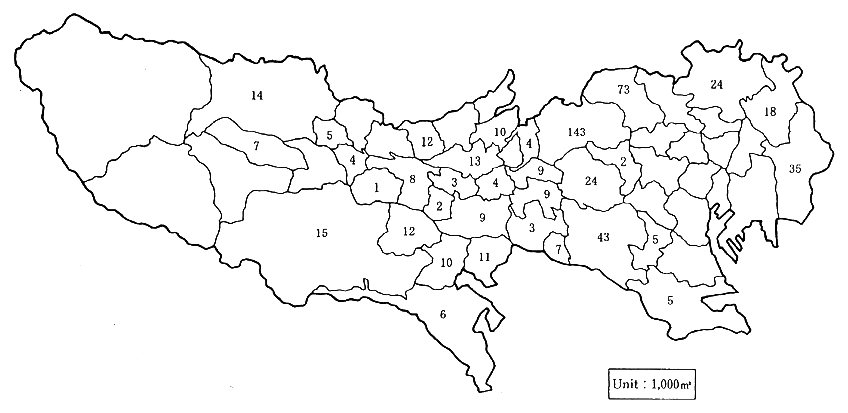 Source : Prepared by Environment Agency from Tokyo Agriculture Council, "Fureai Noen Gaidobukku" (guidebook for citizens' farming), and other sources.
  And in the United States, soil conservation is being conducted under the 1985 Agriculture Law. This law set up The Conservation Reserve Program, which targets conservation and improvement of land deemed particularly susceptible to erosion. The law can be summarized as follows 1) for land contracted with the government, the owner or operator operates under a 10-year soil conservation program (convert to grassland or forest land, with at least one-eighth of the land being trees) under licence from a regional conservation district, 2) the government pays a leasing fee to subsidize the land (about $50 per acre in 1986-1989), and 3) land entered into conservation cannot be used for cutting hay or grazing livestock. Table 3-1-8 shows the results of the program. The area contracted amounts to 11% of the United States' total cultivated area.
Table 3-1-8

Source: USDA/SCS, Conservation Reserve Program 1993
 (3) Together with the soil
  As we have seen, formation of soil requires an extremely long period of time, while its destruction can take place in a surprisingly short time frame. Moreover, the materials cycle in the soil is extremely long compared with water or air. As a result, soil has the characteristic that once it is polluted, its recovery can be very difficult. And in Japan, the possibilities are high that a large number of people will be using the land, and we must not forget that it possesses much capabilities that are in the public interest.
  A good soil environment is necessary and essential for continued existence of life forms upon the globe, and it is necessary to obtain the understanding and cooperation of many people to actively engage in conservation of the soil environment. The first step in achieving that is probably getting people to feel the warmth of the soil on their skin, and to come to have feelings of gratitude for its blessings. If we can turn our attention to the soil which is so easy to forget in the course of our daily lives, and if each one of us can take the effort to care for the soil, we should be able to continue living in coexistence with the soil.
Section2. Japan's Natural Environment as Seen in High Human Impact Areas and Countryside Areas
  High human impact areas and countryside areas are places where people are deeply involved with nature, they being where many people live, where such industries as farming and forestry exist, and also where nature is in retreat in the face of urbanization. Moreover, we believe that the natural environments of these areas will in future grow even more in importance as places where people can come in contact with nature. In this section, we shall focus on these points, and shall examine the current state of Japan's natural environment in the high human impact and countryside areas, and consider new ways to point toward coexistence with these areas.
1. Natural Characteristics and Conditions of the High Human Impact and Countryside Areas
 (1) Natural characteristics of the high human impact and countryside areas
  Japan's national space is classified into four types in the Basic Environment Plan, each according to their natural and social character-istics: mountainous areas, countryside areas, high human impact areas, and coastal seas (Table 3-2-1). In this plan, the countryside area is described as "relatively low population concentrations, a moderate amount of forest land," while the high human impact area is "relatively high population densities, considerable areas of agricultural land, and contain the majority of Japanese residential land."
  The countryside area contains 55% of the nation's entire culti-vated land and 50% of secondary forest, thus encompassing a large percentage of secondary environment. The area's environment has to date been shaped by the workings of various people engaged in the agriculture, forestry, and fisheries industries, and is an area having a variety of relationships between wildlife and humans, with many cases coming close to the original model for recalling our own hometowns. While not to the extent seen in mountainous areas, these areas also suffer from declining populations of advancing age, and are in need of revival.
Table 3-2-1 Natural and Social Characteristics of National Land Space

Notes: 1. The following standards were used to establish the mountainous, countryside, and high human impact areas, and to represent their characteristics.
  Mountainous areas: Regions with population density in standard regional mesh (secondary mesh, about 10,000 hectares) of 5,000 people or less, and forest coverage of at least 80%
  Countryside areas: Regions other than mountainous and high human impact areas (population density of 5,000-30,000 people, or population density of 5,000 people or less with forest coverage of 80% or less).
  High human impact areas: Regions with population density in standard regional mesh (secondary mesh, about 10,000 hectares) of at least 30,000 people.
   2. Prepared by the Environment Agency based on the population census, numerical information on the national land, and the National Survey on the Natural Environment.
   3. Aging is defined as elderly population (aged 65 or older in 1985) reaching more than 20% of the mesh, while decline is defined as a population change in the mesh of at least minus 30% between 1975 and 1985.
   4. In the columns for land use regulations, the upper figure is the ratio of land so designated within the regional type, while the lower figure in parentheses is the ratio of land to the total covered by that particular land use regulation.
   5. Natural parks include National and Quasi-national Parks. Natural environmental districts covers Wilderness Area and Nature Conservation Areas.
  The characteristic of high human impact areas are the high density of human activities being conducted there. As socioeconomic activities have progressed, the areas have seen the appearance of urban and residential pollution, including water pollution caused by domestic waste water pouring into small urban streams and air pollution caused by automobile exhaust gases, and have been areas where the concen-trated burden of daily life have been placed on the environment. The greenery that remained has fulfilled a variety of functions in moderating urban climates, cleaning up the air through such tasks as absorbing dust, and moderating noise, and has also had a precious existence in that it brought living things close to us and gave comfort to our lives.
  The high human impact and countryside areas are home to 99% of Japan's population, and their natural aspects therefore have the deepest relationships on a daily basis with human activities.
 (2) Conditions of the high human impact and countryside areas
  Nature in the high human impact and countryside areas is rapidly disappearing from around us. Let's look at the state of affairs in terms of a comparison in the decline of mountain forests and flatland forests. In the Kanto Region, the total forest area including both mountain forests and flatland forests declined by just 5.6% between 1960 and 1990. But when the two categories are examined separately, mountain forests during the period declined by just 1.2%, or virtually no change at all, while the flatland forests declined by a sharp 19.7% (Table 3-2-2). Particularly steep drops were seen in Tochigi Prefecture, at 33.2%, Kanagawa Prefecture, at 31.6%, and Tokyo Prefecture, at 29.8%. The total area of flatland forest decline in the seven Kanto Prefectures during the period was 696 square kilometers, for a flatland forest loss covering an area larger than the 23 Tokyo metropolitan wards. Looking at the decline by period and region, we find that Kanagawa, Tokyo, and Saitama Prefectures registered the greatest declines in the period from 1960 to 1970, while in the 1970 to 1980 period, the rates of decline were particularly high for Chiba, Gunma, and Tochigi Prefectures. Ibaragi Prefecture, moreover, showed the highest rate of decline in the 1980 to 1990 period, sketching out a pattern of development expansion extend-ing in succession from the urban core outward to the suburbs.
  Along with the decline of forest area, the remaining forests have tended to become fragmented. Table 3-2-3 shows the state of fragmenta-tion in five locations, including Tokorozawa, Saitama Prefecture, around the Kanto Region where mixed forests remain in relatively intact. A comparison of the early 1960s with the mid-1980s reveals that whereas the extent of forest area per unit of land area, as well as the average area per individual forest, has declined in many localities, the actual number of forests and the average distance between neighboring forests has increased, demonstrating that forest fragmentation is get-ting progressively worse. From Figure 3-2-1, we can visually observe the progress of fragmentation in secondary forests of Tokorozawa. Frag-mentation is not limited to mixed forests, affecting habitat as well. The declines in habitat area, blocking of links to other similar habitats, and increased chances of contact with outside spaces extend the effects to the ecology itself. A decline in habitat area makes it impossible for higher predators like the goshawk that require lots of prey to survive, while the blocking of habitat links makes it difficult for species to be replenished from other habitats, thus raising the chances of a species going extinct. In addition, increased contact with outside spaces allows organisms or plants that ordinarily exist only on the fringes of mixed forests to invade the mixed forest itself, resulting in ecological change.
Table 3-2-2 Rates of Decline for Mountain and High Human Impact Forests in the Kanto Region (1960-1990)

Reference: Environment Agency calculations based on World Agricultural and Forestry Census (Figures for 1960-1980 are from Tadashi Inui, ("Plains Forests in the Kanto Plain")
Table 3-2-3 Secondary Forest Decline and Fragmentation (Numerical Calculations Based on Aerial Photography)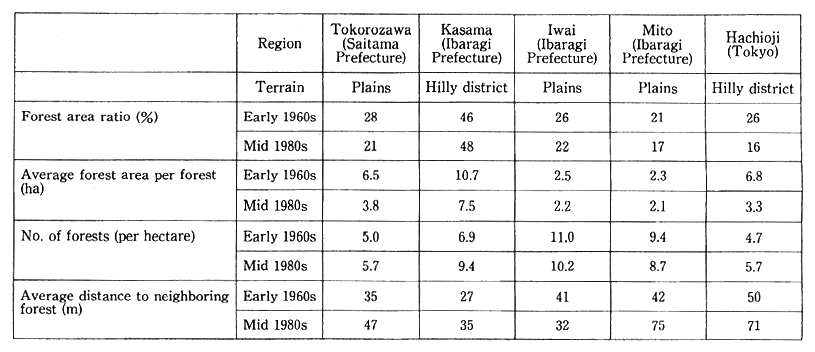 Material prepared by Iida and Nakashizu.
  Moreover, with the loss of the familiar greenery of the mixed forests, the familiar life forms that were a part of the ordinary scenery are no longer seen. A survey of Itabashi Ward, Tokyo Prefecture, for example, found that horned beetles could be seen in 32 meshes within the Ward up to the early 1960s, mainly in mixed forests, but could only be confirmed in 12 meshes by the early 1980s, and now cannot be found at all (Figure 3-2-2).
  The mixed forests left alone by development have also become blighted. People no longer tend them, and slovenly looking mixed forests overrun with undergrowth have become places for illegal dump-ing of wastes. The illegal dumping can either be large garbage items dumped by individuals or industrial waste dumped on a large scale by businesses. A National Police Agency survey found that the total amount of industrial waste corroborated in arrests in fiscal year 1994 came to about 1.11 million tons, of which about 60% was dumped in mountain forests and in fields (for details, see Chapter 11, Section 2, "3. Policies Discussed Concerning Environmental Conditions and Environ-mental Conservation"). Industrial wastes in particular are feared to cause various soil pollution damage to surrounding areas because of the possible presence of toxic wastes.
Fig. 3-2-1 Conditions of Secondary Forests Remained in Tokoroz-awa, Saitama Prefecture Condition of surviving secondary forests in Tokorozawa, Saitama prefecture, as seen in aerial photographs. (Material prepared by Iida and Nakashizu)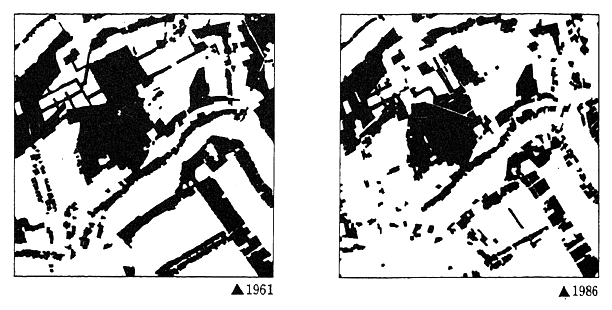 Fig. 3-2-2 Horned Beetle Distribution in Itabashi Ward, Tokyo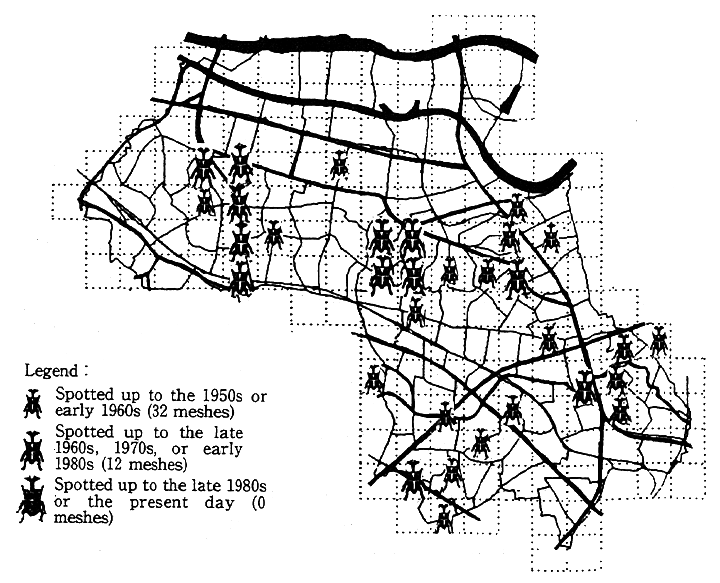 Source: From questionnaire on wildlife recollections given to 197 environmental monitors in Itabashi Ward, Tokyo
  Meanwhile, the managing nucleus for nature and farmland in local farming villages is being lost due to aging and depopulation, and continuation of conservation and management is becoming more diffi-cult. The concentration of population, capital, and information into the major urban areas, and the clouded future of agriculture and forestry industries is causing population outflow and aging in rural districts, and the steady decline of agriculture, forestry, and other rural industries has engendered a vicious circle, with the result that the ratio of abandoned cropland is growing (Figure 3-2-3). For the effects that abandoned cropland can have on the ecology, such as paddies, for example, vegeta-tion changes as the paddies are abandoned, and the area of open water shrinks, threatening the survival of such water-based life forms as frogs, loaches, and dragonflies (nymphs), and making survival difficult for the predator life forms farther up the food chain.
Fig. 3-2-3 Trends of Area and Ratio of Abandoned Farm Land (1985-1990)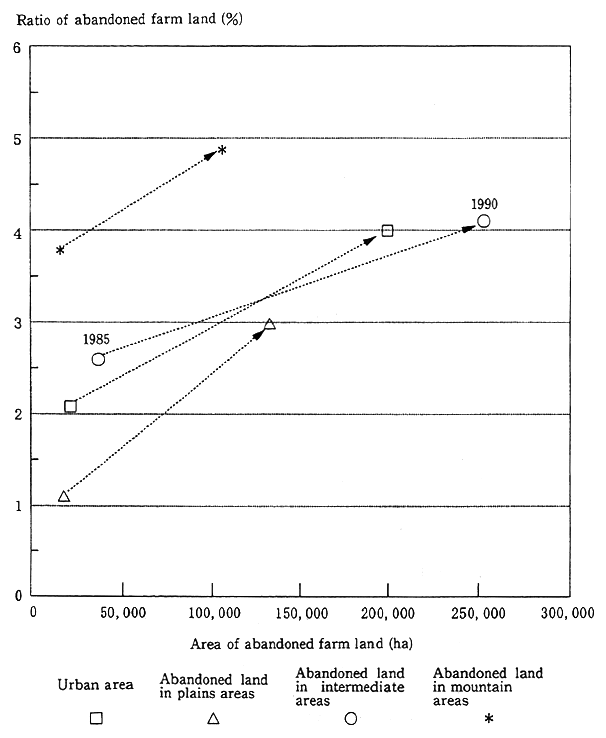 Source : Prepared by the Environment Agency based on the World Agriculture and Forestry Census
  Moreover, the aging and depopulation has removed the personnel and economic margins required for managing the farmland and forests, rendering the places susceptible to persuasion to give up farmland and forests in response to proposals for development of golf courses or other facilities. During the so-called Bubble Economy, large-scale resort facil-ities were developed one after another in these local areas in the inter-ests of local promotion, and in the cases where appropriate considera-tions for the environment were not taken, fears arose of the bad effects on the natural environment. While the deflating of the bubble has led at the present time to a weakening of specific pressures for development, the basic social conditions of depopulating and aging rural districts, and declining rural industries, remains unchanged, and the potential for development pressures on the local natural environments remains high.
2. Nature in High Human Impact and Countryside Areas that is Maintained within Human Activities
  As we have seen, 99% of the population reside in the high human impact and countryside areas, and these are the areas where people have their daily living space. We are left with the view that the natural environments here have been maintained within the scope of human activities. Here below, we take as examples mixed forest in the country-side and mountains, and grasslands in the Aso District and elsewhere, and examine what happens when the relationship to human activities is cut off, and declines and changes begin to occur.
 (1) Mixed forests
  The "kunugi" (Quercus cicutissima) and "konara" (Quercus serrata) trees that make up mixed forests are called secondary forests, and arise several stages of vegetation phases after the climax forests such as the buna (Fagus crenata) and laurel forests are cut down and des-troyed. Figure 3-2-4 shows an example of phase patterns for areas from the Kanto Region westward. According to the figure, after the climax forests are cut down, the first things that invade the post-cutting zone are the seeds of herbaceous plants distributed over a wide range. Later, the herbaceous plants that mature in one or two years give way to herbaceous plants with multi-year maturations, and as sun tree forests such as "konara" and "akamatsu" (red pine) trees mature, the multi -year herbaceous plants begin to lose access to sunlight and the next vegetation phase arrives. Further, as the sun tree forests progress to full maturity, sasa grass and other undergrowth flourish on the floor of the forest, and the density of standing trees rises until the tree canopy closes over. At this point, the sun tree seeds that fall to the forest floor can no longer germinate and grow, and the phase shifts toward the "shii" (Castanopsis cuspidata chinquapin), "kashi" (oak), and other shade trees (laurel forests) that can grow even in such shaded conditions. So if the natural condition is left to itself, denuded land will eventually return to the climax forest beyond which it cannot advance.
Fig. 3-2-4 Lowland Vegetation Changes for Western Japan including Kanto Area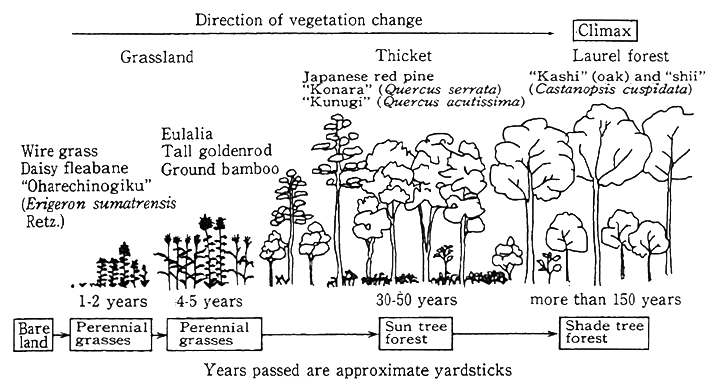 Source : Minoru Ishli, "Village Mountain Ecology" in "Protect the Nature of Village Mountains"
  The mixed forests of countryside and mountain areas are caught in the sun tree forest stage and have been historically maintained by continued human intervention, and thus prevented from moving to the next vegetation phase. Mixed forests, also known as firewood and charcoal forests, have played important roles in farming and mountain villages because they have been supply sources for firewood and char-coal, and also for fertilizer. In the countryside and mountain areas, branches were cut off every three to five years and the cut branches were used as fuel. Moreover, standing "kunugi" and other trees were cut down in cycles of 15 to 30 years for use as firewood or charcoal. But because these cutting operations were conducted every year a little at a time, a natural regenerative production cycle was achieved. This harves-ting of a fixed amount of firewood and charcoal each year and the role of intervention played by the countryside and mountain areas prevented the vegetation from shifting to the climax forest, and the countryside and mountain maintained an equilibrium for long periods.
  Moreover, the mixed forests of the countryside and mountain areas supported many life forms with which we are familiar. For example, the designated national butterfly, the "ohmurasaki" (giant purple butterfly), and the "gifucho" (Luehdorfia japonica) butterfly, as well as the horned beetle and the stag beetle, all make their habitats in the mixed forest. And cutting down the undergrowth leaves grass that serves as food sources for butterfly larvae, and promotes development of vegetation for adult insects, while the fallen leaves from the mixed forest creates a compost that horned beetle larvae find perfect for living in. We are left to observe that human activities in the countryside and mountain areas have helped to promote the flourishing of these life forms. Furthermore, on the bright forest floors of the countryside and mountain areas where human intervention reaches, we can often see in early spring such wildflowers as "tsutsuji" (Rhododendrum japonicum) and "katakuri" (Erythronium japonicum). So the countryside and moun-tain areas are not limited to production sites but have also come to play the dual role of "mountain playground" as well.
  Among the "gifucho" butterflies, "katakuri" flowers, and many other insects and plants in the mixed forest, there are many species extant from the Ice Age that are now biologically rare. These species existence is said to have become possible only through the intervention of human activities in nature. In other words, according to one theory, the coexistent relationship between the mixed forest and man dates back to the slash-and-burn cultivation of the Middle Jomon Period. It is thought that in the course of these human activities of slash-and-burn cultivation and the later shaping of the countryside and mountain areas, the deciduous broad-leaf forests that were the natural vegetation of the Ice Age were able to maintain their existence up to the present by shifting to the laurel forests that are the natural vegetation of the modern mixed forests, and the "gifucho" butterflies and other life forms of that forest were thus able to remain in existence.
  As can be seen, humans' active intervention in the countryside and mountain areas helped to maintain a continuously coexistent rela-tionship between man and nature, including the life forms that lived there, and human activities had become incorporated into the circle of the ecological cycle of the countryside and mountain areas overall.
  Beginning around 1955, however, the energy fuel source switched from firewood and charcoal to coal and then later to oil and natural gas, and agricultural fertilizer also switched from the compost supplied from the countryside and mountain forests to chemical fertilizers. As a result, the economic value of the countryside and mountain areas as a source of firewood or charcoal, or of fallen leaves, was suddenly lost, and agriculture became almost completely separated from the countryside and mountain forests. With the link between human activities and the forests cut off, the vegetation phases that had been blocked off restarted and the forests began changing into climax forests featuring densely luxuriant laurel forest. While this development could be viewed as being a change to the original vegetation, the countryside and mountain areas where people are no longer intervening can no longer support the continued existence of "gifucho" butterflies, "katakuri" flowers, and many other species having a deep relationship with human activities. A further problem is that countryside and mountain areas that have lost their economic validity become "unutilized land" and can forthwith only be recognized as land available for development, so becoming targets for development as soon as they return to natural vegetation. In other words, countryside and mountain areas located near urban areas are being opened up for shaping into residential or industrial land, while the mixed forests with their poor-quality lumber species are being steadily replaced by coniferous trees, and the extent of mixed forests is declining fast. It is in this framework that declines and improvements of nature in the high human impact and countryside areas are taking place.
 (2) Grasslands in the Aso District
  The vast scenic elements of "susuki" (tall goldenrod) and "shiba" (turf) that make up the grasslands of Aso were also nurtured as one part of the coexisting relationship between man and nature, and is a repre-sentative example of a secondary grassland in Japan (Figure 3-2-5). The volcanic regions of Aso, Kuju, and the Kirishima mountain range have been used since ancient times as a range land for cattle and horses, and the use of grassland for grazing cattle and horses, as well as for cutting grass to make dried hay for feed during the winter months has been maintained for hundreds of years and perhaps for more than a thousand years. The secondary grassland of "susuki" and "shiba" was created and maintained by rangeland burns, livestock grazing, and grass cutting, and without this artificial interference, the grassland would have returned back to its original natural vegetation of forests. The range burning carried out in mid-to late March is conducted to prevent the grassland from returning to forest and al so to improve its productivity for that year. It leaves the fire-resistant underground stalks of the range grasses, such as the "susuki" and "nezasa" (Pleioblastus variegatus), that cattle and horses like to eat, and eliminates fire-susceptible shrubs and harm-ful insects. Setting range fires require much manpower and experience to set up such things as fire breaks. In early April, livestock grazing commences, and the cattle and horses cooped up in pens all winter are released onto the grassland. Cutting of dried grass is conducted from mid-September to mid-October, and the cut hay is used as feed for the cattle and horses in the winter months. This cycle of human activities has maintained a vast grassland in the Aso District that has made possible the existence of such rare life forms as the grassland "orurishi-jimi" butterfly or such continental grassland-type plants as the "higotai".
  Lately, however, a number of changes due to conditions both in Japan and abroad, such as the introduction of evergreen foreign grasses that render range fires unnecessary has changed the grassland into a rangeland, personnel shortages due to depopulation and advancing age, and a depressed livestock industry due to deregulation of beef, has rendered the active intervention in and maintenance of nature through such methods as range burns uneconomical. As a result, maintaining the traditional grassland scenery has become difficult.
  As can be seen from these examples of the mixed forest and grassland, in the cases where the natural mode originally maintained by economic necessity also served to bring the familiar blessings of nature to the local residents, the way to preserve this kind of natural environ-ment into modern times is to somehow incorporate the necessity of its existence into the economy and society, and not to look at it merely as "developable land."
3. Boosting Awareness of Desires to Seek Contact with Nature
  As the natural environments of the high human impact and countryside areas are abandoned, awareness of a desire to seek contact with nature is rising as income standards rise and leisure time increases. According to a public opinion poll on protection and utilization of nature conducted by the Prime Minister's Office, the percentage of people who responded that they "had interest in nature" was about 84.5% in 1991, about six percentage points higher than a poll conducted in 1986 (Figure 3-2-6). Awareness of a desire to seek contact with nature was particularly strong in urban areas, with the percentage of people wanting more opportunities for contact with nature reaching 83.5% in Tokyo Prefecture, as opposed to just 45.4% of respondents living in towns and villages. This is presumed to reflect conditions in the Tokyo metropolitan wards, where few opportunities for contact with nature exist, as opposed to the many daily opportunities that people in the towns and villages have.
Fig. 3-2-6 Results of Public Opinion Survey Concerning Nature Protection and Use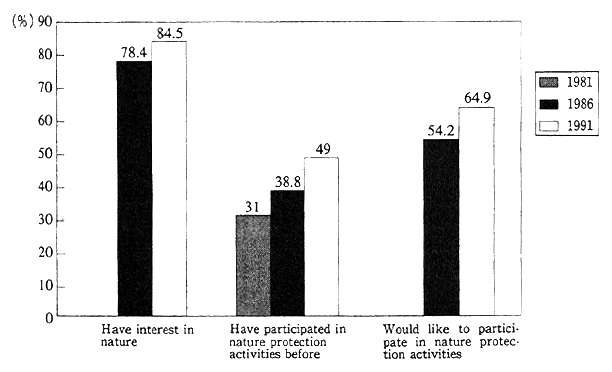 Note : Surveys through 1986 were titled "Public Opinion Survey concerning Nature Conservation"
  Moreover, the 1991 survey found that almost exactly half of respondents had participated in nature protection activities, an increase of 20 percentage points over 10 years earlier, demonstrating that rising interest in the environment is linked to specific activity. Moreover, the percentage of people who expressed a desire to participate in nature protection activities in the future had grown from about 55% in 1986 to about 65% in 1991, revealing a positive stance toward nature protection activities. And of the respondents with experience participating in nature protection activities, a very high 86.9% expressed intentions to participate in such activities again, a result that revealed how important it is to promote participation in nature protection activities by people without such experience.
4. New Efforts toward Coexistence with Nature in High Human Impact and Countryside Areas
  As can be seen, while on the one hand nature in high human impact and countryside areas is progressively declining and going into ruin, on the other hand there is a growing awareness of the desire to seek contact with nature. Is it not possible that an appropriate combin-ing of these two trends could result in the creation of a new coexistence between the people of today and nature? Starting from this viewpoint, we shall look at some examples of efforts both in Japan and abroad.
 (1) Efforts overseas
  The British Trust Conservation Volunteers (BTCV) is a public interest group with the objective of protecting Britain's "ordinary, common countryside scenery" as well as the "not particularly unusual wildlife" that live in coexistence in those places. One characteristic of the group is that it does not itself own any conservation land, instead operating practical protection management through the participation of citizen's volunteers. One of these activities is the "natural break" run over one-week periods, which allows ordinary citizens to become lightly involved in nature protection activities as one form of leisure activity. The system involves more than 500 conservation activity programs (maintenance management such as restoration and trimming of living hedges, restacking of loose stone walls, tree planting and forest manage-ment, repair of nature walkways, etc.) conducted all over Britain each year, from which people can select the activities, location, and schedule most suited to themselves. Upon payment of the participation fee, which is, in Japanese yen, 4,000 to 8,000 yen (including both lodging and food), conservation activities are conducted under the guidance of a trained leader (Table 3-2-4). This kind of system is attracting attention as a way to bring the people who are interested in nature protection activities in contact with nature in need of protection management.
Table 3-2-4 Example of Conservation Camp Program (Select desired activity from among these programs)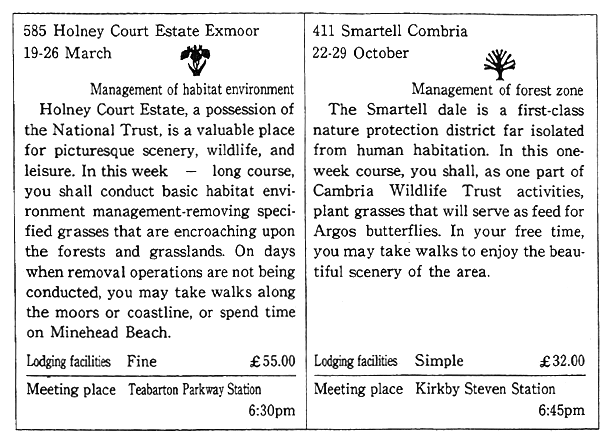 Moreover, BTCY offers advice and assistance to citizen's groups engaged in practical nature protection activities all over the country, and supports the activities of these groups by offering training courses in protection activities. In addition, BTCV is associated with a large number of schools, and contributes to promotion of nature protection activities as a part of the schools' environment education. One reason activities such as BTCV are possible is that close links are assured with government institutions such as the Ministry of the Environment, local governing authorities, and private-sector companies, that they are recognized as being a national activity, and that they receive substan-tive financial back-up.
  Japan's own countryside and mountain area conservation groups are beginning to make exchanges with BTCV, and we can perhaps look forward to establishment of a group like BTCV that is shaped according to Japan's own customs.
 (2) Efforts in Japan
 1) Efforts toward conservation of familiar local natural environments
  Beginning around 1980, a series of citizen's campaigns, such as the "Firefly Hometown Revival Campaign" designed to restore familiar insects were held in localities all over Japan, and in response to that countryside and mountain area conservation campaigns and waterside natural environment conservation campaigns were also promoted. For example, recently the "Totoro Hometown Fund" campaign was laun-ched to protect nature in the Sayama Hills on the borders of Tokyo and Saitama Prefectures. The conservation method involved calling for contributions from a broad range of ordinary people so that the citizens could themselves buy up the land, and to engage in conservation and management in a national trust style. The selection of "Totoro," a familiar movie character, as the symbol for the campaign attracted lots of contributions from many people, including primary, middle, and high school students. As a result, by August 1991, just one year and four months after the commencement of the campaign, a portion of mixed forest (Section No.1) was successfully acquired. At the present time, the campaign is working toward acquisition of Section No. 2. In the cam-paign, emphasis on the active participation of ordinary citizens is being placed on conservation, including the organization from time to time of nature observation excursions and mixed forest cleaning programs to maintain management of the land after acquisition. The local commu-nity of Tokorozawa and Saitama Prefecture responded to this citizen effort and decided to buy up land surrounding Section No. 1, while the Environment Agency and Saitama Prefecture also conducted their own Sayama Hills conservation through such action as "Hometown in Contact with Oldness and Living Things." Since a conservation cam-paign led by citizens only is limited in its ability to raise funds, the conservation district created will often be restricted to a limited area. In this case, however, support and links offered by local governments made it possible to conduct integrated nature conservation over the entire region.
  Meanwhile, according to an Environment Agency questionnaire sent to local governments on the issue of greenbelt management, the main concerns of many local governments for greenbelt management was, first, "increased management costs," and second, "active citizen participation" (Figure 3-2-7). When these responses are paired with the free-response questions conducted at the same time, we can see that many local governments are considering dealing with the shortage of greenbelt management costs through the use of active participation from citizen volunteers.
Fig. 3-2-7 Greenery Management Issues for Local Governments

  It is this sort of situation where Yokohama City is using such programs as the "Yokohama Nature Observation Forest" to conduct conservation and management with the participation of many citizen volunteers. This nature observation forest operation has been entrusted to an incorporated foundation, under which many citizens are asked to participate in an environment management-style "Mixed Forest Fan Club." Activities include such mixed forest maintenance and manage-ment operations as nurturing trees, cutting underbrush, and raking up leaves, utilization of the mixed forest for vegetation dyeing or charcoal burning, as well as forest floor vegetation surveys, for modern-style mixed forest activities that combine enjoyment with maintenance and management. Among the participants in these projects were volunteers who on their own formed groups to conduct mixed forest management operations. This is an example that other local governments could also take as a model, and so information exchanges for sharing experiences are important.
2) Exchanges between the city and country
  Direct shipments from the production centers for organic agricul-tural products have helped to build "viewing-each-others'-face" relation-ships between the city and country, and examples of environmental conservation linking up such districts are beginning to be seen.
  For example, the Yuza City Agricultural Co-op in Yamagata Prefecture (now known as Shownai Midori Agricultural Co-op) and Seikatsu Club Co-op, a consumer group whose activities center mainly in the Tokyo metropolitan area, has for 20 years been continuing exchanges through bulk purchases of safe and delicious rice. In Yuza City, the exchanges with Seikatsu Club Co-op have resulted in the shaping of awareness for environmental conservation, such as cam-paigns to restrain the use of synthetic detergents and to use natural soap instead. In the course of events, there was a case where the town received assistance from the co-op to purchase a plant that had started operations on the upper reaches of the river used by the townspeople for residential and agricultural water, and had it removed. At that time, the town adopted a basic ordinance to protect the river flow. In addition, the consumer co-op called on its members to establish a fund for "constant environmental conservation and observation," and was able to us e the funds raised in the campaign as a base for establishing an environmental conservation fund for the town. This exchange, achieved through the purchase of safe and delicious agricultural products, became an opportu-nity for the buyers of agricultural products living in the city to become aware that their lives are founded on the environment that produced those agricultural products. It was also an opportunity to let people see that the purchase of this kind of safe and delicious agricultural products included payment for the health of the purchaser and, if attention was paid to the environmental conservation style of production, payment for conservation of the production environment.
  There are also cases where maintenance of nature in a locale occurs as a consequence of exchanges between city and country in the course of local countryside and mountain conservation campaigns. In Zyouge City, Hiroshima Prefecture, local residents responded to a plan to bring a golf course development project to the town by having many people become landlords in the proposed development area through the purchase of individual standing trees, while a standing tree trust cam-paign seeking to stop the development gained the support of sympa-thizers nationwide, and successfully protected the natural countryside. Moreover, to maintain the region in coexistence with nature in place of the golf course proposal, a shiitake mushroom park was opened to attract mushroom hunters, while a network that arose in the course of the standing tree trust campaign between the local residents and trust campaign participants gathered owners for the shiitake bed log. These owners had shipped to them shiitake mushrooms and seasonal vegeta-bles, while public events were held to promote exchanges between the local residents and the owners. These relationships were successful in maintaining the local nature.
3) Creating regions where nature and people coexist
  Creating regions where nature and people coexist, by putting the basis for region creation on the region's natural environment, incorpor-ating environmental conservation into all aspects of region creation, and appropriately conserving and utilizing a region's natural environment, has become an issue in regions with advancing aging and depopulation, and where maintenance and management of nature have become diffi-cult. While these efforts have barely started and are still in the groping-along stage, nevertheless, examples of this kind of effort that we can look at are the Green Stock Campaign in Aso, Kumamoto Prefecture, and a campaign in Asahi City, Yamagata Prefecture.
  As we have seen, the livestock industry is in decline in Aso, making it difficult to maintain the traditional grassland scenery. In these circumstances, local residents, urban residents, the government, and local corporations, spurred by the concept of nourishing Aso's living assets of greenery and water (green stock) and passing it on to the next generation, have formed a partnership to establish a foundation trust modeled on Britain's Grand Work Trust that combines the tasks of environmental conservation, promotion of agricultural, forestry, and livestock industries, building of comfortable living spaces, and promo-tion of green tourism, to create a region. To maintain the grassland scenery, the foundation aims to continue and to nurture the natural feed production of red cattle, and to establish a direct production relation-ship with urban consumers for delivery of safe, delicious goods, and to create solidarity between city residents and farmers. Among these efforts are included exchanges that encourage city resident participa-tion in the rangeland burnings.
  In Asahi City, Yamagata Prefecture, meanwhile, creation of a region is being promoted based on the concept of an "Eco-museum," an idea of France's Henri Ribieru (former chairman of the Conference of International Museums). Ribieru's concept was "government and resi-dents join together to create a system that has the expressive capacity to present the history, lives, industries, and customs of the relationship between mankind and nature in the land." The "core" of the Eco-museum consists of the central pavilion that allows a comprehensive understanding of the history, life, and environment of the land, and so-called "satellite" pavilions. Despite the name, the satellite pavilions do not require special buildings because they are the farmhouses, live-stock ranges, artisan studios, and the natural land itself where the actual production takes place, and are positioned as places for experien-cing and sampling the region's life and environment. In Asahi City, they clearly understand the strong points of their region, and while enjoying the characteristics of their own town's life, learning about it without having it taken over by some urban fantasy, understanding it, and living their lives proudly, they have taken the viewpoints of enjoyment of ease, enjoyment of nature, and enjoyment of culture, as satellites of a natural inheritance, for example, to do such projects as promote the conserva-tion of the Asahi River and its drainage basin, shore up the waterfront environment at Yatsunuma lake, and build a Townspeople's Forest.
  As can be learned from these examples, creating a region for the coexistence of nature and humans requires more than anything else that local residents have a deep understanding and pride in the nature of their region, and that they can perform on their own efforts to make the values of that area work in modern life and economy. When necessary, the government or local companies should participate in the circle of activities and provide appropriate support in accordance with the roles and responsibilities each has. Moreover, exchanges with people from outside the region to create structures that allow the people from outside to participate in the regional creation for coexistence of nature and people can be the key to success in creating a region.
Section3. Environmental Effects of Global Warming
  In the previous sections, we have looked at Japan's environmental stock that should be passed on to the next generation from the points of view of the soil, and nature in high human impact and countryside areas. This environmental stock has been shaped over many years under the influence of Japan's relatively moderate, steadily changing, richly four -seasonal climate. Moreover, even our lifestyles and socio-economy itself has been built up on the assumption of long-term stability in Japan's climate.
  Now, however, climate changes caused by global warming may possibly overthrow that assumption from the roots, which would deeply affect our lives.
  In this section, we shall survey the world situation on environmen-tal loads, such as emissions of greenhouse gases, that cause global warming, shall look at some effects of global warming on Japan that have not been specifically clarified before, and shall look at how coun-termeasures against global warming will be effective in the future.
1. Increased Environmental Loads Caused by Global Warming
  Both the causes and effects, of global warming are, as the term implies, global-scale problems. It follows that emission of greenhouse gases all over the world can affect Japan's environment, and greenhouse gases emissions from Japan can contribute to warming worldwide. Here below, we first look at what the situation of environmental loads that cause global warming is like in the world and Japan.
 (1) The world situation for greenhouse gas emissions and absorptions
  The emitted greenhouse gases due to human activities include carbon dioxide, methane, nitrous oxide, and halogen carbons (CFC: Chlorofluorocarbons, or HCFC: Hydrochlorofluorocarbons, etc.). Of these, the one that has the highest degree of contribution to global warming is carbon dioxide (see Chapter 5, Section 1, (7)).
  Total world carbon dioxide emissions (including emissions from fossil fuel consumption and cement production) as of 1991 was estimated at 6.19 billion tC (tons carbon equivalent), about four times more than the emission volume in 1950 (Figure 3-3-1). For the sources of emissions, 455 of the total emission volume came from the advanced countries, while the remainder was emitted by the former Soviet Union and Eastern Europe, and by the developing countries. Where the share of total emissions held by the developing countries was 11% in 1950, it had grown enormously to 36% in 1991. Since future carbon dioxide emis-sions from the less developed countries can be expected to grow again by large amounts because of rising populations and economic growth, implementation of countermeasures in the developing countries has become urgent in pushing forward measures to prevent on a worldwide scale global warming. Meanwhile, although the share of emissions held by the advanced countries has fallen in relative terms, the situation of the absolute volume putting huge burdens on the global environment remains unchanged. Moreover, in terms of emission volumes per person, the advanced countries in 1991 were at about 3.3 tC, the former Soviet Union and Eastern Europe at about 3.0 tC, and the less developed countries at about 0.46 tC. So since the developed countries continue to run at more than seven times the pace of the developing countries, even from the viewpoint of actively including the developing countries in any countermeasures, it is important that the developed countries be fulfil-ling their responsibilities under the Framework Convention on Climate Change and taking the lead in global warming prevention policies.
Fig. 3-3-1 Changes in the World's CO2 Emission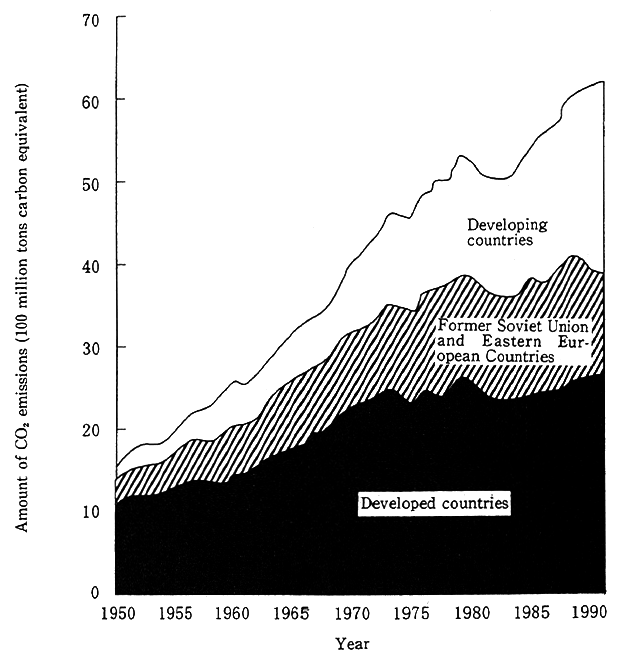 Reference : Prepared from estimates by Oakridge National Laboratory CDIAC (Carbon Dioxide Information Analysis Center)
  The Kuwait oil fires set off during the Gulf War of 1991 are estimated to have emitted 130 million tC, equivalent to about 2% of the world's total carbon dioxide emission volume for that year and which was more than the 90 million tC in increased volume over 1990. So it would appear that the Gulf War placed great burdens on the environ-ment in terms of global warming as well as from the outflow of crude oil.
  In addition to the above-mentioned emission volumes, changes in land use are resulting in large carbon dioxide emissions, which are estimated by the World Resources Institute to amount to a world total of more than 90 million tC. Emissions from countries where tropical rainforests are in decline are rising, and the combined effects of less carbon absorption and fixing sources due to forest decline and rising emission volumes are working to promote global warming.
  Table 3-3-1 shows the globe's total carbon expenditures. Accord-ing to this table, around 3.2 + /-0.2 billion tC of carbon dioxide accumulates in the atmosphere every year. In addition, sources of carbon dioxide absorption that have been specified include the ocean, believed to be a long-time absorption source, plus new absorption sources such as regrowth forests in the northern hemisphere and addi-tional land absorption sources. These are thought to account for the "missing sink" (unconfirmed carbon absorption source) that scientists were seeking. The additional land absorption sources include greater photosynthesis activity due to increased carbon dioxide densities, in-creased artificial emissions of nitrogen, and increased accumulations of nitrogen due to the use of fertilizer to promote plant growth.
Table 3-3-1 Annual Average Carbon Emission from Artificial Sources and Storage (1980-1989)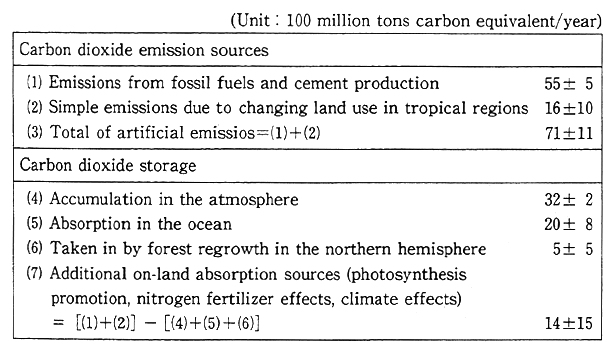 Source: IPCC (1994)
  The IPCC (Intergovernmental Panel on Climate Change) believes that the eventual stable level of carbon dioxide density in the atmo-sphere will be determined more by the accumulated carbon dioxide emission volumes than by any emission scenarios leading up to stabiliza-tion, and estimates that accumulated emission volumes by the end of the 21st century will need to be held down to 300 to 430 billion tC in order to stabilize carbon dioxide density at 350 ppm, or if stabilized at 550 ppm, then the limit would be 880 billion to 1.06 trillion tC (Figure 3-3-2). But even if carbon dioxide emission volumes are held to the level of 1990 (about 7.1 billion tC annually), carbon dioxide density at the end of the 21st century is forecast to reach 500 ppm, and is expected to continue increasing at about the same rate for the next two centuries. So in order to achieve the ultimate goal of the Framework Convention for Climate Change, which is to "stabilize the density of greenhouse gases in. the atmosphere at a level that does not result in artificial interference in the climatic system," the total world emissions of greenhouse gases will have to be reduced from current levels.
  The emission volumes of other greenhouse gases beside carbon dioxide are not understood as precisely as for carbon dioxide.
  Artificial emission volumes of methane worldwide was estimated to total about 250 million tons in 1991 (World Resources Institute estimate). While emissions generated during the production processes for paddy cultivation and livestock raising, which are required for the maintenance of human life, each register high rates of about 30%, there are also fairly high emissions from areas that ought to be controllable, such as emissions from waste burial sites and in the course of coal extraction, and leakage during the chemical cracking processes for oil and natural gas. The ratio of total emission volumes held by the developed countries is about one-quarter for methane. Moreover, in addition to the above-mentioned 250 million tons, the amount of meth-ane trapped in the Siberian permafrost layer and released into the atmosphere whenever it thaws is believed to be quite a large volume. Japan and Russia have been engaged in joint research on this problem since 1991.
Fig. 3-3-2 Relationship between Carbon Dioxide Density in the Atmosphere and Emission Volume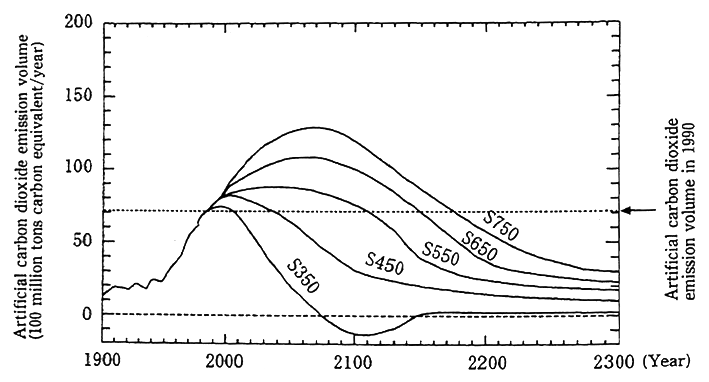 Emission control routes required for stabilizing carbon dioxide densities in the atmosphere
  (Figures following the S represents density stabilized in terms of ppm)
Source : IPCC (1994)
  Total world production of special freon, a form of CFC, is estimated to have been about 643,000 tons in 1992. Production of CFCs, however, has been restricted under the Montreal Protocol, in the inter-ests of protecting the ozone layer, and production is in principle sup-posed to cease completely by the end of 1995. Meanwhile, among the substitute substances used in place of CFCs are substances that, even though they do not harm the ozone layer, have the same severe green-house effects of CFCs, a problem that is already attracting proposals in the United States and Britain. We in Japan, as well, need to promote our own understanding of the current situation in how these substances are being used, in terms of global warming.
 (2) The situation for greenhouse gases in the advanced countries
  With the launching of the Framework Convention on Climate Change in March 1994, to promote a worldwide framework for global warming policy, Japan and other advanced member countries, in response to a specific responsibility laid down in the convention, sent information related to global warming policies by the deadline of September 1995. The reports issued by each country included (i) the general state of the nation in relation to global warming, (ii) list of emissions and absorptions of greenhouse gases (values for the standard year of 1990), (iii) policies and actions taken as countermeasures for global warming, and (iv) forecasts of the effects of countermeasures for greenhouse gases. Each national report becomes the foundation for studying the sufficiency of the member nation legislature's commitment to the convention, and were combined into a collection of national reports from 15 member nations (called hereafter the "collected report"), including Japan, host to the temporary secretariat for the Framework Convention for Climate Change until the report deadline, Canada, Germany, the Netherlands, Britain, and the United States. We shall follow this collected report to examine the state of greenhouse gas emissions in the major developed countries.
  First, let us look at the carbon dioxide emissions for each country (due to fuel combustion) (Figure 3-3-3). The total emission volume for the 15 countries accounts for 41% of the total world carbon dioxide emissions from fuel combustion. The greatest share is held by such energy conversion areas as electricity and city gas, accounting for 38% of the total emission volume for the 15 countries. Emissions from the industrial sector accounts for 12-28% of the total in 12 of the countries. In Japan, the energy conversion sector accounts for a 36 % share, while the industrial sector accounts for 28%. The transport sector accounts for a more than 35% share in Norway and two other countries, and in five countries that include these three countries, the transport sector holds the largest share of total emissions. By contrast, the transport sector in the Czech Republic accounts for just 5% of total emissions, Which probably reflects the fact that the share held by public transporta-tion is large while the number of private vehicles is small. In Japan, the transport sector accounts for a 19% share. The statistics for each country's public welfare sector are not compatible. In addition, while not included in the figure, carbon dioxide absorption volumes due to "changing land use and forestry" (sum of emission and absorption Volumes) offsets more than 50% of the fuel combustion sources for carbon dioxide emissions in New Zealand and Sweden, whereas they are equivaIent to around 8% in places like the United States or Japan where total emission volumes are large, and revealing that forests are an important absorption source.
Fig. 3-3-3 State of Carbon Dioxide Emission due to Fuel Combustion in Major Countries by Emission Source (1990)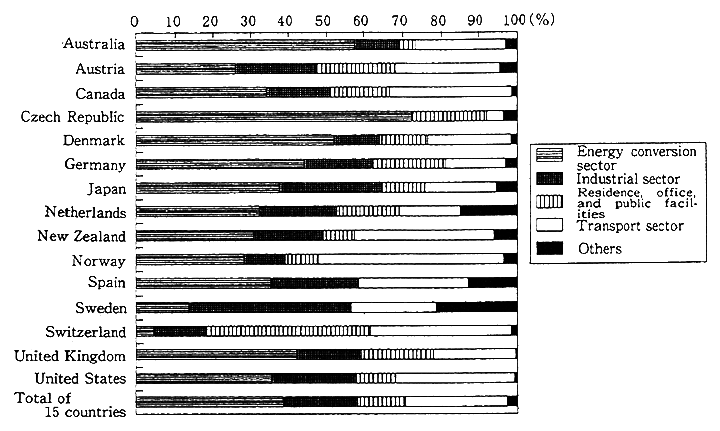 Reference: Prepared by the Environment Agency based on joint report by the temporary secretariat of the Framework Convention on Climate Change
Notes:1. Emissions from energy conversion sector also include emissions from industrial sector
  2. Emissions from residence, office, and public facilities also include Others. For total emission volume by each country see Table 3-3-4.
  A look at the total emission volumes for methane in the 15 countries shows that 38% of emissions comes from agriculture (of which emissions from livestock is 36%), waste materials 34%, and energy 27% (of which leakage while extracting fuel was 25%), and these three sectors account for virtually all of the emissions volume. In Japan, the share of emissions from fuel extraction leakage is low, while the share of emissions from paddy cultivation is high.
  Major emission sources for nitrous oxide include agriculture (fertilizer), industrial processes, and fuel combustion in the transport sector, and these emissions sources accounted for 40%, 30%, and 15%, respectively, of the total emissions volume for the 15 countries. Coun-tries where agriculture centers on dry field cultivation have above-average emissions from agricultural fertilizer, while agricultural emis-sions in paddy cultivation-centered Japan are held to just about 10%.
  The list of greenhouse gas emissions and absorption sources in Japan for fiscal 1990 are shown in Table 3-3-2.
 (3) Carbon dioxide emission volume trends in Japan
  The carbon dioxide emission volume in Japan in fiscal 1992 (emissions from fuel combustion, industrial processes, and wastes) was 330 million tC (tons carbon equivalent), with emission volume per person coming to 2.65 tC. These represented year-on-year rises of 12% and 0.8%, respectively. If we impute all emissions from power generation to the sector it is used in, then energy-related emissions by sector had 39.3% of all emission volume from the industrial sector, 18.9% from the transport sector, 12.4% from the private residential sector, and 11.2% from the private business sector (Figure 3-3-4). Figure 3-3-5 looks at the energy-related emission trends for each sector since 1987, when carbon dioxide emission volumes began to increase again after being relatively stable for some time before that, and then expresses the emissions with 1990 being set to 100 for each sector. This shows that while the rate of increase for the total emission volume was slowing somewhat, the private business sector was exhibiting a relatively high rate of increase, followed by the transport sector. While the private residential sector was growing at less than the rate for the total emission volume up to fiscal 1991, it moved past the average rate beginning in fiscal 1992. The industrial sector, by contrast, moved in step with the economic slow-down and begin showing a year-on-year minus from fiscal 1991. From these trends, we realize that in order to achieve the goals of the action program to arrest global warming, we must not be swayed by the state of the economy in the continuing drive to restrain emissions growth in the industrial sector. At the same time, we must carefully analyze the reasons for the growth in emissions from the private and transport sectors, and work still harder to promote countermeasures.
Table 3-3-2 List of Japan's Greenhouse Gas Emission and Absorption (FY1990)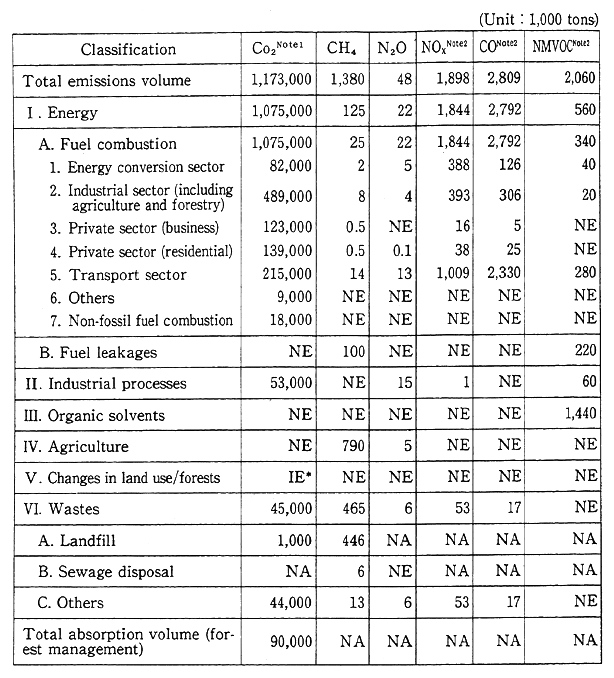 NA = Not applicable because there are not believed to be either emission or absorp- tion.
NE = Emission volume not calculated.
IE = Item recorded elsewhere
* = Absorption volume offset against total
Note : 1. Carbon dioxide equivalent. One ton carbon dioxide equivalent=44/12 tons carbon equivalent
  2. Nox, CO, NMVOC(non-methane carbonized hydrogen) are precursor sub- stances for greenhouse gases.
Source : Japan's national report prepared in accordance with the Framework Convention on Climate Change
Fig. 3-3-4 Carbon Dioxide Emission Volume by Sector in FY 1992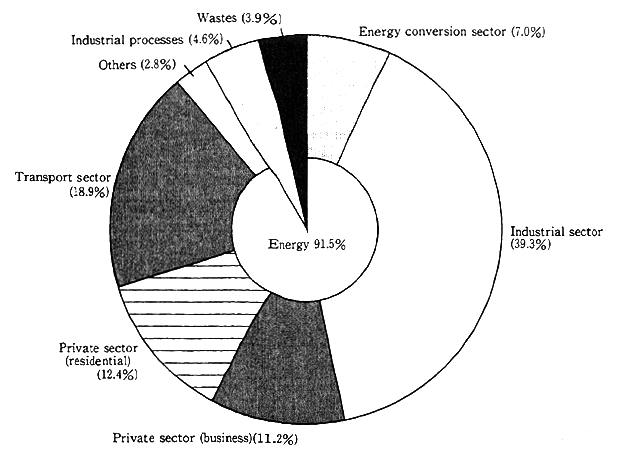 Note : * Due to rounding up, total of each sector does not necessarily add up.
   * Estimates based on comprehensive energy statistics
Source : Council of Ministers for Global Environment Conservation
Fig. 3-3-5 Carbon Dioxide Emission Trends by Sector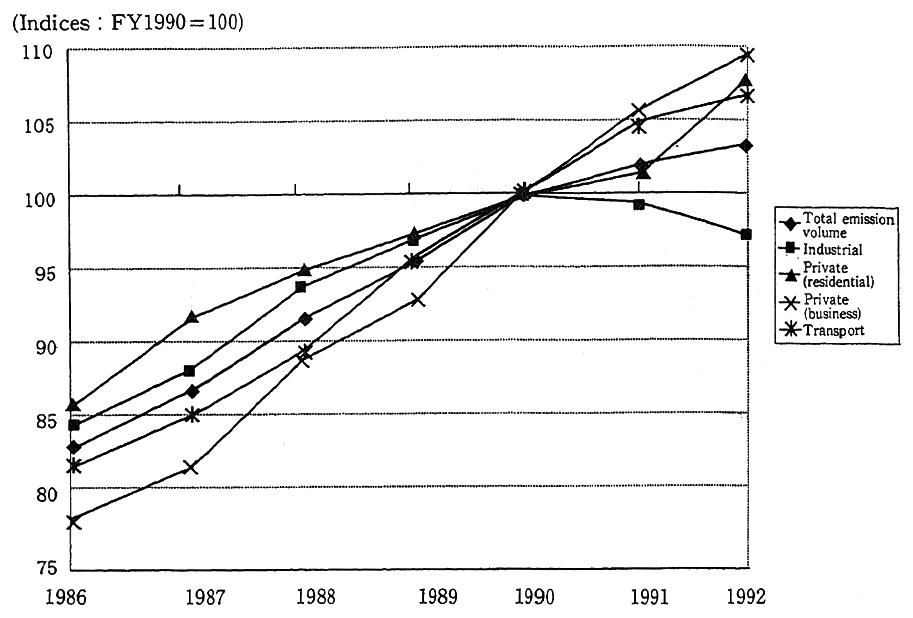 Reference: Prepared by the Environment Agency
2. Environmental Effects in Japan from Global Warming
  As we have seen, global warming can add some frightening, huge burdens to our planet, and that burden is steadily increasing. According to the IPCC, if the greenhouse gases continue to be emitted at current rates, and the density of greenhouse gases in the atmosphere rises, then the average global temperature could by 2025 rise by 1 degree over present temperatures, and by 3 degrees by the end of the 21st century. These effects are forecast to raise sea levels by an average of about 20 centimeters by 2030, and by 65 centimeters (maximum one meter) by the end of the 21st century.
  In addition, actual observations have confirmed that tempera-tures on land have risen by 0.3-0.6 degrees over the past 100 years, while recent satellite observations have found the same trend toward warming in air temperatures at a height of about five kilometers. Moreover, it is reported that sea levels have also been observed to have risen by 10-20 centimeters over the past 100 years, and satellite observation in recent years has found sea levels to be rising at a rate of three millimeters per year. While we should not think of these monitoring results as being caused by global warming, they nevertheless are in agreement with the theoretical predicted values.
  So, should global warming occur, what effect will it have on the environment of Japan that we should be passing on to the next genera-tion? Here below, based on the Environment Agency's "Report on the Effects of Global Warming on Japan," which is a summary of research results to date, we examine what environmental effects will arise in Japan should global warming occur, assuming that no effective policies are enacted.
 (1) Effects on moisture and water resources
  Global warming is forecast to increase the overall precipitation in Japan by about 10%, while it is feared that rising temperatures will raise evaporation rates and boost the frequency of water shortages. And because of rising temperatures, snow accumulation districts will see rainfall instead of snow, or see the early arrival of the snow melt and runoff season, thus causing changes to the seasonal patterns of river drainage. Figure 3-3-6 shows the results of forecasts for the Tone River drainage basin of a 3.5 degree rise in temperature and a 10% increase in precipitation. Snow melt run-off would increase in February and March, while river flows would decline in the months of May and June, after the snow melt season is completed. If water shortages appear, leading to gaps in water resource supplies to the big cities, these kinds of changes could force a reappraisal of the operation of existing water resource facilities, or reconsideration of plans for new facilities. Moreover, should global warming lead to higher water temperatures, there are concerns that plant plankton could flourish, causing blue-bloom and bad smells, as well as that it could cause declines in dissolved oxygen volumes, resulting in sharply lower water quality in closed bodies of water such as reservoirs and lakes. And in areas close to coastlines, rising sea levels is forecast to cause saline invasions of underground water, obstructing water usage, and forcing the necessity of such coun-termeasures as pumping out saline underground water or installing water breaks.
Fig. 3-3-6 Hydrograph for the Tone River Drainage Basin (Yatsuta-jima) Today and After a Climate Change (Under the present climate, under a temperature rise of 3.5 degree C and rainfall rise of 10%)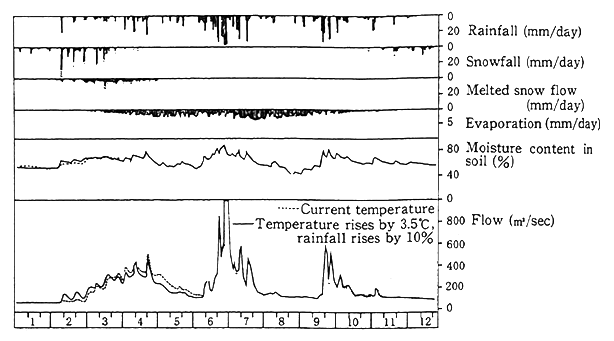 Source Environment Agency,"Report on the Effects of Global Warming on Japan"
 (2) Effects on agriculture
  Agricultural production is easily affected by climate change, and can be considered to be particularly fragile against climate change. Agriculture is dually affected, both directly by the rise of carbon dioxide densities in the atmosphere itself, and indirectly, as well, by the resulting rise in temperature and changes in precipitation volumes.
  A rise in carbon dioxide density ordinarily restrains water con-sumption volume, since it promotes photosynthesis and causes evapora-tion volume to decline, resulting in a positive effect on plant growth. Agricultural crop growth, therefore, will be promoted under a high carbon dioxide density. This does not necessarily mean, however, that it will also lead to larger crop yields. In an experiment with maize, the plants grew by an additional 10-30% when the carbon dioxide density was doubled (700 ppm), yet the crop yield actually declined.
  Indirect effects such as rising temperatures are expected to bring differing effects to different regions. In a calculation for paddy rice, the basic agricultural crop in Japan, using, for example, an OSU model (assumed temperature rise of 4.0-4.5 degrees C) climate change scenario, the effects per unit of paddy rice under warmer conditions assuming current varieties and growing seasons is predicted to be positive for every prefecture in the Tohoku Region excluding Yamagata Prefecture, and a negative effect everywhere else (Figure 3-3-7). But assuming, however, that varieties are changed, growing seasons altered, and technologies adapted to the warmer conditions, then harvests in Hok-kaido would be greater than at present, and a number of other prefec-tures would also see the negative effects switched over to the plus side. In southwestern Japan, however, since there are no Japan-style paddy rice varieties that can be adapted to a rise of 4.0-4.5 degrees over current temperatures, unavoidable crop yield declines are fore cast, and some areas may perhaps be forced to switch to heat-resistant varieties. For other crops as well, southwestern Japan is expected to have problems with crop-raising while, with the exception of a few cold-region crops, Tohoku and Hokkaido is expected to often see more beneficial condi-tions.
Fig. 3-3-7 Effects of Climate Change on Rice Harvest with Current Varieties and Cultivation Periods by Prefecture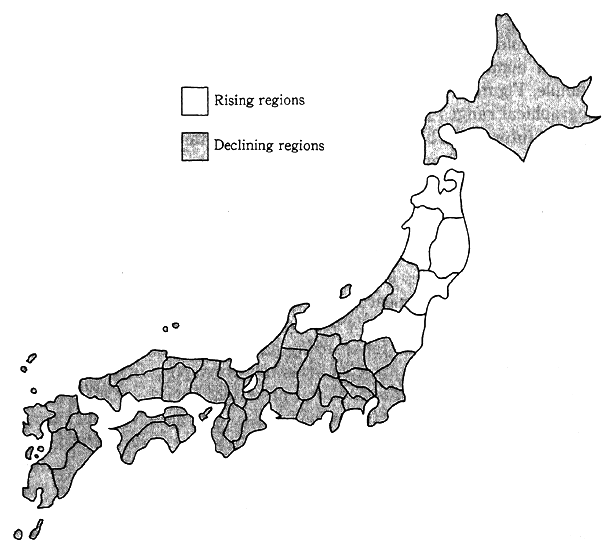 Source: Environment Agency, "Report on the Effects of Global Warming on Japan"
  It is also feared that rising temperatures could have a bad effect on agriculture through increased activities of weeds and harmful insects. The localized range of harmful insects, whose range is limited by temperature, would be lifted as temperatures rose and the ranges spread to higher latitudes and higher elevations, and Japan would become infested with tropical and subtropical insect pests. The resulting response to these weeds and harmful insects would probably have to be additional use of agricultural chemicals.
 (3) Effects on the ecology
  Warming conditions would cause tree varieties to move in both the vertical and horizontal directions. But because tree movement speeds would not be able to respond quickly enough to the warming speed, a number of varieties would probably shrink in extent. For example, Figure 3-3-8, based on a climate change scenario, shows the geographical ranges for beech/chinquapin, and oak varieties both cur-rent and future. The beech forests that currently range through relative-ly cold regions and are highly sensitive to climate change are forecast to shrink by the extent of the gap between current and future ranges. And vegetation that is limited in its range would quite likely completely disappear due to an inability to move under climate change. Since much of this type of vegetation represents rare species, it could lead to the extinction of the species itself. Wildlife and other life forms could also be affected by the disappearance or decline of plant species that they feed upon, thus throwing the whole food chain mt o disarray. At any rate, the urbanization of Japan today has separated the ecology into local fragments, and the plant and wildlife forms living in such narrow ranges would be under greater threat of extinction.
  Rising water temperatures would also have an effect on coastal ecologies, with "konbu" (kelp) and other cold-water seaweed declining and the ranges of "arame" (Fisenia bicyclis) and other warm-water seaweed expanding. And it is not known what the overall effect on productivity these changes would have on such tidal area resources as abalone, turbo, and sea cucumber. For the effect on offshore ecologies, "maiwashi" (a type of herring), mackerel and other warm-water fishes could be expected to expand their ranges while salmon and other cold-current fishes could expect to see their ranges shifted northward.
Horned beetle larvae in the soil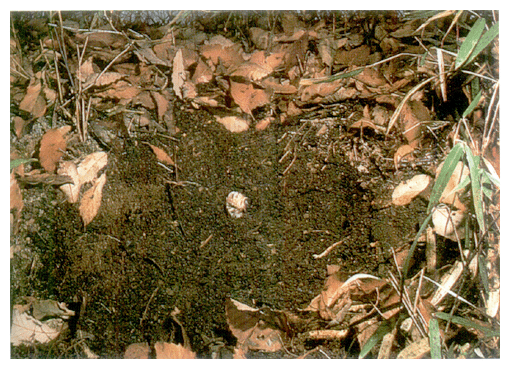 Fig. 3-2-5 Grassland in Aso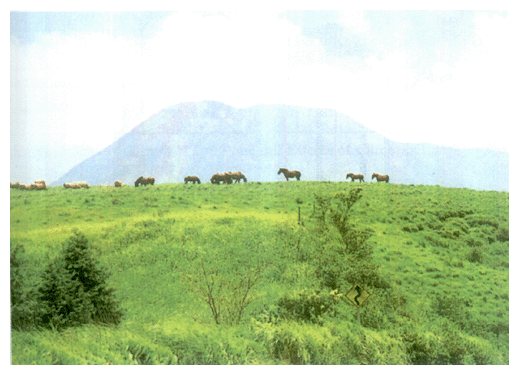 Fig. 3-3-8 Current and Post-climate Change Geographicad Distribution Potential of Beech and Chinquapin/oak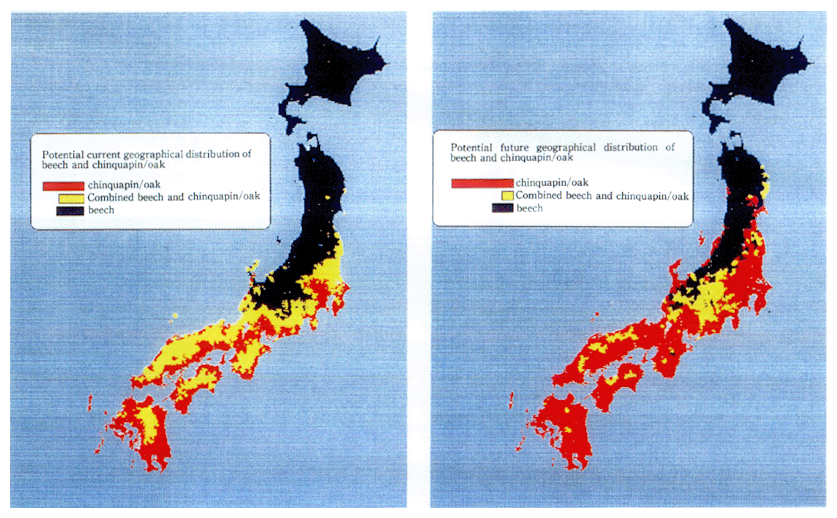 Source Report on Effect of Global Warming on Japan, Environment Agency
 (4) Effects on coastal regions
  In Japan's coastal regions even today about 861 square kilometers of land is lower than the high tide level, and the area is home to 2 million people and encompasses 54 trillion yen in assets. Assuming that warm-ing conditions resulted in a 0.5 meter rise in sea level, this range would expand by more than 1.6 times to 1,412 square kilometers, and the affected population and assets would grow to 2.86 million people and 77 trillion yen, respectively. Moreover, the 6,268 square kilometers of land now believe to be threatened by inundation from high tides or tsunami would, with a 0.5 meter rise in sea level, expand by about 20% to 7,583 square kilometers, and the population of the inundation-threatened zone would rise by about 1.8 million people to a total of more than 13.58 million people, while threatened assets would rise by about 45 trillion yen to a total of 333 trillion yen. And assuming that the sea level rises by 1 meter, the affected land areas, population, and assets would expand still more (Table 3-3-3).
Table 3-3-3 Effects of Rising Sea Level at Specified Water Levels

Source: Environment Agency, "The Potential Effects of Climate Change in Japan"
  A rising sea level due to global warming would also have a great effect on the coastal region's natural environment. One of the most direct effects would be the erosion of sandy beaches. It is estimated that a rise in sea level of 30 centimeters would cause the erosion nationwide of 10,810 hectares, or 56.6% of the current sandy beach total. Since it was over a period of about 70 years, between the beginning of the Meiji Period (1868) and 1978, that Japan is said to have lost about 12,500 hectares of sandy beaches to erosion, this new erosion would be on about the same scale. Furthermore, it is estimated that sea level rises of 65 centimeters or 1 meter would cause the losses of 81.7% and 90.3%, respectively, of sandy beaches. A rising sea level would lead to the destruction of rich ecologies nurtured in tidal flats, algae basins, and mangrove forests. Whereas tidal flats could ordinarily be expected to move inland as the coastline recedes with a rising sea level, much of Japan's coastline is covered by artificial barriers to protect the coast and so tidal flats with no place to retreat to would shrink and eventually disappear.
 (5) Effects on energy and urban environments
  Energy consumption in warming conditions would lead to reduced energy use for heating in the winter months and increased energy use for air conditioning in the summer. In general, it is assumed that the decline in heating demand in Japan would more than offset the increase in demand for air conditioning, so that overall energy consumption would decline. So assuming that the types of energy used would go unchanged, demand for city gas and kerosene would decline in warmer conditions, while there would be a need to strengthen the electrical power supply capacities in response to the peak demand times in the summer months.
  The increased demand for air conditioning in the warmer summer months would increase the amount of waste heat from air conditioning units, further exacerbating the urban heat island phenomenon. And a more severe heat island phenomenon would-result in more air condition-ing demand, causing a vicious cycle of rising urban temperatures. Moreover, rising demand for water as urban temperatures rise could be expected to increase the risk of water shortages. In addition, global warming is predicted to change the precipitation patterns in Japan toward a more tropical or subtropical pattern of sudden downpours. Such a development could often be expected to lead to blockages in rainfall runoff sewers.
 (6) Effects on health
  Changing temperature and rainfall patterns due to warming conditions could result in habitat changes for animals that are carriers for infectious diseases, resulting in changes in infectious disease pat-terns. In Okinawa, for example, there are fears that warmer conditions could lead to increased risks of malaria outbreaks. Moreover, global warming could accelerate photochemical reactions in the atmosphere, resulting in higher oxidant densities in the troposphere and in the cities. Warming conditions could also alter pollen counts. At the very least, rising temperatures are expected to have adverse effects on the health of the aged, of whom there will be many in Japan.
3. Future Outlook on the Effects of Countermeasures for Global Warming
 (1) Outlook for Japan
  We have looked at the environmental effects of global warming on Japan, and have predicted serious effects over a variety of areas. As measures in Japan to prevent global warming, the Action Program to Arrest Global Warming was instituted in 1990, in which a wide variety of countermeasures are being taken, including policies to control emis-sions of carbon dioxide and other greenhouse gases, to establish sources of carbon dioxide absorption, to conduct scientific studies and research, and to disseminate information, educate, and conduct international cooperation. The outlook for these policy results has been summarized and sent to the temporary secretariat of the Framework Convention on Climate Change, in accordance with its stipulations.
  First of all, since emissions of carbon dioxide are closely linked to trends in energy demand, forecasts are based on the Long-term Energy Demand Forecast revised in June 1994, and other sources. In the Long-term Energy Demand Forecast, policy targets for energy demand in fiscal 2000 are established with the assumption that additional energy-saving policies are incorporated from fiscal 1994. Assuming that all major players take the effort seriously and completely implement the new policies, the amount of energy use eliminated in the industrial processes and wastes disposal fields is forecast to represent reduced emissions in fiscal 2000 of about 34 million tC, with total emission volume amounting to about 330 million tC. As a result, the emission volume per person is forecast to be about 2.6 tC, virtually the same as the value (2.59 tC) recorded for fiscal 1990, and representing achieve-ment of the first target of the Action Program to Arrest Global Warming concerning carbon dioxide emissions (to stabilize carbon dioxide emission volumes per person for 2000 and beyond at the 1990 level). Total emission volumes, meanwhile, will show a slight increase in terms of tons carbon from the recorded fiscal 1990 level (about 320 million tC), and more effort will be required to achieve the second target of the action program (to use early and great advances in the develop-ment of revolutionary new technologies to strive for stabilization of carbon dioxide emission volumes for 2000 and beyond at the 1990 level). Moreover, as we saw above, while the rate of increase in carbon dioxide emissions has been slowing in recent years in Japan, the nation's total emission volumes in fiscal 1992 had already reached the forecast emis-sion levels for fiscal 2000. While we can expect in future to see the effects of implementation of revisions to the Energy Saving Law of 1993 and of the implementation of additional energy-saving policies steadily make their appearance, the relatively fast rates of increase being seen in the private and transport sectors demonstrate a situation where still more efforts will be required.
  Carbon dioxide absorption sources are forecast to increase slight-ly over fiscal 1990. And methane emission volumes are forecast to fall below the fiscal 1990 level, while nitrous oxygen is expected to rise slightly.
 (2) Outlook for other countries
  The outlooks for other countries' carbon dioxide emission vol-umes for 2000 in comparison with 1990, and the emission control targets for greenhouse gases in these countries are shown in Table 3-3-4.
  Under the Framework Convention on Climate Change, the devel-oped member states agreed that it is important to return the emission levels of carbon dioxide and other greenhouse gases to the previous levels by the end of the 1990s, to set appropriate policies and measures, and to send in information on the policies and forecasts of their effects. Since the forecasting methods used by each country are based on differing assumptions, they cannot always be directly compared. Never-theless, according to the planned policies and measures to be taken, summarized in an integrated report prepared by the convention's tempo-rary secretariat, there are five countries where carbon dioxide emission volumes in 2000 will be less than the 1990 level, including Germany (with a target date of 2005), the Netherlands, and Denmark, while Britain is expected to be at the same level as 1980. The United States, Japan, and Sweden predict increases of 2-4%, while the other countries, including Canada and Australia, expect increases of 10-24% or more.
  There were 13 countries, the exceptions being Canada and Spain, made predictions on methane emission volumes, of which 12 countries, with the exclusion of Australia, expect levels to fall below that of 1990. There were 11 countries making predictions on nitrous oxides, the exceptions being Canada and others, of which six countries, including Germany, Britain, and the United States, forecast levels to fall below that of 1990.
Table 3-3-4 Forecasts of Carbon Dioxide Emission Volume for Selected Countries in 2000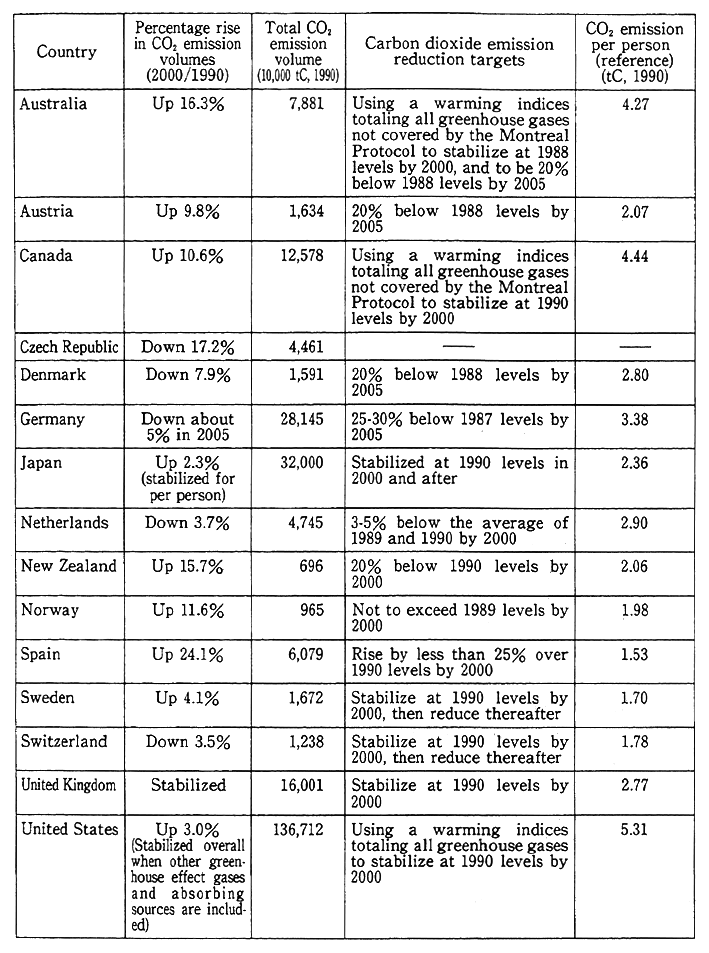 Reference: Prepared based on the general report of the Framework Convention on climate change and on each country's national reports.
* Carbon dioxide emission volumes per person are the OECD/IEA energy-related estimated emission values. Since emissions from waste disposal and industrial processes are not included, the figures are slightly less than those published by Japan.
  On the state of emissions in these countries, each had set their own emission restraint targets for greenhouse gases, and a number of countries' emission forecasts for carbon dioxide and other gases were below their own national targets. But of course, the emission restraint targets were quite diverse from country to country.
  The integrated report found that many member countries believed it to be impossible to return emission volumes in 2000 to the 1990 level. Nevertheless, these countries are studying the proposal and implementation of additional policies and measures for limiting the emissions of greenhouse gases.