White Paper
Quality of the Environment in Japan 1992
3-2-3 International Relations and Developing Countries' Environment
  At present, international interdependence is increasing all the higher in every political, economic and social aspect. The state of the environment in developing countries we have thusfar seen can no longer remain separated from the moves of international economies. Let us take a look at relations between the framework and trends of interna-tional economies and the developing world and at the impacts produced on the environment.
  (1) Capital Flow Between Developed Countries and Developing Countries and Capital Balance of Developing Countries
  For developing countries,as well as other countries the solution of environmental problems requires financial resources for the develop-ment of antipollution facilities, improvement of forests or improvement of poor rural communities. Nonetheless, it is not easy for developing countries to raise financial resources.
  Those conditions are aggravated as the prices of primary prod-ucts hover low and problems arise from accumulated debts. In develop-ing countries-and those in the Sahel region, in particular-it is hard to procure financial resources from activities other than the export of primary products. The FAO projects that the extent to which goods may be purchased with exports, notably the trading conditions for industrial products and crude oil, are aggravated in developing countries which do not produce oil, and that the trading conditions are 28% worse in 1989 than in 1979-80, suggesting that the industrial products and crude oil they can purchase are only 72% of what they used to buy in 1979-80 (Fig. 3-2-9). The FAO also has estimated what the income from exports would have been if the prices of agricultural products had not dropped, and this estimate suggests that 10-60% of the actual income from exports has been lost, depending on thenation (Fig. 3-2-10, Table 3-2-17). To cope with the low prices of primary products, the U.N. Conference on Trade and Development (UNCTAD) took the lead in concluding the Coffee Agreement and eight other merchandise agreements, but in terms of price stabilization, they are not very effective.
  Some developing countries are concerned about accumulated debts. They would be unable to borrow capital, so that there is no alternative but to take passive economic policies, including belt-tightening financial measures. In a short-term perspective, therefore, there are signs that full funding cannot be secured in the environmental sector, if the investment turns out to be unproductive (Fig. 3-2-11).
Fig. 3-2-9 TERMS OF TRADE OF AGRICULTURAL EXPORTS FOR MANUFACTURED GOODS AND CRUDE PETRO-LEUM, 1986-89 (Percentages)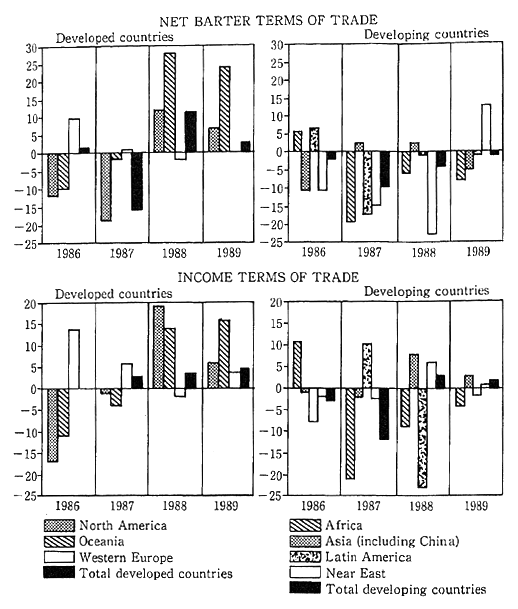 Net barter terms of trade rater to the relative unit prices of products. Income forms of trade refer to the actual purchasing power of countries' exports, since they also take into account changing export volumes, and hence the fotal amount of foreign exchange earned by exports and available to pay for imports,
Source: FAO
Fig. 3-2-10 Trends of Prices of Major Primary Prod-ucts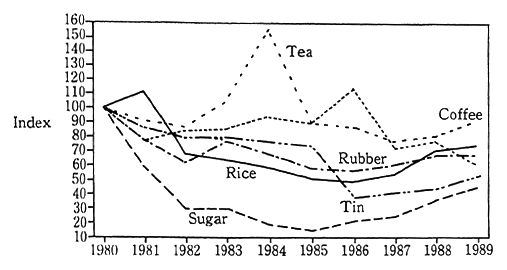 Note: Prices are calculated based on; rice; Produced in Thailand Sugar; produced in Caribbean Region coffee; world total rubber; world total tea; average price tin; produced in Malaysia
Source: IMF
Table 3-2-17 Estimated Loss of Export Income causel by Price Change (Total Sum and Ratio to Total Sum of Export of Agricul-tural Product)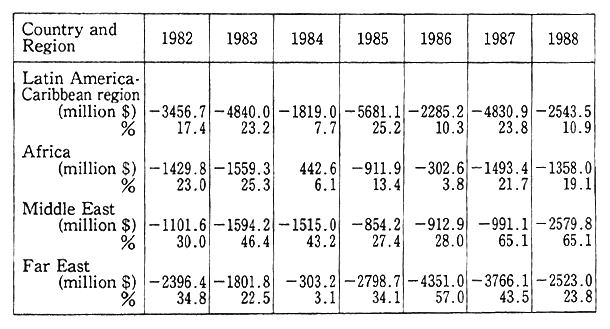 Estimated Loss is obtained as the difference of total sum of export at current prices and that at the prices of 1979-81. Minus figures represent that if the prices had been thesame level of 1979-81. exports could have been larger by that figures.
Source :"uState of Food and Agriculture l990"
Fig. 3-2-11 State of Debt of Developing Countries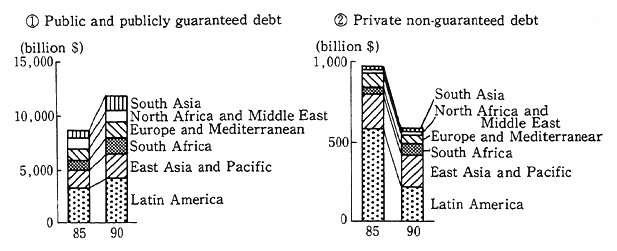 Note: Data for 1990 is projected.
Source: "World Debt Tables 1990-91" World Bank
  In such unfavorable conditions, capital flight make conditions worse. When a nation's macroeconomic policy has pushed the economy into a slump and make politics unstable, wealthy people sometimes move money out of their country to protect their own assets. Particular-ly in Latin America in the 1980s when economies were unstable, there reportedly were countries out of which capital equivalent to half of its national savings was moved abroad. Capital flight often take place in a slump, so that its impacts are enormous. As the funds which ought to have been setaside for domestic economic growth increasingly flow out to foreign countries, the domestic economy sinks more deeply in the mud and the shortage of funds become all the greater.
  Debt conditions are severe for those developing countries-and the poorest countries, in particular. Fig. 3-2-12 indicates trends in the net transfer of long-term debt to developing countries, and it is discernible from this figure that the amounts of net transfers have remained negative since 1983, meaning that the net flow of financial resources has been out to developed countries. The transfers took place against the background of two factors: restraint by commercial banks owing to reduced repayment capability on loans, and high capital demand by developed countries-for example, the United States' financial deficit and its conversely ensuing capital surplus (capital inflows). This situa-tion forms obstacles for active environmental policies, plus the fact that the funds issue becomes a subject of heated discussion at any forum, to say the least of debates on the global environment.
  With Indonesia, Asia's largest aid-receiving country from Japan and from all DAC countries, as an example, let us take a look on the basis of its five-year development plan regarding what resources are available for various development projects.
Fig. 3-2-12 Trend of Net Transfer on Long-term Debt to Developing Countries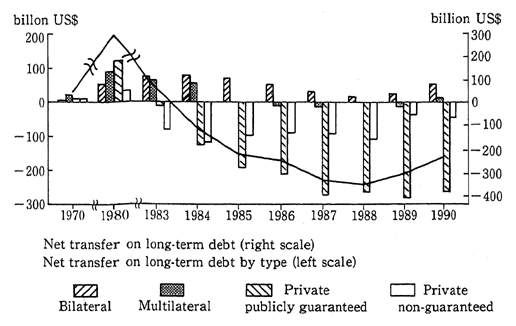 Source: "World Debt Table" World Bank
Table 3-2-18 Breakdown of Financial Resources for 5 Years Develop-ment Plans of Indonesia (Repelita)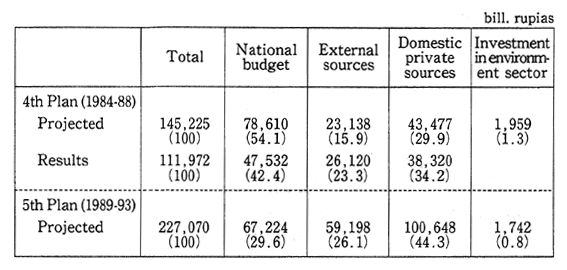 Source; 4th and 5th 5 Years Development Plan of Indonesia
  Indonesia is stepping up development of its Development Plan, known as Replita. The fourth plan extended from 198485 to 198889, followed by the fifth plan. The total amount of development investment under the fourth plan came to about 145 trillion Rupiah, of which 45% was disbursed by the government, 16% constituted foreign resources and the remaining 30% from domestic savings, meaning that funds would be procured from the expenditure of the domestic nongovern-mental sector. A review of the actual records of the fourth plan indi-cates that the totalamount stood at about 112 trillion Rupiah, of which 42% came from the national budget and 23% ,or 26 trillion Rupiah, came from abroad. Under the fifth plan, the reliance on funds from abroadis projected at 26% (Table 3-2-18). A project purpose-specific check of the reliance on foreign funds shows that domestic funds are not appropriat-ed for projects which are unprofitable or marginally profitable, such as those associated with the environment with hopes pinned on foreign funds (Table 3-2-19).
Table 3-2-19 Foreigs Exchange Cost of Projects Listed in the Project Proposal 1991-92 of Indonesia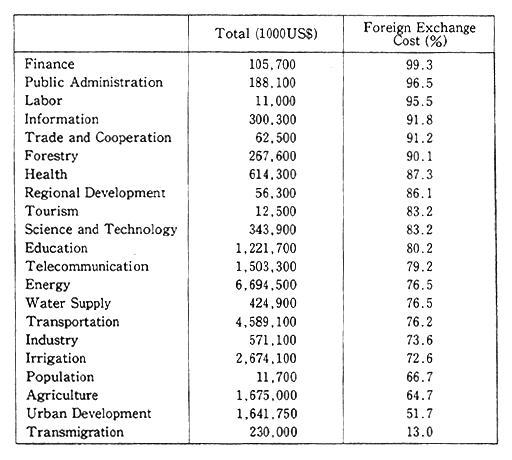 Source: "List of Project Proposals 1991/92" Development Planning Agency (BAPPENAS), Indonesia Government
  In Bangladesh, whose per-capital national income is the lowest in Asia, the development of its economy is being stepped up under the fourth five-year plan which extends from 1990/ 91 to 1995/ 96, but of the necessary total fund of 67,230 million Taka, plans call for the raising abroad of about 52%, or 34,760 million Taka. The fact that the reliance on foreign funds is greater than in Indonesia suggests a lack of domestic funds to sustain development programs.
  In Indonesia, which is striving to step up economic development and even in Bangladesh, for which the urgent task is to extricate itself from poverty, foreign funds and scarce domestic funds are set aside for economic development first, and adequate funds are not available for environment conservation.
  (2) Trade
  Next, let us see how the environment of developing countries is affected by international economic activities, such as trade, direct investment and development aid.
  Trade occupies a significant position in the international eco-nomic performances. In the world's trade in 1989, exports accounted for $ 29,022.7 billion, of which 82% was by developed countries (high-income countries according to the classification of the World Bank), 5% by low-income countries and 23% by middle-income countries, suggesting that the share of developed countries was relatively high (Table 3-2-20). In terms of items exported, the exports of raw material by low-and middle-income countries are greater than by developed countries.
Table 3-2-20 Regional Share of Products Export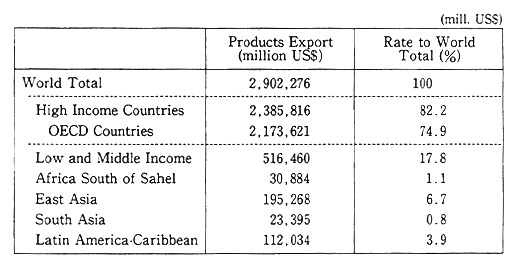 Source: "World Development Report 1991", World Bank
  The trade income from raw material to which developing coun-tries have access is not necessarily great, so that a wide variety of export strategies have been worked out to boost trade revenue. One of the means is to specialize in relatively favorable merchandise and strategically develop it. The specialization in agricultural products for export in this manner constitutes one cause to environmental disruption and a degeneration of domestic crops. Developing countries are obligat-ed to reduce their financial deficits and improve the trade balance in return for loans from the International Monetary Fund (IMF) and other international financing institutions, and it is asserted that they are forced to take those strategies.
  A review of the export and share of tropical logs, the major export item for developing countries in the tropical region, reveals that the Philippines, whose share was greatest at the beginning of the 1960s, has reduced exports. In the beginning of the 1970s, Indonesia rapidly raised its share but reduced exports in the 1980s (Fig. 3-2-13). One factor for such rapid dropsin the exports of logs is the depletion of tropical forest resources. Another reason is that governments have instituted a policy of imposing restrictions on exports of logs with a view to exporting products with higher values-added, such as worked timber and processed wooden products.
Fig. 3-2-13 Trends of Logs Exports in Asian Countries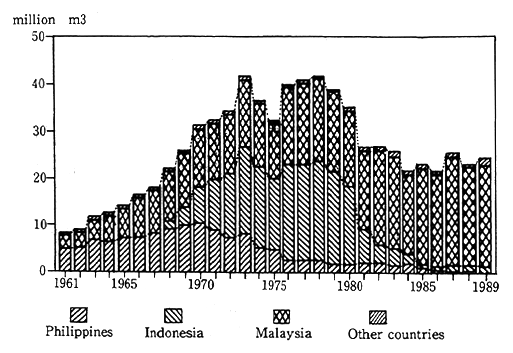 Source: FAO
Fig. 3-2-14 Trends in Philippines' Lumber Exports (In terms of logs)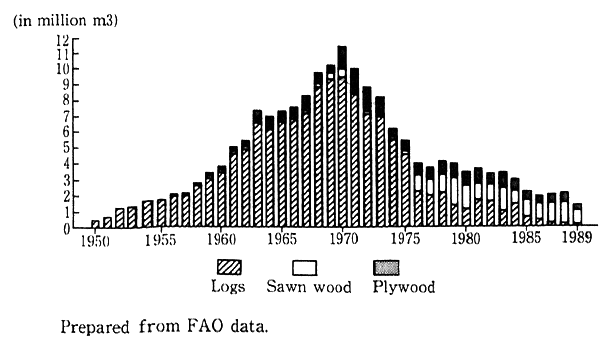 Note: Estimation is made at a yield rate of 50% for sawn wood and pIywood.
Fig. 3-2-15 Forest Area Development in Philippines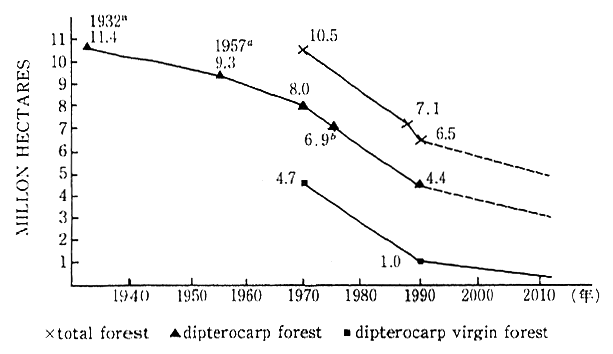 Source: Philippines Department of Environment and Natural Resources "Natural Forest Resources of the Philippines, 1988"
  According to FAO statistics, the Philippines' total lumber output was 186.8 million m3 from 1950 to 1974, of which 119,540,000 m3, or 64% of the total, was diverted for exports. As exports rapidly rose through-out the 1960s, there arose concern both at home and abroad about the excessive felling of lauan, and the Philippine government came out in 1976 with a package of measures for a ban on log exports for the protection of resources and for promotion of the lumber processing industry, and a total ban was put on log exports in 1986 (Fig. 3-2-14). Forests areaexceeded 50% of the national land in 1950, but the percent-age dropped to 22% in 1988, and thevirg in dipterocarp forests (lauan) is now constitutes only 3% of national land. Deforestation of the Philippine has been extensive. (Fig. 3-2-15). It is pointed out that defores-tation is caused by a combination of forest fire, improper commercial logging, illegal shifting cultivation and development of agricultural land.
  The trends of log exports of the Philippine indicate that these factors deteriorate the stock of natural environmental resources, and as a result, decrease the volume of trade and change the forms of it.
  (3) Direct Investment
  A large portion of the transfer of financial resources to the private sector of developing countries is made up of direct investments from the private sector of developed countries. When it comes to Japan, direct investments in the Asian region have rapidly increased from about 1975. A breakdown of those investments in 1989 suggests that the manufacturing industry had the greatest share, followed by the real estate industry, financing and insurance and commerce (Fig. 3-2-16).
Fig. 3-2-16 Trends in Japan's Direct Overseas Investments in Asia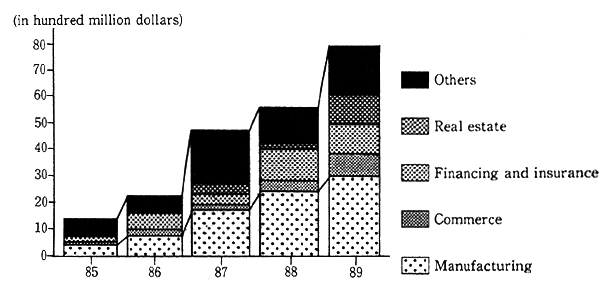 Source: Data presented to the Ministry of Finance.
  As for corporations in manufacturing which have made inroads, the issue of environmental consideration arises for their overseas corpo-rate activities. As we have stated, above, pollution is progressively worsening due to industrialization in developing countries in NIEs and ASEAN countries, in particular. Even if basic environmental regula-tions have been formulated, not a fewfactories fail to observe them, and the actual effects of regulations are hardly seen. International criticism may crop up, should the local plants in which direct investments have been, not comply with the regulations. In the midst of this situa-tion today it is a grave issue what sort of action will be taken for environment conservation by corporations from countries with strict environmental regulations that invest in investing in developing coun-tries. In a 1984 explosion of a pesticide plant in Bhopal, India, more than 1,500 nearby residents lost their lives and thousands of residents were blinded, adversely affecting more than 150,000 people. This accident drew world attention as an incident in a developing country by a subsidiary of a corporation in a developed country. Because the accident created a one-sided image that the establishment of industrial plants with industrialized country cooperation would represent an export of pollution, a more strict eye is now riveted on environmental issues which might arise out of the establishment of those factories.
  An Environment Agency's 1991 survey suggests that 91.1% of the Japanese corporations which had made inroads abroad were observing the environmental control standards in their host countries. Of them, 75. 6% were observing the standards formulated by their host countries. 6. 8% were going by the Japanese standards, even if they proved more strict than in the host countries (Fig 3-2-17). In making corporate inroads, the relationships that corporations will have with local commu- nities are extremely important, and 45.9% of the Japanese corporations which had made inroads overseas were providing the local communities with information about their environmental measures (Fig. 3-2-18).
Fig 3-2-17 Observance of Environmental Regulation Standards in Host Countries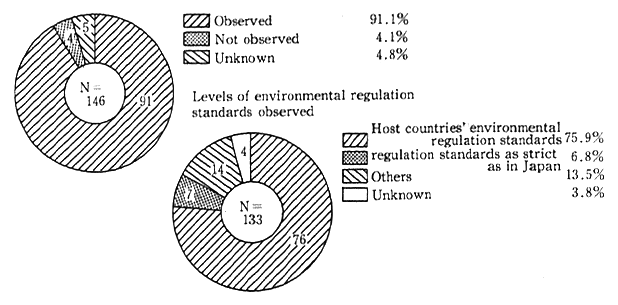 Source: Environment Agency.
Fig. 3-2-18 Offer of Information on Envi-ronment Measures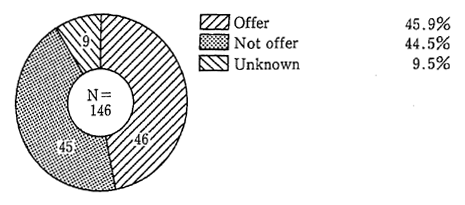 Source: Environmeat Agency.
  Wherever business operations are done, management in which no consideration is given to environment protection is not condonable. Moreover, the corporations which have made inroads abroad are equipped with technology for environment protection and have much experience in the prevention of pollution. It is only as a matter of course to go by the environmental controls of the invested countries but it is important to equip themselves with more appropriate measures for the prevention of pollution. Such actions will he of use in the transfer of pollution prevention technologies to developing countries.
  In Japan, too, agreement was reached at the Conference of Ministers Related to Conservation of the Global Environment on envi-ronmental considerations in corporate activities overseas, and the Federation of Economic Organizations (Keidanren) and other institu-tions formulated guidelines. There are calls for the translation into action of those guidelines one by one and for improved corporate reputations abroad coming from a developed country in the field of pollution prevention measures.
  (4) Development Aid and Environment
  When we understand the relationship between development aid and the environment, it may he pointed out, for one thing, that develop-ment aid will he instrumental in activities for environment conservation and in building manpower and organizations. For developing countries which tend to give priority to development, environment conservation is apt to he overlooked and, as we have seen in the case with Indonesia, there are few cases which funds are adequately secured. But the basic principle is to provide assistance at the request of recipient countries, and in situations where they do not expect assistance in the environment sector, its expansion is difficult to do despite its importance. A case in point is Indonesia, which receives the greatest amount of assistance in Asia. Under the fourth five year development plan, the budget for natural resources and the living environment was 1,958.8 billion Rupiah, or 2.5 of the total budget, and the fifth five-year development plan marked an increase of only 2.6%. Given those factors, in expanding environment development aid, such approaches are necessary as efforts for a policy dialogue with recipient countries, the positive finding of projects by them and a strengthening of their capacity to implement environmental measures in the process of their policy formulation.
  Yet another important point in understanding relations between development aid and the environment is the environmental impact that occurs when projects are implemented.
  Development aid projects, particularly those on economic infras-tructures become large in scale, bring about significant impacts on the environment in some cases. The World Bank, the world's largest inter-national development assistance agency, has released a report on the environment policy every year since 1990. In the reports, it assesses the impacts on the environment by the projects it has implemented and the measures to cope with them. The reports introduce projects which have some improvement measures, faced with such problems as involuntary resettlement of the communities in the construction of dams, pollution in the development of mining and manufacturing industries and defores-tation. (Table 3-2-21).
  The World Bank designated advisers environmental and estab-lished an office of environmental affairs immediately after its establish-ment in 1969. In order to cope with increasing environmental problems in the world and to catch up with expanding concern about environmen-tal degradation, the World Bank prepared the Operational Directive on Environmental Assessment to promote environmental considerations in a more comprehensive manner and worked out an environmental strat-egy for each country to carry out environmental assessments and environmental improvement projects.
  According to the World Bank's environmental assessment proce-dure, its projects are classified into three types A, B and C. Projects which have adverse effects on the environment are classified either as A or B, depending on the degree. On A, assessments are needed, whereas simplified assessments are needed to be carried out on B. Environmental assessment are not carried out for Projects which are classified as C. In 1991, it was approved to provide loans for 299 projects, of which 11 were classified as A and 102 as B. The projects classified either as A or B accounted for 37.8% of all the projects.
Table 3-2-21 Projects of the World Bank in which Improvement Measures Concerning Environment Have Been Taken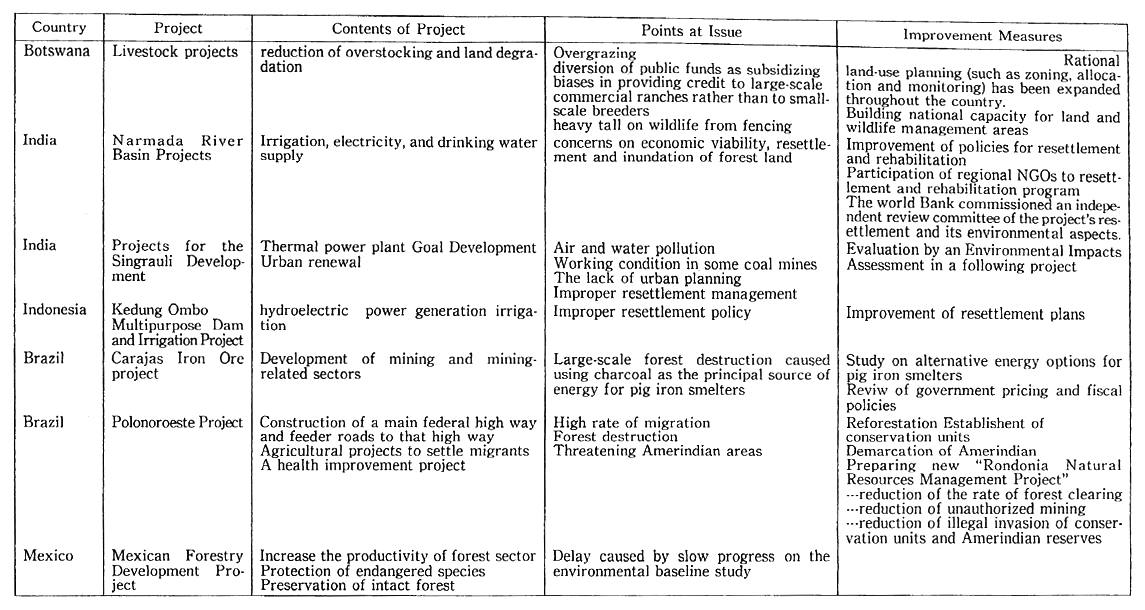 Source: "The World Bank and the Environment 1990, 1991,World Bank
  The projects modified as a result of those assessments are given in Table 3-2-22. Improvements are made, such as the avoidance of environmentally important places and the construction of lower dams to reduce the number of people who will be affected by the reservoirs. The World Bank is developing a system whereby adverse impacts on the environment may bereduced before the implementation of projects.
Table 3-2-22 Projects of World Bank which Have Been Modified as a Result of their Environment Impact Assessment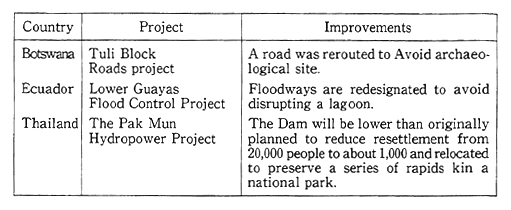 Source: "The Word Bank and the Environment" 1990, 1991, World Bank
  Whether provided with loans from the World Bank or through bilateral assistance, the projects are carried out by recipient countries themselves. For example, the projects indicated in Table 3-2-23 are those which have been carried out by the Japanese government as national projects but not those conducted by the World Bank. The responsibility for preventing adverse effects to the environment as a result of the projects rests with the governments of recipient countries, and it is necessary that those governments should carry out environmen-tal impact assessment. It is necessary, first of all, that donor institu-tions or governments of the recipient countries should approve the environmental assessments made before the implementation of projects in recognition of the fact that those projects have potential adverse impacts on the environment. There is also the need for donors to make assessments in an environmental perspective and coordinate with the recipient to reduce impacts. The environmental issues that have cropped up in conjunction with development assistance in the past are valuable lessons for the future.
Table 3-2-23 Projects of the World Bank in Japan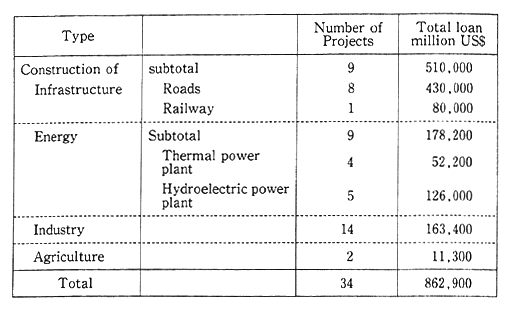 Source: World Bank
  There are calls for Japan, which has developed into a prominent world aid donor, to make appropriate approach in its Overseas Develop-ment Assistance environmental considerations. At the Conference of Ministers Related to Conservation of the Global Environment, it was decided to strengthen environmental considerations in implementation of ODA projects. In accordance with this decision, the Overseas Eco-nomic Cooperation Fund (OECF), which provides loans accounting to one-third that of the World Bank a year, prepared an OECF Guideline in 1989 and checks whether necessary environmental considerations are made through each phase such as project examination and project evaluation based on the guidelines. In addition, the Fund collectsenviron-mental information on developing countries through investigations of the environmental regulations of recipient countries and information exchange with the Asian Development Bank etc.,. The Fund utilizes them in various phases like implementation of the guideline. The Japan International Cooperation Agency (JICA) is preparing guidelines by project sectors, such as roads and dams (a guideline on dams has been completed and guidelines for agriculture, transportation and industry are under preparation for completion in 1992).
  The U. N. Development Program (UNDP), the core institution for multinational technical cooperation, is extending environment-related technical cooperation in numerous ways to developing countries, while carrying out international environment conservation projects, such as support to developing countries in the preparation of national reports to the U. N. Conference on Environment and Development. At the same time, it is taking measures so that UNDP projects are appropriate in terms of environment conservation. In 1991, the staff of environmental experts was increased and the Division of Environmental and Natural Resources was made an independententity to reinforce its capability of doing screenings and providing advice in an environmental perspective. It has also become necessary to give consideration to the environment in as early anphase of a project as possible and to take appropriate account of environment conservation in all its phases, such as in the implementation process. Given this importance, the UNDP has prepared training and environmental control guidelines in association with envi-ronment conservation for recipient countries' government officials engaged in the finding, planning and implementation of projects, interna-tional institution officials engaged in the implementation of projects, and local UNDP officials in order to increase understanding by officials in charge of the incorporation of environmental considerations in pro-jects.
Chapter4. New Approaches for Increased Sustainability
  As we have seen Chapters 1 and 3, there are have been signs of a loss in the sustainability of the earth in recent years. On the other hand, however, new approaches, different from the traditional ones, have sprouted, such as the evolution of voluntary activities by citizens and businesses and of new policies by the government. The U. N. Conference on Environment and Development (Earth Summit), which is to be held in June 1992, is designed to work out a sustainable society and will mark a great epoch in mankind's history. The conference is expected to make a great step forward for a sustainable society and to make new approaches take root and grow in a union of international people.
4-1 New Forms of Environment Conservation Growing both at Home and Abroad
  In recent years, new forms of voluntary approaches by citizens and businesses for environment conservation have begun. If citizens become conscious about undertaking positive efforts for environment conservation, it will be instrumental not only in solving environmental issues which originate from their lives but in deepening the social understanding about the value of the environment, thereby enriching the efforts undertaken by people other than citizens. Voluntary approaches by citizens have become the trans-boundary mainstream and are devel-oping into the prime power for a transformation of the global society. The system is being built where corporations which start voluntary efforts for environment conservation will be appreciated, and this is something indispensable for the formation of a conservation society. Let us see the present status of those approaches.
4-1-1 Approaches by Consumers and Citizens
  The accumulation of acts by individual citizens will eventually produce a significant impact on the environment. If they wisely judge their own actions, they will be able to assume responsibility for actions to protect and develop the environment. In recent years, there has been a rapid rise in the number of citizens who willingly act as positive guardians of the environment.
  (1) Environment-Oriented Housekeeping Account Book
  In order that each person may reduce life style related stresses on the environment, it is necessary as a first step to ascertain how their everyday lives are tied in with the environment. As a means for accom-plishing this, the posting of voluntary "environment-oriented house-keeping account books" is spreading. These books are designed to record actions which put stress on the environment and action which produce good impacts on the environment in everyday life and, if necessary to express them in terms of points and tabulate them over certain periods like a settlement of accounts. As is the case with the recording of family budgets using a housekeeping account book, the environment-oriented housekeeping account book is an attempt to understand environment related family activities, including things which cannot be monetarily expressed. For a broader dissemination of this, an easy-to-use housekeeping account book in checklist form incorporates a number of items, such as the proper way to use detergents and the disposal of waste cooking oil.
  Such methods were proposed more than 10 years ago. For exam-ple, the Otsu Livelihood Cooperative in Shiga Prefecture and the Nada-Kobe Livelihood Cooperative in Hyogo Prefecture have worked for the propagation of environment-oriented housekeeping account book of a checklist type incorporating many ingenuities since 1981-84 (Table 4-1-1).
  In a complex economic society in a division of labor today, it is hard to have feel that relationships exist between daily actions and the environment. For example, there are many cases in which there is no consciousness about anything beyond the flow of waste water into the sewer system and beyond the hauling of garbage by truck, and this lack of consciousness constitutes a causative factor for the indiscriminate increase of environmental loads.
  Nonetheless, the life of each citizen is deeply tied in with the environment. In the case of impacts on water, if 0.5 liter of frying oil is poured down the drain, the pollution will amount to 1 kg/liter in terms of BOD and the water will have to be diluted with 330 bathtubs of water to enable the habitation of fish. The temperatures generated by space-heating systems have gradually risen in recent years, but when loads on the atmosphere are taken into account, a reduction of 1 degree in the temperatures set by households and offices would enable the country to save about 800,000 kiloliters of crude oil, reduce CO2 emissions by about 640,000 tons and NOx by about 3,100 tons. Similarly, if the use of showers is shortened by 1 minute, 700,000 kiloliters of crude oil may be saved across the country, making it possible to reduce CO2 emissions by about 570,000 tons and NOx emissions by about 27,000 tons. But those effects are something about which people would remain unconscious unless they took another look at their lives.
  The environment-oriented housekeeping account book is a power-ful attempt to check the bookkeeper's life and reconfirm his or her association with the environment and a good guideline for people to fulfill their responsibility for conservation of the environment.
Table 4-1-1 Example of Environment-Oriented Housekeeping Accounts Book in Checklist Form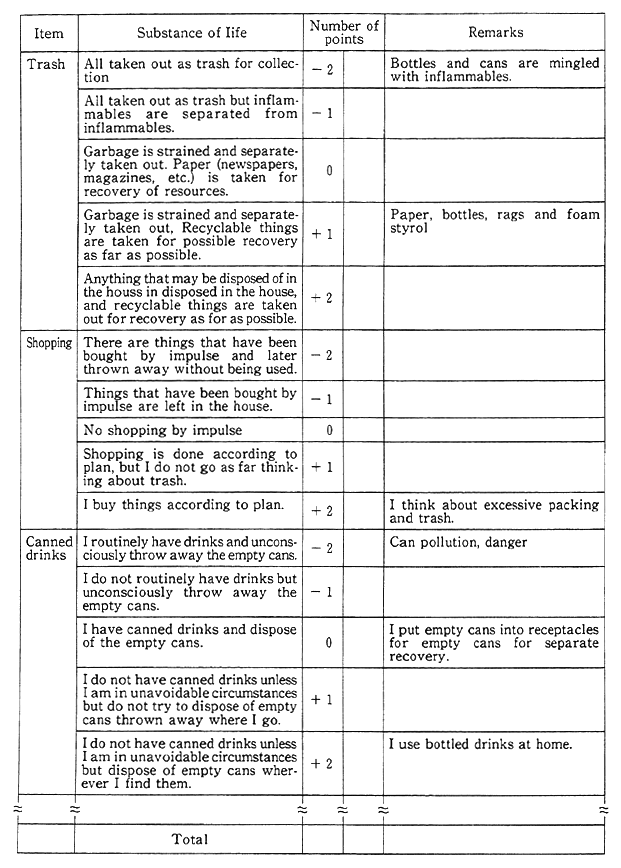 Source : Toru Morioka : "Building of a Nearby Environment"
  (2) Choice of Merchandise Friendly to the Environment
  The market economy functions according to two basic factors --supply and demand--and the purchasing behavior of consumers forms demand and is one of the opportunities for citizens to be directly tied in with the economic system. A campaign is spreading to opt for merchan-dise with fewer environmental loads, reduce impacts on the environment in conjunction with the consumer life and make economic society more friendly to the environment by giving full play to consumer sovereignty.
  Such a movement is known as the "green consumer" movement, and reports say that the best seller "The Green Consumer Guide" published in the United Kingdom at the end of 1988, gave momentum to this movement. In this book, individual items of merchandise are cited and their environmental impacts are assessed, and it turns out to be a substantial guidebook for consumer behavior friendly to the environ-ment. Before and after the publishing of this book, two other similar guidebooks--"Der Oko-kingee" in Germany and "Shopping for a Better World" in the United States--were published to become best sellers.
Fig. 4-1-1 International Comparison of Consumers' Consciousness About Environment Conservation-Type Merchandise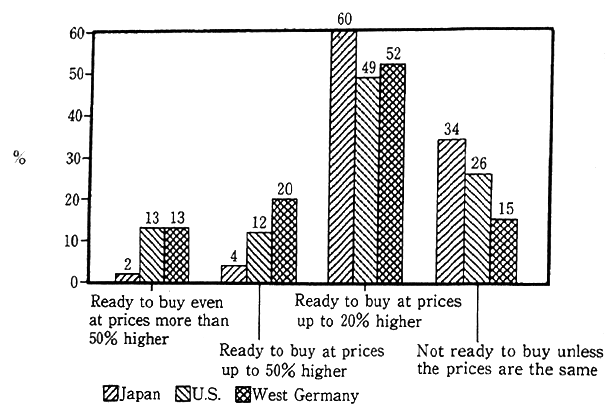 Replies to the question "Would you buy merchandise of the sort for which considera-
tion is given enviroment protection
when you find no difference in the quality of merchandise?"
Source: The questionnaire survey conducted in April 1990 by The Nippon Keizai Shimbun
  Because of inaccessibility to greater profits for environment-minded merchandise, the output of which is not great, and other reasons, they have to be more expensive than general products in some cases, but a survey says that more than 10% of the consumers in the United States and former West Germany are ready to buy such merchandise even if it is higher in price (Fig. 4-1-1), suggesting that moves for the selection of merchandise of the environment conservation type have been taking root. In Japan, falling though it is behind Western nations, many con-sumers say they are ready to buy these products, if they cost up to 20% more than products with no consideration to the environment, indicating that the consciousness of consumers is surely on the rise. The selection of merchandise of the environment conservation type does not only reduces the origination of environmental loads from individual consumer lives. By changing trends in demand, it is instru-mental in encouraging corporations to manufacture products tender to the environment in a manner tender to the environment, thereby improv-ing the whole economic structure. For example, moves in recent years, such as the reduction in the consumption of sprayers containing CFCs (Fig. 4-1-2), the review on excessive packing, credit cards contributing certain percentages of proceeds to environmental protection and other organizations and trust and deposit systems designed to contribute certain rates of interest to nature protection organizations, essentially reflect changes in the selection of merchandise by consumers. One barrier to the selection of merchandise is that it is difficult for consumers to realize which merchandise is friendly to the environ-ment. in their production, consumption and abandonment phases, merchandise produces a wide variety of impacts on air, water and soil, so that it is impossible to make a comprehensive judgment with infor-mation normally accessible by individual consumers. Then there are cases in which businesses often try to promote the sales of things which they assert are "friendly to the environment" without a full scientific endorsement, and there is a danger that the judgment of consumers is confused. In order to cope with those problems, it is necessary to provide accurate information to consumers. From this point of view, the environment-minded labeling of merchandise friendly to the environ-ment and life cycle analysis of the kind in which the environmental impacts of merchandise are comprehensively assessed have begun to spread among governments and private organizations across the world.
Fig. 4-1-2 Trends in Shipment of Aerosol Cans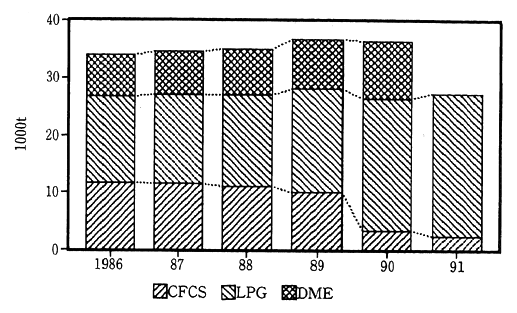 Note: DME shipment in fiscal 1991 has yet to be tabulated.
Source: Japan Aerosol Association
  (3) Moral Fund and 'Environment Stockholders'
  There are moves to work for environment conservation by operating the funds and assets owned by each one of the people. In the United States, some investors impose restrictions on investments in businesses which are concerned with the arms industry and countries where racial discrimination pol-icies are under way, suggesting that there have been moves to take account of the social nature of businesses. The investment trust in which investments are made by selecting corporations which are in line with specified purports is the Moral Fund. In the United States, reports say that funds for investments with such social considerations are in excess of $ 500 billion at present. In the 1980s, there appeared moves, not just the screening of the invested, for people to serve as stockholders them-selves in exercising their right to resolution and proposal so as to reflect the intentions of residents in general on corporate management.
  Worthy among those moves are the performances of the Coali-tion for Environmentally Responsible Economies (CERES), a federation of organizations for environmental protection and those associated with investment. With the crude oil spill by the tanker Exxon Valdez off the Bay of Alaska in 1989 as impetus, the CERES released to the public the principles which businesses should observe for environment conserva-tion. Called the Valdez Principles, they are made up of 10 articles--(1) protection of the life sphere, (2) sustainable use of natural resources, (3) disposal and reduction of wastes, (4) clever use of energy, (5) reduction of risks, (6) offer of safe merchandise and service, (7) payment of damages, (8) release of information, (9) placement of executives and managers in charge of the environment and (10) assessments and annual audits. With its operating fund in excess of $150 billion, the CERES, taking advantage of its right as a stockholder, demands businesses adopt the Valdex principles. Thus far, 30 corporations or so have become signatories to the principles.
  In Japan, too, investment trust established a new investment trust in 1990 in which investments would be made in corporations willing to develop environment conservation technologies. Established at post offices is International Volunteer Savings, a system in which interest will be partly donated to nongovernmental organizations which offer international cooperation, and about 900 million yen in donations was distributed in 1991. Also in 1991, at the stockholders' general assembly of an electric power company, environment conservation was made an item on the agenda as an environmental protection group had exercised its rights as a stockholder.
  Those moves presumably reflect the fact that moves by citizens who have begun to rethink about the impacts of economic performance on the environment have come to encompass not just improvements in everyday consumer activities but also in financial sectors, such as savings and investments. There are signs that they may come to take advantage of dealings in stocks, which is a basic economic performance.
  Also, with regard to provision of funds from citizens in the form of donations rather than investment, a public type of receptacle has been set up. In 1991, a public trust called "Chikyu-kankyo nihon kikin" (Japan Fund for Earth Environment) was set up with eight trust and banking companies as the joint trustees; this fund will accept donations for the goal of contribution to the preservation of earth's environments, in general, and providing assistance for environmental protection in devel-oping countries, in particular. The Ministry of Posts and Telecommuni-cations, too, established its "Kokusai Volunteer Chokin" (International Volunteer Savings) under which depositors donate a portion of the interest earned on their deposits for international cooperation, including projects for environmental protection. About 1 billion yen was distribut-ed to such volunteer groups 'in 1991; another plan calls for donating a part of the price of some postcards for the protection of the earth environment, starting in fiscal year 1992. There is much expectation that this kind of arrangement may lead to further activation of donation activity for environmental protection.
  (4) Collective Movements for Environmental Conservation Taking Root in Communities
  Not only do the people fulfill their individual responsibility for environment conservation. People whose aspirations are identical get together to advance their knowledge and experience, using their time, labor and funds and for third parties and society. Those activities, unlike moves for a recovery of the rights lost by individuals and the benefits that ought to have been enjoyed, are some-thing with which new benefits are created in society.
  A check of activities for environment conservation in Japan indicates that in areas around lakes and reservoirs, such as Kasunaigaur-a, movements for reduction in the environmental loads caused by household waste water have evolved. In Shiga Prefecture, a movement has developed for purification of Lake Biwa's water to the point where environment-minded livelihood cooperatives" are established by citizens in a perspective of the global environment. For seacoasts and rivers, across-the-board cleaning movements and green and other environrmen-tal beautification movements are evolved. In recent years, recycling movements for the group collection of cans and bottles, the production of post cards from used milk packs and the production of soap from waste cooking oil have become brisk. In Meguro Ward, Tokyo, resi-dents' movements are under way which were a turning point for the selective collection of bottles and aluminum cans. Volunteers' activities, such as for the beautification and cleaning of natural and other parks and guidance on their use, are also brisk.
Fig. 4-1-3 Intention of Participating in Environment Conservation Actlv-ities (Total number : by age)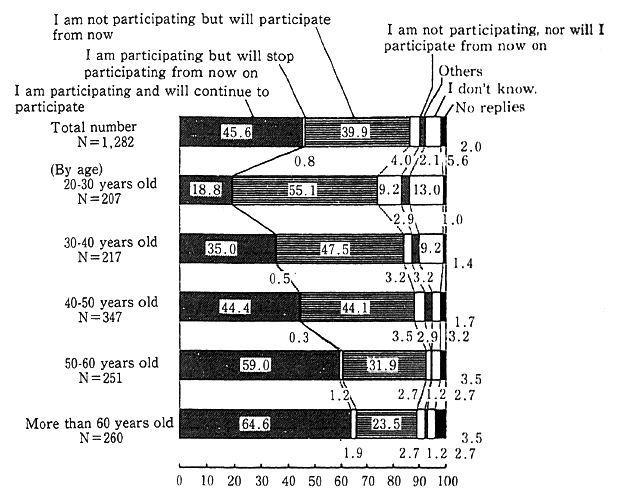 Source : Environment Agency; "FY1991 Opinion Survey of Environmental Monitors"
Fig. 4-4-4 Barriers to Activities for Environment Conservation (Total Number)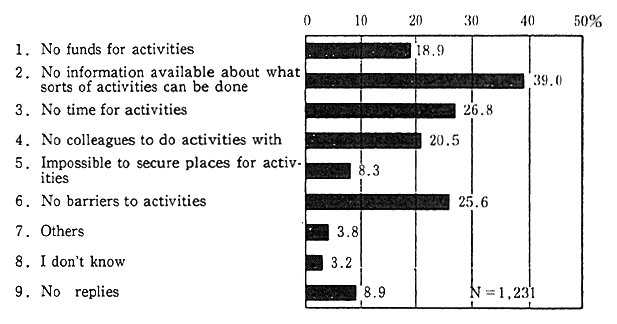 Source : Environment Agency: "FY1991 Opinion Survey on Environmental Monitors".
  Many citizens are interested in activities for environment conser-vation, but as things now stand, the old who have much spare time take the lead but there are increasingly many young people who are inter-ested, but do not take part, in them at present (Fig. 4-1-3). Among the barriers to activities for environment conservation are (1) the unavailability of information, (2) the unavailability of spare time and (3) the unavailability of colleagues with the same aspirations (Fig. 4-1-4). There are calls for the offer of information and a shortening of working hours in order to further encourage activities for environment conserva-tion.
  For the protection of areas in a superior natural environment and familiar places in nature, the National Trust purchases places in a rich natural environment by collecting donations from citizens. Already there are more than 70 such cases--those which have been reported to the Environment Agency--including the Citizens' Movement for Conser-vation of Tenjinzaki in Wakayama Prefecture and the Shiretoko 100 -Square-Meter Movement in Hokkaido. The area protected with pur-chases or releases in the people's voluntary movements across the country measures about 49,000 hectares.
  The bottleneck to promotion of the National Trust, is high land prices. In the case of Totoro's Hometown Fund in Saitama Prefecture, 100 million yen in donations was collected against the background of a high interest taken by citizens, but only about 1,200 square meters of land could be purchased as the subject area is located on the suburbs of Tokyo, and attempts are being made to work for nature protection under contracts with landowners beside the purchases. In light of the nature of land purchases, the target amounts of money become enor-mous, and particularly for environment conservation around cities, there are many cases in which the targets could not be attained with only donations from citizens. In order to further promote the National Trust, therefore, it is necessary for society as a whole to support it.
  At present, a system is under way in which the organizations which commit themselves in the National Trust are designated as incorporated bodies for environment conservation and preferential tax measures are available for donations. There are three incorporated bodies for environment conservation where donations may be deducted, but there are few organizations which can satisfy requirements for such incorporated bodies, making it necessary to increase them.
  Such activities by citizens for environment conservation function to restore human relations in cities, which remain weak, and encourage the formation of communities. It is to be hoped that community resi-dents will cooperate and positively take part in the building of a society tender to the earth on the basis of the assumption "think globally, act locally."
  (5) Organizations Aiming at Global Citizens and Their Activities
  On environmental problems in developing countries and problems a global dimension, the roles played by citizens' voluntary organizations for international activities nongovernmental organizations (NGOs) are significant. In broad terms, the NGOs include private and citizens' organizations doing nonprofit activities, but according to the United Nations' definition, they are not those which are established in coopera-tion between governments but rather international organizations for some purpose or the other. Those organizations feature the free evolu-tion of activities, be they at home or abroad, unlike governments responsible for the territories defined by national boundaries.
  The Sierra Club and the National Auduborn Society, already established in or around 1900, suggest that NGOs' environmental activ-ities have evolved from old. From the 1970s or so, new organizations began to appear one after another to unfold campaigns in a brisk manner, exercise pressure and provide assistance and do research and surveys in relation to environmental problems both at home and abroad. For example, assessment of data and policy proposals made on the global environment by the World Resources Institute (WRI), the Worl-dwatch Institute and other organizations have become basic data on environmental issues in a global dimension. The World Wide Fund for Nature (WWF) and other institutions in the United States are carrying out a wide variety of campaigns in wildlife protection and other sectors. Also in the United States, NGOs have been instrumental in the enact-ment of many laws on environment conservation. In addition, the Friends of Earth, Green Peace, the International Union for Conservation of Nature and Natural Resources and the United States' Conventional International are also involved in a broad variety of activities. It is criticized that those Western NGO activities tend to press their values upon non-western countries. However, they have played an indispens-able role in the development of environment conservation through direct activities, such as the accumulation of findings on environmental issues, impacts on policy decisions and assistance. For the Earth Summit in 1992, the cooperation of NGOs was involved already in the preparatory phase, and the summit will become an epoch-making international conference with their official participation and statements. Presumably, the roles played by NGOs will become all the more significant.
  In Japan, too, the activities of environmental NGOs have been brisk since 1985. For example, the conservation of tropical forests, campaigns for the protection of wildlife and research and surveys of lakes, reservoirs and mangroves are conducted. There are also organi-zations which are engaged with local residents in the dispatch of afforestation volunteers and in pilot projects for mangrove plantations. In the recovery of the environment and the rescue of organisms after the Gulf war, Japanese NGOs participated along with other countries' NGOs. For the Earth Summit, the Citizens' Liaison Council for the ' 91U. N. Conference in Brazil was established to enable many organiza-tions and individuals to get together in making proposals of their own. Their activities are growing all the more brisk, such as expressing their views on the National Report prepared by the government and prepar-ing views of their own.
  In comparison with Western NGOs blessed with sizable member-ships and financial aid from various financial foundations, Japanese NGOs' financial basis is fragile and they do not have adequate experts partly because their history is not so long. Some of the Western environ-mental NGOs have as many as hundreds of thousands or millions of members, but the Japan Wild Bird Society, a foundation, and Japan's biggest environmental NGO, has a membership of only about 37,000 In Western countries, some organizations have an annual budget exceeding billions of yen. In Japan, however, organizations with an annual budget of a little less than 1 billion yen are only occasionally observed (Fig. 4-1-5). Presumably, the backdrop is that the tradition of making dona-tions to contribute to society is not deep-rooted in Japan and above all the donations made by individuals are small; in this conjunction, tax support measures are not put to full use; and that useful activities by NGOs are not socially appreciated to the full because of the remaining traces of the traditional custom of making much of the government and nothing of the people.
  A check of the flow of funds from developed countries to develop-ing countries, including those which have nothing to do with the environ-ment, shows that they amount to about $4.5 billion. When it is taken into account that about $100 million is channeled through NGOs in Japan, suggesting that NGOs' activities are responsive to the needs of develop-ing countries, it might be said that NGOs are playing a significant role in international cooperation.
  In order that Japan may be able to contribute to the conservation of the global environment, the position of NGOs in cooperation on the environment will become significant. Already, the Ministry of Foreign Affairs has begun providing fund assistance to NGOs which perform international activities, hut it is to be hoped that the Government will reinforce coordination with NGOs and that citizens and buisinesses will support NGOs so that they may engage in useful activities.
Fig. 4-1-5 Comparison of Major Japanese and US Environmental NGOs (Membership and Annual budget Scale)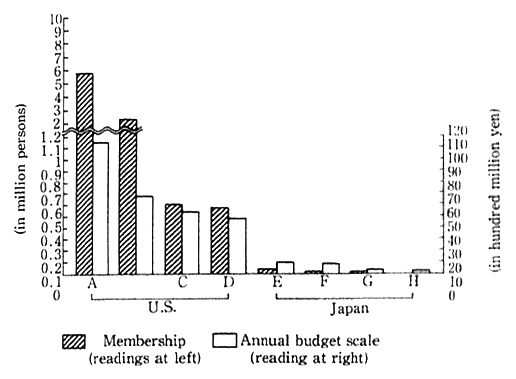 Note : The top four organizations in terms of scale are sam-pled from among the NGOs which engage in activities primarily related to environment conservation.
Sources : Environment Agency, Globel Environment Forum : "Coping with Issues on Global Environment by NGOs in Deveped Countries," and Japan Foreign Policy Association : "Directory of NGOs in International Cooperation and Communication".
  A new approach by NGQs which cooperate in environmental measures is the debt swap for nature protection. The debt swap for nature protection is a system in which international NGOs take the lead in swapping foreign debt accumulated in developing countroes for nature protection project in the country's own currency. In plain lan-guage, international NGOs will purchase some of developing countries' debts from private banking institutions and invest their own currency so that those countries may work for nature protection in return for a lapse of the debts (Fig. 4-1-6).
Fig. 4-1-6 Framework of Debt for the Nature Swap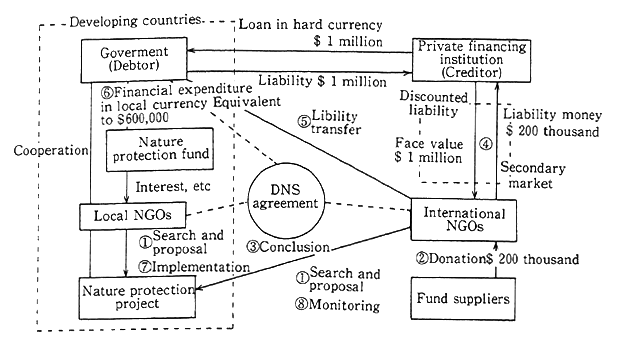 Source : Environment Agency.
  Debt swaps for nature protection were done for the first time by Conventional International in the United State in 1987. Sir then, 21 cases had been established by the end of March 1991, purchasing an aggregate total of about $100 million and producing about $7 million in funds for nature protection projects. With those funds, the protection and management of nature protection zones and national parks, affores-tation and environmental education are performed. In Japan, the group of the Bank of Tokyo donated $1 million to the World Wide Fund for Nature (WWF) in 1991, the first swap established for the country, and this fund was diverted for the Philippines' nature protection and other programs.
  Cumulative debt-ridden developing countries do not have funds enough for diversion to nature protection, whereas they excessively explore natural resources to have access to hard currency. In this vicious cycle, their infrastructure for future development is getting all the worse. To be sure, the amounts of liability swaps for nature protec-tion are insignificantly small in comparison with the total amount of cumulative debts which have run up to $1,340 billion, but they might be described as serving a double purpose because it puts an end to that vicious cycle. In developing countries, invaluable nature is lost simply because they cannot afford to set aside even small amounts of money, so that it is very significant to produce funds. For example, the fund procured from a debt swap for nature protection in Ecuador correspond-ed to the total budget for national parks in the country.
  In working for a smooth promotion of debt swaps for nature protection, the exchange of information among environmental NGOs, banking institutions and fund donors is indispensable. From this point of view, the Environment Agency is developing a network of information about debt swaps for nature protection at the Overseas Environment Cooperation Center. It is to be hoped that debt swaps for nature protection will be further accelerated with the cooperation of private banks and other businesses, developing countries' governments and NGOs in developing countries.
4-1-2 Approaches by Businesses
  Businesses underpin economic performances in the contemporary age. Whether the corporate performances will come to serve for envi-ronment conservation is the key to an enhancement of the economic society's sustainability. In the following, let us take a look at voluntary activities done by corporations in attempts to play a positive part in the conservation of the environment, transcending the obligations which ought to be naturally observed under the law.
  (1) Green Management Policy (Environment Charter, Etc.)
  Some businesses devote themselves exclusively to the manufac-ture of products or services which will contribute to environment conservation or their sales. The projects done by those corporations are generally known as "eco-business" and they have come to gradually broaden their activities. The products and services offered by them cover merchandise in the financial sector, departing from the traditional category of antipollution equipment. For example, there have appeared "eco banks" which advance loans only for environment conservation activities at low interest rates. Moreover in recent years, moves for environment conservation have permeated businesses which deal in products and services of the kind which, essentially, are not necessarily of help in environment conservation. In the midst of those trends, industrial organizations and individual businesses, in particular, are evolving brisk activities both at home and abroad, such as the formula-tion of charters and guidelines on approaches to environmental prob-lems and the incorporation of ideals about environment conservation in the ideals of corporate management.
  In order to support businesses across the world in improving performances in the environmental sector, the International Chamber of Commerce established a special working group, made up of the repre-sentatives of industries, and formulated an Industry's Charter for Sustainable Development. This charter is made up of 16 principles on environment management, an extremely important aspect of the sus-tainable development of businesses. It was formally adopted at the Second World Industrial Conference on Environment Management (WICEM2) held in April 1991. The enactment of this charter is designed for as broad a range of businesses as possible to improve environmental measures in accordance with those principles, formally set further improvements in the corporate management, measure the degrees of progress in the incorporation and improvements and commit to announ-cing the degree of progress both at home and abroad as occasion demands. The International Chamber of Commerce is doing energetic activities so that its members and other corporations may support the charter, also calling on a number of international institutions to express their support.
  On the basis of the assumption that "it will enable businesses to gain trust and sympathy from society and signify the building of rela-tions of coexistence with consumers and society to seriously grapple with solutions to environmental problems, thereby encouraging the sound development of our country's economy. With businesses keeping in mind that they are "good corporate citizens" in the world, it is a sine qua non to grapple with environmental issues for their own existence and performance, "the Federation of Economic Organizations (Keidanren)", a powerful economic organization in Japan, came out with the Keidanren Global Environment Charter, the first of its kind by an economic organization in the world, in April 1991. As the basic ideal, the charter clearly states that "corporate performance must lead to the realization of a future society where environment conservation is achieved in a global dimension," giving a guideline on corporate perfor-mance on 24 items in 11 sectors [(1) management policy on environmen-tal issues, (2) in house systems, (3) considerations to environmental impacts, (4) technical development, (5) technology transfers, (6) emer-gency responses, (7) public information and enhancement activities, (8) coexistence with society, (9) evolution of overseas projects, (10) contri-butions to environmental policy and (11) responses to global warming] . The charter calls on member corporations and industrial organizations to formulate concrete action programs in line with this guideline.
  In October 1991, the Japan Committee for Economic Development (Keizai Doyukai) compiled "Coping with Problems on Global Warming --What Should Be Done Now for Future Generations" and presented proposals to the government, businesses and citizens. It is stated as the basic ideal in the proposals that "there is the need to correct the track for the contemporary civilization itself," expressing a serious concern that "businesses must hold themselves accountable for most of the responsibilities for the formation of an energy-consuming society, a " throwaway" society as at present." Furthermore, businesses are urged to work in this perspective for (1) the establishment of an environmental management system, (2) further efforts for energy saving, (3) positive promotion of the development of technology and merchandise and (4) efforts for technical cooperation.
  Moves for the formulation of such a charter are also observed among individual businesses. Among corporations who have prepared charters before other firms in their industry, there are some which have further stepped out of the conventional concept of charters, such as the preparation of implementation of standards for each project department in accordance with their charter and the formulation of clauses to assure the observance of the charter and its implementation standards. For example, "G," an industrial corporation, which came out with a charter containing progressive provisions, began a series of manage-ment reform activities in the name of the "Green Strategy" in June 1991. The strategy is designed to thoroughly review corporate performances at present with the target year coming 10 years later. The priority themes include (1) a total ban on the discharge of noxious matter from the plants, (2) a total ban on the use of specified CFCs in 1993, (3) the accomplishment of a 30% energy saving target in 1996, (4) the comple-tion of measures for a constraint on the emission of carbon dioxide also in 1996 and (5) the realization of a 50% cut in the discharge of industrial wastes also in 1996. Particularly as regards energy saving and measures to curb carbon dioxide, the corporation made a policy of introducing cogeneration for its main factory complexes in Japan to enhance the energy efficiency, thoroughgoingly taking measures to change fuels, making factory buildings solid and sturdy, pegging in 1994 the emissions by the company as a whole of carbon dioxide at the 1990 level and maintaining this level even in situations where output is doubled. Thus, the substance of the activities is detailed and concrete.
  As we have seen in Section 2, Chapter 2, the top management's policy in a corporation and its conduct as a whole are important to endorse concrete actions for environment conservation. In this sense, moves for the formulation of charters and the like are to be greatly welcomed. In general, the "charter" represents the target of voluntary efforts by the business and its affiliated industry organization to which it belongs and there are many cases in which the results of its obser-vance are not released to the public. In the future, it is to be hoped that not only many such charters will be formulated and efforts will be made to grasp and assess the progress and the achievements and results, but the results will be released to the public, the charters will be made more normative, and the corporate efforts will be further trusted by society.
  (2) Eco-Labeling and Assessment of Environmental Friendliness
of Merchandise (Life Cycle Analysis)
  Eco-labeling is a system in which readily identifiable marks or labels are put on merchandise of the kind whose environmental loads are considered insignificant with attention paid to differences in terms of environmental impacts which are regarded as existing between functionally identical products. In Germany, eco-labels were introduced already in 1978. They are also introduced in Canada, Finland, Norway and Sweden. In Japan, too, the Japan Environment Association started an eco-mark system in 1989, designating 1987 items of merchandise as of March 31, 1992. In the International Conference on Environment Protection Labels held in Berlin under the sponsorship of the West German government in July 1990, 26 countries and 6 international institutions participated. The Berlin Statement on Environment Protec-tion Labels was issued and it was decided that the exchange of informa-tion would be stepped up between countries, centering on Germany. In the International Conference on Environment Protection Labels held on the Greek island of Lesbos under the sponsorship of the UNEP in September 1991, 10 countries and 3 international institutions took part. Information was exchanged about the implementation of each country' s eco-label system and it was agreed to hold an international conference for the exchange of information and interchanges between countries on a regular basis.
  The targets of those eco-labeling systems are summed up by the Organization for Economic Cooperation and Development (OECD) as follows:
 (1) To raise the sales or images of labeled products
 (2) To enhance consumers' consciousness
 (3) To provide consumers with accurate information
 (4) To have makers enhance the sense of responsibility for the impacts of products on the environment
 (5) To protect the environment
  According to the findings of a survey conducted by the Environ-ment Agency about consciousness, problems and requests for institu-tional improvements on the part of corporations which produce and sell eco-marked products in Japan, more than 70% of the manufacturers and more than 80% of the distributors say they "want to positively deal in those merchandise" in the future. As for requests for institutional improvements, many respondents call for an expansion of the scope of eligible merchandise, a clarification of the eligibility standards and a strengthening of activities for enhancement and propagation.
  The assessment on the degrees to which merchandise is friendly to the environment (life cycle analysis) is designed to estimate environ-mental loads in the process ranging from the collection of raw materials to the abandonment of merchandise and work for a reduction of envi-ronmental loads already in the designing process or the selection of merchandise (containers, etc.) with insignificant environmental loads. This method is different from the environmental impact assessment (environmental assessment) on individual projects in the sense that consideration is not given to environmental loads in individual areas.
  For a life cycle analysis, it is considered necessary to have the following 3 phases:
 (1) Confirmation of subjects and items for the analysis
  * Study of original units that should be compared in the analysis of merchandise
  * Grasping of each phase extending from the production to aban-donment of individual merchandise
  * Study on the computation of environmental loads by by-products
  * Study on changes in environmental loads in the recycling of products
 (2) Quantification of environmental loads
  * Grasping of inputs (raw materials, energy and water) and outputs (merchandise, by-products, waste gas, waste water, things discar-ded)
  * Tabulation of environmental loads in each phase extending from the production to abandonment of individual merchandise
  * Study on methods to tabulate environmental loads (3) Study on methods to reduce environmental loads
  * Changes in the selection of container and packing materials, the designing of merchandise, etc.
  In the United States, the life cycle analysis of individual merchandise has been made particularly as a means to save energy in the United States since the end of the 1960s. It has also been introduced to Europe along with the development of eco-labeling systems. In particular, the Migros Livelihood Cooperative in Switzerland has developed a metho-dology for the life cycle analysis of packing materials on the basis of the report "Packing Material Eco-Balance" prepared by the Swiss govern-ment, using it for the development of merchandise, such as the abolition of aluminum foil, adoption of plastic bottles and elimination of paper packs for milk (Fig. 4-1-7).
Fig. 4-1-7 Example of Life Cycle Analysis of Yogurt Packages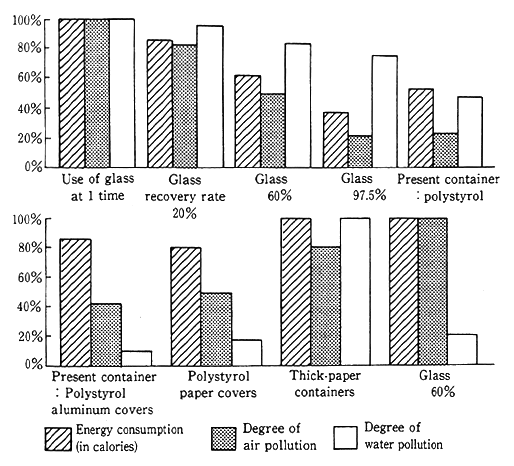 Yogurt package Eco Bilan
(Relative value of pollution to the environment %)
 Energy required from production to recycling and air and water pollution are relatively compared in a state where yogurt containers (glass and plastic) are fitted with aluminum covers. Energy and water for the cleaning of glass containers at the recycling time and resource energy generated as a result of recycling are balanced.
  In 1991, the Life Cycle Analysis Association was established as a body cooperative to the European Community (EC) to activate moves for the standardization of life cycle analyses. Those move reflect the EC directive on eco-labeling (Fig. 4-1-8).
  In the United States, too, the Federal Environmental Protection
Fig. 4-1-8 EC's Eco-Labeling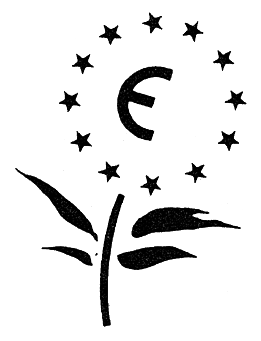 Agency positively involves itself. In the Study Group on Environmental Toxicity and Chemistry (SETAC), studies are under way on the system-atization of life cycle analyses.
  In Japan, the Environment Agency is giving guidance on, and developing, the eco-mark system. As part of this program, studies have begun on the way in which comprehensive assessments on environmen-tal loads in the process extending from production to consumption will be incorporated in the package of requirements for the designation of eco-mark merchandise.
  The methods for assessments on the degrees to which merchan-dise is tender to the environment are useful, but there is room for the straying of arbitrary judgments into the tabulation and comprehensive assessment of environmental loads. Given this possibility, it has become necessary to work for a standardization and systematization of the methodologies, carry them out in the form which complies as much with the standard methodology as possible and receive objective checks by third parties.
  (3) Addition of Deposits
  A system of deposits is available as an economic means to prevent the dispersion of corporate products as trash and form a recycling system in which they will be recovered as recyclable resources. By "deposit" here it means money on deposit, which is repayable. When a product is purchased, a deposit is collected or added to its price, and it will be refunded when the used product is turned in.
  In Japan, the beer industry has adopted a voluntary deposit system long ago, after developing a common type of bottles. A deposit of 5 yen a bottle or 300 yen a 20-bottle plastic case (200 yen for the case and 100 yen for the bottles) is add to the price. As of 1989, the recovery rate stood at 92% (Fig. 4-1-9).
Fig. 4-1-9 Beer Industry's Deposit System

Source : Data from the Beer Brewery Association.
  As we will see in the next chapter, there are cases in foreign countries in which institutionalized deposit systems produce fruit. Thus, the deposit systems are useful, but it is pointed out that there arise problems, such as the securing of points for the recovery of used products and places where they are kept in store and concerns about a drop in the sales by the rise in the apparent retail price. The task is to take account of costs and the distribution of roles in regard to subject merchandise, the areas where the deposit system is implemented, the sharing of roles and costs by persons related and society, and the effects on environment conservation; to promote the social understanding; and to study acceptable frameworks, while referring to failures and succes-ses in the deposit systems of foreign countries.
  Though incentives which contribute to the recovery of used products as in the case of deposits may not be expected, there is a system for services and products which have nothing to do with environ-ment conservation--a system in which consumers are asked to bear special burdens as they are distinguished from normal free services. One example of the fee-charging services which have nothing to do with environment conservation is the pay shopping bags in which the things purchased at supermarkets will be put and taken home. At "H," a supermarket, which started a pay shopping bag system, data indicate that the use of shopping bags to the number of clients has reduced by 65%.
  (4) Environmental Audits
  In order to change corporate performance into one in which envi-ronment conservation is taken into account, it is indispensable for businesses to become fully aware of the impacts their own business activities produce on the environment and come out with a periodic check system.
  The environment audit is one of the means for management and control, and the International Chamber of Commerce (ICC) defines it as the "organized, corroborative, periodic and objective assessment of how properly the organizations, controls and facilities designed to contribute to the protection of the environment function by promoting the manage-ment and control of the environment by promoting controls on the environment in terms of management and control and by assessing the observance of the policies determined by corporations (including the fulfillment of the standards which are required by the law).
  The International Telephone and Telegraph Corp. (ITT), a New York-based conglomerate, started a system, known as the environmen-tal compliance audit, in the 1960s. It came out from the standpoint of quality control designed to raise the degrees to which the production process was clean and safe. Following the ICC model and confirming the observance of environment-related laws, the ITT is now using this system to make environmental, health and safety issues clear. The system is so designed that a team of 3 to 5 auditors make on-the-spot checks at the plants and other facilities for 1 to 2 days. The checks cover the conditions of management, the operation of equipment and other matters. Though the frequency of audits is determined by taking account of the importance and risks of plants and other facilities, the principle is to conduct checks on a regular basis.
  Aside from the periodic environmental audits, there is a system of checks which are made before the purchase of land and the takeover of corporations as a new type of environmental audits developed in the United States. As there arises the possibility of the actual owners of plots, officially found polluted, being held responsible for the cleaning of the polluted without relevance to the existence of some error of the other under the Super Fund Act, there have been increasing cases in which environmental audits are done before the purchase of plots to make sure that they are not polluted. An early example is the State of New Jersey, where under the Environment Cleaning Responsibility Act (ECRA), put into force in 1983, the implementation of environmental audits is obligated as a condition for completion of projects and real-estate sales, and when pollution is uncovered, the presentation of a cleaning program and the payment of damages are demanded. Similar acts are enforced in the states of Connecticut and Illinois.
  In North America, the presentation of proposals by environment protection groups is brisk. In a report released in 1989, the Elmwood Research Institute, an NGO in the United States, advocated the concept of a more positive eco-audit, which would take the place of the existing environmental audits made as passive checks merely to confirm the lawfulness, and preached the necessity of management in which environ-ment conservation would be more positively taken into account. In the Valdez Principles advocated by the CERES, an organization which calls for corporate considerations to the environment from the standpoint of investors, calls not only for the confirmation of the observance of environment conservation but for the implementation of characteristic annual environmental audits, in which the number of achievements made by corporations in their own environment conservation activities. Besides, there are moves not just for in-house audits by corporations but for more objective audits by specialized auditors outside as well.
  In Europe, there are businesses which have conducted environ-mental audits from old. British Petroleum, for example, began in the early 1970s a system in which it would check and see if its own environ-mental rules were observed, and made it clear to go in for audits in 1985. In addition, pioneering cases are also observed primarily among Royal Dutch Shell, Ciba-Geigy and other conglomerates in such lines of business as would potentially produce significant impacts on the envi-ronment. Recently, there have also appeared businesses, smaller in management scale, which perform environmental audits. One of those types is to make environmental audits before the takeover of corpora-tions, as is the case with North America, and it is being developed in France, Italy and other countries.
  In the midst of those moves, there are rising calls for environmen-tal audits by people concerned with corporate interests in Europe, such as investment trust corporations in Denmark which call for annual environment audits by the invested, and environmental audits will presumably become all the more spread in the near future. In Japan, the concept of environmental audits has yet to make inroads, but there are pioneering businesses which have already made it a practice to perform them. For example, major equipment manufac-turers came out with a package of environmental control and audit standards to prevent pollution in 1972, according to which they have in-house audit systems and yearly perform advance document screen-ings and on-the-spot inspections in a mark sheet system at their own plants and subsidiaries. The items on which marks are awarded concern the degrees to which the in-house environmental standards are achieved and the system which is designed for the prevention of environmental accidents and are elaborated in substance, though there are items which might reflect the subjective views of auditors.
  In Japanese industry, the introduction of environmental audits is highly likely in the future. In the Global Environment Charter released by the Federation of Economic Organizations (Keidanren) in 1990, the implementation of in-house audits is incorporated in the section which concerns in-house systems, and the understanding in the country about environmental audits is rising.
  (5) Social Contributions in the Environmental Sector
  In recent years, there have been calls for businesses' social contributions in the environmental sector. In reality, the establishment of public-good corporations, public good trust organizations and envi-ronment conservation funds with corporate donations has become brisk. Then there have appeared businesses which have a system of paid holidays for volunteers' activities. The findings of a survey performed by the Environment Agency at the end of 1991 show that nearly 70% of the corporations whose stocks were listed on the first and second sections of the stock exchanges were making social contributions in the environmental sector, and that nearly 70% felt the necessity of joint activities with citizens (Fig.4-1-1O). Against the background of those moves, there lies the assumption that improvements in the activities associated with their essential line of business alone would not be enough to assure their sustained prosperity, and that they should become "good corporate citizens" making direct contributions to public good in society in order to build better relations with consumers, communities and the global society.
  In the United Kingdom, on the other hand, groundwork projects are under way as one of the more multiphasic social contributions by businesses. In the groundwork projects, corporations may involve them-selves in terms of not just money but manpower, and it may be expected in Japan, too, that the development of such a system of corporate involvement will enable businesses to make more social contributions. The groundwork, as referred to here, is a public good project which steps up the building of the environment for nearby areas under the theme of "creative activities at actual places of living," while regarding administration, businesses and citizens not as those in conflict but as those sharing common efforts (Fig. 4-1-11). With the Groundwork Project Corporation as the foundation, groundwork trusts are estab-lished at various places with funds invested by the British Ministry of Environment, and local governments, etc. Each trust is registered as a "limited responsibly company" under the Commercial Law and at the same time as a "charity organization." Being a limited responsibility company, it must comply with the Company Law in the accounting, audit, health care and safety sectors, under which specialized manage-ment is assured. Moreover, as regards the conclusion of contracts, projects are carefully managed, such as by comparing and checking profits. On the other hand, as a charity organization, the groundwork trust may secure social trust and sympathy and is assured of smooth implementation of projects which will be of benefit to its community. As preferential tax measures are available for charity organizations, the groundwork trust may secure support from businesses. As for the lines of business, it has three centerpieces--the conservation and improve-ment of the environment, recreation and environmental education. It does business in specified areas and use profits for charity purposes. For the implementation of projects, a five-year plan is formulated, first, and in the initial phase, most of the necessary funds are invested by the central and local governments. When it is placed on the right track and its capability of earning profits gradually rises, the subsidies extended by the administrative authorities will be cut by about 20% (Fig. 4-1-12).
Fig. 4-1-10 Corporations' Contributions in Environment Sector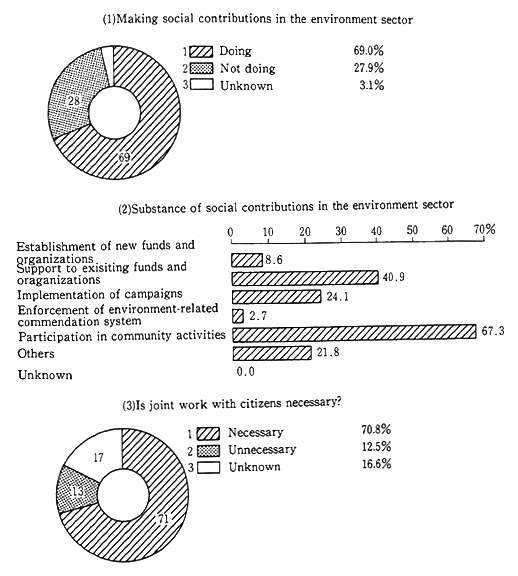 Sourse : Environment Agency.
Fig. 4-1-11 Structure of groundwork project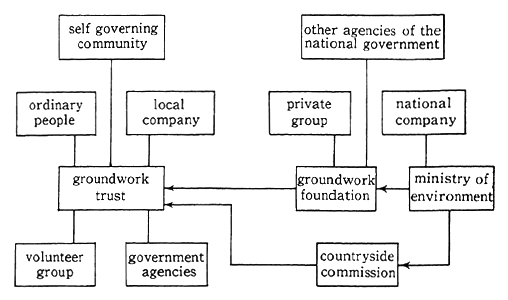 Sourse:Groundwork Foundation in U.K.
Fig. 4-1-12 Assistant model to groundwork trust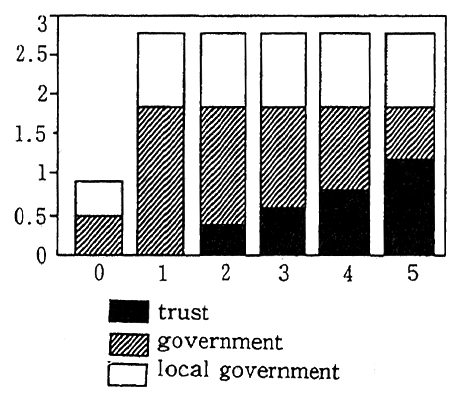 The first groundwork trust was initiated on the outskirts of Liverpool in 1981. At present, 8 groundwork trusts are doing activities across the United Kingdom. In 1990, the number of projects (including that of ongoing projects) reached 3,821, and 25,000 citizen volunteers and 81,000 students are involved in the trust in one way or another. A growing number of corporations are also involving themselves in the trusts. In 1990, the commission of projects to the trust network and the investments made as project sponsors were worth 2,700,000 pounds, and resources and other commodities were donated to the tune of 710,000 pounds. Moreover, the Groundwork Project Organization was subsid-ized by the EC Commission to perform project feasibility studies in France, the Netherlands, former West Germany, Italy, Portugal, Ireland and Belgium in 1989. As of the end of March 1991, pilot projects were conducted at subject areas for feasibility studies in France, the Nether-lands and Belgium with the same symbol as in Britain (Table 4-1-2).
  Thus, businesses not only offer funds but involve themselves in various ways, such as the offer of manpower and commodities. Land is released and know-how and information are offered, too. As a result, the relations between each environment conservation performance and businesses become closer, and the social assessment of them is greatly influenced.
  The involvement of corporations in community activities would be difficult in a one-sided manner, but its realization maybe facilitated when it is coupled with moves for changes in the community. In this sense, it might be said that the establishment of a system in which the community as a whole could involve itself in activities for environment conservation through the groundwork and the creation of conditions under which entrepreneurs could ask themselves what they could for their community formed the background for significantly stepping up the involvement of corporations. As corporations could begin to involve themselves in the groundwork, they could broadly commit themselves in sectors where they would otherwise have not been able to do so, with the result that the possibility of social contributions by corporations signifi-cantly broadened. Insofar as businesses are concerned, the groundwork means a builder, a good adviser on a higher corporate productivity, advertising agents and a partner which carries out corporate responsi-bilities for them.
Table 4-1-2 Activities and results of groundworktrust project (1987/88)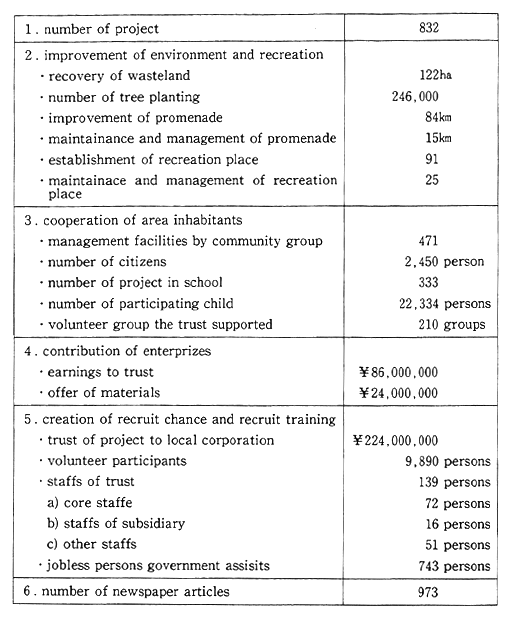 Sourse : Groundwork Foundation in U. K.
4-2 Seeking the Road Toward A Sustainable Economic Society
  As we have seen in the preceding chapter, there is a rising mood among people and businesses for new actions with a view to going a step forward in using environmental resources and reducing loads on the environment, and not just to passively fulfill obligations under the laws. This mood is an indispensable premise for an enhancement of the sustainability of the economic society. But there is a danger that those efforts might end up without fruit unless there is a system or framework in which the conduct of each entity of the economic society may be tied in with society's achievements as a whole on the basis of the public-asset characters equipped to the environment. In this section, therefore, we will take a look with examples both at home and abroad at the social system or framework to weave those efforts with society's achieve-ments as a whole in the appropriate sharing of costs and efforts in a broad range of entities in the economic society.
4-2-1 Basic Stance of Sustainable Economic Society
  In Chapters 2 and 3, we have seen some examples of the past and present environmental issues both at home and abroad with special reference to Japan from a standpoint of sustainability. In plain lan-guage, we have seen the degree to which we have done things to disrupt the environment as we have been too eager to grope for immediate economic profits and the degree to which we have strived to conserve the environmental stocks which ought to be left for the next generation. We have learned from those chapters that we have acquainted ourselves with measures, centering on emission controls, against what might be described as transient environment disruption, but that we have yet to acquaint ourselves with the way we should deal with chronic environ-mental disruption associated with stocks, other than those which give rise to short term environmental disruption, and to discover sure ways for an enhancement of the sustainability.
  Then, what sorts of ideals and targets does the sustainable society have and in what framework can it be realized ?
  On this score, ingenuity has been gathered and in-depth discus-sions have been held at the World Commission on Environment and Development (WECD), the International Union for Conservation of Nature and Natural Resources (IUCN) and other forums.
  As we mentioned in Section 1, Chapter 2, the WCED defined "sustainable development" as "development of the kind which satisfies the needs of the present generation in ways which do not hamper the ability to satisfy the needs of the future generation" in its report "Our Common Future," and appealed for the impartial sharing of environ-mental blessings between the poor today and the future generation instead of the consumption of all by the present generation. The WCED also held meetings of legal experts under the theme of legal principles on environmental protection and sustainable develop-ment, and their findings were compiled in a report in 1986. In the report, the following points are enumerated.
 a. All people are entitled to enjoy an appropriate environment for their health and welfare.
 b. Each country must conserve and use the environment and natural resources for the benefit of present and future generations.
 c. Each country must maintain a maximum degree of biological diversity and comply with the principles of optimum and sustainable utilization of biological natural resources and ecosystems. To do this each country must maintain the ecosystems and production processes important to the ecosystems and ecological processes indispensable for the working of the diversified biosphere. Above all, each country must maintain food production, health, mankind's existence and other aspects of sustainable development, and assure the existence of all sorts of fauna and flora at natural habitats and promote their conservation.
  In May 1989, the EC Commission held the Sixth Meeting on Biological Ethics in Brussels to discuss "environmental ethics." At this meeting, there was an appeal that mankind's future behavior would have to be something in which the soundness of all organisms on the earth, including mankind, and land, air and other non-biological resources were taken into account and which would satisfy the needs of future generations.
  As it established the Council on Environment and Culture in 1989 with the invitation of opinion leaders in various echelons of society, the Environment Agency studied a broad range of relations between the environment and man to compile the findings in a report, titled "Towards the Creation of an Environment-Friendly Culture", in April 1991.
  As characteristics which should exist in a culture friendly to the environment, it is pointed out, first, that values must include the factors of environmental soundness, such as sustainability and self-sustenance; second, that importance should be attached to dialogue and exchanges with nature; and, third, that a culture tender to the environment must be endorsed by the "consciousness of the global community," for which there is the need to respect the right of selection by "people in the future" as members of the world community.
  The World Environment Conservation Strategy released by the International Union for Conservation of Nature and Natural Resources (IUCN), the United Nations Environment Program (UNEP) and the World Wide Fund for Nature (WWF) in 1980 was something in which the concept of sustainable development was stressed for the first time. Development is defined as "satisfying man's needs, transforming the biosphere for improvements in the quality of man's life, and using human, financial, biological and non-biological resources." "Conserva-tion" is defined as "control of the use of man's biosphere in a manner to bring the maximum sustainable benefits to the present generation." An appeal is made for "conservation for development." In "Caring for the Earth" (New World Environment Conservation Strategy) released in October 1991 as a revised edition of the "World Environment Conserva-tion Strategy," sustainable development is defined in a more plain context as the "attainment of improvements in the quality of man's life while living within the acceptability of each ecosystem which forms its support basis.
  In the New World Environment Conservation Strategy, the fol-lowing nine points are cited as basic principles for a "sustainable society."
 a. Respect and attach importance to the communities for life.
 b. Improve the quality of man's life.
 c. Conserve the diversity of the earth's viability.
 d. Minimize the consumption of non-recyclable resources.
 e. Do not go beyond the earth's tolerability.AppKA
 f. Change individuals' life styles and practices.
 g. Have communities safeguard their own environment.
 h. Formulate a national framework to integrate development and conservation.
 i. Establish a global-scale cooperation system.
  Also in the report prepared by the Council on Global Scale Environment Problems in the Environment Agency under the title of the "Basic Concept on an Earth Charter" in March 1992, the following points are stressed in the section of general principles on actions by all individuals, organizations and the State for the formation of a new sustainable world order.
 a. All people at present and in the future had the basic right to equally enjoy the blessings brought about by the global environment, which forms the basis for mankind and all organisms, with the recogni-tion that mankind lives in coexistence with all organisms and nature.
 b. For the benefit of the present and future generations, it is essen-tial to prevent adding loads on the environment and to restore and improve the conditions of the environment.
 c. For the impartial utilization of the global environment in sus-tainable methods, it is essential to conserve global ecosystems and realize sustainable development according to the principles of solidarity and impartiality.
  In addition, plans are afoot at the Earth Summit which was held in June 1992 for the formulation of provisions on principles which govern man's relations to the environment in the name of, say, an Earth Charter.
  Thus, the ideals of a sustainable economic society and the condi-tions required for the building of such a society vary, dependent on the discussant, and further studies are under way. As is discernible from the examples some of which have just been introduced, some common understandings, as enumerated below, are acknowledged on the ideals and concepts of a sustainable economic society.
  First, the viewpoint is shared of handing over to the next genera-tion the blessings brought about by the environment. As long as the earth is finite, there are calls for the acceptance of sustainability as a value.
  Second, there are calls for a new society and culture which could deepen ties with the moves of great nature on the globe. Man is apt to be accepted as being independent from the ecosystems of the earth, but it is assumed that one factor for a sustainable economic society is for man to live while working for coexistence with other organisms and other environments.
  Third, it is indispensable to coexist with other organisms and other environments and by so doing, the sustainability of the economic society may be enhanced.
  Fourth, the involvement and cooperation of people in varied positions and their sharing of roles are indispensable.
  Against the backdrop of those four basic concepts, let us think about problems which may crop up in the application of those concepts.