White Paper
Quality of the Environment in Japan 1990
3. Positive Participation in Activities for Environmental Conservation
  A wide variety of area-wide activities are being evolved at many places throughout the country, depending on their respective character-istics. They include measures to cope with domestic waste water with each community's all-out involvement, the purification of rivers, the roadside afforestation, beautification and cleaning, the group collection and recycling of garbage. Many of them are sponsored by the central government, local governments and other public organizations, but it might rather be characteristic these days that increasingly many people voluntarily get together in evolving unique activities based on unique ideas. Then there is an increase in activities which are done not just by small communities of citizens' groups but with the formation of groups covering broader areas or nationwide networks. Those groups are so-called environmental NGOs.
  As is discernible from the findings of the mentioned surveys, it may be pointed out that not only those environmental NGOs but other NGOs in Japan are always troubled with fragile organizing ability, lack of information and knowledge, lack of ability to perform surveys and researches, and vulnerable financial basis which stems from all those factors, but the activities done by various NGOs have increasingly been supported financially by such organizations as nonprofit foundations which are established with capital laid out by the central government, local governments, private businesses and individuals.
  The people's support is being increasingly provided to activities of the National Trust, the charitable trust system under the Civil Law and the profit afforestation system. Especially the National Trusts are established to conserve the regional natural environment and wildlife, they collect contributions and investments from across the nation for their conservation, management and control.
  Immediate activities are designed to improve the regional envi-ronment and conserve specific fauna and flora, but if those activities are broadened, there will undoubtedly arise the necessity of understanding about environmental issues in a global dimension and forming an inter-national solidarity. Issues on the local environment are tied in with those on the global environment, and there is the need to positively cope with the global environment issues in any activities to conserve the local environment. What is required in the future is to "think globally, act locally."
  As a matter of fact, some of those NGOs have already begun to broaden their activities to foreign countries and positively carry out international cooperation, such as in surveys and researches for the conservation of wildlife in developing countries. Then there are organi-zations whose aim itself is to cope with the global environment issues and extend international cooperation.
  It is important for broader parts of people to take concrete activities such as participating in the activities by those NGOs and the off r of funds which lead to prositive contributions to the global envi-ronment conservation.
V. Aid to Developing Countries for Sustainable Development
  Any of the global environment issues are so grave that it might threaten mankind's future, and there is the need for concerted efforts by th international community as a whole for all mankind. For that, developing countries are never an exception.
  Many developing countries are directly confronted with environ-mental i sues which has once been or is being experienced by developed countries in conjunction with ongoing industrialization and urbanization be ides th global environment issues, including ongoing desertification and depleting tropical forests due to the improper control of farmland and forests. Then, there are issues which have to be coped with in a global dimension, such as the depletion of the ozone layer and global warming.
  Nonetheless, the important thing for overwhelmingly many peo-ple in developing countries -who are agonizing over the vicious cycle of less development leading to poverty, population increases to the dearth of food and fuels, and the plundering of resources to environmental disruption--Is the staff of life today rather than a possible environmen-tal crisis tomorrow, and this fact makes environmental issues all the more serious.
  Given this state of affairs, developing countries are coping with development of environmental administration and legislation on the environment, but the technical and economic infrastructure is made-qu te. For an efficient implementation of measures for conservation of the environment, technical and economic assistance from developed countries play a significant role.
1. Government-to-Government Cooperation in Environmental Issues-With Special Reference to Official Development Aid (ODA)
 (1) Japan's ODA and Environmental Issues
  In broad terms, Japan's economic cooperation to developing countries consists of three kinds---0DA, other official flows (00F) and private funds (PF). Here, let us take a look at the present state with special reference to ODA which includes bilateral loans and grant assistance and technical assistance.
  Reflecting its rising economic strength and international position, Japan's ODA has solidly and rapidly increased in the last 10-odd years. In 1988, the real amount came to $9,134 million (on a net expenditure basis), placing Japan second in the world after the United States. Japan has also become the world's greatest donor for 29 developing countries which center on those in Asia and Africa.
  The rate to GNP stood at 0.32%, lower than the mean of 0.36%. for member countries of the Development Assistance Committee (DAC) of the Organization for Economic Cooperation and Development (OECD), but is steadily improving while those of other major countries are generally leveling off.
  Having set the fourth intermediate-term target for ODA, the government is striving to increase the total real amount of QDA for the 1988-92 period to upwards of $50 billion, or more than double that which was actually extended during the preceding five-year period.
  For the fourth intermediate-term target, it is suggested to strive for a quantitative expansion and qualitative improvement of ODA, a replenishment of the aid execution system, an effective and efficient management of ODA and a strengthening of coordination with private activities.
  In relation to the environment issues, it was advocated in the White Paper on the Environment the year before last that cooperation in the conservation of the environment would be quantitatively and qualitatively expanded and strengthened. It also recommended that in providing aid to developing countries, full consideration would be paid to the environment which forms the basis for their development, and that a positive approach would be made to developing countries to apply the "principles of requests" in a flexible manner, enhance them on the importance of conserving the environment and help them plan coopera-tion projects with full heed paid to their needs.
 (2) Present Situation of Cooperation in Environmental Issues
  Now, let us see where Japan's cooperation in environmental issues with ODA stands today.
  As we will see in Table 2-5-1, Japan's real bilateral ODA in the environmental sector came to about ¥43.4 billion in 1987 and ¥110.8 billion in 1988. Of the total amount of ODA offered in 1988, grant assistance accounted for about 19% of general grant assistance minus the relief of debts accounted for about 18%, whereas the environmental loans had a share of about 8% in the loans for all projects. As what actually forms "aid in environmental issues" is not defined, we simply cannot make an international comparison. It might be said that Japan is offering as much aid as, or more aid than, major donor countries on environmental issues at least when it comes to the amount.
  Moreover, Japan expressed at the Arche Summit in July last year that it would strive to expand and strengthen bilateral and multilateral aid in the environmental sector with a target set at ¥300 billion (about $2.25 billion with the dollar at ¥133) in the subsequent three years, and that it would further contribute to coping with the global environment issues. It also made clear a policy to positively support efforts of developing countries to cope with environmental issues. As ODA aver-aged ¥60 billion or so a year during the 1986-88 period, the ¥100 billion a year on the average Japan has pledged to subsequently offer is a considerable amount and it is expected that its substance will be replenished in large measure.
Table 2-5-1 Estimated Amount of Bilateral Fund Cooperation in the Environmental Sector

  The figures in parentheses are in terms of the yen (in hundred million yen).
Note: Service water, sewage, urban hygiene and forests.
Source: "Japan's Governmental Development Assistance" edited by the Economic Cooperation Bureau, Ministry of Foreign Affairs.
  Talking of the substance, there are signs that emphasis has been put on the development of hardware, such as service water, sewer systems and waste treatment facilities in offering development aid in the environmental sector to developing countries, as it has reflected the fact that the urgent task in developing countries is to cope with environ-mental issues immediately around inhabitants. Besides, it has recently put more efforts on such sectors as the conservation and development of forests, disaster prevention and pollution prevention and on technical cooperation designed to cooperate in the personnel training, technology transfer and development, and research projects (Table 2-5-2).
  Particularly as regards to the conservation of tropical forests which draws worldwide attention, there is the increased need to pro-mote cooperation from the standpoint of conserving ecosystems and sustaining the diversity of species in addition to cooperation in the systematic control of forests and the regeneration of large-scale forests, as was pointed out at the Tokyo Conference on Conservation of the Global Environment.
  Taking advantage of the Asian-Pacific Region Seminar on Pro-tection of the Ozone Layer held in Tokyo around the Environment Week last year and the Symposium of Environment Ministers in the Asian Region, Japan began policy dialogues with recipient countries, such as by dispatching specialists to a conference of specialists on the environment in the region of the Association of Southeast Asian Nations (ASEAN) and to discuss aid issues and by sending fact-finding teams to find projects which were in need of aid.
Table 2-5-2 Trends in Actual Environmental Cooperation by Sector (Onerous and Gratuitous)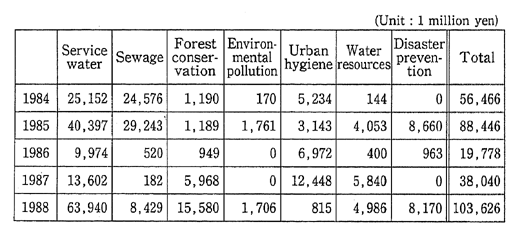 Source: Surveyed by the Economic Cooperation Bureau, Ministry of Foreign Affairs.
 (3) Development Aid and Environmental Consideration
  Along with the promotion of development aid for conservation of the global environment, there is the need to make sure that the develop-ment aid policy itself and the selection and implementation of aid and projects are done with full heed given to environment conservation. The Japan International Cooperation Agency (JICA), which is the organ for the implementation of ODA projects in Japan, is striving to strengthen the implementation system with consideration given to the environment, as is the case with the ongoing formulation of an environment considera-tion guideline by sector in response to an OECD recommendation on environmental assessments for the offer of development aid and to a report of the Environmental Aid Study Group which has continued studies since 1988.
  The Overseas Economic Cooperation Fund (OECF) which takes charge of yen loans assigned specialists on the environment and estab-lished a Committee for Studies on Environmental Issues. It released a guideline on environmental consideration in November last year. The Export-Import Bank of Japan is also making preparations for the promotion of consideration to the environment, depending on the form of loans.
 (4) International Response to Developing Countries' Needs
  It is important for developing countries, too, to positively work for global environmental conservation, and support and cooperation are offered for their efforts within the framework of multilateral and bilateral development aid. New measures to step up international cooperation in global environmental conservation are being internation-ally studied from various angles, and it is necessary for Japan to positively take part in those international studies.
  As regards the protection of the ozone layer for which a treaty has been concluded as the framework for a global promotion of mea-sures, a special working group is established in accordance with a resolution made by signatories to the Montreal Protocol in May 1989, and measures, including those designed to promote the technologies transfer on substitute for CFCs, are under study.
  In the Noordwijk Declaration on atmospheric pollution and climate change in November 1989, it was stated that "further considera-tion should be given to the need for funding facilities including a clearinghouse mechanism and a possible new international fund and their relationship to existing funding mechanism, both multinational and bilateral." In addition, it was recommended that the financial supply to developing countries be set aside for the time being for the gradual elimination of CFCs, the efficient utilization of energy, the shift to a broader utilization of non-fossil fuels and to energy sources from which greenhouse gases are insignificantly emitted, the broader utilization of recyclable energy sources, and the promotion of the conservation and improvement of forests, researches and monitoring under forest action programs and programs for the prevention of desertification and through the, International Tropical Timber Organization (ITTO) and other international organizations.
2. Stepping up Future Government-Based Cooperation in Environmental Issues
  On the basis of the foregoing situation, it is necessary that Japan should evolve international cooperation in a more positive manner in. attempts to work for global environmental conservation and the "sus-tainable development" of developing countries. Particularly in a per-spective of the role of ODA in global environmental conservation, the paying of consideration to the environment in development aid and a broadening of aid in the environment are important policy target which are taken up as items 4 and 5, respectively, in an agreement reached on June 30, 1989, by the Council of Ministers for Global Environmental Conservation. As stated in Section I of this chapter, those policy measures must be promoted in a comprehensive and systematic manner along with other internal and foreign policy measures.
  In substance, there is the need to step up measures in line with the items agreed on in various international programs and declarations and the policy Japan has manifested, but in a perspective of global environ-mental conservation, the points which are considered important on the way ODA ought to be in the future read as follows
 (1) Expansion of Substance of Aid With Focus on Global Environmental Conservation
  In the future, it is important to concentrate efforts in such sectors as the control of the water quality and the atmosphere, the conservation and development of tropical forests, the establishment and control of national parks, the conservation of wildlife, the control of land resources including the prevention of desertification and soil conserva-tion, city planning, and the training of personnel for strengthening of the basis for environment policy. It is also important to concentrate efforts on concrete items concerned with climate change as referred to in the Noordwijk Declaration.
 (2) Emphasis on Development and Transfer of Proper Technology Commensurate with Developing Countries' Needs and Development of Skilled Manpower Resources
  It is important for developing countries to equip themselves with proper technology commensurate with their own natural and social situation or to come to have an ability to develop such technology by themselves, and their efforts would not be successful if Japan simply thrust its advanced technology on them. We must take this concept when international cooperation is rendered in their sustainable develop-ment, such as the development and propagation of technologies in substitute for CFCs which are needed to conserve the ozone layer, energy-and resource-saving technologies for the prevention of global warming, and global-scale afforestation.
  In this context, it is necessary that Japan itself should cling to a posture of deeply recognizing and learning about developing nations' needs and situations and concentrate efforts on the development, educa-tion and training of manpower resources capable of adopting the opti-mum technology for their countries or developing the technology by themselves. For this, it might be said that aid projects for the construc-tion and management of a research and training center operated by Japan with the cooperation of Thailand and an environmental conserva-tion center agreed on with the Chinese government, for example, are extremely effective.
 (3) Expansion of Policy Dialogue and Assurance of Developing Countries' Participation
  It is indispensable that all countries should involve themselves in international negotiations on and cooperation in global environmental conservation, and Japan should make contributions which is worth for its position. For this, there is the need to continue sending out fact-finding and other missions to what sort of assistance is in need for the environment and to carry on consultations with government officials and local NGOs in developing countries. It is also important, for exam-ple, for Japan to hold many symposiums and seminars on global environ-mental issues for the sake of developing countries.
 (4) Development of Japan's System of Cooperation in Environmental Issues
  First, it is necessary for Japan, a donor country, to train many specialists in the nation and build a system in which it will be able to immediately respond to growing requirements from developing coun-tries for assistance in environmental issues. For the training of those experts and an enhancement of potentials for surveys and researches and the development of technology, it is important to have local centers for training, measurement, surveys and researches, wherever possible, and to have many opportunities where aid officials in both donor and recipient countries may exchange knowledge and experience. This is important particularly in the evolution of aid in afforestation and the prevention of desertification in the tropical zone, which is not familiar to the Japanese.
3. Environmental Cooperation by Local Governments and in Private Sector
 (1) Local Governments
  It is local governments which, placed on the front line of adminis-tration for pollution prevention and environmental conservation, has coped with problems and steadily solved them in the past. They have accumulated know-how and manpower resources in the policy manage-ment, measures, systems and technical development on a local level. There are many instances where those capabilities fostered by them contribute to the wide variety of projects of the central government.
  In fact, many incumbent and former local government officials are engaged in the technical cooperation projects to developing coun-tries, and local governments receive trainees from developing countries in response to requests from the Japan International Cooperation Agency (JICA). As the internationalization of the countryside is rapidly evolved, there are increasingly many cases in which local governments directly render international cooperation in environmental issues to local governments and cities in developing countries. For example, many local governments, such as Tokyo, Kanagawa Prefecture, Osaka Prefecture and Osaka City, have concluded arrangements with local governments and cities in India, Indonesia and other developing coun-tries for technical cooperation to send technical experts and receive trainees from them.
  In addition, not only many local governments hold international conferences on the environment, but the cities of Nagoya City and Yokohama City positively invited to set head offices for the United Nations Center for Regional Development (UNCRD) and the Interna-tional Tropical Timber Organization (ITTO), respectively. Shiga Pre-fecture established an International Lake Environment Committee (ILEC) by itself to evolve active surveys, researches and technical cooperation for the conservation of lakes and marshes around the world with the participation and cooperation of the UNEP and other interna-tional organizations.
  In October 1989, the JICA established a Kyushu International Center in Kita-Kyushu City, and it is worthy of note that a system of voluntary cooperation by local citizens, businesses and city authorities is developed to train in industrial technology and the conservation of the environment trainees the center receives from developing countries.
 (2) Environmental Cooperation and Technology Transfer in Private Sector
  The same thing may be said of the approach made by private businesses. Such international cooperation in environmental issues is offered by many business, and technical experts are exchanged and trainees accepted. Developing countries are in need of technologies transfer in the environmental protection sector, such as the ability of developing and opting for technologies and devices owned by private businesses for pollution prevention and the saving of energy, know-how about their operation and control and corporate management for the thoroughgoing saving of energy and resources.
  Naturally, some of these transfers are done in the form of the involvement of private businesses in ODA projects, but it will be effec-tive for private businesses themselves to step up direct cooperation in various forms, such as direct investments, the establishment of joint ventures and tie-ups of capital and technology with private businesses in the counterpart countries.
 (3) Grass-roots Cooperation in Environmental Issues
  As we have seen in Section IV, private organizations and citizens' groups which internationally evolve activities for global environmental conservation and the sustainable development of developing countries, and private businesses and public-interests organizations which finan-cially help those NGOs are being gradually formed in Japan, too. There are NGOs on the environment whose essential objective is to work for environment conservation, such as the preservation of tropical forests and afforestation in deserts, and activities are energetically done in the environmental sector by private aid organizations which have come to consider it indispensable to grapple with issues on the local environment while rendering development assistance.
  As part of the ODA budget of the Ministry of Foreign Affairs, a system was authorized in 1989 in which the State would subsidize aid projects done by Japanese and foreign NGOs in developing countries. It is hoped that Japanese NGOs, instead of losing their own identity, will broaden cooperation at a grass-roots level for environmental conserva-tion in developing countries and for their sustainable development.
Conclusion
Aiming at Actions Tender to the Earth and Starting with Things Close to Us
  With the advent of the 21st century 10 years later, mankind is directly confronted with grave environmental issues which might pro-duce serious impacts on his survival. Ecosystems are likened to fabrics without stitches, and mankind has come to realize, belatedly now, that the global environment per se is a colossal and complex ecosystem, and that the seams have come unsewed in the global environment which is the foundation of mankind's survival and development and a common house.
  A wide variety of environmental issues, including the depletion of the ozone layer, climate change due to global warming, the depletion of tropical forests and ongoing desertification, are the issues common to mankind with which all members of international community should concertedly cope. As there remain many uncertainties about each one of those issues, there is the need to strive for their early clarification and there are calls for an prompt implementation of measures, as there is a significant danger that should nothing be done before a full clarification of each issue, it would be too late to do anything about it.
  For the implementation of effective measures, it is indispensable to cope with those issues in a perspective of all mankind with the full cooperation of the international community. For this, there are calls for the establishment of an international framework.
  The World Committee for the Environment and Development (WCED), which was established in response to a call from Japan, came out with a report under the title of Our Common Future in 1987, The title carries a note of hope that all mankind, directly confronted with global environmental issues, share the fate of the future, and that concerted efforts all over the world will make it possible to tide over this crisis. The avenue suggested by the committee for realization of this hope is the way toward sustainable development.
  Summarizing the report, the WCED appeals for "From One Earth to One World." This phrase indicates that although the recognition of "only one earth" irreplaceable for mankind alone has spread since the Stockholm Conference on the Human Environment, the world has yet to unite in conserving the global environment, or in other words, it is necessary for the world's nations and peoples to unite themselves, transcending national borders.
  Developed countries are responsible for, and capable of, taking the lead in coming out with measures to the world. Above all, Japan ought to play a leading role in light of its economic performance which encompasses the world and the blessings it receives from the global environment and of the magnitude of its technology and economy.
  In this conjunction, it is necessary that the Japanese government should categorize global environmental conservation as one of Japan's top priorities, and that the State, local governments, private businesses and the people should unite in striving for international cooperation in the conservation of the global environment as well as the local environ-ment.
  In the general remarks here, an attempt has been made to grope for practical methodologies in a perspective of integrating issues on the global environment with those on the domestic environment. The con-clusion may be summarized as follows, as it is classified by action entity, such as the state, local governments, private businesses or entrepreneurs and citizens.
  First, the State should establish a strategy to cope with global environmental issues for Japan on the basis of the agreement of the Council of Ministers for Global Environment Conservation, globally play a leading role in the establishment of a new paradigm for global environmental conservation and step up comprehensive domestic mea-sures.
  To put it concretely, it may be cited (1) to work for the system-atic promotion of comprehensive measures, including surveys, researches, observation, monitoring and technology development for global environmental conservation according to the agreement of the Council, (2) to work for a drastic strengthening of energy-and resource-saving measures from the standpoint of environmental conservation, (3) to work for an integration of considerations to the environment with economic policy, and (4) step up an enhancement of the people's con-sciousness, a propagation of environmental education and the upbring-ing and support of NGOs and work for the establishment of a code of environmental ethic.
  Second, local governments should promote measures for environ-mental conservation which satisfies regional characteristics and render cooperation of their own in global environmental conservation.
  In concrete form, it may be cited (1) to step up the building of cities and towns friendly to the environment, (2) take the lead in conducting projects with less loads on the environment and provide incentives to private businesses and ordinary citizens in a manner to conform to national measures, (3) to step up surveys, researches, obser-vation and monitoring by themselves or participate and cooperate in those activities done by the State, and (4) to offer information to residents about the environment, enhance their consciousness, and bring up and support NGOs.
  Third, private businesses or entrepreneurs should definitely awake to their own responsibility for environmental conservation, and in evolving their corporate performance, to pay thoroughgoing consider-ation to their local and global environments.
  More specifically, it may be cited (1) to know about ties between their own corporate performance and global environmental issues, (2) to lessen the loads produced by their own corporate performance, products and technology on the global environment, (3) to develop technology which will contribute to environmental conservation, (4) to give consid-eration to the environment of the counterpart countries and the world and make it a basic corporate policy or the industry's voluntary accord, and (5) to positively participate and cooperate in global environmental conservation.
  Fourth, it is necessary for each one of the people (1) to deepen the understanding about the environment and strive to establish the environ-mental ethics, (2) to lessen loads on the environment in their daily life, and (3) to positively take part and cooperate in activities for environ-ment conservation or NGOs.
  Fifth, there is the need to cooperate in stepping up cooperation in environment issues developing countries to the extent that the afore-mentioned actions may be conducted in the respective specialized fields, but it is necessary for the State, in particular, to pay thoroughgoing consideration to the environment in extending official development aid and strive to expand aid to global environmental conservation.
  Particularly important here are (1) to expand the substance of aid with focus on coping with specific problems on the global environment, (2) to promote the development and transfer of proper technology in line with the needs of developing nations and to focus on the development of human resources in developing countries, (3) to assure the involvement of developing countries in international cooperation in global environ-mental conservation and the holding of policy dialogues, and (4) to develop and replenish in Japan a system of cooperation in global environmental conservation.
  For the ultimate realization of sustainable development by all mankind, there is the need for a new world perspective, a life-style for people on the earth on the basis of environmental ethics, and new systems for international cooperation while establishing new interna-tional economic relations, but the image of civilization which befits the 21st century has yet to appear in clear form. But in the last 10 years of the 20th century, there seems to be no alternative but for the world to cooperate in establishing the paradigm of a long-term strategy and policy for tiding over the crisis of the global environment and in immedi-ately embarking on feasible measures. And Japan and the Japanese people must take the global lead.
Chapter3. Present State of the Environment
I. Present State of Environmental Pollution
1. Air Pollution
  Standards of the sort the maintenance of which is desirable for the protection of man's health in relation to environmental conditions associated with air pollution [environmental quality standards (EQS)] are formulated at present for nitrogen dioxide, sulfur dioxide, carbon monoxide, photochemical oxidants and suspended particulate matter. In the following, we will take a look at the way EQS is achieved for those substances and the conditions of acid rain.
 (1) Nitrogen Dioxide
  Most of the nitrogen oxides generate in the combustion of fossil and other fuels. A check of nitrogen dioxide concentrations indicates that there began to appear signs of an improvement in 1979 but that there came signs of an aggravation in 1986 and 1987.
  A check of conditions in 1988 reveals that the annual average value leveled off at 0.028 ppm at air pollution monitoring stations set up across the nation to grasp the general conditions of air pollution, and that the annual mean value at automobile exhaust monitoring stations set up roadside to grasp air pollution in the neighborhood was greater than in the previous year, standing at 0.042 ppm. (Fig. 3-1-1)
  When it comes to the degree of EQS (the daily average of hourly values shall be within the range between 0.04 ppm and 0.06 ppm or below), the rate of stations where the upper ceiling of this standard was surpassed dropped to 4.1% for air pollution monitoring stations (6.0% in 1987) and 31.8% for automobile exhaust monitoring stations (37.4% in the preceding year) (Fig. 3-1-2).
  A check of the degrees to which EQS is achieved in three districts where an area-wide pollution load control system is adopted as it is considered particularly urgent to reduce nitrogen oxides shows that the rates of achieved stations leveled off: to wit, 49 out of 102 air pollution monitoring stations (57 out of 101 air pollution monitoring stations in 1987) and 63 out of 71 automobile exhaust monitoring stations (62 out of 68 automobile exhaust monitoring stations in 1987).
Fig. 3-1-1 Trends in Major Pollutants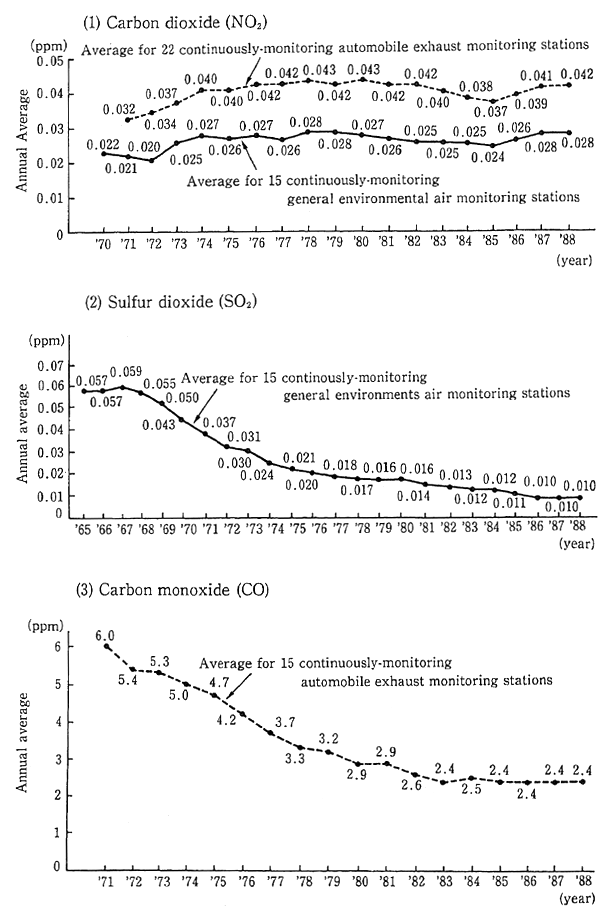 Remarks: Surveyed by the Environment Agency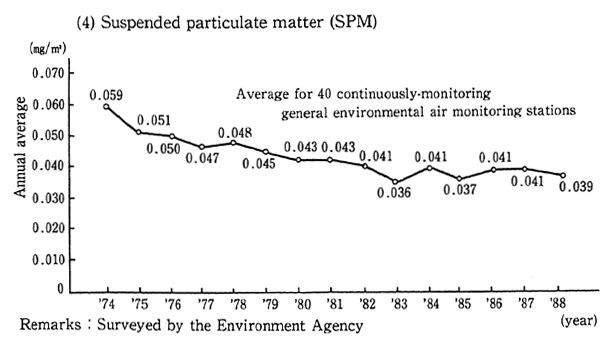 Fig. 3-1-2 Responses to Environmental Quality Standards for Nitrogen Dioxide(FY1984-88)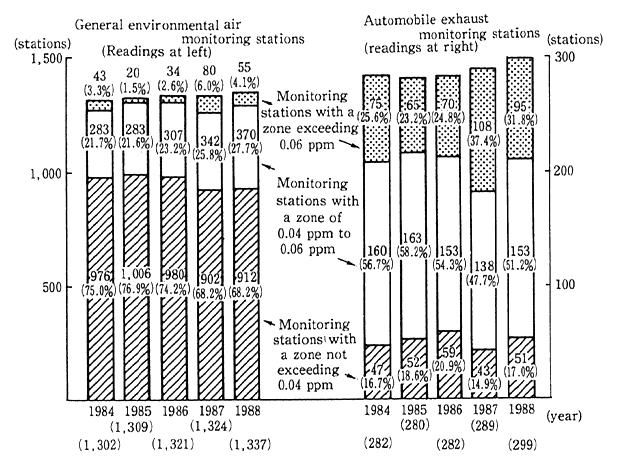 Remarks:1. Surveyed by the Environment Agency
   2. The category of automobile exhaust monitoring stations excludes those with their sample intakes installed on the driveways.
   3. The figures parentheses represent the rate of given monitoring stations,
   4. The density represents the yearly 98% value of the daily average value.
  As sources of nitrogen dioxide, automobiles and other mobile sources have great shares, along with factories and other immobile sources. For example, the rate stood at 67% in Tokyo's 23 wards and other districts, 32% in the cities of Yokohama, Kawasaki and Yokosuka and 47% in Osaka City and other districts (each in fiscal 1985).
  The concentration of air pollution with nitrogen dioxide in the major cities remains high, and there is the need for further countermea-sures.
 (2) Sulfur Dioxide
  Sulfur oxides in the atmosphere generated in large measure from the combustion of coal, oil and other fossil fuels, but as various measures were implemented to reduce sulfur oxides, there have been signs of a drop in sulfur dioxide concentrations in the atmosphere since 1968.
  The annual average of sulfur dioxide at air pollution monitoring stations stood at 0.010 ppm in fiscal 1988 (Fig. 3-1-1).
  When it comes to the achievement of EQS (the daily average of hourly values shall not exceed 0.04 ppm, and hourly values shall not exceed 0.1 ppm), compliance with EQS based on the long-term criteria came to 99.7% (99.6% in 1987), indicating that EQS had been achieved in almost every point.
 (3) Carbon Monoxide
  An incomplete combustion is responsible for the generation of carbon monoxide in the atmosphere, and it is generally thought that it comes from the exhaust gas of automobiles. As controls on automobiles began in 1966 and were gradually strengthened later, carbon monoxide concentrations significantly decreased, the annual average at automo-bile exhaust monitoring stations in 1988 went down to 2.4 ppm (Fig. 3-1-1).
  When it comes to compliance with EQS based on the long-term criteria (the daily average of hourly values shall not exceed 10 ppm and the average of hourly values in eight consecutive hours shall not exceed 20 ppm), EQS based on the long-term criteria was achieved for all general and automobile exhaust monitoring stations from 1984 on.
 (4) Photochemical Oxidants
  Air pollution by photochemical oxidants is generated by pollut-ants secondarily generated in a photochemical reaction of nitrogen oxides and hydrocarbons, and its degree is grasped with photochemical oxidants concentrations as a parameter.
  The number of days in 1989 when a warning against photochemi-cal oxidants was issued (this warning is issued when the hourly average of photochemical oxidant concentrations is 0.12 ppm or higher and that the pollution state is considered to continue further in view of the weather condition at that time) was 63 in the aggregate, smaller than in 1988 (86 days) when the number of days when warnings and the like were issued was considered relatively small, and came to a low level second to that of 1981. Regionally, the total number of days when warnings were issued was 33 days in the Tokyo Bay region (Ibaraki, Tochigi, Gunma, Chiba, Tokyo and Kanagawa Prefectures) and 16 for the Osaka Bay region (Kyoto, Osaka, Hyogo and Nara Prefectures), and those two regions accounted for about 80% of the aggregate total of days on which warnings were flashed across the country.
  The aggregate total of persons reporting on damage caused by air pollution with photochemical oxidants across the country in 1989 stood at 36, marking a significant drop from 1988 (132 persons) and the lowest figure ever (Fig. 3-1-3).
Fig. 3-1-3 Aggregate Number of Days with Issue of Photochemical Oxidant Warnings and Trends in the Number of People Reporting About Damage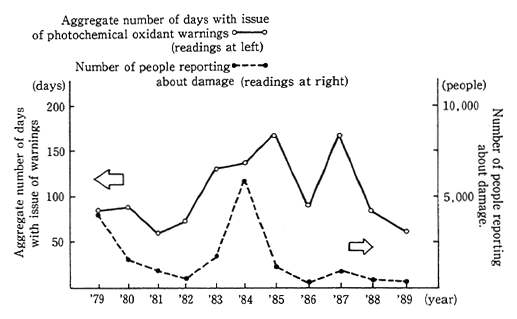 (5) Suspended Particulate Matter and the Like
  What is referred to as suspended particulate matter is particulate matter in the atmosphere which measures less than 10 microns in particulate diameter, suspends in the atmosphere for relatively many hours and, when it is highly concentrated, produces a significant impact on the health of human beings.
  The annual average at air pollution monitoring stations has leveled off in the last several years (Fig. 3-1-1). Compliance with EQS (the daily average of hourly values shall not exceed 0.10 mg/m3, and the hourly values shall not exceed 0.20 mg/m3) remains low. It stood at 47. 0% in fiscal 1988, lower than in fiscal 1987 (52.6%).
  With an increase in diesel-engined automobiles, the impacts produced by black smoke and other exhaust gases from diesel-engined automobiles are at issue.
  In recent years, moreover, the particulate dust generated by automobiles with studded tires used in snowy, cold areas has posed an issue. In Sendai City, for example, the fallout of particulate dust is on the upswing in the season when studded tires are fitted to automobiles (Fig. 3-1-4).
Fig. 3-1-4 Amount of Dust and Soot Falling in Sendai City in the Wintertime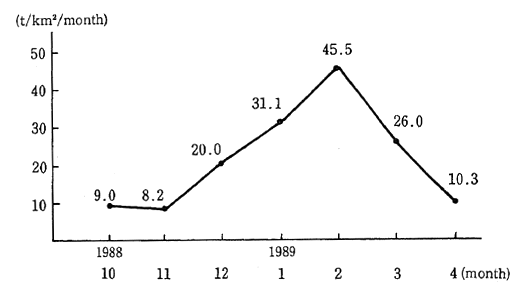 Remarks:1. Surveyed by the Environment Agency
   2. Values at roadside monitoring points.
 (6) Acid Rain
  Acid rain is taken up as an international issue, as it produces a wide variety of grave impacts on ecosystems in Europe, North America and other regions, such as the withering of forests and the extinction of fish in lakes and marshes.
  Given this situation, the Environment Agency analyzed and sur-veyed the components of acid rain and carried out a survey to grasp its impacts on lakes, marshes and soil, etc., under a five-year program from fiscal 1983. The findings were compiled in the form of the Phase I Survey for Measures Against Acid Rain. The findings indicates that the acid rain observed across the country averaged pH 4.4-5.5 (Fig. 3-1-5), and the fallout of acid matter as much as or more than in Western countries was observed.
  In particular, it was observed that the fallout of sulfur ion was great mainly on the side of the Sea of Japan in the wintertime. As regards the sources, there is the need for further surveys and studies, such as on influences from the continent. In the surveys on the impacts of land water and soil, on the other hand, pH of most lakes and marshes were in the neighborhood of 7 (neutral) and no signs of soil acidification were observed.
  In Japan, the impacts of acid rain on ecosystems have not come to the fore as of the present time, and the reason is, presumably the difference in soil conditions between European countries and Japan. However, there are many uncertainties about the long-term impacts of acid rain on land water, soil and vegetation, to say a few, and should acid rain continue to fall as at present, there is concern that it will bring about some impacts.
 (7) Other Pollutants
  In addition, the conditions of asbestos, mercury, formaldehyde and dioxins in the environment are being monitored. In fiscal 1988, a survey was conducted on formaldehyde and dioxins but their levels were not liable to cause problems because no significant difference was observed from 1986's survey.
Fig. 3-1-5 State of Acid Rain Across the Country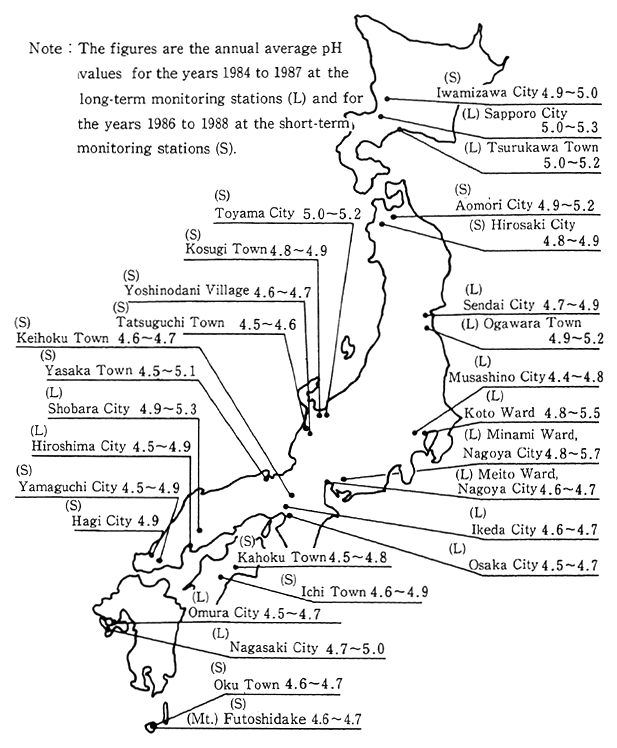 Remarks: Surveyed by the Environment Agency.
2. Water Pollution
 (1) Achievement of Environmental Quality Standards
  The environmental quality standards for water pollution consist of two environmental quality standards--one for the protection of human health and the other for conservation of the living environment.
Fig. 3-1-6 Trends in Rate of Failing to Meet Environmental Quality Standards Associated with Health Items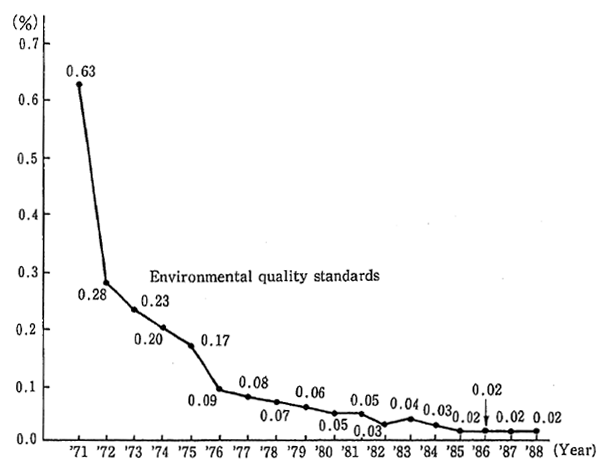 Remarks:1. Surveyed by the Environment Agency.
   2. The rate of failing to comply with environmental quality standards is the rate of the number of samples in excess of the standards to the total number of samples.
   3. The environmental quality standards associated with are that the four items of cyanogen, organic phosphorus, alkyl mercury and PCB are not detected, that the level is less than 0.01 mg/l for cadmium. less than 0.1 mg/l for lead and less than 0.05 mg/l for chrome (sexivalent) and arsenic, and that the annual average value for total mercury is less than 0.005 mg/l. Incidentally, in this figure, the rates of failing to meet environmental standards for 1974 and subsequent years do not include total mercury and the rates of failing to meet environmental quality standards for 1974 and subsequent years do not include PCB.
 a. Items on Human Health
  A check of the findings of a survey on the water quality of public water bodies in fiscal 1988 in relation to environmental quality stan-dards on human health reveals that of 137,598 samples (excluding total mercury) measured at 5,329 spots across the country, 0.02% (0.02% in fiscal 1987) did not fall in line with the environmental quality standards, suggesting that the environmental quality standards had been almost completely accomplished (Fig. 3-1-6). (As regards total mercury, inciden-tally, there have been no places since fiscal 1975 where the environmen-tal quality standards are surpassed.).
Fig. 3-1-7 Trends in Rate of Attaining Environment Quality Standards for Living Environment Items (1979-88)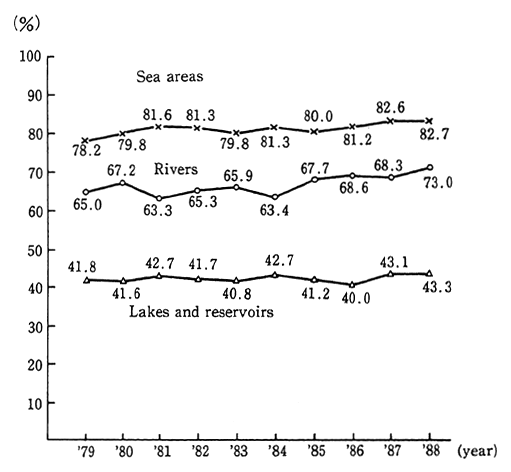 Remarks:1. Surveyed by the Environment Agency
   2. Attainment rate = number of water areas attaining environmental quality standards/number of water areas to which environmental quality standards are applied × 100 (%)
   3. The environmental quality standards associated with living environ-ment items, depending on the purpose of use, come in six types for rivers, four types for lakes and reservoirs and three types for sea areas.
 b. Items on Living Environment
  As for the environmental quality standards for conservation of the living environment in terms of BOD (rivers) and COD (lakes, reser-voirs and coastal waters), the parameters of typical organic pollutants, 73.3% of water bodies achieved the environmental quality standards in fiscal 1988 (70.1% in fiscal 1987). By type of water body, rivers account-ed for 73.0% (68.3%in fiscal 1987), lakes and reservoirs 43.3% (43.1%) and coastal waters 82.7% (82.6%), showing that the achievement for lakes and reservoirs remain low (Fig. 3-1-7).
 (2) State of Closed Waters
  In lakes and reservoirs, inland seas and bays and other closed waters the water of which is little replaced and where pollutants tend to accumulate, the achievement of the environmental quality standards remains low. Above all in waters in whose hinterland there exist signifi-cant sources of pollution, the conditions for conservation of the water quality standards are severe.
  A check of the achievement of the environmental standards for COD in lakes and reservoirs reveals that the standards have not been achieved yet for typical lakes and reservoirs, including the Lake Biwa (Shiga Prefecture), Kasumigaura (Ibaraki Prefecture) and the Lake Suwa (Nagano Prefecture). To conserve the water quality of lakes and reservoirs, measures have been implemented under the Law Concerning Special Measures for the Preservation of Lake Water Quality since 1985, and though Teganuma and other lakes and reservoirs remain significantly polluted, the effects of improvements in the water quality have gradually appeared (Fig. 3-1-8).
  In costal areas, a check of the achievement of the environmental quality standards for closed water areas in terms of COD indicates that the achievement for Tokyo Bay and Ise Bay is lower than that of costal regions as a whole. The achievement is also low for Osaka Bay (67% in fiscal 1988) and Hiroshima Bay (0%) in the Seto Inland Sea (Fig. 3-1-9).
  Algae and other aquatic organisms propagate and exuberate to give rise to eutrophication due to an inflow of nitrogen, phosphorus and other nutrient salts contained in household and industrial waste water, etc. An offensive odor is sent out from service water over lakes and reservoirs and the filters of water purification plants are put out of order, there appear changes in the species of fish for fisheries, and the scenery is aggravated due to a drop in the degree of transparency and other factors. In inland seas and bays, red and blue tides are generated, adversely affecting the living environment, such as the infliction of damage on fisheries and sea-bathing, the emission of offensive odors and the pollution of sea beaches.
Fig. 3-1-8 Trends in Water Quality of Designated Lakes and Reservoirs (COD Concentrations, Annual Average Values, 1976-88)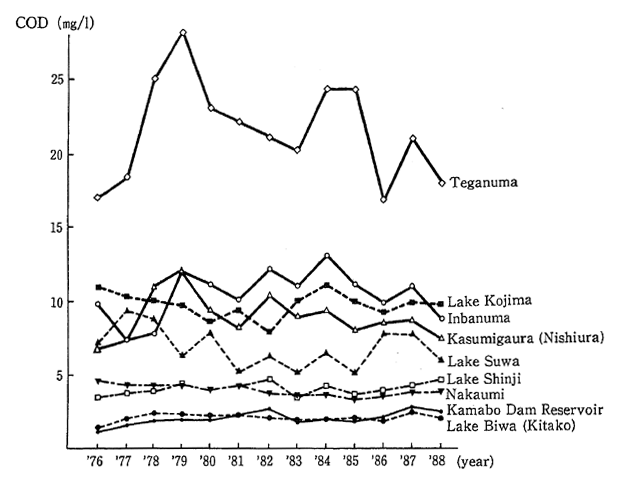 Remarks: Surveyed by the Environment Agency.
 (3) State of Urban Rivers
  As people's needs for spiritual affluence and agreeableness in their lives are on the rise, it has become a practice to regard urban rivers as precious space to provide residents with charm for their lives. As things now stand, however, there are many rivers the pollution of which is striking and which send out offensive odors and impair the scenery.
Fig. 3-1-9 Trends in Attainment of Environment Quality Standards (COD) for 3 Areawide Control Sea Areas (1979-88)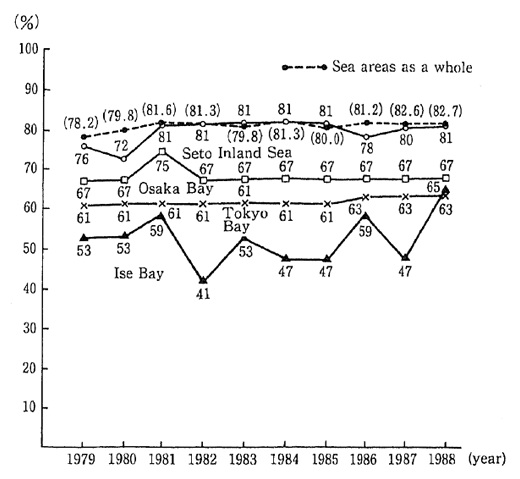 Remarks:1. Surveyed by the Environment Agency. The definitionof the attainment rate is the same as in Fig. 3-1-7.
   2. The attainment rate for the Seto Inland Sea includes the sea area of Osaka Bay.
Fig. 3-1-10 State of Riparian Water Quality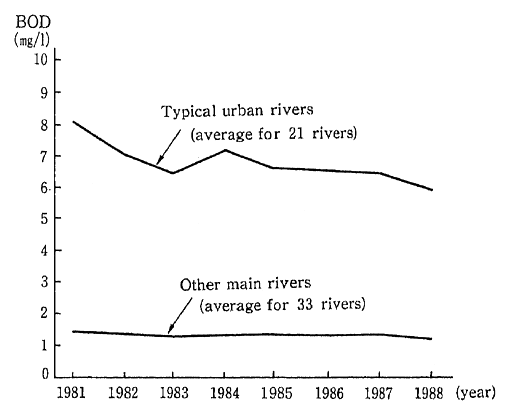 Remarks: Surveyed by the Environment Agency.
  A check of the water pollution of rivers indicates that the levels of pollution in urban rivers are high and that there have been little progress in their improvement in recent years (Fig. 3-1-10). When it comes to rivers which are significantly polluted with BOD in excess of 10 mg/l 81% of them are urban rivers. By district, more than 78% are concentrated in major cities and their peripheries (Ibaraki, Saitama, Chiba, Tokyo, Kanagawa, Aichi, Osaka, Hyogo, Nara, Wakayama and Fukuoka Prefectures).
 (4) Marine Pollution
  The number of cases in which the generation of marine pollution was ascertained in the sea waters around Japan was 934 in 1989, up seven from 1988. Of them, marine pollution by oil accounted for about 65%. By sea region, about 40% of cases of marine pollution with oil, or 243cases, occurred in Tokyo Bay, Ise Bay, Osaka Bay and the Seto Inland Sea.
  In recent years, there have been signs of a drop in the drifting of waste oil balls which are surmised as having been caused by ballast from tankers and other oils, but the drift is great to the Nansei Islands.
 (5) Pollution of Underground Water
  Underground water is highly evaluated as a source of quality and homoiothermal water, and even at present, underground water accounts for about 30% of water for use in cities (water for livelihood and industrial purposes). In the latter half of the 1975-84 period, the pollution of underground water by trichloroethylene and other chemicals came to the fore, and subsequent surveys revealed its spread in various places.
  According to surveys on the pollution of underground water in fiscal 1988, the wells which were polluted beyond the provisional water quality standards for service water were found in areas where surveys had not been previously conducted at rates of 2.0% with trichloroeth-ylene (2.9% in fiscal 1987), 4.3% with tetrachloroethylene (4.8%) and 0. 2% with 1,1,1-trichloroethane (0.2%), and the pollution was observed in various places. As regards trichloroethylene and tetrachloroethylene, therefore, controls on their discharge and underground permeation as hazardous substances were initiated in October 1989 under the Water Quality Control Law and other laws, and guidance continues to be given on 1,1,1-trichloroethane.
  On chemicals other than trichloroethylene, the Environment Agency has carried out fact-finding surveys. According to the findings of surveys performed in fiscal 1988, the rate of detecting dichloroeth-ylene was particular high, and there were some chemicals the pollution of which was in excess of the guideline of the World Health Organiza-tion (WHO) for drinking water and the standard values set by the U. S. Environmental Protection Agency for drinking water.
  Concerning the pollution caused by chrominum and other hazard-ous chemicals, several cases, albeit localized, occur every year.
3. Noise
  Noise is a form of pollution which is closely connected with the daily life and the sources of generation are diversified. Trends in the numbers of complaints about environmental pollution received by local governments are as shown in Fig. 3-1-11. Annually the number of complaints about noise is greater than that about other forms of envi-ronmental pollution.
Fig. 3-1-11 Trends in Number and Component Rate of Grievances by Type of Pollution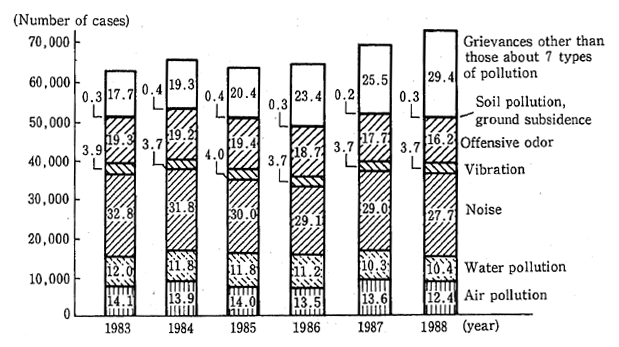 Remarks:1. Coordination Committee on Pollution, Etc.: "Report on the Results of the Survey on Number of Grievances About Pollution" (1988 Edition).
   2. The values in the figure represent component rates (%).
  The trend of complaints ratio of noise complaints by source is shown in Fig. 3-1-2. Looking at the breakdown of noise complaints by source, it shows that the greatest number of complaints is about noise from factories and working places (36.9%) and followed by construction works 19.8%). Besides, complaints about neighborhood noise, such as the "karaoke" (amplified singing to taped accompaniment) at midnight saloons and the sounds of pianos and air-cooling systems used in house-holds accounts for 36.8% of all complaints about noise (Fig. 3-12).
Fig. 3-1-12 Breakdown of Grievances About Noise, Vibration and Offensive Odor (By Type of Origin; 1988)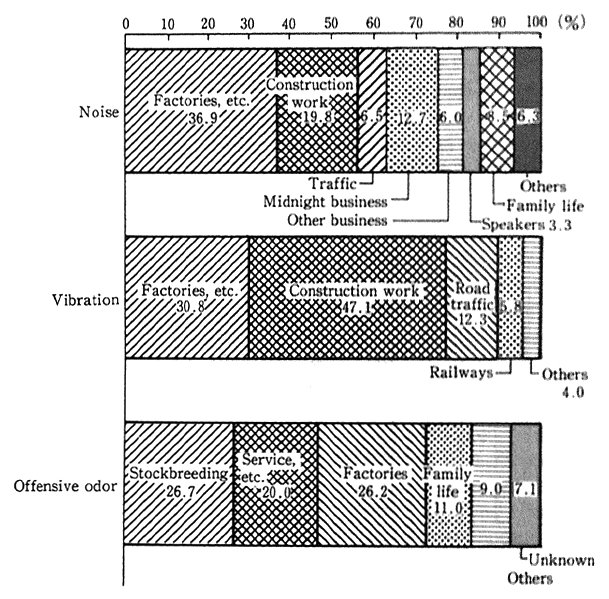 Remarks: Surveyed by the Environment Agency.
  In the neighborhood of some transit facilities, on the other hand, the noise generated by the trips of automobiles, aircraft and Shinkansen trains, to cite a few, have become major factors on traffic pollution.
  As regards the noise of automobiles, the findings of their noise measured at 4,509 points in 1988 show that the number of points where the EQS was achieved in all four time zones--morning, noon. evning and night--was small, accounting for 14,5% (652points). A check of the points measured for five consecutive years from 1984 shows that the noise was in excess of the standards at the majority of the points in all the four time zones, somewhat worse than in the preceding year, and there were no improvements in the state of excess over (the request limits beyond which prefectural public safety commissions are request-ed to take necessary measures as prefectural governments have found under the Noise Regullation Law that the living environment along roads is extremely impaired) (Fig. 3-1-13).
  In respect of the noise caused by Shinkansen trains, considerable improvements have been observed due to the implementation of measures, but there still exist areas where the EQS has not been satisfacto-rily achieved, so that there is the need for further efforts.
Fig. 3-1-13 Secular Changes in Attainment of Environmental Quality -Standards and Excess of Required Limits at Identical Points (Results of monitoring continuously done at 028 points since 1983)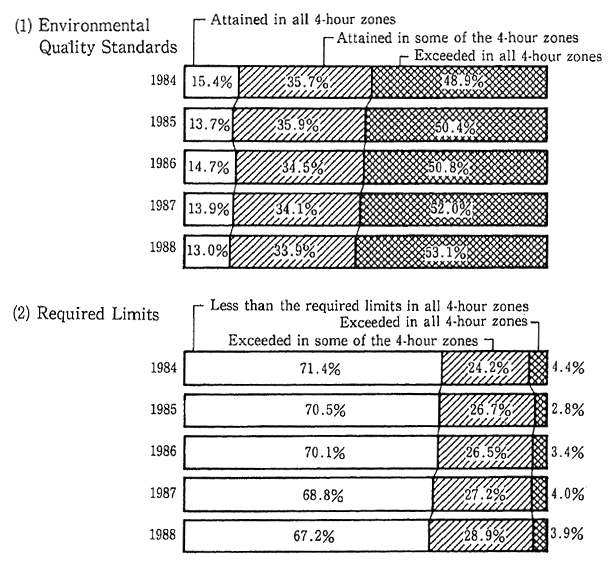 Remarks: Surveyed by the Environment Agency.
  As for the noise caused by aircraft, significant improvements have been made at major airports, but as there are few airports where EQS is satisfactorily achieved at all points, it is necessary to make further efforts for attainment of EQS.
4. Vibration
  The number of complaints about vibration was greater than last year, but in terms of their share in all sorts of complaints about environmental pollution, the number has leveled off in recent years. The main sources of generation consist of construction works, factories, working places and road traffic. The rate of complaints by source in 1988 is shown in Fig.3-1-12.
  On the vibration caused by Shinkansen trains, the achievement of the recommended value (70 dB), among others, is made along each line. The value has been achieved at most points, except some points closer to the tracks, along the Tokaido and Sanyo Shinkansen lines, and it has been achieved at all points along the Tohoku and Joetsu Shinkansen lines.
5. Offensive Odors
  In terms of the number of complaints, offensive odors rank second following noise among seven major types of pollution, account-ing for 16.2% of all complaints in 1988. The rate of complaints by source is shown in Fig. 3-1-12.
6. Soil Pollution
  Soil pollution is cumulative as heavy metals and other hazardous substances contained in exhaust smoke or waste water are accumulated in the soil via such media as air or water, etc., and adversely affect crops and the like for long.
  The elaborate survey conducted in fiscal 1988 show that there were no areas where cadmium, copper and arsenic, designated as specified hazardous substances under the Law for the Prevention of Soil Pollution in Farmland had not been detected in excess of the standard values. The aggregate total number of areas where those chemicals has been detected since fiscal 1971 is 128 and their aggregate area is 7,050 hectares. For 4,180 hectares (59.3%), kyakudo (the bringing in of earth from another place for mixture in the soil) and other measures will have been completed (by the end of fiscal 1989).
  In recent pears, in the utilization of land at the sites from which factories, experimental and research institutions and other facilities were moved out, mercury and other hazardous substances have been detected, posing issues on soil pollution in built-up urban areas.
7. Land Subsidence
  Ground subsidence is primarily caused by the excessive pumping up of groundwater. Continuous ground subsidence has caused damage to buildings, harbors, farmland and agricultural facilities in wide areas.
  Throughout Japan, ground subsidence seemed to stop recently, but in fiscal 1988 the area of ground subsidence increased a little. In addition, in the northern part of the Kanto Plain, the region of ground subsidence considerably expanded, and in the Chikugo-Saga Plains remarkable ground subsidence was continuing as in fiscal 1987.
8. Wastes
   The wastes, as referred to here, include sludge which comes out in the business performance, waste oil and other industrial waste matter, and general waste, including miscellaneous livelihood waste water and other waste which are generated in the everyday life and paper trash which is discharged by business offices.
  In recent years, there have consistently been signs of a rise in the volume of general waste which comes out in the daily life, and it came to 39,590,000 tons in fiscal 1987 (38,080,000 tons in fiscal 1986) (Fig. 3-2-14). Wastes are diversified as the consumer performance has been broadened in recent years, and their reasonable disposal is posed as an issue. In conjunction with ongoing automation in business offices, the volume of waste paper is rapidly increasing.
  In the quantity of night soil dipped up, there have been signs of a decrease in the last several years due to the increase in the population for whom flush toilets are available and other factors. The quantity stood at 37,640,000 kiloliters in fiscal 1987 (38,150,000 kiloliters in fiscal 1986).
Fig. 3-1-14 Trends in Discharge of Trash in Conjunction With Daily Life (1977-87)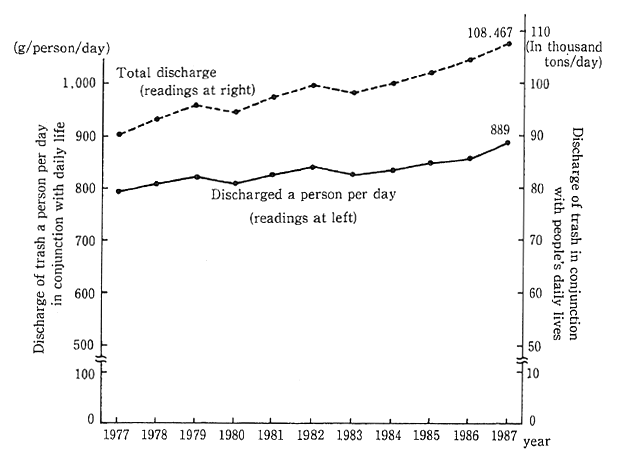 Remarks: Surveyed by the Environment Agency.
  The discharge of industrial wastes came to 312 million tons in fiscal 1985, up 7% from the 292 million tons marked in 1980.
  As regards the disposal of wastes, the acquisition and mainte-nance of final disposal plants are posed as a problem, and particularly in major cities, as a grave issue. Above all, in the Tokyo sphere (Tokyo and the three prefectures of Saitama, Chiba and Kanagawa), which accounts for about a quarter of Japan's generation and final disposal of general wastes, the residual capacity of final disposal plants was esti-mated to be enough for only about five years as of the end of fiscal 1987, and as disposal can no longer be done at final disposal plants in its jurisdiction, 36% of municipalities cope with this situation, such as by charging the work to private disposal contractors who have disposal plants in municipalities in other prefectures. For about 90% of munici-palities where general waste is disposed of at their own plants, it is projected that reclamation will be completed by 1995.
  When it comes to industrial wastes, the residual capacity of final disposal plants in the entire Tokyo sphere is estimated to be enough for only about one year. For example, about 65% of the fill-in of industrial wastes generated in Tokyo is disposed of in other prefectures.
  Given those developments, some local governments are taking measures, such as prior consultations on the bringing-in of industrial wastes generated outside their jurisdiction and resolutions by their municipal assemblies against the installation of industrial waste dis-posal plants. Thus the acquisition and maintenance of final disposal plants has become all the more important and urgent task.
  When it comes to final disposal plants, it is important to control in an appropriate manner the plants and the sites which remain after the disposal of wastes. It is also necessary to strive to appropriately dispose of, make lightweight and recycle hardly disposable wastes which appear in conjunction with changes in configuration and discharge form.
9. Chemicals
  Chemicals are diversified both in kind and use, and tens of thousands of chemicals are industrially produced at present. In the production, distribution, utilization, discharge and various other proces-ses, some of them are discharged and remain in the environment, giving rise to environmental pollution.
  Given this factor, the Environment Agency is carrying out envi-ronment surveys to spell out the water quality, bottom deposits and other facts about pollution in order of chemicals highly residual in the environment for an assessment of their safety in the environment. For chemicals, it is necessary to continue checking their levels of concentra-tion in the environment over time, and it is made a practice to do biological and other types of monitoring on them with fish and so forth used as parameter organisms-
  The rates at which major pollutants have been detected in the biological monitoring are shown in Table 3-1-15, and it has been found that the concentration of PCB, DDT and other chemicals the production of which is already suspended is at high levels, suggesting that it takes a long time for chemicals discharged into the environment to cease to remain. As regards PCB, waste PCB in liquid form and so on are recovered and stored after a ban on its production, but it has now become a task to step up the appropriate disposal of residual waste PCB in liquid form and establish processing methods for PCB-containing condensers and transformers, etc. As the pollution of underground water by trichloroethylene and other chemicals has come to the fore, controls are exercised under the Water Pollution Control Law and the Law Concerning the Examination and Regulation of Manufacture, Etc. of Chemical Substances (herein after referred to as the "Chemicals Exami-nation and Regulation Law").
Table 3-1-15 Rate of Detection of Main Pollutants (1988)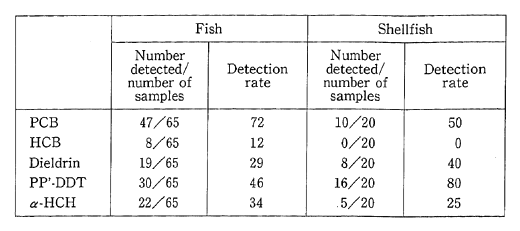 Remarks:1. Surveyed by the Environment Agency.
   2. The use, etc., of each chemical substance is as follows:
   PCB (polychloride biphenyl) was used as transoil and a thermal medium. The use was temporarily suspended from 1972.
   HCB (hexachlorobenzene) was used as an antiseptic and an anti-mold agent. The use was suspended from August 1979.
   Dieldrin was used as an insecticide. The use was suspended from October 1981.
   PP'-DDT was used as an insecticide. The use was suspended from October 1981.
   -HCH (hexiachlorosynclohexan) was a pesticide. The use was suspended from 1971.
  Of all organic tin compounds used as anti-pollutants against butyltin and other agents, tributyltin compounds were detected primar-ily in the fish and shellfish of inner bays and closed waters in biological monitoring surveys conducted in fiscal 1985, so that yet another series of surveys has been under way on fish and shellfish particularly in the Seto Inland Sea since fiscal 1986 to grasp the concentration and scope of pollution. The findings obtained before fiscal 1989 suggest that there was the need to take account of the use and other conditions and continue carefully watching the state of the pollution and step up measures, although it generally leveled off and its levels were not immediately dangerous (Fig. 3-1-16).
Table 3-1-16 Secular Changes in Concentration of Tributyl Tin Compounds (Seto Inland Sea including Osaka Bay, 1983-88)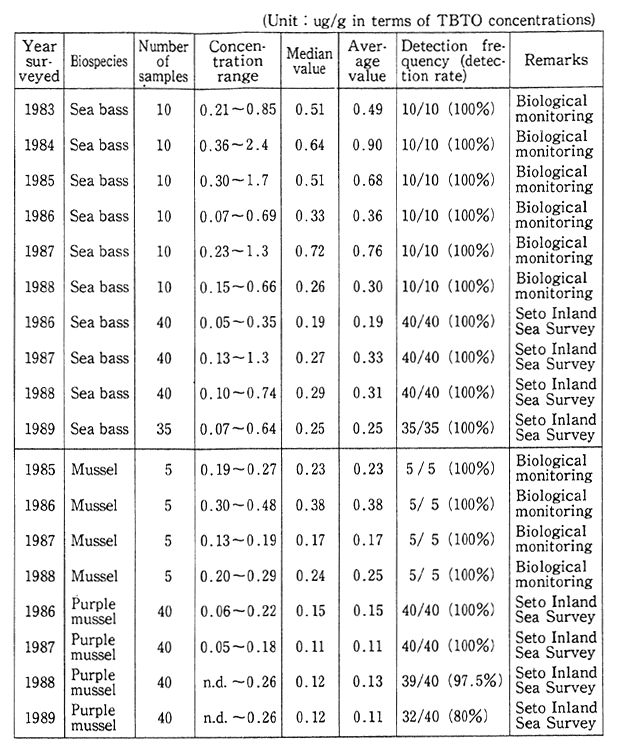 Remarks:1. Surveyed by the Environment Agency.
   2. "n.d." represents In computing average values, "n.d." is set at 1/10 of the detection limit,
   3. As for the samples of sea basses in 1983 and 1984, some of the samples used in the biological monitoring before and preserved were analyzed.
Table 3-1-17 State of Environmental Pollution by Tributyl Tin Compounds [In terms of TPT concentrations (cl)]

Remarks:1. Surveyed by the Environment Agency.
   2. In computing average values, "n.d." was set at 1/10 of the detection limit.
  As regards triphenyl tin compounds, high concentrations were broadly detected in a survey conducted in fiscal 1988 (Table 3-1-17). In light of the prevailing conditions of the pollution, it is inconceivable that man s health will be immediately affected, but if the prevailing levels continue over time as they are, it might be adversely affected, so that there is the need to promptly carry out necessary surveys and work out required measures.
  On the basis of those survey findings and other factors, screws tributyltin oxide (TBTO) were designated as Category 1 of specified chemicals (chemicals which are hardly soluble, highly cumulative and chronically toxic and whose production and imports without permission were prohibited) and seven triphenyl tin compounds as Category 2 of specified chemicals (chemicals which are hardly soluble and chronically toxic but not highly cumulative and whose production and imports may be controlled, wherever necessary) under the Chemicals Examination and Regulation Law in January 1990.
  Surveys and researches have been accumulated in Japan on dioxins after they were detected from the ash of incinerated trash and from chlorophenol herbicides. In fiscal 1985, fact-finding surveys on their pollution in the general environment were started. According to the findings, it is inconceivable that pollution by dioxins will immediate-ly produce damage on man's health, but dioxins have been detected from the environment though their concentration is low. The findings in fiscal 1988 are given in Table 3-1-18.
Table 3-1-18 State of Environmental Pollution by Dioxins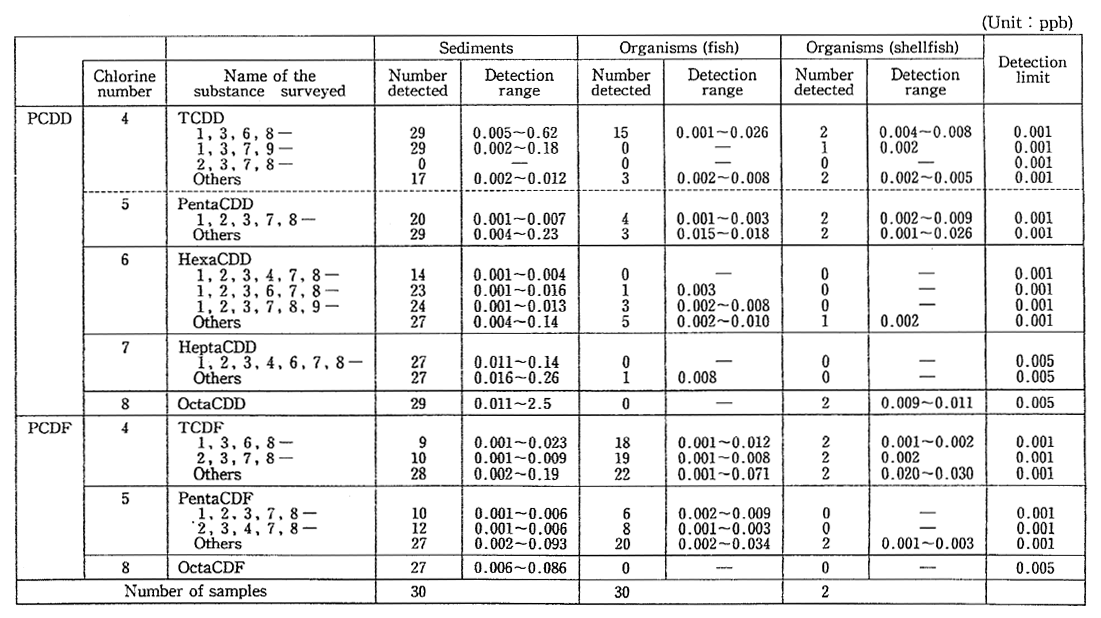 Note: "ppb" represents ng/g.dry for sediments and ng/g.wet for organisms.
Remarks: Surveyed by the Environment Agency.
II. Present Situation of Natural Environment
  In light of its geographical and climatic conditions, Japan is blessed with nature in a significantly diversified form. But nature is being strikingly transformed as it is influenced in many ways in its association with man's activity.
  Here, let us take a look at the present situation of the natural environment which is being transformed.
1. State of Natural Environment
 (1) Natural Environment
  Stretching about 3,000 kilometers north and south, the Japanese Archipelago is topographically complicated, such as with many vol-canoes, mountains with significant undulations and varied coastlines. Climatically, it extends from the subarctic to the subtropical zones with rich precipitation throughout the year. In light of such climate and landscape, Japan is abundantly blessed with nature, such as with rich and diversified vegetation, a wide variety of wild animals taking advan-tage of this vegetation as their primary life infrastructure, and splendid landscape where diversified vegetation couple with intricate topographi-cal features,
  Nonetheless, those features of nature in Japan have been affected in many ways by the long history of man's activity, and the natural environment of the national land remains in various conditions with some districts retaining many features of nature and others retaining not so many. Thus, quite few districts retain nature in its perfect shape.
  As changes in nature have spread across prefectural borders and enlarged or, conversely, changes have been produced in vegetation as a result of the decline in the utilization of nature, such as the gathering of firewood and wood for charcoal and "kaya" (Torreta mucifera), the natural environment in Japan has been strikingly transformed in recent years.
  To conserve in an appropriate manner the natural environment which is being rapidly transformed, it is primarily necessary to come to accurate grips with its present state and the direction in which it is changing.
  Given this necessity, in the National Survey on the Natural Environment (the Green Census), information about the natural environ-ment is collected and accumulated, both systematically and with time, in regard to inland areas (flora, fauna, topography and geology), surface waters (rivers, lakes and marshes) and coastal areas (ecosystems in shallow-sea areas, such as coastlines, tidal flats and coral reefs). The survey was performed three times at an interval of roughly five years since it was done for the 'first time in fiscal 1973, and the fourth survey has been under way since fiscal 1988.
  Here, let us see the state of green and natural landscape across the country with special reference to survey findings.
 a. State of Vegetation Across the Country
  Japan's humid climate and landscape serve to foster rich forests across the country with the exception of some exceptional environ-ments, including rocky high mountains. In this context, it might be said that forests constitute the primary part of green in Japan.
  Beside lumber production, the forests are equipped with diver-sified functions, such as the preservation of th. national land and the conservation of the natural environment) and according to "surveys on vegetation" in the second National Survey on the Natural Environment (in fiscal 1979) and the third (in fiscal 1983-87), all sorts of forests accounted for 67.5% of the national land, itself a high rate in the world. And the rate has leveled off in recent years (Fig. 3-2-1).
Fig. 3-2-1 Trends in Area of Forests in Japan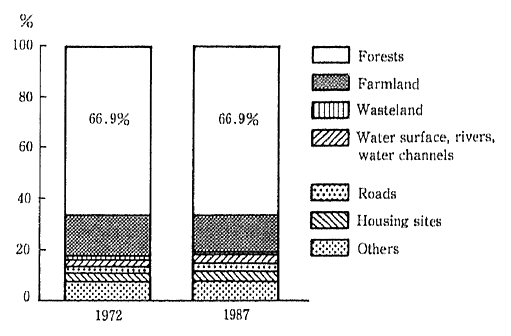 Remarks: Surveyed by the National Land Agency.
  But its breakdown indicates that many of the forests consist of areas with "sugi" (Taxodicaceae), "hinoki" (Chamaeyparisobtusa) and "karamatsu" (Larix leptolepis) (24.7% of the national land) and secon-dary forests which came into being as a result of the gathering of firewood and wood for charcoal and other influences (24.6% of the national land), whereas natural forests account for a mere 18.2% of the national land.
  One significant feature of green in Japan is that diversified kinds of forests grow, depending on broad climatic belts and topographical conditions. A check of forests by climate belt indicates that natural forests and grassland account for many portions of the alpine zone, cold and high in altitude, and the sub-alpine zone, but in the cool temperature zone which spreads primarily in northeastern Japan, the rate of natural forests which consist primarily of forests of "buna" (Faguscrenata) and other deciduous broad-leaved trees stands at 29.6%, and the natural forests in the cool temperature zone with high rates of afforested land and secondary forests consist primarily of forests of "buna." In the warm temperate zone which spreads primarily in southwestern Japan, the rate of all sorts of forests stands at 58.8 %, but the ratio of residual natural forests is extremely low with 2.3%, and they only remain in extremely small numbers on the slopes, offshore islands and other places hardly usable by man and at the sites of Buddhist temples and Shinto shrines.
  Those natural forests consist primarily of chinquapin, oak, "tabu" (Machilus sp.) and other laurel forests. In the Nansei Islands and the Ogasawara Islands, both coming in the subtropical zone, the forests of the Camellitea japonica region and mangroves are observed, but one feature of this region is that the rate of natural forests is high with 47. 1%, whereas that of all sorts of forests is low with 50.1% (Fig. 3-2-2).
Fig. 3-2-2 State of Vegetation Across the Country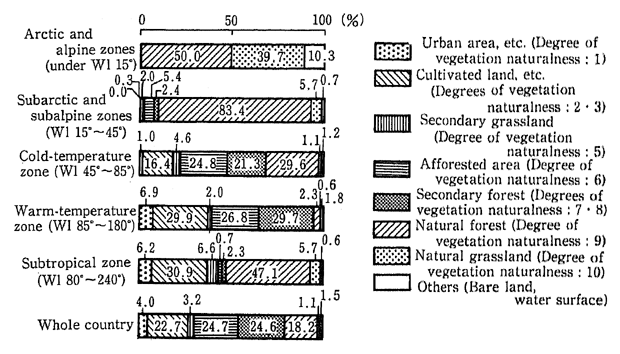 Note: 1. Prepared according to the results of the 3rd Basic Survey on Conservation of the Natural Environment.
Note: 2. The classification of climate zones is made according to the temperature indices computed on the basis of the mesh climate values of the Meteoro-logical Agency.
Note: 3. The temperature index (Wl : the index of warmness) is the value gained by adding the value gained by deducting 5 degree C from the average tempera-ture months in which the monthly average temperature exceeds 5 degree C.
Note: 4. The highest temperature zone on the flatland in Japan is the subarctic zone, whereas the arctic and alpinezones are confined to the higher parts of the mountains.
  A wide variety of flora and fauna grow as forests in Japan are diversified. Fauna differ, depending on the type and scale of each forest, and in a perspective of working for a stable sustenance of diversified fauna, it is necessary to maintain forests of various types which are required for their habitats (Fig. 3-2-3).
Fig. 3-2-3 Distribution of Japanese Bears and Analogies of Vegetation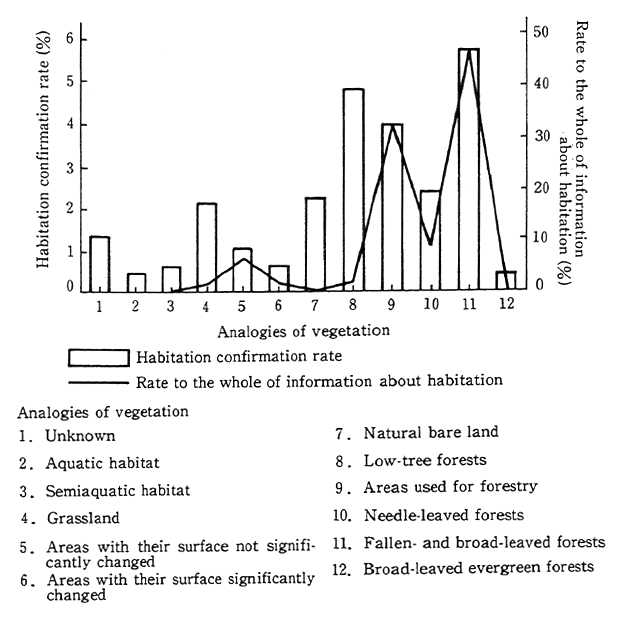 Note: Based on the 2 nd and 3 rd Basic Surveys on Conservation of the Natural Environment
  Above all, the secondary forests which account for a sizable 24. 6% of the national land are something which came into being under the influence of man's activity, but there is the need to work for their pertinent conservation along with various types of natural forests in terms of maintaining the diversity of biological species, as some of them form an environment favorable for the habitation of animals together with natural forests, which constitute the core for them, whereas others grow flora and fauna of their own.
  Next, a check of the conservation of green across the country in terms of the combined rate of natural parks and state-designated nature conservation areas reveals that the rate is high in order of natural vegetation in the arctic and the alpine zones (89.0%) and natural vegeta-tion in the sub-arctic and the sub-alpine zone (46.2%). The designation rate for natural vegetation in the Fagaetea crenatae region, which features the highest rate among all types of natural vegetation, is lowest with 21.3% (Fig. 3-2-4).
Fig. 3-2-4 Preservation of Vegetation Across the Country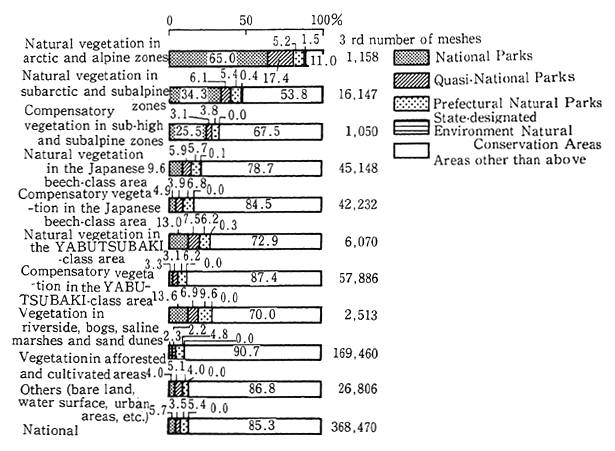 Note: 1. Based on the 3 rd Basic Survey on Conservation of the Natural Environ-ment
Note: 2. The Japanese beech-class area corresponds to the whole temperate zone, and the YBUTSUBAKI-class zone to the the warm temperature and subtropical zones.
Note: 3. By compensatory vegetation, it means secondary forests and and grass. land which came into being under the artificial influence.
 b. State of Big Trees and Forests Including Big Trees
  In the fourth National Survey on the Natural Environment (which began in fiscal 1988), big trees, which could well be described as local symbols and typical examples of affluent nature, were surveyed across the country for the first time. The gist of this survey is as follows (Table 3-2-5).
 (1) Big trees, reported as being more than 3 meters in trunk diame-ter, totaled 61,441. When those standing too deep in the mountains to survey are added, the total figure might come close to 100,000.
 (2) A comparison of trunk diameters without relevance to tree types indicates that camphor trees accounted for nine of the Best Ten. Japan' s biggest tree is the camphor tree which stands in Gamo Town, Kago-shima Prefecture.
 (3) A check of each prefecture's Best Three reveals that the types of trees which fall in this category are relatively limited, many of them consisting of camphor trees, "sugi," "keyaki" (Zelkova serrata) and ginkgoes. By region, camphor trees are concentrated in areas south to Kinki Region and "keyaki" and ginkgoes in eastern Japan, whereas "sugi" spread all over the country-
 (4) When representative big trees are sampled by tree type and their location, environment and conservation are analyzed in regard to 19 sampled species which are typical high trees in Japan, full protection and designation are assured for those which are in the neighborhood and relatively big, such as ginkgoes, "kaya ," "keyaki," and camphor trees. Many of them are religious objects or associated with historical facts and folklore. But conservation is fully extended to may tree species, such as "mukunoki" (Aphananthe asperat), "tabu" and "harunire" (Ulmus davidiana), and "buna" and "mizunara" (Quercus crispula) which are dense in the mountains.
Table 3-2-5 Best 10 Huge Trees in Japan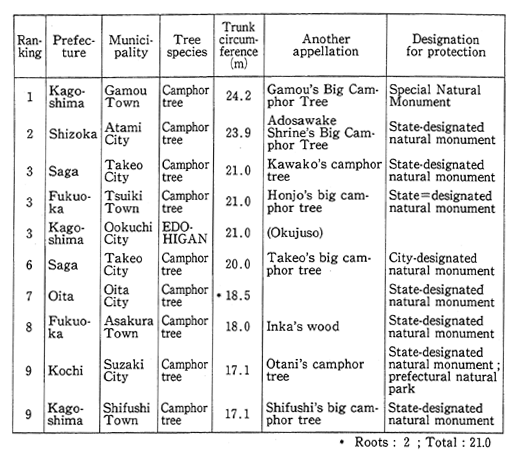 Note : Okinawa Prefecture has reported about banyan trees, 23.5 m, 19.9 m and 18.0 m in truck circumference, but the above list does not include the trees, which are peculiar in configuration.
 (5) To check the state of big trees in major urban areas, the total numbers of big trees measured for administrative ordinance-designed cities were compared. The findings show that the total figure was greatest for Tokyo's 23 wards with 1,257, which was followed by Kyoto City with 228 and Sapporo City with 123. Presumably, Tokyo has relatively many big trees as it has many historic, broad green tracts of land, such as the Imperial Palace, Hamarikyu Detached Palace and Shinjukugyoen Garden.
  With that national survey as a turning point, a National Forum for Protection of Big Trees and many other projects are performed across the country for the conservation and utilization of big trees.
 c. State of of Natural Landscape
  Natural landscape is something which gives to man's eyes the impression of an integration of environmental factors, such as topogra-phy, geology, vegetation and wildlife. It is an important factor for the conservation of the natural environment. For this reason, a national-level natural landscape survey was incorporated for the first time in the third National Survey on the Natural Environment.
  For the survey, the topographical and other features which form the basis of natural landscape are classified into 80 kinds in 10 cate-gories. Criteria for the selection of landscape, such as features which appeal to the sense of sight, and the scenic spots which have fallen under those categories are all enumerated.
  The nation's natural landscape resources thus sampled total 15, 468, including 6,668 land scenes and 8,800 water scenes.
  In terms of distribution by type of landscape, largest in number are falls (2,488), which are followed by volcanoes (1,158), gorges and ravines (996), isolated non-volcanic peaks (993), lakes and reservoirs (872), sea cliffs (734) and sand and rocky shores (632). Those seven types account for a little more than half of the sources surveyed.
  A check of the distribution by type and region reveals that volcanic scenes are most concentrated in Tohoku Region and mountain-ous scenes in Chubu and Tohoku Regions. Riparian scenes are many particularly in Chubu and Tohoku Regions, and trends in their distribu-tion are similar those in the distribution of mountainous scenes. The scenes of lakes and marshes are most concentrated in Tohoku Region, whereas there are many seacoast scenes in Kyushu Region for which the length of coastlines is long (Table 3-2-6).
  Classified according to the way landscape resources are looked at, close scenes accounted for 44%, intermediate scenes 34% and distant scenes 22%. By point of view, scenes viewed at nonspecific points accounted for 32% and those viewed on the trails stood at 26%. There are signs that specific points of view are chosen for scenes which are highly rare and small in scale.
  In terms of forms in which landscape resources are broadly utilized, recreation accounted for 37%, ordinary sightseeing 35% and learning about nature and pursuit of natural beauty 28%.
  In terms of association with districts, the utilization of scenic spots as places for rest and pleasure accounted for 40%, their use as local symbols 37% and their utilization as places for learning 23%. Their rates as symbols are high for highly rare scenes, such as geysers, natural bridges, rock gates, stone gates and blow holes, and for highly impressive scenes, including volcanoes, isolated non-volcanic peaks and falls. On the other hand, limestone caves are often used as places for learning.
Table 3-2-6 Type-Specific Number of Resources for Natural Scenery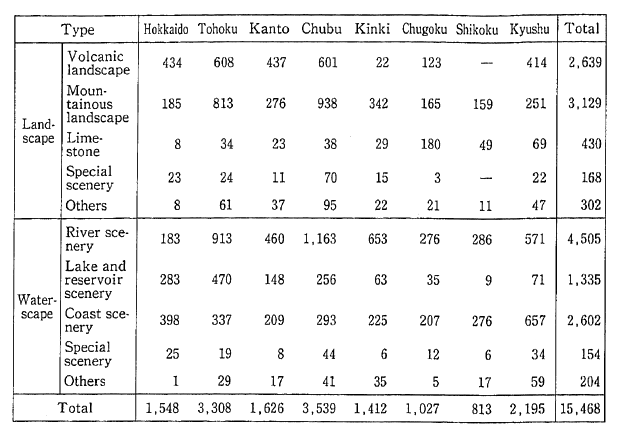 Fifty-eight percent of all landscape resources are placed under some system of protection or the other. The resources which are partially or entirely located in national parks accounted for 23%, and those partially or entirely located in quasi-national parks 15%. Particu-larly, many of the resources in volcanic and alpine areas are designated as national parks. On the other hand, routine scenes, such as fluvial and marine terraces, and scenes with limestone are not placed under a system of protection in many cases.
  Centering on those low in altitude and close the living space of people like the scenes of rivers and seacoasts, two-thirds of all land-scape resources are affected in some way or the other by man's activity. In particular, there are cases where resources of the sort the value of which is not fully appreciated as natural landscape like the patterned ground in which earth and rocks are arrayed in geometrical fashion are artificially affected in various ways.
 d. State of Natural Environment Close to Us
  It is important not only to conserve nature which represent Japan but to keep the natural environment close to us in a good condition.
  With this in mind, let us take the National Capital Region as an example in checking to see how the natural environment is kept.
  In the National Capital Region, the utilization of land for urban purposes in conjunction with modern industrialization and urbanization has been progressed since the Meiji Era and also with further efforts for industrialization and urbanization throughout the period of postwar reconstruction and the period when the Japanese economy rapidly grew.
  In Tokyo Bay, 20% of its space is reclaimed, and its coastline accounted for 82% in the whole bay and 95% in the inner bay, consisting in an artificial coastline. As a result, 89% of the tideland which once was Japan's second largest following the Sea of Ariake has disappeared. Nonetheless, tidelands, albeit not many in number, in Tokyo Bay, such as at the estuaries of the Edo and Ozeki rivers, serve as affluent habitats for bentosu, fishes and birds. They also turn out to be Japan's largest place for the flying in of migratory birds and highly precious places where people hold communion with nature, such as with shell gathering and bird watching.
  A check of land utilization in the National Capital Region indi-cates that from immediately after the end of the Pacific War to 1960 or so, when the policy of a high economic growth was initiated, there was progress in the utilization of land for urban purposes in Tokyo and Kanagawa Prefecture where rapid urban sprawls began, and farmland and afforested areas were significantly turned into areas nonpermeable by water. Later, diversion into areas nonpermeable by water was on the downturn, but in Tokyo's peripheral prefectures, such as Saitama, Chiba, Ibaraki and Tochigi, where the pace of urbanization was conspic-uous, the diversion continued.
  A check of degrees of human disturbance of natural vegetation in the National Capital Region since 1980 (Fig. 3-2-7) reveals that areas with secondary forests with the degrees of vegetation marked at 7 and 8 and land under cultivation (paddy and upland fields) with the degree of vegetation at 2 were on the decrease, whereas afforested areas with 6 and built-up and developed areas with 1 were on the increase. Particu-larly in areas with secondary forests with the degrees of vegetation at 7 and 8, there exist a wide variety of botanical species along with areas of natural 'forests, and the species of wildlife, sustained by those forests, are rich. Therefore, it is important to work for their conservation as invaluable assets which exist close to us.
Fig. 3-2-7 Changes in Degree Natural Vegetation in National Capital Region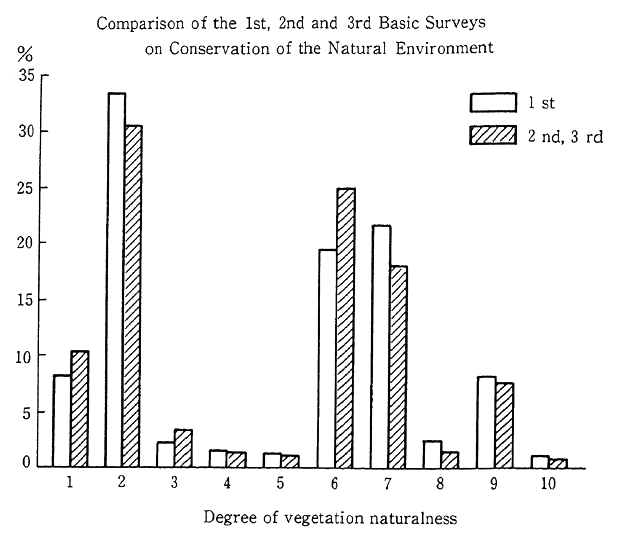 Source: Environment Agency : "Basic Survey on Conservation of the Natural Environment"
  As regards lakes and reservoirs, which are invaluable assets sustaining man's life and production, there exist 51 lakes and reservoirs, more than 1 hectare in area, with a total area of about 290 km2 (4.7 times the area of the inside of the Yamanote Line). But the area of natural lakes and reservoirs in the National Capital Region has continued to decrease due to inning and reclamation. Since 1945, 18 lakes and reservoirs with a combined area of about 54 km2 have been inned and reclaimed, or about 16% of the space of water available in 1945 has disappeared.
  A case in point is the Kasumigaura. The water surface has gone by about 25 km2 since 1918, as farmland has been briskly developed in attempts to sustain Tokyo, a sprawling major city, with food supply.
2. Present State of Wildlife
 (1) Characteristics of Japan's Biota
  Japan's natural environment is so rich and diverse that there exists a wide variety of flora and fauna.
  As for the numbers of wildlife species inhabiting the country, it is reported that there are 136 species of mammals, 530 of birds, 76 of reptiles, 52 of amphibians, 187 of freshwater fish, approximately 29,000 of insects and 5,565 of seminiferous plants and ferns (The numbers are only of those identified and stabilized in taxonomy).
  Such flora and fauna in Japan were formed in the diastrophical process of its interlock with, and subsequent separation from, the European-Asian continent, and consequently the variety in biota includ-ing many endemic species is richer than in other areas in the latitude.
  Since Japan has a large population in its limited land, the utiliza-tion of land is high in density with human activity having a greater influence on the growth and habitats of wildlife. In conjunction with development and industrial activity, much wildlife that used to be very common and familiar have been disappearing one after another, and not a few are on the verge of extinction.
 (2) Present State of Endangered Species
  Wildlife species which have long inhabited the Japanese Archipel-ago imply in themselves a long history of evolution. They are not just precious sources of information but play an indispensable role as eco-systems components in sustaining the circulation of matters and retain-ing diversity of the sort which may respond to changes in the environ-ment. Once they are lost, it is impossible to artificially regenerate the species. At a time when wildlife is increasingly oppressed, it is an urgent task to prevent their extinction.
  For this reason, the Environment Agency carried out a "Survey for the Selection of Species of Flora and Fauna Urgently Requiring Protection" for three years from fiscal 1986 in attempts to define endangered or threatened species of flora and fauna in Japan.
  There are 20 vertebrate species and subspecies which are consid-ered to be extinct and an additional 238 are considered to be threatened: with invertebrates, more than 600 species and subspecies are on the verge of extinction (Table 3-2-8).
Table 3-2-8 Number of Japanese Vertebrate taxa Included in the Endangered Species of Fauna and Flora Identified by the Survey
 * Taxa means species and subspecies. Those in parentheses cover only the species.
 * The range of species and subspecies in Japan covers only those whose scientific names are established.
 * "Vulnerable" Taxa believed likely to move into 'Endangered' Category in near future if the casual factors continue operating.
 * "Extinct" Taxa not definitely observed during the past 50 years or taxa whose survival is definitely denied.
 * "Endangered" Taxa in danger of extinction and whose survival is unlikely if the casual factors continue operating.
 * "Rare" Taxa with small populations that are not at present 'Endangered' or 'Vulnerable' but are at risk.
  The survey revealed that the species endangered include Japanese otter, Iriomote cat, Ryukyu long-tailed giant rat and so forth in Mammalia, short-tailed albatross, golden eagle, Pryer's woodpecker, Blackiston's fishowl and so forth among avian species, Hokuriku sala-mander, "semaruhakogame" or yellow-marginated box turtle (Cisto-clemmys flavomarginata), etc. among amphibians and reptiles, and "miyakotanago" (Tanakia tanago), "Musashitomiyo" (Pungitius sp.), "ito" (Hucho perryi), etc. in the freshwater fish group.
  The distribution of many of those endangered species/subspecies defined in the survey are fairly limited. Basically, the endemic species of limited distribution are often very vulnerable by nature, they are easy to be driven to extinction due to reckless hunting, changes in the environ-ment of the habitat or changes in the conditions of habitation, such as the invasion of exotic species and so on. Among the threatened species, subspecies, however, there were conspicuously many species/subspecies endemic to the Nansei Islands, Ogasawara and Tsushima, suggesting that the natural environment as for wildlife habitat in those areas has been degradated.
  Another aspect discovered in the Survey was that the endangered or threatened species include those used to be commonly seen through-out the country but disappeared rapidly along with overhunting and habitat loss.
  The Historiographies prove that Japanese otters used to inhabit broadly along the seacoast and riversides of Hokkaido, Honshu, Shiko-ku and Kyushu in the Edo Era. Because of reckless hunting in pursuit of fur, nevertheless, their habitat started decreasing drastically in the early Showa Era, and it is considered that even a very small remainder in the Seto Inland Sea and the Sea of Uwa had ceased to exist due to changes in river banks and coastal areas and also to the decrease of fish for food because of riparian pollution during the postwar years. A few Japanese otters which are believed to remain in the southwestern part of Kochi Prefecture are now on the very brink of extinction.
  Japanese storks and Japanese crested ibises are other examples that used to broadly range in the Honshu Island. They fed on fish and frogs and other small animals in paddy fields and marshes on the plains and lived in colonies in huge trees on the nearby hills, but their number has sharply dropped due to uncontrolled hunting, to contamination with pesticides and to deterioration of their habitat. At present, there are only two native crested ibises remaining. All the population of Japanese storks in wild had disappeared, only the ones born on the continent occasionally fly to Japan. "Miyakotanago," a freshwater fish which used to be seen broadly in Kanto Region, inhabits small natural water-ways with spring water. Such environment has sharply decreased due to bank protection works of small rivers and other factors, and only a small number of habitats remain at present.
  Reckless or uncontrolled hunting in the past had partly contribut-ed to the rapid decline of wildlife, but the main cause is the deterioration of natural habitat such as felling of forests, extinction of wildernesses and marshland in conjunction with the nationwide execution of develop-ment projects, the transformation of rivers, streams, coastlines, deterio-ration of the water quality and so forth. Those changes have led to the disappearance of nesting sites or dens, the reduction and fragumentation of their home ranges or territories and the decrease of prey animals, to say a few, thereby presumably giving rise to a nationwide degeneration of species.
 (3) Present State of Migratory Birds
  Since Japan is located along routes for migratory birds, about 75% of bird species observed in Japan are migratory. Particularly as regards the family Aratidae (a taxonomic order which includes geese, ducks and swans), most of which are winter birds, the Environment Agency approaches prefectures across the country and carries out a survey throughout the country in mid-January every year, for they are typical migratory birds but include some game species.
  According to a survey conducted in January 1990, a total of 1,710, 000 wild geese, wild ducks and swans were observed, and there are tendencies of a rise from the number 1,030,000 countedin 1970 when the survey was started. In particular, the number of swans was somewhere between 10,000 and 20,000 from 1970 to 1984 but exceeded 40,000 in 1990, and that of wild geese, stayed somewhere between 5,000 in 1970 and 10, 000 in 1986, exceeded 20,000 in 1990, suggesting that an rapid increase in number have been observed in recent years.