South Kanto, Chubu, Kinki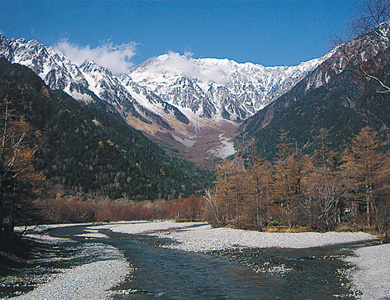 Chubu Sangaku National Park
Designation: 1934/12/04
Area: 174,323 ha
This mountainous park has a series of mountains over 3,000m, including Mt. Hakuba, Mt. Tateyama, Mt. Yari, Mt. Hotaka and Mt. Norikura of the Northern alps. Rivers and streams such as the Kurobe River and Azusa River are beautiful. There are a number of flower gardens in Mida-gahara, Goshiki-gahara, etc. Alpine plants are beautiful in the summer. This area is an important habitat of the ptarmigan.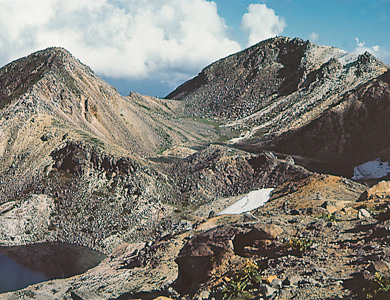 Hakusan National Park
Designation: 1962/11/12
Area: 47,700 ha
Hakusan has been regarded as one of the three most sacred mountains in Japan, along with Mt. Fuji and Mt. Tateyama, and has long been the object of religious worship. This park is rich in alpine plants. Many plants have been named after Hakusan. This area is famous as a habitat for black bears and antelopes.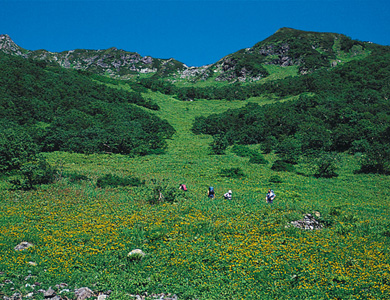 Minami Alps National Park
Designation: 1964/06/01
Area: 35,752 ha
This park extends into Yamanashi, Nagano and Shizuoka prefectures. There are many mountains over 3,000m such as Mt. Kitadake (3,192m), the second highest peak in Japan. Alpine plants live in Mt. Kitadake and Mt. Senjogatake, and indigenous plants can also be seen in this area.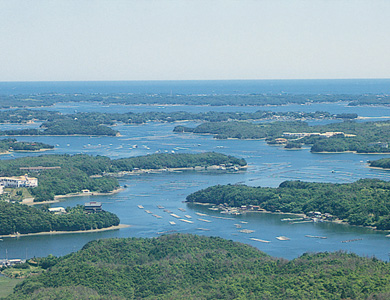 Ise-Shima National Park
Designation: 1946/11/2
Area: 55,544 ha
This park contains islets and bays such as Toba, Matoya, Ago and Gokasho. Ise-Jingu Shrine is important religiously, historically and culturally. There are natural forests formed by cedars and Japanese red pines behind the shrine.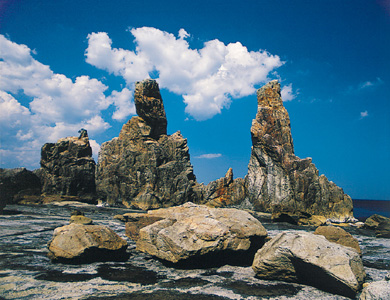 Yoshino-Kumano National Park
Designation: 1936/02/01
Area: 59,798 ha
The central mountainous area of the Kii Peninsula and meandering rivers and seashore in the southeastern part of the peninsula form this park. Mt. Yoshino is noted for its cherry blossoms, and Mt. Omine is worshipped by ascetic devotees. There are many cliffs along the coast from Owase to the Shiono Promontory. Various kinds of scenery can be seen in this area.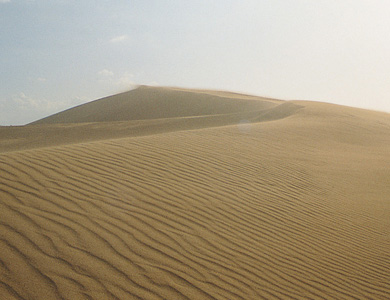 San'in Kaigan National Park
Designation: 1963/07/15
Area: 8,784 ha
This is a marine park that covers the 75km-long seacoast from Amino of Oku-Tango Peninsula to the sand dunes of Tottori. There are beautiful caves eroded by seawater. One of the main features of this park are the sand dunes of Tottori, some of which reach the height of 100m. There are plants such as Hamabohu (Glehnia) which are peculiar to the sand dunes and the severe environment of this area.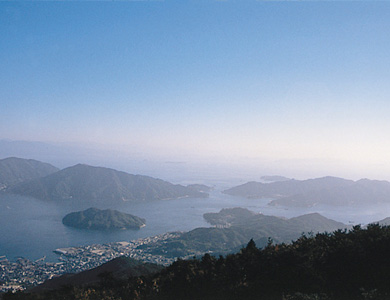 Setonaikai National Park
Designation: 1934/03/16
Area: 62,790 ha
This park contains about 3,000 islets. The park features scenery of the calm inland sea and many islands. One such view is of the Bisan Archipelago from Mt. Washu. The white beach sand and green pines, such as those found on along the Shibukawa coast and Keino-Matsuno, as well as cultivated land present scenery of harmonious beauty.

South Kanto, Chubu, Kinki