Efforts
Countermeasures against Alien Plants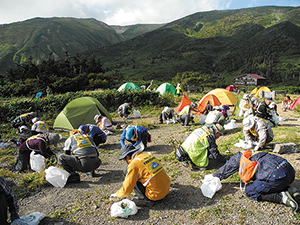 Fleawort and other Alien plants that are thought to have been brought into the park by hikers and construction workers are proliferating, and concerns are held for their impact on the viability of native species. For this reason, eradication measures are being carried out with the cooperation of large numbers of volunteers.
Private Car Regulations
In order to ease traffic congestion during the peak season for mountain-climbing, ensure safety, and protect nature, restrictions on the use of private vehicles on weekends are implemented between Ichinose and Betto-Deai (approx. 6 km) from mid-July to mid-October; shuttle buses provided as alternative transportation (charges apply).
Biosphere Reserve
Hakusan National Park was designated as a UNESCO Biosphere Reserve in 1980 as a model for regions aiming to preserve rich ecosystems and biodiversity and to achieve sustainable development.
Dinosaur Valley Fukui Katsuyama Geopark
Encompassing the entire Katsuyama City area, the geopark was designated as a Japanese geopark in October in 2009. The park's main theme is "Dinosaurs and Dinosaur fossils," and it has two sub-themes, also: "Volcanoes and Volcanic Activity" and "Topographical/Geological Heritages and their Relation to People's Everyday Living".
Hakusan Tedorigawa Geopark
The entire area of Hakusan City, from Mt. Hakusan to the mouth of the Tedori River, was designated as a Japanese geopark in September 2011; the theme of the park is "A journey of water nurturing lives, from the mountains, through rivers and seas, and through snow".