Nature & Parks
[INTERNATIONAL COOPERATION] WETLAND IN JAPAN
[Biodiversity] Wetland in Japan
6. INTERNATIONAL COOPERATION
International cooperation is essential to promote globally the conservation of wetlands, which are also important waterfowl habitats. It is expected that Japan will continue to actively contribute in this field.
Japan is a contracting party to the Ramsar Convention and has concluded bilateral conventions and agreements for the protection of migratory birds with the USA, Australia, China, and Russia. Japan has also implemented several cooperative projects in developing countries.
Migratory Bird Conventions and Agreements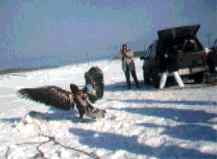 Joint Survey
photo by: WBSJ
For the protection of migratory birds and birds in danger of extinction and their environment, Japan has concluded conventions or agreements with the United States in 1974, Australia in 1981, China in 1981 (migratory birds only) and the USSR (now Russia) in 1988. Under these conventions or agreements, meetings are held every two years to exchange information to implement the convention, to protect migratory birds and habitat conditions, to conduct research.
A joint Japan-Russia ornithological survey has been conducted since 1991. This survey has been concerned with the breeding status of Steller's Sea Eagle and bird-banding. In 1995, seven eagles were satellite-tracked from Eastern Hokkaido to Sakhalin and Kuril Islands.
Kushiro Initiative
An International Workshop on the Conservation of Migratory Waterbirds and their Wetland Habitats in East Asian-Australasian Flyways was held in Kushiro, Japan, as part of the Japan-Australia Migratory Bird Protection Agreement. This workshop attracted 92 participants from regional government organizations, universities, and NGOs from 17 countries in the region from East Asia to Australia.
The workshop adopted the "Kushiro Initiative," which endorses a multilateral approach to shorebird conservation within the East Asian-Australasian area.
As part of the "Kushiro Initiative," the Asia-Pacific Migratory Waterbird Conservation Strategy has been developed to provide a comprehensive and coordinated approach to the conservation of all migratory waterbirds within the Asia-Pacific Region. This proposal calls on governments and other interested parties to work together to protect migratory waterbirds and their habitats throughout the flyways in the Asia-Pacific Region.
Bird-Banding Research Projects
Currently, the cutting down of rainforests and the reclamation of wetlands in Southeast Asian countries have negatively impacted the environment of birds and their ecosystem. Japan needs to consider the situation in these countries because those conditions affect summer migration patterns of birds to Japan. Although some bird protection projects have been carried out in Southeast Asia, the data collected has been insufficient because the bird-banding research was conducted systematically.
With the cooperation with the Yamashina Institute for Ornithology and ODA funding, Ministry of the Environment has carried out a series of bird-banding research projects in the Philippines, in Thailand, in Indonesia, in Vietnam, China, etc. Wildlife protection agencies and NGO's in these and neighboring countries have also participated in these projects.
Cooperative Projects for Asian Wetlands Conservation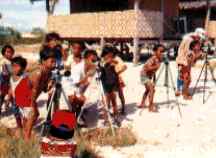 Olango Island
photo by: WBSJ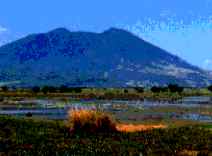 The Candaba Swamp
photo by: WBSJ
Ministry of the Environment initiated a five-year project in 1989 to set up conservation programs for wetlands and other important bird habitats in Southeast Asia in cooperation with the countries of the region. From 1990 to 1992, Ministry of the Environment managed a program for the protection of wetlands and bird species found on Olango Island, near Cebu Island in the Philippines. For this program, Ministry of the Environment collaborated with the Wild Bird Society of Japan, the Philippines Department of Environment and Natural Resources, and the Asian Wetland Bureau-Philippines. Ministry of the Environment has also conducted a similar program for the protection of wetlands in Bung Borapet, an inland wetlands in Thailand, in 1992 and 1993.
This project entered its second phase in 1994. During the first year of the second phase, a workshop was held to study the problems of the Ramsar Convention Registration Candidacy Regions of the Candaba Swamp on Mindanao Island in the Philippines. Preparations were also made for a conservation plan for the Thale Noi Swamp, which is also a Ramsar Registration Candidacy Region.
Moreover, a representative from Cambodia was invited in July 1995 to join a workshop on the preservation of wetlands that was held in Thailand to encourage them to join the Ramsar Convention.
Red Data Book of Birds in Asia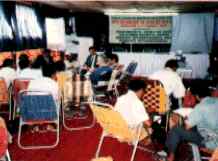 Workshop in India
photo by: WBSJ
inland Environmental has entrusted the Wild Bird Society of Japan to cooperate with Bird Life International to compile the Asian Region Red Data Book over a five-year period beginning in 1994.
Workshops were held in India, Malaysia, and the Philippines to discuss how best to collect and compile data on endangered wild birds as well as other concrete aspects of the project. Then, the Asian Region Red Data Book was published in 2001.
Special Training Course on Wetland and Migratory Bird Conservation
With the cooperation of Ministry of the Environment and the Kushiro Wetland Center, the Japan International Cooperation Agency (JICA) conducted special training courses on wetland and migratory bird conservation in 1994 and 1995.
These courses were designed for specialists and government officials from developing East/South-East Asian countries who are in charge of wetland and migratory bird conservation.
The courses taught participants information gathering skills and improved their abilities in conservation and acquisition of technology through experience and practice. Furthermore, the courses served to promote international cooperation through the Ramsar Convention, which specifically mentions conservation management of habitat and wise use of wetlands.
---
Ministry of the Environment Government of Japan