Nature & Parks
State of Japan's Environment at a Glance: Ramsar Sites
Kushiro-sitsugen was designated as Japan's first Ramsar site in 1980. All eleven Ramsar sites are very important staging areas and/or wintering areas for migratory birds such as geese, ducks, snipes, plovers, and swans.
The varied types of designated wetlands include sphagnum bogs, reed-sedge marshes, peatland, ponds, lakes, and tidal-flats.
Nationwide Census on Wild Geese, Ducks, and Swans
The Ministry of the Environment has been conducting an annual census of wild geese and duck families in mid-January with the cooperation of prefectural governments to obtain accurate information on the state of those migratory birds' habitats in Japan. For the latest survey (as of 2001), 4,139 participants observed 8,850 sites throughout the country.
Number of birds visiting Ramsar sites in Japan according to the latest census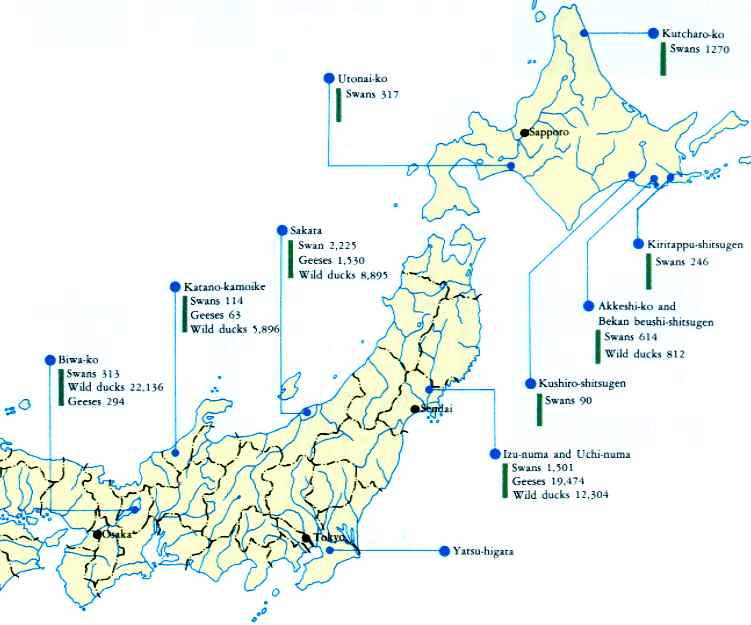 Outline of Wetlands in Japan Listed in the Ramsar Convention
Kucharo-ko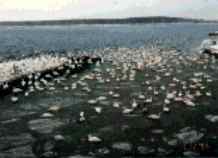 Designated:

July 1989

Location:

45° 09' N, 142° 20' E

Area:

1,607ha
Designated as Japan's third Ramsar site, Kucharo-ko is a large, shallow salt-water lake located on the northeastern tip of Hokkaido facing the Sea of Okhotsk. Reeds and other water plants are the dominant vegetation and appear sporadically around the lakeside.
Kucharo-ko is the northernmost station for migratory birds such as wild geese, ducks, and swans. In addition, the surrounding reed-sedge marsh is an appropriate breeding area for grassland birds and waterfowl, particularly for Whistling Swans.
The Ministry of the Environment established the Hamatombetsu Kucharo-ko Waterfowl and Wetland Center in May 1995. The Center will serve as a base for the education for the conservation and wise use of wetlands.
Kiritappu-shitsugen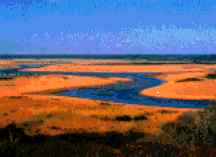 Designated:

June 1993

Location:

43° 05' N, 1 45° 05' E

Area:

2,504ha
Located in southwestern Hamanaka-cho, Kiritappu-shitsugen comprises three areas: Kiritappu-shitsugen, Hichirippu-numa, and a part of Mochirippu-numa. These areas are sphagnum bogs with vegetation colonies of Numagaya (Moliniopsis japonica): reed communities, cotton grass-sweet gale communities, and others.
Hichirippu-numa and Mochirippu-numa contain brackish water because seawater flows in at high tide. Swans (e.g. Whooper Swans), wild ducks, and geese (e.g. Bean Geese) winter here. Japanese Cranes also breed at Kiritappu-shitsugen.
Hamanaka-cho established the Kiritappu-shitsugen Center to stimulate local activity and undertake surveys, research, and conservation activities.
Akkeshi-ko and Bekanbeushi-shitsugen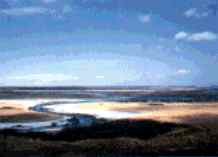 Designated:

June 1993

Location:

43° 03' N, 144° 54' E (Akkeshi-ko) 43° 09' N, 144° 50' E (Bekanbeushi-shitsugen)

Area:

2,504ha
Akkeshi-ko and Bekanbeushi-shitsugen consist of the brackish water Akkeshi-ko (lake) and the wetlands in the basin of the Bekanbeushi River. Since Akkeshi-ko does not freeze in winter, Whooper Swans and ducks winter at the lake. White-tailed Eagles and Steller's Sea Eagles also visit this lake in winter. The wetlands in the basin of Bekanbeushi-shitsugen are mainly reed-sedge marsh with some sphagnum bog. There are also some breeding areas for the Japanese Crane. Many grassland birds, such as the Black-browed Reed Warbler, Stonechat, and the Gray's Grasshopper Warbler, live in Akkeshi-ko. The Ministry of the Environment established the Akkeshi Waterfowl and Wetland Center in April 1995.
Kushiro-shitsugen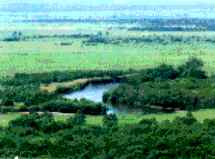 Designated:

June 1980

Location:

43° 09'N, 144° 26'E

Area:

7,726ha
Kushiro-shitsugen in eastern Hokkaido was designated as the first Ramsar site in Japan.
Kushiro-shitsugen is mostly reed-sedge marsh and is spotted with Japanese alder. There also exist various wetlands such as sphagnum bog and Numagaya (Moliniopsis japonica).
This marsh is known as an important breeding site for Japanese Cranes. It is also known to host the biggest colony of Grey Herons and is a stopping place for wild ducks and geese, such as Whooper Swans and Mallards. Siberian Salamanders, a species surviving from the Ice Age, are found only in Kushiro-shitsugen.
The Ministry of the Environment established the Kushiro-shitsugen Wildlife Center in May 1993.The Center conducts surveys and research on the ecosystem of the wetlands and provides educational activities on the conservation of wetlands flora and fauna.
Utonai-ko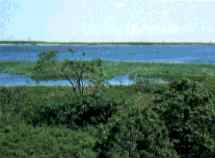 Designated:

December 1991

Location:

42° 42'N, 141° 43'E

Area:

510ha
Utonai-ko is located in the basin of Yuftsu River in the southwest of Hokkaido. Colonies of reeds and sedge grow along the shore of the lake.
The border of the lake is surrounded by wetland woods dominated by black alders and deciduous broad-1eaved woodlands mainly of oak and white birch. In Utonai-ko, it is possible to find Whooper Swans, Whistling Swans, geese (e.g., White-fronted Geese and Bean Geese), and ducks (e.g., Mallards, Spotbilled Ducks, and Green-winged Teals), and eagles such as White-tailed Eagles and Steller's Sea-eagles can also be found here during severe winters.
In 1981, the Wild Bird Society of Japan designated Utonai-ko as a bird sanctuary. The Society built a nature center on the lakeside and nature trails in cooperation with Tomakomai City.
Izu-numa and Uchi-nurna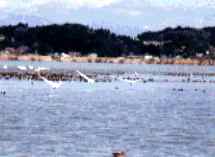 Designated:

September 1985

Location:

38° 43'N, 141° 06'E

Area:

559ha
Izu-numa and Uchi-numa originated from the flooding of the Hasama River in Kurikoma-yama. Frequent land reclamation projects diminished other marshes and left Izu-numa and Uchi-numa among some others.
The water surface does not completely freeze even during severe winters and the rich water plant vegetation of reeds, wild rice, and lotus offers wild birds an ideal food supply. Multitudes of waterfowl such as wild geese, ducks, and swans come to winter here.
Recently, however, water pollution has threatened the environment for these waterfowl. The Miyagi Prefecture Izu-numa-Uchi-numa Environment Conservation Foundation manages a comprehensive conservation project to protect these birds and the wetlands. In addition, many research and educational activities are being conducted with three Sanctuary Centers.
Yatsu-higata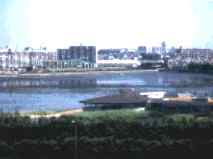 Designated:

June 1993

Location:

35° 41'N, 140° 00'E

Area:

40ha
Yatsu-higata is connected to Tokyo Bay by two channels where the tide flows in and out, and tidal flats appear regularly.
This area is surrounded by residential areas, schools, and roads. It is one of a few very important visiting places for migratory birds, such as Plovers and Sandpipers.
As the flat is located about 2 km inside the present coastline of Tokyo Bay, the tidal flat that appears in this area remains while others along the coast disappear at high tide. Tens of thousands of waterfowl of more than 100 species visit this tidal flat.
The city of Narashino established the Yatsu-higata Nature Observation Center in July 1994. It provides education and enlightenment to city residents as well as a broad spectrum of visitors on the conservation of tidal flats and their symbiosis with urban areas.
Katano-kamoike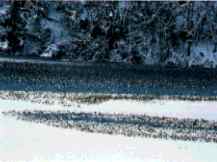 Designated:

June 1993

Location:

36° 19'N, 136'° 17'E

Area:

10ha
Katano-kamoike is a freshwater pond 1 km inside the Echizen coastline. Over 10,000 geese and ducks come here to winter.
With an area of 2.5 ha, the pond is surrounded by rice paddies and marshes. After the rice harvest that lasts from November to March, the city of Kaga leases the rice paddies from farmers to provide a comfortable environment for migratory birds by flooding the rice paddies and part of the marshes.
This practice has been carried out since the era of "Genroku" so that the traditional duck hunting method of using "Sakaami"-a net thrown in the air to catch ducks-can continue.
In order to provide information on waterfowl and the wise use of wetlands, the city of Kaga built Kamoike Observation Center to promote various environmental activities.
Biwa-ko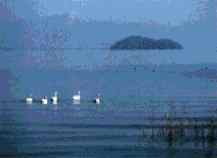 Designated:

June 1993

Location:

35° 15'N, 136° 05'E

Area:

65,602ha
Biwa-ko is the biggest freshwater lake in Japan. The natural environment of the lake varies with the geographical features of the lakeside and other characteristics such as colonies of common reeds, sandy beaches, cliffs, and ports.
There are many species of wildlife around the lake. Biwa-ko is internationally important as a habitat for waterfowl and as a station for wild ducks and geese. In addition, fields of reeds are not only typical scenery at Biwa-ko but also an important habitat for Little Grebes, ducks, Great Reed Warblers, and Chinese Little Bitterns. The reeds also serve as an important natural purification system to protect the lake from water pollution and eutrophication that is quickly becoming a serious concern.
Since 1995, Ministry of the Environment started setting up a Waterfowl and Wetland Center in Biwa-ko.
Sakata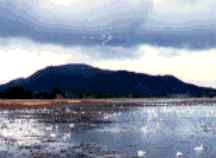 Designated:

March 1996

Location:

37° 49'N, 138° 53'E

Area:

76ha
Formed in the hollow of a dune, Sakata is a freshwater lake on the seaside of central Niigata prefecture. The lake is supplied with groundwater from under the dune.
Many waterfowl, such as Bewick's Swan, Whooper Swans, Bean Goose, White-fronted Goose, and wild ducks, winter here. Marshes surrounding the lakeside provide a comfortable environment for waterfowl. In addition, the food supply is sufficient for waterfowl because the lake is located near vast rice paddies about 2 km inside the Japan Sea.
In FY 1996, the Ministry of the Environment began the construction of the Waterfowl and Wetlands Center in Sakata as a base for scientific research and conservation education.
Manko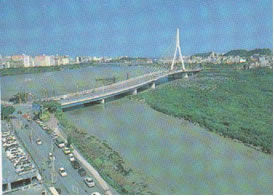 Designated:

May 1999

Location:

26° 11' N, 127° 41' E

Area:

58ha
Manko is a brackish tidal flat, covering an extensive area at low tide, located in the southern part of the main island of Okinawa, approximately 3 km upstream of mouth of the Kokuba and Noha Rivera which pass through the commercial district of Naha City and Tomigusuku Village. The Manko Tidal Flats are an important transit point for shorebird whose migration route brings them along the Nansei Island. The tidal flat is registered with Ministry of the Environment as one of 12 important shorebirds visiting sites nationwide.