Relay Column
Implementation of JCM Project in Vietnam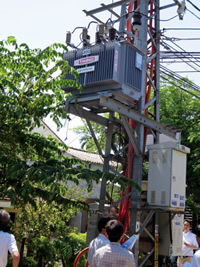 Amorphous Transformer Installed in Ben Tre Province

Yuko Keiso Co., Ltd. engages in design, construction and maintenance of automatic control systems of electricity, air conditioning, crime prevention, etc. mainly for office buildings.
In Vietnam, we are implementing our JCM Model Project "Introduction of Amorphous High Efficiency Transformers in Electric Distribution Networks." This project, aiming to introduce amorphous high efficiency transformers into the distribution networks in the northern, central and southern parts of Vietnam, is expected to reduce the power loss during power distribution (no-load loss of transformers for distribution) as well as reduce CO2 derived from power generation.
Currently, we are working in cooperation with EVN Hanoi Power Corporation (EVN HANOI), EVN Ho Chi Minh City Power Corporation (EVN HCMC), EVN Southern Power Corporation (EVN SPC), EVN Central Power Corporation (EVN CPC), DaNang Power Company Ltd., (DNPC), Dong Nai Power Company Ltd (Dong Nai PC) and Khanh Hoa Power Joint Stock Company (KHPC).
This project is characterized by its ability to reduce CO2 emission through achieving reduction of power loss by helping power distribution companies in Vietnam in installing amorphous transformers at low cost, as well as its contribution to capacity building as local transformer manufacturers produce amorphous transformers.

Introduction of Wild Bird Society of Japan
(Public Interest Incorporated Foundation)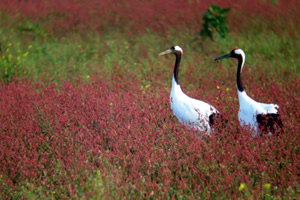 Japanese Cranes/Red-crowned Cranes (
Grus japonensis
), one of the spices WBSJ is committed to protect

Wild Bird Society of Japan (WBSJ) was founded by Godo NAKANISHI with the aim of "fusion of bird science and art" and under the slogan of "Let wild birds live in the wild" in 1934, when birds were still regarded generally as food or pets. The Society later strengthened its organizational structure as a nature conservation group as Japan entered the era of rapid economic growth which led to environmental destruction resulting from land and sea development and pollution, and it turned into an incorporated foundation in 1970.
To date, WBSJ has been engaged in sanctuary movements which aim to create local bases for natural conservation and environmental education in communities and other activities that would lead to Japan joining international networks such as the Ramsar Convention and the Washington Convention. In 2011, WBSJ was recognized as a public interest incorporated foundation. Now, utilizing its network of 90 cooperating organizations formed by members throughout Japan, WBSJ is engaged in various activities to familiarize the public with nature through wild birds and protect nature for the purpose of realizing an affluent society where people and nature coexist. Its main activities range from conservation of endangered species to promotion of natural energy, surveys and protection of familiar wild birds, production of teaching materials, PR and publication.