Relay Column
Kurita Water Recycling System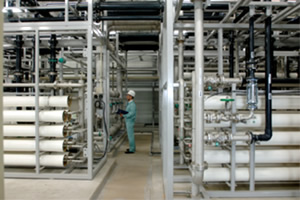 Reverse Osmosis Membrane Unit, the Core of Water Recycling

Kurita Water Industries Ltd. is a leading company in water treatment with the corporate philosophy: Study the properties of water, master them, and we will create an environment in which nature and human are in harmony. Since its establishment in 1949, the company has had consistent operations in the field of water and environment.
In recent years, effective utilization of limited water resources has become an urgent issue for our customers to tackle. "Kurita water recycling system" realizes reuse of wastewater that can achieve both environmental preservation and economic efficiency.
In order to recover and reuse wastewater at the factories/plants of our customers, it is essential to have technologies and know-how to appropriately manage the quality and quantity of water used in various spots of each factory/plant, from the entrance to the exit, and to optimize water use for the entire factory. In addition, Kurita Water Industries Ltd. has drastically reduced the component units of its water treatment equipment compared to the general standard by combining its comprehensive strengths. This includes water treatment chemicals to maintain the perfect water quality for each purpose of use and IT/sensing technology to secure steady operation of the equipment, thus proposing the effective use of water resources which can create economic advantages.
Kurita Water Industries Ltd. will continue to tackle water and environment-related issues head on and contribute to the realization of sustainable society through solving those issues.

Toward a Society without Global Warming or Nuclear Power Plants!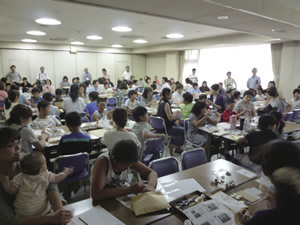 Environmental Class for Parents and Children during Summer Vacation

The epoch-making Paris Agreement was adopted at COP21 last year. However, the Agreement itself is nothing but a pie in the sky unless it is implemented, and therefore it is of utmost importance to put the Agreement into practice as soon as possible. The current reduction goal of the Japanese government, however, is extremely low. If it remains as it is, future generations will be forced to bear a heavy burden. The energy policy of the Japanese government also goes against the Paris Agreement by increasing coal-fired power generation, etc.
Even though almost 6 years have passed since the Fukushima Nuclear Plant disaster happened, there is no prospect of restoration yet and more than ninety thousand residents are still forced to live as evacuees.
We must pursue a society that does not rely on nuclear power plants and where there is no global warming.
According to the numerical models developed independently by CASA, the trial calculation shows that in 2030 CO2 emissions could be reduced to approximately 50% below 1990 levels even if all nuclear power plants were decommissioned without resumption of their operation.
CASA is also engaged in environmental education for children by co-organizing environmental classes for parents and children with "People's Association for Renewal Energy Promotion." The photo shows a class session entitled "Making solar cars with plastic bottles," held with 130 participants on August 5th.