National Parks of Japan
Akan National Park:
The Fascinating Caldera Lakes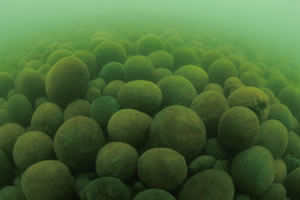 A colony of Marimo in Akan Lake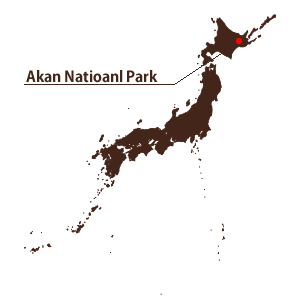 Located in eastern Hokkaido, Akan National Park is blessed with a spectacular landscape of three calderas. The park is also one of Japan's oldest national parks, celebrating its 80th year since designation.
In the west of Akan National Park is Akan Lake, a caldera lake famous as the habitat of wild colonies of a uniquely shaped alga, Marimo.
Although other lakes dot the vicinity of Akan Lake, many remote and mountainous areas remain unexplored due to their inaccessibility. The Ministry of the Environment is therefore working on furthering research on these lakes in cooperation with researchers. Already, research is uncovering the immense academic value of these lakes, as found in the distinctive physical features and biota of lakes even closely adjacent to each other as well as the presence of various rare species in addition to the Marimo.
We would like to continue this undertaking to advance our understanding of the natural environment of this region and to promote science-based conservation.