Kawasu Onsen
Kawayu Onsen is a hot spring resort area whose waters originate in Mt. Io. A river of hot spring water ("Yu-no-Kawa") flows through a district consisting of rows of hot spring hotels and souvenir shops. This resort area is surrounded by an emerald forest of Quercus crispula Blume (oak), white birch, red Yezo spruce, and other species of trees. You are invited to casually stroll along walking trails that will immerse you in a setting that changes constantly with the seasons and where you can listen to the songs of wild birds. Depending on the time of year that you arrive, you may be treated to the sight of fresh verdure, crimson foliage, or frost. After taking your fill of the natural environment of Kawayu, we suggest that you relax by soaking your tired feet in a hot spring footbath by the river.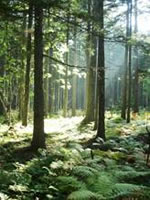 [Forest of
red Yezo spruce trees]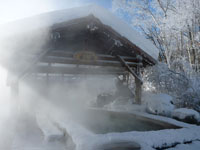 [Hot spring footbath]
Mt. Io (Atosanupuri)
Atosanupuri can mean "naked mountain" in the Ainu language. As this name implies, this mountain is characterized by a surface that is bare and reddish-brown in color. Once the site of a sulfur-mining operation, Mt. Io boasts over 1,500 large and small volcanic craters. While the composition of the discharge will differ depending on the fumarole, water vapor and volcanic gases (such as hydrogen sulfide and sulfur dioxide) are constantly being emitted as white smoke.
Such alpine plants as dwarf stone pines and heathberry plants as well as colonies of Ledum palustre var. diversipilosum can be seen in the vicinity of Mt. Io despite the fact this area happens to consist of low-lying land. Located next to Mt. Io is Mt. Kabuto (also known as Makuwanchisappu). When you realize that the vegetation growing on the side of Mt. Kabuto facing away from Mt. Io differs significantly from the vegetation growing in between these two peaks, you may be struck anew by the enormous influence that Mt. Io exerts on its surroundings.
Explore the rest house situated at the foot of Mt. Io to learn more about the history of this peak and the natural environment of the local area.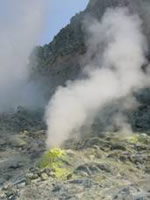 [A fumarole]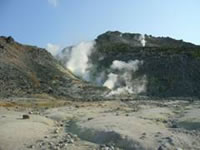 [A whole view of Mt. Io]
Tsutsujigahara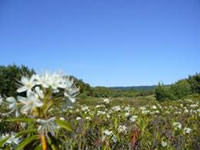 Given that it lies between only 140 and 170 meters above sea level, Tsutsujigahara is a exceptionally unique place for being the home of a variety of plants--including Ledum palustre var. diversipilosum, dwarf stone pines, heathberry plants, lingonberry plants, and Gaultheria pyroloides var. miqueliana--that are normally seen growing in alpine settings at much higher levels of elevation. To see such vegetation growing in such a low-lying area is attributed by some experts to the influence of the discharge and deposits of volcanic ash from Mt. Io.
As you move from Mt. Io towards the Kawayu area, you will successively pass through a zone of dwarf stone pines, followed by a zone of Ledum palustre var. diversipilosum, and finally a forest zone. In particular, a colony of Ledum palustre var. diversipilosum plants growing in the Kawayu area is the largest of its kind at approximately 100 hectares in total coverage. A carpet of magnificent white flowers is in bloom from the end of June to the beginning of July.
There is a walking trail extending approximately 2.5 kilometers in total distance linking the Kawayu Onsen district with Mt. Io. By walking along this trail, you will be directly exposed to the wonderful variations to be found in the natural environment of the Tstsujigahara area.
Lake Mashu
Mt. Mashu-dake and Kamuishu Island are elements of the landscape that are reflected clearly in the deep blue mirror-like waters of Lake Mashu in such a way that one is tempted to believe that they are peering into a different world altogether. Lake Mashu varies in appearance year-round. Its color changes with adjustments in the level of ambient light. Mt. Mashu-dake can oftentimes be seen through gaps in the fog that enshrouds the lake. In winter, the entire lake freezes over. Different views of the lake can be seen from the Number 1 Observatory, Number 3 Observatory, Ura-Mashu Observatory, and Mt. Nishibetsu-dake. Strive to mentally capture your favorite image of Lake Mashu to retain in your memories.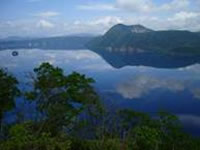 [View from the Number 1 Observatory]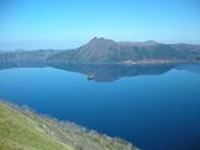 [View from the Number 3 Observatory]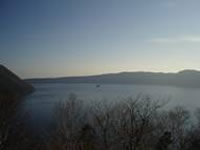 [View from the Ura-Mashu Observatory]
Lake Kussharo
Surrounded by forests, Lake Kussharo is one of the foremost caldera lakes in the world. The shores of this lake are dotted with numerous open-air hot-spring baths bearing such names as Nibushi, Sunayu, Ike-no-yu, Kotan, and Wakoto. Sunayu is a popular spot bustling with hordes of tourists who arrive to enjoy the hot spring water that gushes forth when you dig through the sand on the shore. With sightseeing boats (Ike-no-Yu), rest houses (Sunayu), a campsite, and various other facilities also available, this lake is a destination ideally suited to those who wish to partake in recreational activities.
The presence of geothermal energy ensures warm winters and a lake that draws a multitude of swans. Such volcanic activity produces an environment inhabited by Pteronemobius fascipes, a species of ground cricket.
Large notable Omiwatari patterns form on the surface of the lake once it freezes over completely by around February.
Bihoro Pass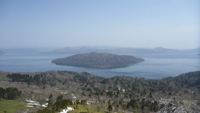 Bihoro Pass is the site of a superb vantage point from which an excellent view of Lake Kussharo can be enjoyed. An observatory is situated next to a roadside station. Many film fans may recognize this location as the setting used in a number of movies.
Visitors can also make out the terrain of the Kussharo Caldera as well as see Mt. Io, Wakoto Peninsula, and--on clear days--the Shiretoko Mountains in the distance.
Mt. Mokoto
Mt. Mokoto is a volcano that had been active prior to the formation of the Kussharo Caldera. An eruption that occurred shortly after the formation of the caldera induced half of the south side of the mountain, including the summit, to collapse into the caldera and shape Mt. Mokoto into the form with which we are presently familiar. The highest peak in the local area at about 1,000 meters above sea level, Mt. Mokoto presents climbers with a spectacular view of Lake Kussharo from its summit as well as a glimpse of the Shiretoko Mountains and Mt. Daisetsu on clear days. A giant boulder named Byobu-iwa looms at one point part way up the trail that leads to the top. Mt. Mokoto is also home to many cherry trees that blossom relatively late in the year, which makes it worthwhile to climb this peak to partake in some cherry-blossom viewing at a unique location. It is a mountain that can be climbed and descended with ease in approximately two hours.
The starting point for a climb from the Koshimizu side of the mountain provides visitors with a parking lot (free of charge), rest house, washroom facilities, and a walking trail. The view of Lake Kussharo from this walking trail is also recommended. If you can wait patiently without making any noise, you might even get lucky and spot a chipmunk.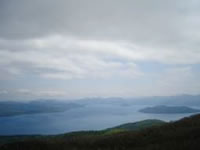 [Lake Kussharo]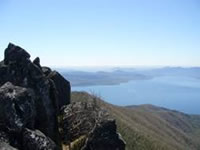 [Byobu-iwa]
Wakoto Peninsula
Constituting the remnants of a volcano that emerged after the formation of the Kussharo Caldera, Wakoto Peninsula remains on the whole a place with high ground temperatures, making it feasible for many life forms to subsist in this location since much of the land never freezes even in winter. This allows, for example, the larva of the robust cicada, which elsewhere advanced southward as Hokkaido cooled down, to pass the winter here, as a result of which this peninsula is the northernmost habitat of this species of insect. For this reason, the robust cicada found on the Wakoto Peninsula has officially been designated a nationally protected species. Oyakotsu Jigoku ("Oyakotsu Hell"), believed to be derived from the Ainu phrase "Oyakotsumoshiri" (which roughly means "Island with Buttock clinging to land"), continues to spew volcanic gas to this day. Pteronemobius fascipes, a species of ground cricket, lives year-round inside the small fumaroles situated in the vicinity and can be heard making buzzing sounds.
Along the shores of the peninsula, the lake water appears green due to the way in which the light reflects off of the constituent parts of the hot-spring water in the lake. Visitors can see volcanic gases turn to froth and break through the surface of the water. A campsite and a nature trail extending approximately 2.5 kilometers in distance around Wakoto Peninsula can be found here. We invite you to come for a walk or to otherwise explore a broad array of vegetation as well as study the many types of birds that inhabit this area and fill it with their distinctive singing and forms regardless of the season.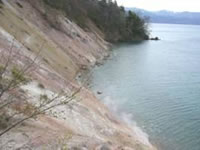 [Oyakotsu Jigoku]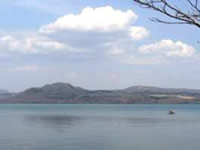 [Lake Kussharo
as seen from Wakoto Peninsula]
Mt. Nishibetsu-dake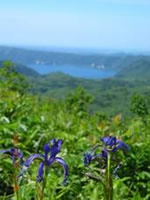 Mt. Nishibetsu-dake is a mountain rising 799.8 meters above sea level to the east of Lake Kussharo. It is favorably known as a peak that commands excellent views of Mt. Masshu-dake and Lake Masshu and that is abundantly endowed with alpine plants. It is also regarded as being relatively easy to climb.
A parking lot and washroom facilities have been built in the area around the start of the trail that goes up the mountain.
Page top