Current topics
The First Asia Parks Congress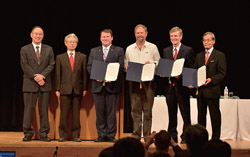 Passing the outcomes on to the World Parks Congress host organizations

From 13 to 17 November 2013, "the 1st Asia Parks Cogress" was jointly organized by the Ministry of the Environment, Japan, and the International Union for Conservation of Nature (IUCN), in Sendai, Miyagi Prefecture. The congress attracted about 800 participants including government officials, researchers, international organizations and NGOs from 40 countries and regions, mainly in Asia. Over the course of the Congress, there were keynote addresses, plenary, working-group and poster sessions, and side events, in which more than 300 presentations were delivered concerning protected areas. Also, there was an on-site inspection tour of the Sanriku Fukko National Park and others.
As the outcomes of the Congress, participants agreed to the "Asia Protected Areas Charter (Sendai Charter)" which includes eight commitments and could be said as basic principle of protected areas in Asia. The participants also formulated the "Message from the 1st Asia Parks Congress to the 2014 IUCN World Parks Congress," based on discussions in working groups on respective six themes including "Natural Disasters and Protected Areas," and the "Asia Parks Congress Youth Declaration," based on presentations and discussions by young researchers.
These outcomes will be utilized as guidelines for Asian countries to promote respective and cooperative efforts for protected areas. In addition, they will be reflected in the discussions and outcomes of the "6th World Parks Congress" to be held in Sydney, Australia, in November 2014.
Asia Protected Areas Charter
Our Commitments
We affirm our commitment to:
Broaden understanding of the important role of protected areas in disaster risk reduction, prevention and recovery.
Increase the potential of protected areas to provide opportunities for responsible tourism and environmental education in a way that is participatory, sustainable and beneficial to local communities.
Enhance protected area networks and cooperation through stronger engagement with central and local governments, business, indigenous peoples, NGOs and youth, and increase financial and technical support for protected areas.
Respect and integrate local cultures and traditions, and listen to the voices of those practicing them, in the designation and management of protected areas.
Reduce the threats to biodiversity and the ecosystem services, and contribute to the achievement of the Aichi Biodiversity Targets.
Increase protected areas collaboration to improve governance and management capacity, and to champion the value of protected areas.
Through these commitments, we will work toward a future where protected areas enhance human progress, resulting in people living in harmony with nature.

Eco Driver Project

Drive Ecologically to Save the Earth!

"Eco driving" is the "use of cars that takes reduction of environmental load into consideration." As well as reducing CO2 emissions, it improves the fuel efficiency, reduces traffic accidents, and gains a high confidence from passengers and others. The Eco Driver Project is a campaign since December 2013 to urge the public to be aware that "Eco Driving" has now become the driving manners for everyone.
In Japan, the annual CO2 emissions from family cars amount to about 0.1 billion tons. It is said that carrying out eco driving could improve fuel efficiency by about 10%; that is, if we all become eco drivers, it will result in decreasing CO2 emissions by about 10 million tons. Also, the 10% fuel efficiency improvement is economical as it will reduce your gasoline costs by about 10%.
The first step to becoming an eco driver is to "know yourself." First be aware of the "fuel efficiency in your driving" and "reputation of your driving from other people," and then practice of 10 eco driving tips as shown in the figure below. Be an eco driver, as an adult and a car lover, by driving ecologically to save the Earth!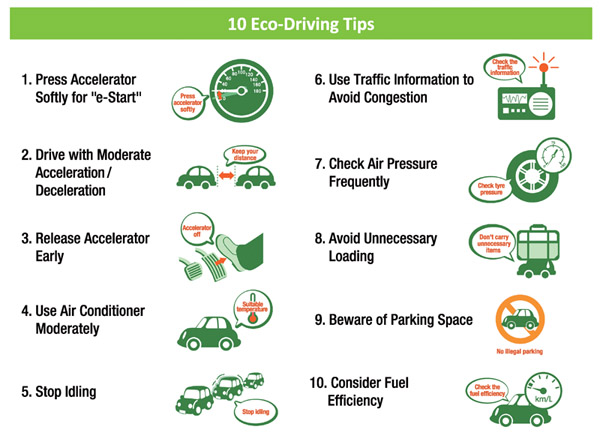 Progress on Treatment of Disaster Debris from Great East Japan Earthquake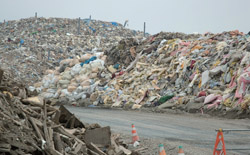 Disaster Debris at the time (Ishinomaki, Miyagi, in May 2012)
The earthquake and tsunami caused damage to 239 municipalities in 13 prefectures, generating about 20 million tons of disaster debris and about 10 million tons of tsunami deposits. Ministry of the Environment has set the target to complete their treatment within three years from the time the earthquake struck, and encouraged the treatment of debris through the cooperation with regions not affected by the disaster (so far accepted by 18 prefectures) as well as installation of temporary disposal facilities, towards recovery and reconstruction as early as possible.
As of the end of September 2013, the disaster debris treatment has been completed in 174 municipalities, more than 70% of the damaged areas. 90% of the entire debris has been disposed of so far, out of which 80% has been recycled. Also, 70% of tsunami deposit treatment has been finished by means of recycling almost all of them. The treatment of both disaster debris and tsunami deposit is estimated to be completed by March 2014.
In addition, although our disposal efforts are partially delayed in Fukushima, we will try our best to complete them as soon as possible.
Table: Treatment Status of Disaster Debris and Tsunami Deposits
in 13 Prefectures (as of end-September 2013)
Number of prefectures
Number of municipalities
Number of municipalities where treatment is completed
Estimated amount of debris
(1,000 tons)
Treated amount (1,000 tons)
Recycling
Incineration
Landfill
Total
Disaster Debris
13
239
174


(73%)

19,387
13,438


[81%]

2,087


[13%]

1,021


[6%]

16,547


(85%)

Tsunami Deposits
6
36
15


(42%)

10,436
7,191


[99%]

-
80


[1%]

7,271


(70%)
Note 1:
The lower figure (%) for the number of municipalities where treatment is completed and the treated amount total indicates the progress ratio out of the total number of municipalities where debris occurred and total amount of debris/deposits.
Note 2:
The lower figure [%] for the breakdown of treated amounts indicates the percentage of the total treated amount.