National Parks of Japan
Conservation and Management Measures for the Fuji-Hakone-Izu National Park (Mt. Fuji Area)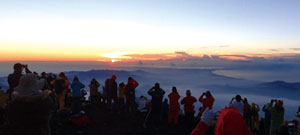 Photo: All copyrights are reserved by MOE."Goraiko: many people climb Mt. Fuji to view Goraiko (i.e. the sunrise) from the summit."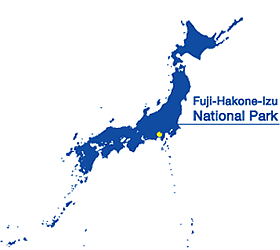 In June 2013, the UNESCO World Heritage Committee decided to inscribe Mt. Fuji on the World Heritage List under the title "Mt. Fuji: Object of Worship, Wellspring of Art." Many of its assets are located within the national park that is considered as one of the main preservation measures for "Mt. Fuji."
More than 300 thousand people take the trail to the peak during two months in summer. In this season, trail inspections are regularly conducted up to the peak. However, there are persistent concerns because the trail around the top is always busy, causing long queues for public toilets, and particularly because the number of climbers is expected to show a further increase this year following the mountain's inscription on the World Heritage List.
In cooperation with relevant governmental organizations and private entities running mountain lodges, the Ministry of the Environment (MOE) has carried out the following tasks: private car restriction, trail clean-up, public-toilet operation and management, formulation of trail sign guidelines, and operation of the Mt. Fuji climbing information website. We will continue to improve the environment for the appropriate use of Mt. Fuji.