Activity Report
JICA Technical Cooperation Project in China
Promotion of Recycling for Municipal Solid Waste in China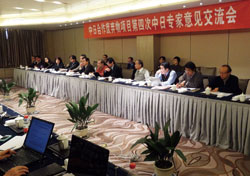 Japanese researchers at 4th policy discussion on MSW recycling
Rapid Industrialization and Urbanization in many of Chinese cities have caused a rapid increase of Municipal Solid Wastes (MSW) generation. Under such circumstances, formulation of recycling system of MSW is essential to achieve sustainable development in harmony with environment.
Chinese government had requested to Japanese Government in 2011 to implement technical cooperation project for the purpose of promoting recycling system of MSW especially targeted at food waste from business entities, packaging waste and waste tires. The National Development and Reform Commission is the Counter Part of the Project.
It is a 4-year project, where by existing system of handling MSW will be investigated, and future recycling system of MSW is now being studied by both Japanese and Chinese researchers.

Research, Policy Advocacy, Information Dissemination and Human Resource Development towards a Fair and Sustainable Society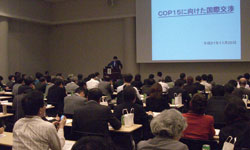 Invited Diet members, government officials, companies and NGO staffs,researchers, and overseas guests at the international seminar on climate change
Japan Center for a Sustainable Environment and Society (JACSES) is a non-governmental organization (NGO) established in 1993 in response to the United Nations Conference on Environment and Development (UNCED) held in 1992. It is an advocacy NGO aiming to build a fair and sustainable society and is in consultative status with the United Nations Economic and Social Council (ECOSOC).
JACSES has conducted policy advocacy to the governments and international organizations and engaged in public awareness activities, based on researches in Japan and other countries. JACSES has contributed to facilitating the enforcement of the Tax for Climate Change Mitigation introduced in October 2012, and improving the policies and projects (by promoting environmental and social consideration) of international development organizations (World Bank, Asian Development Bank, etc.) in cooperation with overseas NGOs.
In addition, with its experience in participating in international negotiations on climate change and the Rio process, JACSES is planning to contribute to the development of a post-2020 international framework on climate change and the formulation of Sustainable Development Goals (SDGs).
Making use of experience and knowhow accumulated through its activities so far, JACSES will strive to build the capacity not only of those in charge of policy making or international organizations but also of consumers and those in businesses or NGOs who can contribute to building a fair and sustainable society.