Construction of Interim Storage Facility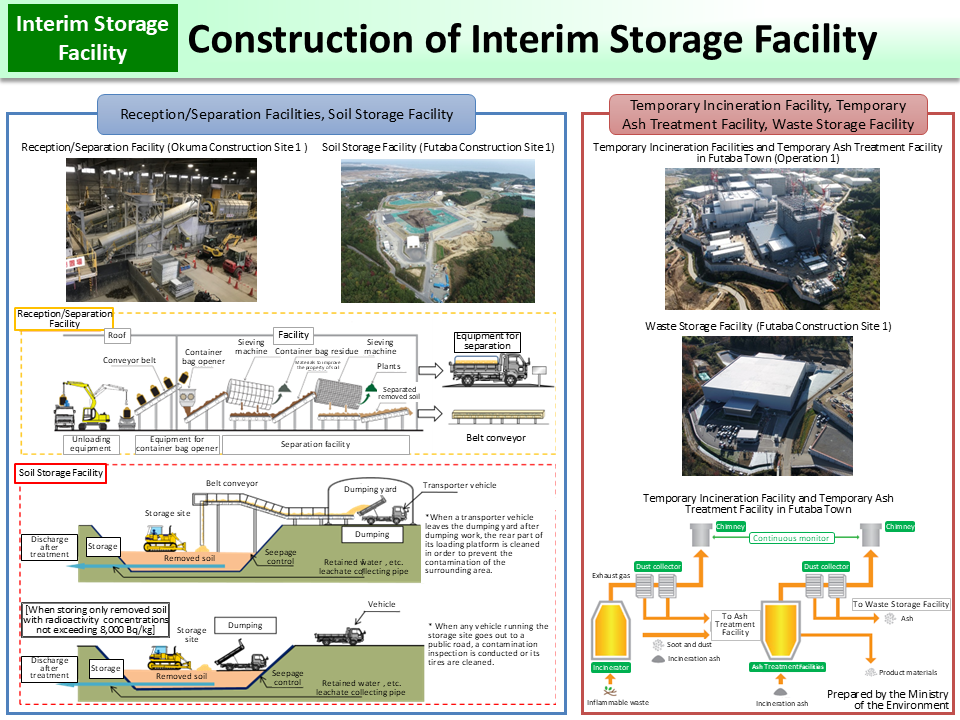 The site necessary for the construction of the ISF is estimated to be approx. 1,600 ha and the number of relevant registered land owners is 2,360. By the end of December 2017, the contracts have been steadily increasing to approx. 801 ha (approx. 50.1% of the envisaged construction site) with 1,331 land owners (approx. 56.4% of the total). The national government considers it most important to obtain understanding on the construction of the ISF, not to mention building a relationship of trust with land owners, and is committed to continuing efforts while providing sufficient explanations to land owners.
Construction of the Reception/Separation Facilities and Soil Storage Facilities started in November 2016. The Reception/Separation Facilities receive the removed soil and waste which is transported from the Temporary Storage Sites in Fukushima Prefecture to the ISF. The soil and waste is unloaded from trucks, taken out from container bags and separated into combustibles and incombustibles. The Soil Storage Facilities store the soil and waste treated at the Reception/Separation Facilities safely in accordance with the radioactivity concentrations and other properties. Reception and separation of the removed soil and waste started in June 2017 and storage of the treated soil and waste started in October 2017. Construction of the facilities will be continued in order to further promote treatment and storage of the removed soil and waste.
Included in this reference material on February 28, 2018