Green Management
In the pursuit of a greener economy for Japan, the efforts of business owners to manage their companies with the environment in mind will play a vital role.
Business owners' voluntary efforts to keep environmental concerns in mind do more than just reduce their own burden on the environment. They can also help reduce the environmental impact of the products they make when they are used and contribute to enhanced eco-awareness at the resource extraction stage. It is also through their ongoing research that companies manage to develop new eco-business areas and environmental technologies. Other important areas for action are the studies and environmental education carried out by research and educational institutions.
This green corporate management can reduce the resource and energy usage and environmental burden of business activities throughout the entire life cycle of products. In addition to reducing the environmental impact within the business area in question, green procurement practices and the provision of eco-friendly goods and services can more broadly promote sustainable modes of consumption and production.
These efforts will lead to progress in the creation of a sustainable society and the expansion of markets for eco-aware products and services. Companies that successfully adapt their strategies to pursue this virtuous cycle of the economy and environment will not only be contributing to the formation of such a society; they will also be gaining a more competitive position, thus strengthening their ability to win in the market.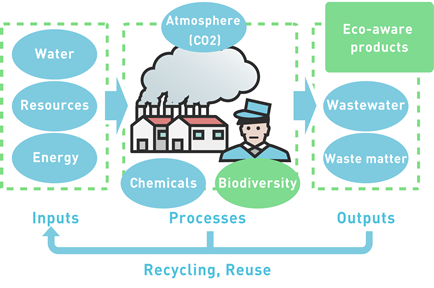 The Course of Action for Green Business
The Course of Action
The ability to appropriately address the risks and opportunities associated with changes in the business environment is a key to the long-term sustainability of a company.
A forecast of the green business landscape over the next decade reveals the following as important factors.
Hands-on involvement by managers

It is necessary for corporate managers to make societal commitments to implementing eco-aware business decisions.

Addressing environmental issues as a strategic matter

Companies need to undertake strategic responses to important business opportunities and risks.

Corporate organization and governance

Companies must create organizations that enable the appropriate pursuit of green management and establish governance that underpins the sound, efficient functioning of those organizations.

Handling stakeholder concerns

Companies must understand all the stakeholders connected with their operations, grasping their hopes and expectations and reflecting them in business activities. (This includes customer communication, surveys of employee satisfaction, various forms of dialogue, and the like.)

A value-chain-oriented business approach

Throughout the product life cycle, from raw material procurement through disposal, companies need to maintain an overview of the environmental impact, strive to identify key issues to address, and maintain channels of dialogue.

Sustainable resource and energy usage

Companies need to give consideration to sustainability of the resources they require, for instance by improving the efficiency of their use of those resources.
(Source: discussion materials from the Committee for the Revision of the Environmental Reporting Guidelines)
Strategic Green Business Processes
Getting a clear picture of the environmental burden (inputs, cyclical usage, outputs) throughout the product life cycle
Addressing stakeholder concerns
Identifying key issues in terms of their impact on business
Charting of directions, business strategies to deal with key issues
Defining plans for implementation in the medium to long term and in the short term
Operating appropriate organizational systems (including environmental management systems [EMS]) and ensuring they are understood by all employees
Grasping the track record and making sure managers evaluate results, craft plans for improvement
Matters for consideration when making decisions on key issues
Financial impact (opportunities and risks impacting profitability) and projected span of that impact
Common issues faced by other industry members and competitors' status in addressing them
Common issues faced in terms of regulations, etc. and competitors' status in addressing them
Stakeholder demands and areas of societal concern
Physical impact of natural disasters, accidents, etc.
(Source: discussion materials from the Committee for the Promotion of Environmental Information Usage)
Domestic and International Trends
Environmental management system (EMS) certification
In response to a survey question asking whether they had obtained certification under ISO 14001, the international EMS standard, fully 79.3% of listed companies replied that they had obtained certification (including for a portion of their operations), while 53.3% of unlisted firms had done so.
Looking at the data by annual sales figures of the companies surveyed shows that the higher the sales level, the more likely the company is to have obtained certification. On the other hand, the percentage of companies stating that they had "no interest" in certification went up the lower the sales figures were, reaching nearly half (46.5%) for companies in the "under ¥5 billion annual sales" category.
Promoting awareness of Eco-Action 21 and creating its certification and registration system
・The Ministry of the Environment has produced guidelines to promote measures undertaken within the Eco-Action 21 framework. These guidelines include explanations of the demands presented within this framework, as well as a checklist of measures.
・A certification and registration system was launched in 2004 to appropriately evaluate companies' environmental measures and provide necessary guidance and advice, as well as to provide a third-party check on whether companies carrying out suitable measures are in conformity with the guidelines. The aim is to gain society's trust.
・The certification and registration system is currently managed independently by the Eco-Action 21 Central Secretariat.
・The Ministry of the Environment in 2008 set up a low-interest financing mechanism under the aegis of the Japan Finance Corporation to make funding available to companies that have gained or are expected to gain certification, and has been working to promote its use.
Expanding green business through the value chain
The areas in which green business measures can be undertaken have expanded from single firms to encompass affiliated companies and even suppliers. These business practices now being implemented by major companies, particularly in the manufacturing sector, are expanding throughout the value chain, thus helping to spark environmental preservation measures among smaller companies as well.