Yasumiya & Yasumitai Area Map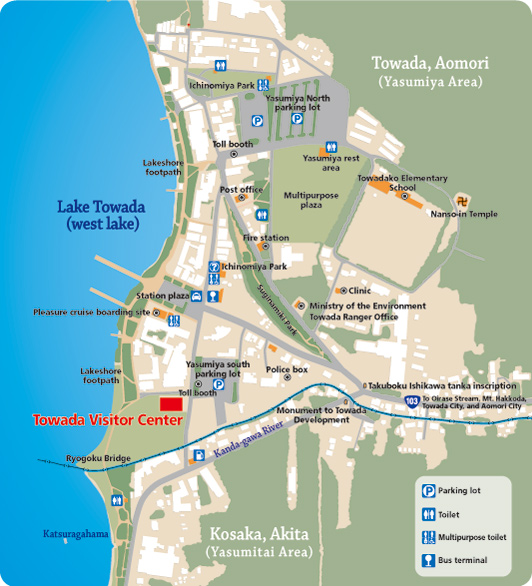 If you visit Towada Visitor Center by car, Yasumiya south parking lot is convenient.

Welcome to the Towada Visitor Center
The Towada-Hakkoda region of the Towada-Hachimantai National Park was designated a national park on February 1, 1936. Its area is 45,060 ha. Here you can enjoy lush natural environments such as Lake Towada, surrounded green and mysterious beauty; Oirase Stream, which flows down from the lake; and Mt. Hachimantai, which boasts alpine plants and frost covered trees living on its gently rising slopes. You can also meet the diverse array of animal life which flourishes here.
Floor Plan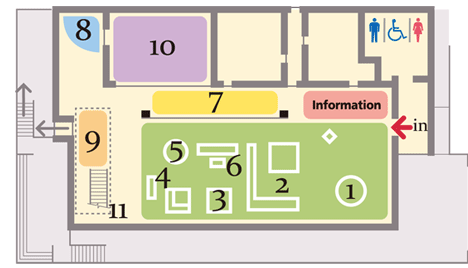 1.Welcome to Towada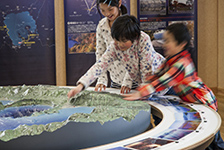 The first ever look at the true face of Lake Towada! Discover the distinctive double caldera shape of the lake bottom, which was carved from the remains of prolonged volcanic activity.
2.Towada in spring through summer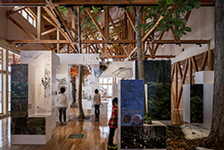 A recreation of the forest during the snow thaws. Leaves unfurl and flowers grow in the spring sun; plants and bees and ants share an amazing connection. In summer, birds work vigorously, building their nests.
3.Towada in autumn
The changing colors of the forest in autumn. You can see the activities of animals preparing for the winter. Rustle, rustle...what sound is that? Representative mushrooms are presented in a catalog.
4.Towada in winter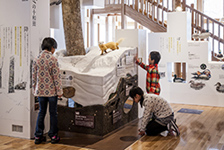 See a diorama showing the winter snows covering the forest cut like a slice of cake. Discover the animals of the forest from the sides and above. If you find any tracks, try to discover who made them!
5.The Nature in Lake Towada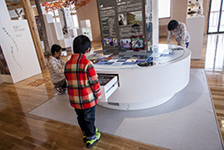 An exhibit filled with drawers and peepholes for discovering legends and the wonders of animals. You can also find out about the ties between Lake Towada and the people living nearby.
6.The Sights and Sounds of Towada Throughout the Year
The sounds in this room were recorded in and around the forest and lake in Towada. A visual exhibit presents the sounds that can be heard everywhere around Lake Towada and the creatures that make them.
7.Special Exhibition Space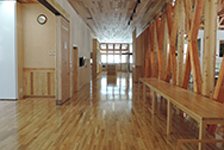 Seasonal exhibits are presented here.
8.Lake Towada Mini-Theater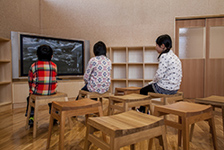 Here you can watch Visitor Center movies and DVDs.
9.Lounge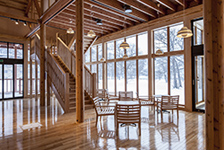 Relax and rest while watching the lakeshore or a beautiful sunset.
10.Lecture Room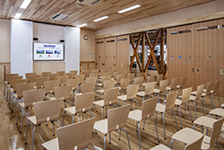 A space for learning and exchange.
11.Second Floor Observation Lounge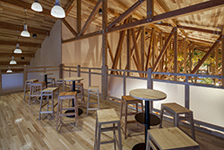 Relax while looking at the world from a higher perspective.

Yasumiya Seasonal Information
Nature observation meetings, etc.