Relay Column
JCM Project Underway in Mongolia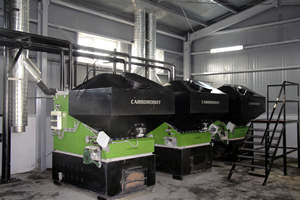 The high-efficiency HOBs installed in 118th School in Ulaanbaatar City

Suuri-Keikaku Co., Ltd. has been implementing the project regarding "Replacement and Installation of High Efficiency Heat Only Boiler (HOB) for Hot Water Supply Systems" in Mongolia, the first signatory country to the Joint Crediting Mechanism (JCM) as the Ministry of Environment of Japan's advanced technologies promotion subsidy scheme.
Since many coal-fired HOBs with boiler efficiency of approximately 40- 50% used for hot water supply systems in Mongolia, increasing CO2 emissions and air pollution from coal combustion have been in serious situation.
In this project, we implemented the hot water supply systems by replacing and also newly installing the latest high-efficiency HOBs instead of the inefficient old-type ones in 118th School in Ulaanbaatar City and Bornuur-sum.
Our project started operations in October 2014. It is scheduled to be officially registered as a JCM project in March 2015 on approval of its JCM methodology as "MN AM002" in January.
Promotion of the project will bring about a reduction in coal consumptions and CO2 emissions in Mongolia. At the same time, producing co-benefits such as a reduction of air pollutants and improvement of the work environment at boiler houses are expected.

Tackling Marine Litter through International Network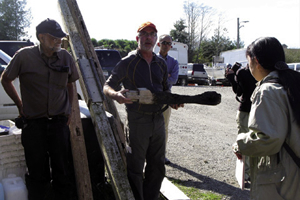 On-site investigation of ocean driftage from Japan's 2011 earthquake/tsunami in Vancouver Island, Canada in October 7, 2013

Japan Environmental Action Network (JEAN) is an environmental NGO, having engaged in resolving the marine litter problem.
For the last 25 years, we have been actively involved in International Coastal Cleanup (ICC) efforts which began in the United States and we conduct the Cleanup Activity on approximately 250 beaches across Japan every year.
ICC is a global event initiated by citizens. At the same period of each year, participants remove litter from beaches and waterways, record the content of the collected litter on the survey sheet in internationally unified form and collect data on marine litter.
With this survey, each participant becomes aware of the present situation and issues of marine litter, considers countermeasures based on the study results and reduces garbage by making further efforts not to generate it.
We have established cooperative relationships with East Asian countries such as Korea and Taiwan through ICC network.
Regarding the ocean driftage issue originated from tsunami associated with the Great East Japan Earthquake of 2011, we have carried out on-site investigations and been continuing dialogues in North America and Hawaii with the local ICC coordinators' support.
The marine litter problem is the ocean contamination caused by plastic wastes which are closely related to our daily lives.
We will continue to tackle the marine litter problem by taking advantage of the relationships with ICC coordinators from all over the world.