Feature
Climate Change Policies in Japan / What are COOL BIZ and WARM BIZ?
Global warming countermeasures in each area of the world may vary depending on weathers, climates, customs, and cultures. In Japan where the four seasons are clearly defined, there are two countermeasures devised: "COOL BIZ" against hot and humid summer and "WARM BIZ" against cold winter. Please try to consider what can be global warming countermeasure suitable for your area.

"Uchimizu" :a custom of cooling down with evaporation effect of sprinkled water
In order to reduce CO2 emissions from the residential / commercial sector that accounts for about 25% of CO2 emissions, Japan has conducted various campaigns for changing the lifestyles of people (See Fig. 1). The following gives an overview of COOL BIZ and WARM BIZ among those campaigns.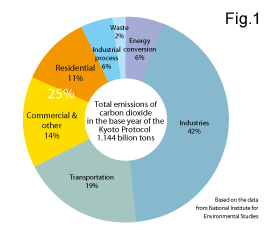 "COOL BIZ" is a coined term combining "cool" and "biz" (the abbreviation of "business") in English, which signifies our campaigns to encourage people to dress more casually without a tie and a jacket so that they can work comfortably even in a room at 28 degrees C. Japan started the "COOL BIZ" campaign in 2005.
Also, in response to the growing needs for power-saving in the aftermath of the 2011 East Japan Great Earth Quake, we have launched another "Super COOL BIZ" campaign to call for "recommendation to wear more casually" and "change in working styles". With such growing needs, a most effective way to lead a life comfortably in the summertime in Japan - more humid than Europe and the US - is to try to choose clothing suitable to the hot weather. Fig.2 indicates the five actions we are promoting in the "Super COOL BIZ" campaign.
In addition, since 2012, we have called for "Cool Sharing" to share cool places instead of using air conditioners individually. Spending time in a room as a family or in places abundant with nature such as parks and watersides would be helpful to not only comfortably survive the summer but also strengthen family or community ties.
Japan is estimated to have achieved 1.56 million tons of CO2 reduction by the Super COOL BIZ campaign in FY 2011.

"WARM BIZ" is a winter version of the aforementioned COOL BIZ, which we have called for since 2005 with an aim to restraining excessive use of heaters so that people can comfortably lead their lives at a room temperature of 20 degrees C. There is a lot of wisdom of living in terms of food, clothing, and shelter that can be used in our lives as a means of staying warm even in cold winter (see Fig. 3). For example: wearing one more inner wear, sweater and cardigan made with functional materials that hold heat well, eating food such as root crops and ginger that warms the body from inside, and making good use of hot-water bags and pocket warmers to keep our bodies warm.
Also, the idea of "warm sharing" is part of the WARM BIZ campaign aiming for comfortably spending wintertime without depending too much on heaters, which is an energy saving approach by sharing the same room/place among people by gathering there. For example, holding a Nabe (a popular Japanese winter dish) party is an option involving the family and neighbors! This will serve a dual purpose, saving energy as well as enjoying meals together in a party with family members, friends or colleagues.