General Information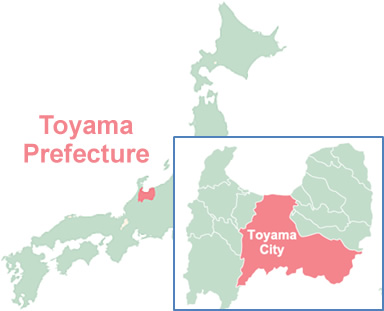 Location
Located near the center of Honshu, Toyama is a topographically impressive area. This compact prefecture extends in a radius of just 50 km from its capital, Toyama City. Surrounded by the steep, mountainous terrain of the Northern Alps on three sides, and with fertile, rolling plains at its heart, Toyama borders the Toyama Bay and Japan Sea.
Toyama has a rich history of contact with the Asian continent, the Korean Peninsula, and other countries bordering this sea, making it a key regional hub.
Climate
Toyama has a warm, humid temperate climate, with hot summers and no dry season.

For more recent information about the weather in Toyama, please visit the Japan Meteorological Agency website.
Industries
Toyama Prefecture is known for its production of high quality variety of rice including Koshihikari, the Toyama original early-ripening Tentakaku variety, and the late-ripening Tenkomori variety.
Toyama has the largest production volume of tulip bulbs in Japan and is known for its use of traditional fixed net fishing methods.

Toyama is also working to develop its biotechnology industry utilizing its 300 year-old tradition of medicine and is supporting the robot, IT and deep seawater related industries. Through these activities, Toyama is working towards the progression of growth industries.

Nature
As befits the name Toyama, which means "rich in mountains", Toyama Prefecture is bountifully endowed with natural wonders: The Japan Sea, Toyama Bay, the peaks of Tateyama, and many rivers.

Toyama's mountains act as a tremendous natural dam from which an abundant supply of pure water flows year-round. This water is utilized in the production of hydroelectric power and a variety of other purposes, making it a vital resource for Toyama industries and daily life.

Attractions of Toyama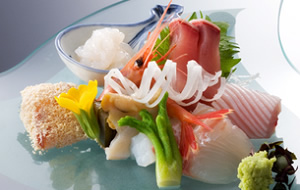 Food
Abundant delicacies from Toyama Bay are just one of the many attractive features of Toyama.
Fresh seafood from the bay, such as firefly squid (which has an uncanny shine), white shrimp, and yellowtail fish are all local specialties that you can enjoy.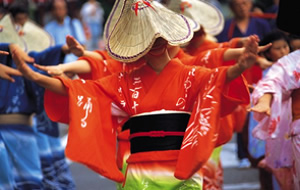 Culture and History
Historically a powerful castle town, Toyama has developed many cultural traditions. The Etchu Owara Kaze no Bon Festival is one of Toyama City's biggest festivals, famous nationwide for its rather melancholic music and elegant dancing.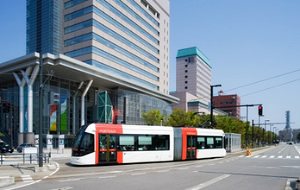 Eco Model
Toyama City is known as one of the most eco-friendly cities in Japan, and aims for a compact scale that conserves the environment.

If you want to learn more about Toyama's attractive features, please visit
Tourism Information in Toyama.