Nature & Parks
Nature Conservation in Japan -Section 7
[Policies & Programs] Nature Conservation in Japan
7.Other Measures
7.1 Provision of Pivotal Facilities for Conservation Activities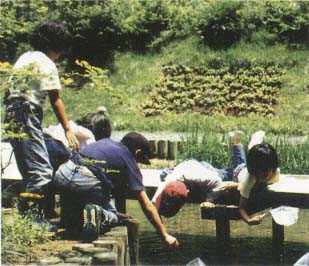 Communities for Contact with
Nature and Native Living Things
In order to conserve nature that surrounds us, secondary forests, cultivation fields, small streams and ponds, which are habitats of dragonflies, fireflies, beetles and other pretty insects and small animals, and to provide fields for people to contact with nature through nature conservation education, pivotal facilities named "Communities for Communication with Nature and Native Living Things" and "Communities harmonized with nature and culture"have been created in addition to such facilities as nature centers, nature observation paths and nature observatories.
In these pivotal facilities, staff members are stationed in order to give guidance and lectures on natural environment to visitors for the purposes of promoting nature conservation education programs with cooperation of volunteers. "Countryside Nature Trails" are provided as pivotal facilities for promotion of people's contact with nearby nature and local culture through walking in the areas abounding with nature and culture resources.
[Policies & Programs] Nature Conservation in Japan
7.Other Measures
7.2 Hot Springs
Hot spring bathing is traditionally popular among Japanese people for their relaxation due to a lot of hot spas, more than 20,000 throughout the country, with abundant, well-kept hotels and inns. It is estimated that more than 140 million people are enjoying hot spa bathing every year.
The Hot Spring Act, which is enforced by the Environment Agency, is to ensure and to promote sustainable and sound use of hot springs. 82 model areas as the hot spring health resort sites were designated for providing and improvement of accommodations and other facilities.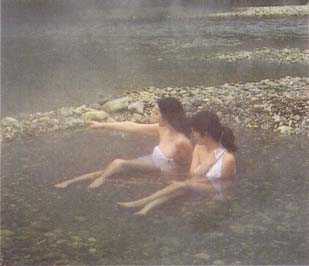 (Kawayu-Spa, Wakayama pref.)
7.Other Measures
7.3 Long-Distance Nature Trails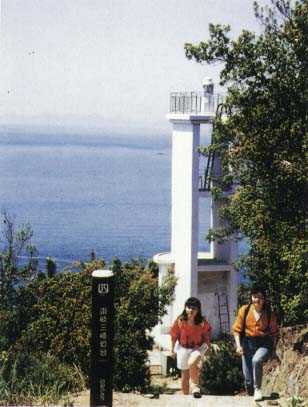 Shikoku Long-Distance Nature Trail
The system of long-distance nature trails is designed to enable people to improve their physical and mental health in a sound manner and deepen their understanding about nature by coming in contact with nature and visiting historic remains by themselves. The development of long-distance nature trail was started in fiscal 1970 to link natural parks and cultural assets. The first trail is the Tokai Natural Trail connecting two big cities, Tokyo and Osaka. Following this Tokai Trail, four trails were developed in Kyushu main-island, Shikoku main-island, western part of Honshu main-island and Surrounding Areas of Tokyo. As of fiscal 1993, their aggregate length is 14,033 kilometers. Development of the Tohoku Nature Trail was started in fiscal 1990. The number of users in 1993 reached 35 million.
7.Other Measures
7.4 Promotion of Establishment of Voluntary Environmental Foundations
Motivated by the dynamic activities of the National Trust movement in the U.K, voluntary activities in the field of nature and cultural heritages conservation started in specific areas such as Shiretoko Peninsular in Hokkaido and Tenjinzaki Cape in Wakayama Prefecture. The activists initiated a drive to invite contribution on a nationwide land purchase in order to preserve outstanding natural beauty and ecosystems and to conserve them for quality of life of neighboring people and to pass national heritages on to next generations.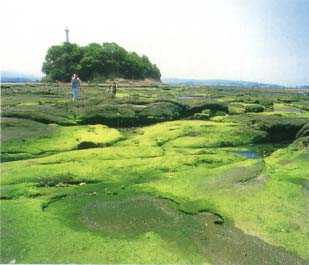 Tenjinzaki Cape
The Environment Agency has supported and encouraged these voluntary movements, which are recognized very effective for conservation of locally outstanding spots in particular.
In accordance with the tax system reforms in 1985 and 1986, fund contributors to the authorized public foundations for nature conservation will be exempted from or get tax credit for an income tax, a tax for corporate bodies and/or a fixed property tax.
As the first voluntary public foundation for nature conservation, a group to conserve Tenjinzaki Cape was authorized in January 1987. For further promotion of this movement, the Environment Agency will publish a manual to establish public foundation and to encourage nature conservation by voluntary movements.
7.Other Measures
7.5 National Garden and National Cemetery
In 1947, the former Imperial Gardens were opened to the public for the people's welfare such as recreation, health and cultural activities in Tokyo and Kyoto areas.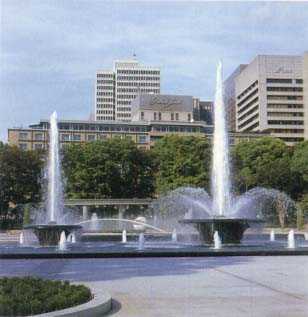 Wadakura Fountain Park
(Outer Garden of the Imperial Palace)
Outer Garden of the Imperial Palace (115ha)
In 1940, the front open square of the Imperial Palace was converted to the present form. Area of this Garden is 96 hectares, located in front of the Imperial Palace in Tokyo.
In 1969 a forest park established at Kitanomaru area, which is now called Kitanomaru Park, 19 hectares, was added to the Outer Garden of the Imperial Palace.
Kyoto-gyoen National Garden (65ha)
After the transfer of the capital of Japan from Kyoto to Tokyo in the Meiji era (1869), an outskirt of the Kyoto Imperial Palace was converted from residential area of courtiers to an open square surrounding the Kyoto Imperial Palace. This garden is known as the Kyoto-gyoen. This People's Park together with the Imperial Palace is one of the most important historical heritages of the one-thousand-year-old capital city of Kyoto.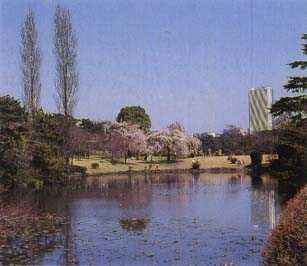 Shinjuku-gyoen National Garden
Shinjuku-gyoen National Garden (58ha)
In the Meiji era, the Shinjuku Imperial Botanical Garden was reformed to the Shinjuku Imperial Garden in cooperation with a French landscape architect. In this garden a good scale of French style garden, a traditional Japanese garden and tropical plant greenhouse are opened to the public. A variety of cherry blossoms and traditional chrysanthemums provide another attraction to the park visitors.
Chidorigafuchi National Cemetery (1.6ha)
In 1953, the establishment of the National Cemetery was decided by the Cabinet in order to mourn unknown soldiers and civilians at the World War II. National Cemetery was located at the Chidorigafuchi Moat viewing the Imperial Palace, and mortal remains recovered at overseas' battle fields were placed under the Cemetery.
---