Global Environment
Request FIFA World Cup Japan Team to cooperate and practice Waste Reducing Promotion Activity by using "Mottainai Furoshiki"
May 11, 2006
inistry of the Environment (MOE) will present FIFA World Cup Japan Team "Mottainai Furoshiki" created by Ms.Yuriko Koike, Minister of the Environment, as a symbol of Japanese culture which treats things with value, and asks for cooperation to practice waste reducing activity and function to promote Furoshiki culture to the world through FIFA World Cup to give hints to think about recycling-oriented society.
This is a part of activities of "Team minus 6%," a national campaign promoted by government to fight global warming, because this year's FIFA World Cup has a concept "Green Goal, " which tries to make this event with zero emissions of carbon dioxide (CO2) for the first time in the world.
On May 12 (Fri.), Minister of the Environment Koike and an artist Mr. Katsuhiko HIBINO, a member of "Team minus 6%," bring and offer each own produced "Mottainai Furoshiki" and "Fteam UROSHIKI" to Japan Team after their public workout at Saitama Stadium.
Overview of Furoshiki Presentation Ceremony to Japan Team
[Date & Time]

May 12 (Friday), 2006 17:30 - (Media Reception 17:00)

Media reception starts at 17:00. Please be sure to arrive before 17:00.
Due to the schedule of Japan Team public workout, it may start with some delay.

[Venue]

Saitama Stadium 2002
(500 Nakanoda, Midori-ku, Saitama City)

[Guest]

Zico Japan Football Team Manager
Ms. Yuriko KOIKE, Minister of the Environment
Mr. Katsuhiko HIBINO (Artist)
Coverage
Please refer to the attached "Coverage Guidelines"
<Reference>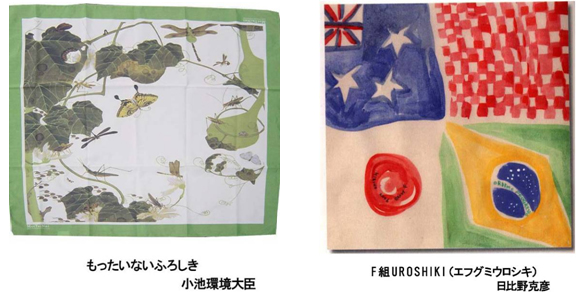 left: "Mottainai Furoshiki" by Ms. Yuriko KOIKE, Minister of the Environment
right: "F-team UROSHIKI" by Mr. Katsuhiko HIBINO
(Reference) About "Mottainai Furoshiki"
A furoshiki, a Japanese traditional wrapping cloth, produced to substitute for shopping bags and paper bags by Minister of the Environment KOIKE, to promote environment-friendly society.
Flower and bird, designed by artist Jakuchu Ito in the Edo era, printed on fabric made of recycled plastic bottles.
Contact
Ministry of the Environment
Global Environment Bureau
Climate Change Policy Division