Status of the Five Prefectures concerning Designated Waste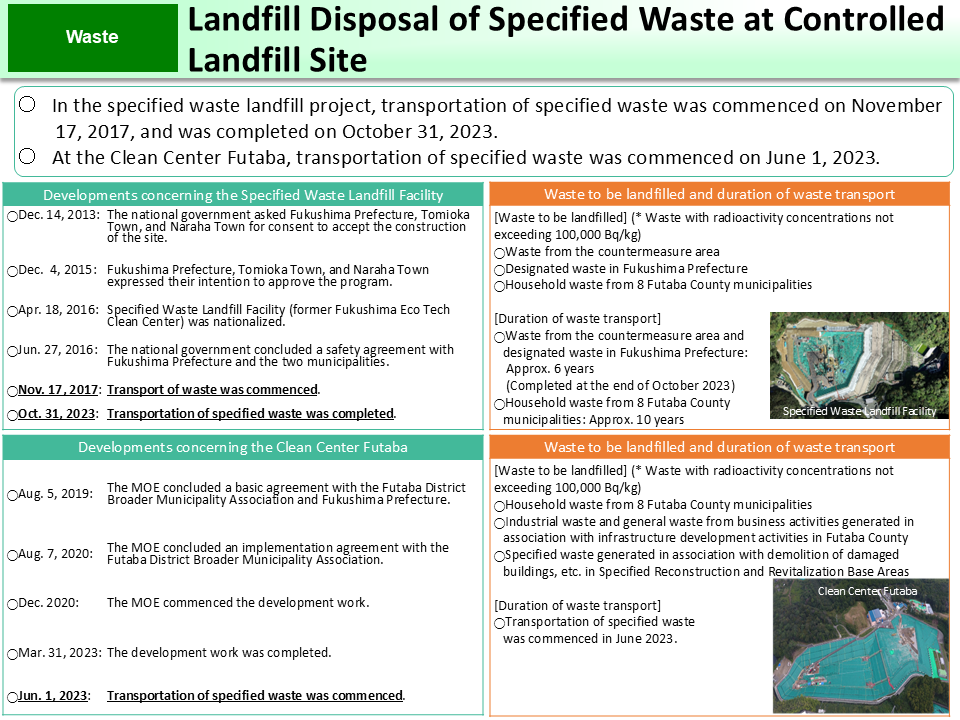 Prefectures other than Fukushima Prefecture which are in urgent need to secure Temporary Storage Sites for designated waste (Miyagi Prefecture, Tochigi Prefecture, Chiba Prefecture, Ibaraki Prefecture and Gunma Prefecture) are taking measures in accordance with the circumstances of respective prefectures. They ascertain the current status through the measurement of radioactivity concentrations, based on discussions at municipal mayors' conferences.
Regarding candidate sites for detailed surveys, Miyagi, Tochigi and Chiba Prefectures followed selection methods determined through discussions at expert meetings and municipal mayors' conferences, and presented selected candidate sites in January 2014, July 2014 and April 2015, respectively. However, detailed surveys have not been conducted smoothly or not been conducted due to protests by local residents.
In the meantime, Miyagi Prefecture determined its policy in July 2017 to the first dispose of contaminated waste with radioactivity concentrations not exceeding 8,000 Bq/kg, excluding designated waste, at respective areas, and is now making adjustments for commencing test incineration.
In July 2017, the Ministry of the Environment presented a provisional policy for volume reduction and centralized collection of designated waste, targeting Tochigi Prefecture and municipalities storing waste, with the aim of easing burdens of farm households that have been storing waste by themselves, while maintaining the basic policy to ultimately develop long-term management facilities. Accordingly, Tochigi Prefecture is now making adjustments for commencing disposal based on the presented provisional policy.
Chiba Prefecture is also making efforts to obtain understanding of local residents for the implementation of a detailed survey concerning long-term management facilities.
Ibaraki and Gunma Prefectures determined the policies to continue on-site storage and promote staged disposal respectively in February 2016 and December 2016. Based on the determined policies, both prefectures will repair or reinforce storage sites as necessary and will dispose of designated waste whose radioactivity concentrations have reduced to 8,000 Bq/kg or lower at existing disposal facilities in a staged manner.
Included in this reference material on March 31, 2016
Updated on February 28, 2018