Special Decontamination Areas and Intensive Contamination Survey Areas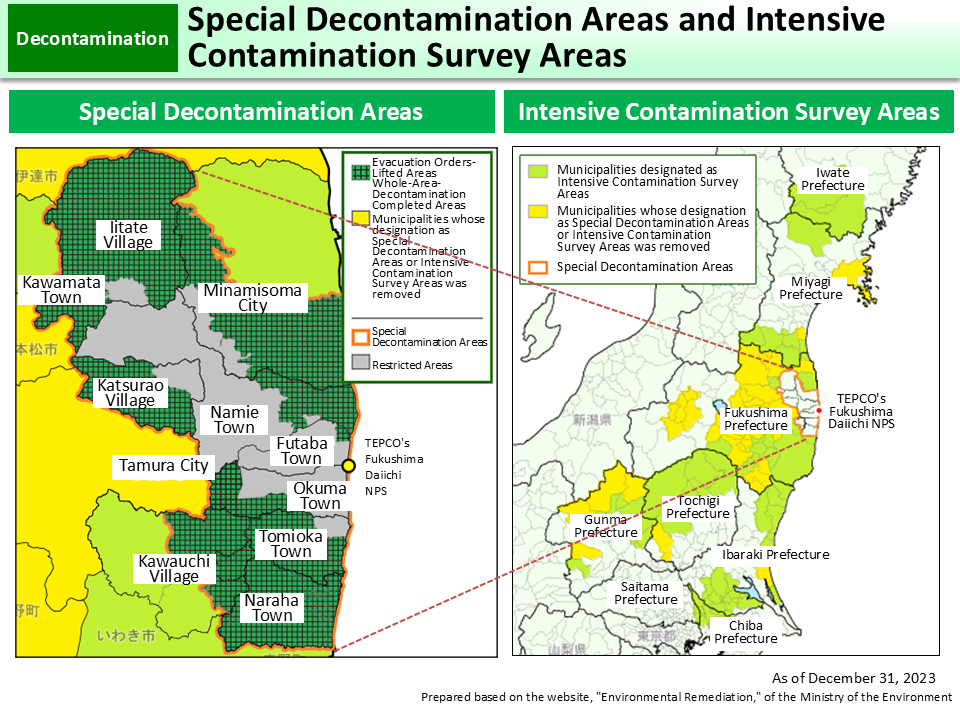 After the accident at Tokyo Electric Power Company (TEPCO)'s Fukushima Daiichi NPS, the Diet enacted the Act on Special Measures Concerning the Handling of Environment Pollution by Radioactive Materials in August 2011.
Special Decontamination Areas and Intensive Contamination Survey Areas were designated as areas where decontamination is to be conducted under this Act on Special Measures. The decontamination has been conducted in these areas in line with the Act and the Basic Policy based thereon. Areas especially necessary from the perspective of protecting human health were prioritized. Soil, etc. removed through decontamination work is collected, transported to Temporary Storage Sites, and disposed of safely.
Special Decontamination Areas are areas where the national government directly conducts decontamination work. 11 municipalities in Fukushima Prefecture which were once designated as a Restricted Area or a Deliberate Evacuation Area are designated. In these areas, a decontamination plan is to be formulated for each area, while taking into account respective municipalities' needs, and decontamination is conducted in line with the plan.
Intensive Contamination Survey Areas are areas where municipalities take the initiative in decontamination work. 92 municipalities in 8 prefectures are designated (as of the end of December 2017) from among municipalities including areas where measured ambient dose rates were 0.23 μSv/h or higher. In these areas, each municipality carries out monitoring, formulates a decontamination plan based on the results thereof, and conducts decontamination in line with the plan. The national government takes financial measures and technical measures to assist these municipalities.
Included in this reference material on March 31, 2013
Updated on February 28, 2018