The technologies concerned in this field are those designed to provide air-conditioning efficiently for houses, using the temperature difference between the ground or groundwater and outdoor air. As the ground has the characteristic of its temperature being higher in winter and lower in summer than outdoor air temperature, more efficient air-conditioning performance can be achieved by technologies using ground source heat than those using outdoor air as heat source/sink. Moreover, technologies using ground source heat have another characteristic that artificial waste heat is not discharged to outdoor air during cooling operation in summer.

Technologies for (B) water source heat pump system using ground or wastewater as the heat source/sink, (C) ground- source heat exchanger and (A) the entire system to utilize ground source heat for air-conditioning
*A verification test is conducted featuring a test of technologies (constituting a verification unit) as shown below.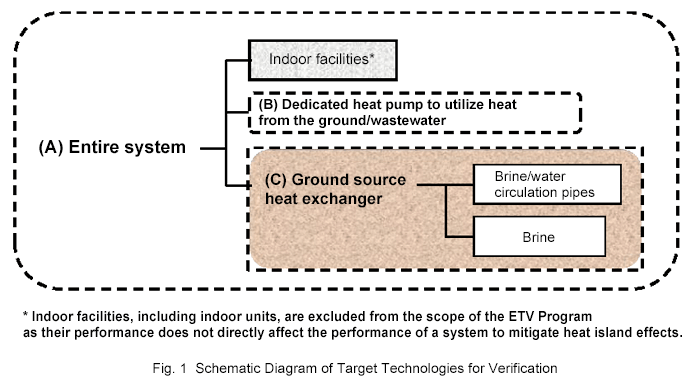 As the present verification exercise aims at verifying the heat island mitigation effects, the principal measurement targets are the quantity of heat exchange with the ground and the overall energy efficiency of the system. For this reason, a verification test is conducted for sets of technologies (A) through (C) in Fig. 2 (units). Each unit is defined as a verification unit.
In the case of a system using heat from wastewater where the structure of the water source heat exchanger is not suitable for verification testing, only such verifiable units as (A) and (B) are considered for verification.
(A) Entire system to utilize ground source heat for air-conditioning
This refers to the entire technologies related to an air-conditioning system,
ranging from the ground heat exchanger to indoor equipment.
(B) Dedicated heat pump to utilize heat from the ground/wastewater
This refers to a water source heat pump which is assumed
to operate within the temperature range of the ground or wastewater.
(C) Ground source heat exchanger
This refers to a system incorporating a ground source
heat exchanger and pipes but not a heat pump system.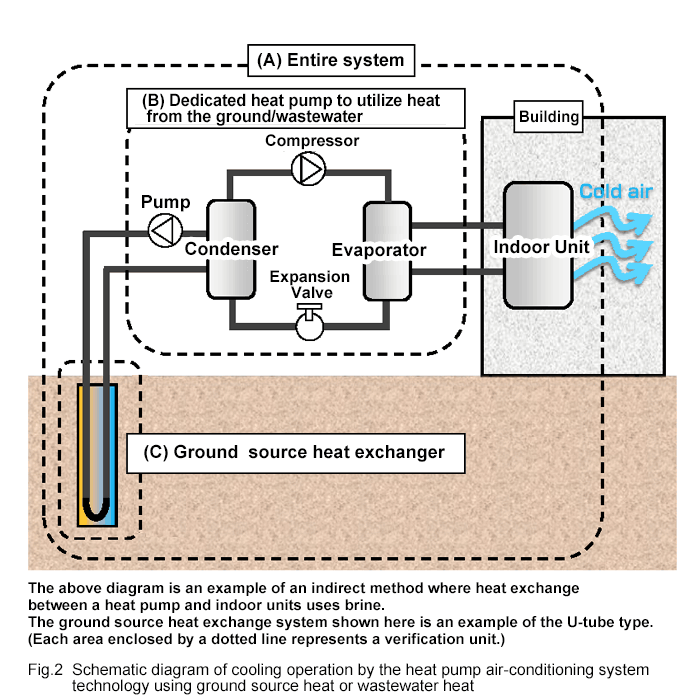 For verification applicants
A questionnaire survey conducted by the MoE with private business operators and local governments has found a situation where private business operators and local governments involved in the construction of buildings are aware of heat pump air-conditioning systems using ground source heat, wastewater heat, etc. to a certain extent while the level of awareness is believed to be low among general clients. There is dissatisfaction with the difficulty of finding a private business operator where the introduction of the system in question is planned.
The ETV Program assists the dissemination and wider use of useful technologies of verification applicants by means of bringing out the potential needs of users through the introduction of usable environmental technologies to users, disclosure of the results of technology verification tests conducted by third party organizations and provision of various types of information required by users to select technologies.
A questionnaire survey with verification applicants in the past received such replies as "The number of enquiries about the technology has increased since verification" and "There have been certain positive effects on sales promotion and technological development activities". Another reply concerning the issued logo was that "The logo has been attached to the product pamphlet, technical reports, company brochure, and company website".