Target Technology Fields
Heat-island mitigation technology field (technologies for reducing air conditioning loads by using building envelope systems)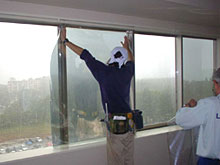 Example of Target Technology
Sun protection film for windows
Reduction of the indoor air-conditioning load using an envelope technolog


Outline of Technologies
The relevant technologies are contributing ones to mitigate the heat island phenomenon, including those which can be applied to existing buildings and which are capable to reduce the amount of man-made waste heat by reduction of the indoor air-conditioning load (excluding greening technologies).
Examples of Target Technology
Sunshade adhesive films for glazing, sunshade coating materials for glazing,high reflectance paint for roofs and water retentive materials for roofs


Reference Materials
For users
The principal causes of the heat island phenomenon are (1) an increased amount of artificial waste heat discharged from the human use of air-conditioning systems, electrical appliances and automobiles and (2) increased artificial coverage of the ground through an increase of building and paved ground surfaces. In both cases, buildings have contributed. The introduction of technologies, designed to suppress artificial waste heat from a building and to contribute to a higher reflective performance of a building's concrete surfaces, lead to the heat island mitigation measures and additionally lead to a reduction of the lighting and heating costs through decreasing the air-conditioning load of a building and also to better amenity through improvement of the heat environment.

Among the various heat island mitigation technologies, those which are capable of mitigating the heat island phenomenon without renewal of the building itself or air-conditioning and other equipment are much easier to adopt compared to other heat island mitigation technologies because no construction work is required and also because there is no question of any additional load on the building unlike the greening of a building.

The ETV Program assists the selection of technologies suitable for the needs of users by means of disclosing the results of technology verification tests conducted by third party organizations and providing various types of information required to judge the effectiveness of individual technologies.

For verification applicants
The ETV Program assists the dissemination and wider use of useful technologies of verification applicants by means of bringing out the potential needs of users through the introduction of usable environmental technologies to users, disclosure of the results of technology verification tests conducted by third party organizations and provision of various types of information required by users to select technologies.

A questionnaire survey with verification applicants in the past received such replies as "The number of enquiries about the technology has increased since verification" and "There have been certain positive effects on sales promotion and technological development activities". Another reply concerning the issued logo was that "The logo has been attached to the product pamphlet, technical reports, company brochure, and company website".