Target Technology Fields
Water purification technologies for lakes and reservoirs field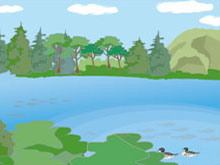 Enclosed water areas, such as lakes and reservoirs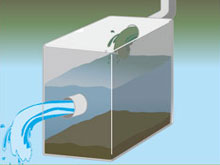 Removal of pollutants and containment of their elution from bottom mud


Outline of Technologies
The target technologies are those to remove pollutants (organic matters, nutrient sales and others) and algae, to improve the transparency and to contain the elution of pollutants from bottom mud in enclosed water areas, such as lakes and reservoirs, in addition to those contributing to the water purification quality and improvement of the water environment.

Examples of Target Technology
A water purification technology for enclosed water areas, such as lakes and reservoirs

Reference Materials
For users
As enclosed water areas, lakes and reservoirs have inherent conditions, including the difficulty of purification once pollutants have been deposited, and the achievement rate of the environmental standard for COD (chemical oxygen demand), an indicator for organic pollution, has been around 50% which is lower than that for other types of water areas. Degradation of the water quality of lakes and reservoirs due to the inflow and accumulation of nutrient salts (nitrogen and phosphorous) and organic pollutants from the catchment basin is causing an abnormal odor and taste of tap water and spoiling the view due to the abnormal propagation of phytoplankton throughout the country.
In addition to the conventional wastewater regulations concerning organic matters, etc., more stringent wastewater regulations have been in place since 1985 based on the Water Pollution Control Act by means of the designation of target lakes for wastewater regulations featuring the maximum contents of nitrogen and phosphorous responsible for eutrophication. Nevertheless, improvement of the water quality of lakes has been slow. In more recent years, many technologies intending the direct purification of lake water have been proposed in Japan along with efforts to reduce the pollutant load of lakes through the development of wastewater treatment technologies.
The ETV Program assists the selection of technologies suitable for the needs of users by means of disclosing the results of technology verification tests conducted by third party organizations and providing various types of information required to judge the effectiveness of individual technologies.
For verification applicants
A needs survey with local governments across Japan has found that although there is a need for appropriate technologies, there has been no large-scale dissemination and wide use of such technologies. One reason for this is that local governments are unsure of the efficient water quality improvement effects of existing technologies.
The ETV Program assists the dissemination and wider use of useful technologies of verification applicants by means of bringing out the potential needs of users through the introduction of usable environmental technologies to users, disclosure of the results of technology verification tests conducted by third party organizations and provision of various types of information required by users to select technologies.
A questionnaire survey with verification applicants in the past received such replies as "The number of enquiries about the technology has increased since verification" and "There have been certain positive effects on sales promotion and technological development activities". Another reply concerning the issued logo was that "The logo has been attached to the product pamphlet, technical reports, company brochure, and company website".